Together with my Top Pair Home Game Poker Podcast co-host Bruce Briggs, I recently had the great pleasure of interviewing ESPN poker commentator and funnyman Norman Chad. Just to give a taste of how excited we were to snag the interview, here's how we introduced him:
"Well, we've had many guests here on the Top Pair Home Game podcast, including poker legends like Linda Johnson, Mike Sexton, Nolan Dalla, Barry Greenstein and, frankly, sometimes we have to pinch ourselves that it's in fact real, because that's just plain amazing that we can score interviews like those. With our next guest, however, I hasten to say that "This is beyond fairy tale — it's inconceivable" …. We are lucky enough to have the great Norman Chad with us on this episode."
Much research was done to ensure that we covered topics not yet explored in-depth via other interviews Norman has done over the years. As such, we were thrilled to get some great laughs and new stories from Norman in this almost hour-long interview.
Below, you'll find the entirety of Episode 282 of the podcast, which includes the interview starting at the 3:45-minute mark. You can also read the transcript below.

Interview Transcript
Let's dive straight into it.
You're known for the "inconceivable" line, after Chris Moneymaker won. Did you make that up or steal it from the Princess Bride?
I came up with it totally on my own, even though there's no question that the Princess Bride is one of my favorite films of all time. It wasn't off the top of my head, we can prepare some of it, but that part of the broadcast I had prepared what I was going to say and that was what I came up with.
Alright, well there's a lot of information about you out there in Internet land… you grew up in Silver Springs, Maryland, went to University of Maryland. From there you started writing for numerous sports media outlets over the ensuing years. You moved out to LA, wrote a book, sold some sitcom scripts to ABC's Coach and HBO's Arli$$, tried your hand at stand-up comedy…. Certainly an eclectic career all before you found your way into the poker world.
One thing you notably still do outside of poker is write the Couch Slouch column for the Washington Post. Every so often I check it out; it's a fun read – a column from a fan perspective of watching sports on TV from the couch.
So there's a Couch Slouch giveaway where at the end of each column there's a Q&A and you ostensibly pay out $1.25 to the best questions that get submitted. Where does the budget for that come from? Does it come in check form, do you mail out five quarters, or wire transfer (in which case the fees would outweigh the winnings)?
It's paid in cash. It's one of my favorite parts of the column. I started this column before the internet, and I decided to give you $1.25. I literally send it out. Some people frame the letter that I send out and put the money in there with it. It's usually four letters a week, so I'd be saving myself a couple hundred of dollars a year if I sent it by check, because no one would cash a check for $1.25! Readers are complaining why it hasn't gone up because of inflation, but I cannot tell you how joyful it is for me to put a dollar bill and tape a quarter to a letter and send it out.
Back to poker – our podcast likes to talk about home games and your experience with them. You first picked up poker in your 20s at university. Where did you first learn how to play? Give us some background.
I didn't play any poker before I got to college. I worked for the college newspaper for two or three years, and most of my colleagues were part of the home game. I hosted it with my roommates. It was $0.25 limit. There was a big discussion when it went to $0.50 limit a couple of years later, and then again when we went to $1 limit at the very end. You're not going to lose more than $15-20. We never played a hand of Hold'em.
We played split-card games, wild-card games, point games, etc. This was almost every week. It was the extent of my social life and it was just so much fun. We'd start at 7 or 8 at night and we'd go through until 3 or 4 in the morning. I was hooked to playing it – not seriously. I didn't really wanna play a more serious game, I didn't trust the players or the game in a card room. I didn't like the fact that it was raked.
Did you continue playing home games as your career developed?
After I got out of college in Washington, I ran into some more serious poker players who played a whole bunch of limits. They played split-pot games. Hold'em just did not exist back then hardly anywhere in the country. This was before the TV poker boom. Limit poker existed, but we just weren't playing that.
Just before my first marriage was taken out from under me, my wife had gone to Law school. It was quite expensive, and so I decided to dedicate the next year to putting money away from that poker game. This was in the late 1980s and the tuition was $15-20k a year. I had my best year ever and I was able to squirrel away $9-10k just from playing poker. She left me shortly before she started her second year but poker paid for her second year of Law school.
Now you live in Los Angeles and you enjoy playing Omaha/8 and Stud/8 at Hollywood Park. What stakes do you play for? Is it a regular cast of characters?
LA is a huge place, and Hollywood Park is a very large card-room – it's the third or fourth largest in LA. The Commerce you cannot find Omaha/8 or Stud/8, it's 98% no-limit Hold'em. At Hollywood Park, our table is just one table, sometimes two tables. There's a big advantage there because we're the same 50-100 people, so we play with the same people every week. It's like a disguised home game.
We drink together, we go out to eat together. It's a limited group, it's an older group, and I either play Omaha/8 or Stud/8. It's $20/$40 with a half kill, which makes it $30/$60, or I play the $40/$80 Omaha/8. They are the two games I play. When I'm in town I usually play two or three times a week.
And do you play any home games?
Once a month when I'm in town I host a home game. There's normally a queue out the door because we can only seat seven. I put on a good spread, I mean mostly from Costco. It's mostly the Hollywood Park people, just that I host it. The Hollywood big games are too big for me, you need to bring like $500,000 and that's too big for my blood.
You do enter three or four WSOP events each year, and looking at your results you've had some notable cashes over the year. Have you had any success at the tables which haven't been reported, like amazing cash sessions?
I record all my cash sessions. I play virtually no tournaments outside of the WSOP each year. I love cash games. At a home game a few years ago I recorded my biggest loss ever, this was pot-limit Omaha/8 and NLHE. It was hosted by the late great Sam Simon, and he cashed in the Main Event at least once, maybe twice. I was invited and there were celebrities there – Drew Carey, Jen Tilly and Norm MacDonald. I ended up losing about $4,500 that night. At Hollywood Park I've had sessions where I've won or lost $2,000-$3,000. I had never lost as much as I lost at that home game.
If you were ever to win a bracelet, what would it mean to you?
I don't play many tournaments, and I sat down to play at the WSOP the year after Moneymaker in 2004, and I never thought I would cash. I went 12-13 straight the first three or four years. I could not believe how good it felt to cash in my very first tournament. It was a min-cash, but it was a feeling I had never had before. It meant more to me than it thought. When I got deep in one later on, and thought I had a shot at the final table, I thought that was pretty cool. And then when I came up short, I finished 12th, I thought that was my one shot at making a final table. So when I made the final table the next year, essentially that was my bracelet. It's unrealistic for me to get that deep and to make a final table in a field of 400 or so was just incredible. I remember being moved up to the stage and being so thrilled. I've had three deep runs, so I consider that final table my bracelet.
So when you do play, as you do so infrequently, do you get staked?
My wife doesn't like the idea of me putting that much money up, and I love the idea of having friends who are part of the staking. I get about half staked. Last year I played five tournaments, and I was staked for right around half of it. I love playing for them. That's another reason why I like to play at the WSOP because I know I can get money back to people if I cash!
You play in various Hold'em charity events, how does that work? What's your role there? Do you try to win or are you just there to entertain people?
I never try to win, I'm just there to entertain people. It's the only time I play Hold'em all year long. People are just in a better mood, and the play isn't as good. Unless they have a bounty on me, people don't want to knock me out. It's always fun to do, and that's actually the time I do want to play NLHE because it's such a good atmosphere.
Tournaments normally feel like a funeral service! People are very serious and I try to loosen them up after a few minutes. It should be a joyful thing, and I do think I do a pretty good job when I'm at the table. I'm usually pretty talkative and I try to get people in a better mood.
You were doing some work for ESPN back in 2003 when you get a call from one of their executives who knew that you played some poker. He hooks you up with 441 productions and they in turn ask you to start commentating. Then they pair you up with Lon McEchearn.
Your rapport with him gets better year after year, but you only work in the summer, so how often are you in touch with each other for the rest of the year?
It would be harder to get back into the groove, but in the off season we sleep each other generally three weeks out of the month. We know everything about each other, so there is no off season!
Seriously though, Lon gets on with everyone, I don't get on with everyone. I prefer dogs and I don't like talking to people. We had a good chemistry from day one. If you go to any morning talk show, sometimes hosts don't get along with each other. It really helps if you get along with your partner. We only hook up for the production season. I might see him once or twice at charity events, or if he's in LA, but when we do see each other we pick up where we left off.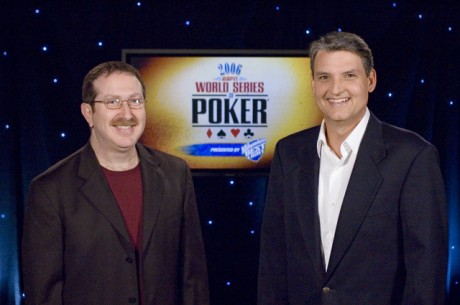 The November Nine format which they've had for the last few years is a relatively new addition. How does that portion work for you as a commentator, and what do you think about it?
It's worked for poker, it's worked for the WSOP and it's worked for ESPN. The problem we had before is when we got to the end if you wanted to know the results of what happened, you could do that. It meant that it lost a little something. It's also good for marketing purposes. You get the poker players a little bit more well known. It's also good to have the whole thing live, even when the ratings have diminished over the last few years.
When it was originally announced, I was against it. And there are a few reasons why I'm still against it. The idea of stopping the game with two minutes to go in the fourth quarter, and come back in 100 days, changes the whole aspect of what they're doing. Jamie Gold might not have won the year that he ran over the table when you stopped when we got to the final table. He just went wire-to-wire. I also didn't trust it. I always thought something might go wrong. All it takes is one black mark on poker to really damage its reputation. The structure we see now might not be the one in the future.
Give us some behind-the-scenes. What portion of the WSOP are you in Vegas, what do you do while you're there, and then when do you do the tapings?
It's changed over the years. Before we do the Main Event I'm in Las Vegas for the WSOP. It's good to be around the poker community. When the Main Event coverage started, we used to do coverage from Day 1. I used to be out there from Day 1. The coverage was different to how it is now in terms of what we were looking for. I would walk the floor a lot, and sometimes help the producers find some untold stories that we could do.
We don't start until Day 3 or 4 now. I usually get there on Day 2. As far as production goes, Lon and I have nothing to do with the editing and cutting it all down. So they do that, and just before we go to tape they'll send us copies of what we're going to be taping so we can look at them. In the old days I did less preparation; it was mostly unscripted. Then it became 50:50, and as the years have gone by, for many reasons, I now prepare so that the vast majority is scripted. I do much more preparation than I used to, just because it's become harder to do.
What's your schedule like for the rest of the year?
The WSOP has been a godsend for me. I didn't know it was going to come, and it allows me to have the rest of the year to do other projects. I still write a weekly column, which is harder than it looks by the way. That's only part of a day or two. I have tried other projects, but mostly I have slept too late and gone to bed too early and wasted the last decade. I could have become a powerhouse in some other field, but I'm mostly just writing the column.
Are there any other poker shows that you'd like to commentate on?
Part of my contract is that we only do poker on ESPN. It's enough poker for me. It means I stay fresh because I'm not in the poker TV community all year round. I just dip a toe in each year. I'm playing poker all year round, twice a week, so that doesn't help me with your professional ambitions elsewhere. That keeps me fresh, but I'm not pining to do other poker on television.
I'd love to get into the new world of poker on television, live-streams and Twitch and interacting with people on the chat box. When I watch those things with Jason Somerville and others, when they're well done, it's a lot of fun to watch. Down the road I wouldn't mind doing that.
What do you think the chances of covering more non-hold'em games on ESPN are?
That's a dead duck right now. I used to be in the meetings when we would discuss this. We did Omaha and we did non-Hold'em events for two or three years. The ratings weren't much different, but it's much harder to do, it's harder for the average person to pick it up. I argued that it's not like people weren't playing Stud or Omaha, and also people watch poker for things other than the poker. Just for the stuff that happens; that hands themselves are not important. I lost all those arguments.
ESPN has virtually no other plans doing stuff other than the Main Event. Down the road, things will change. Whether it's live or taped, you will see mixed games. I hope it happens sooner than later. I hate the fact that you walk into the largest card room in the world and you can't find anything other than no-limit Hold'em. It's not healthy for the long-term future of the game.
Over the last few years, poker has skewed younger, so while it still happens, it's relatively rarer to see older people make the televised final tables of big events. It seems to me that there's quite simply just a lot more to say about a Pierre Neuville, Dennis Phillips, or Cliff Josephy than a Gordon Vayo, Jerry Wong, or a Thomas Canulli. Since older players are generally better characters to commentate on perhaps ESPN ought to be covering the Seniors tournament and fleshing out some great stories from mom and pop instead of from the youngins and whippernappers?
I agree with you, but they would hold these meetings overseas to stop you getting into them to say this kind of stuff.
Two things help the broadcast: When people talk, and when people have incredible stories and character and backstories. Unfortunately, no matter how good of a poker player you are when you're 21 years old, you just have virtually no back story.
In our interview with Poker Central's Remko Rinkema a couple episodes ago, he said that "to revitalize & keep fresh, poker needs personalities." Who in the younger generation of players currently fills that role or has the potential to fill that role?
There are people out there that I haven't even heard of. The people who are doing the streaming and podcasts like Jaime Staples, Joey Ingram. Doug Polk, with his videos. People in poker can learn from what they're doing. When Doyle Brunson wrote Super System, it made more people wanna play. He said he had to change his game, seeing as he'd given away some of his secrets, but it makes more people want to play. From a strategy standpoint it makes sense to talk about that. There's a lot of guys out there capable of doing that.
What would your ideal final table of the Main Event be, with regard to getting characters together?
The greatest thing about poker is that unlike tennis or golf, where you can't play against Roger Federer, anyone in poker can walk off the street and that day beat Johnny Chan or Stu Ungar. My ideal mix at the table is a mix between 'Joes' and 'Pros'. At least several amateurs from different walks of life – young and old – and then have a couple of pros. That's hard because the field is so large in the Main Event.
I love it when it's a mix of people in their first Main Event, and professionals. And you want young and old, and women if possible. Poker is healthy in a lot of ways, and unhealthy in a lot of ways. The fact that women continue to populate just 5% of the poker room and 5% of the WSOP fields is a problem. It's a solvable problem too. A mix at that final table would have young/old, pro/amateur and hopefully some women at it.
READ: Why Don't More Women Play Poker?
Back when you were interviewed by Deadspin, you told them that you grew up always wanting to be a journalist. Well, you've been doing the WSOP gig for well over a decade… would you still consider yourself a journalist or more of a presenter/entertainer?
I write a newspaper column, so technically that's journalism. I'm writing a humor column to be honest. I used to be a journalist, I haven't been one for years. I do no reporting. As far as the TV part of it, there are certain skills that play into my job, but what I'm doing is entertainment.
I find, craft and promote the stories, that's stuff that I transfer from journalism. But there's no journalism involved in virtually all I do – it's more entertainment. However, I'm more passionate about journalism than anything else I've done.
Speaking of passions, you once said that 'Every five years I like to challenge myself from getting stale because it diminishes your return on creativity.' Is there anything else that you've done to try and reinvent yourself or get that creativity flowing?
I've always felt that it's really good to regenerate yourself and find something new to do, or a different avenue every five years. I didn't think I was going to be doing poker on TV more than five years. I've now been doing it for 13-14 years, and now I have no choice because I can't do anything else. I'm sure I did poker on TV better seven or eight years ago than I do now, because I've been doing them too long.
In the future I'll keep on doing it as long as they'll have me, but I do keep on looking to do other things. I'm a sports writer and I'd loved to do a talking heads-style of sports punditry without all the ridiculous debates. There's another way to present it. I'd love to do that, but chances are I wouldn't get a chance to do that.
With thanks to my friend Aaron Djanogly for this question: How much would it cost to actually attend the famous – or perhaps infamous – Norman Chad School of Poker and where can people sign up?
When you asked me about future endeavors, I've gotta find a way to actually set up the Norman Chad School of Poker. Right now it's more a figment of my imagination.
Whether it's a brick and mortar school or camp, or an online thing. I really like the ring of it. I like the fact that we wouldn't be as strategy laden as other parts of poker. People need to just learn proper etiquette and how to act while playing. I might get off my butt and do it!
We started off by introducing you with your famous line –"it's beyond fairytale, it's inconceivable" That's a seminal moment in poker, but it's continuing to fade further into the past. Do you feel other huge poker moments await you as a commentator in the future? Are they the type of things you can envision or plan or do you just have to have the right set of circumstances and be in the right place at the right time?
My first thought is that it's almost as if we're in therapy now.
I hope that if it would happen it would happen organically in a live atmosphere, but that's going to be very difficult. Everything has to line up perfectly. You've put me in a very depressed mood! Now I'm just realizing that this moment isn't going to happen, because I'm not going to make this moment happen ever again!