Best Poker Training Sites 2023
The last few years has seen the emergence of some of the best poker training sites, which has in turn ensured that the overall skill level of poker players around the world has improved drastically. The only way to stay ahead of the curve and ensure that you remain a winning poker player in 2023 is to study and learn poker online from the best poker training sites. This is specifically true with regard to Texas Hold'em poker training online, as more and more players are becoming competent at poker's most popular variant. But, of course, as mixed games grow in popularity, it's worthwhile to also put in some study time to improve in that realm as well.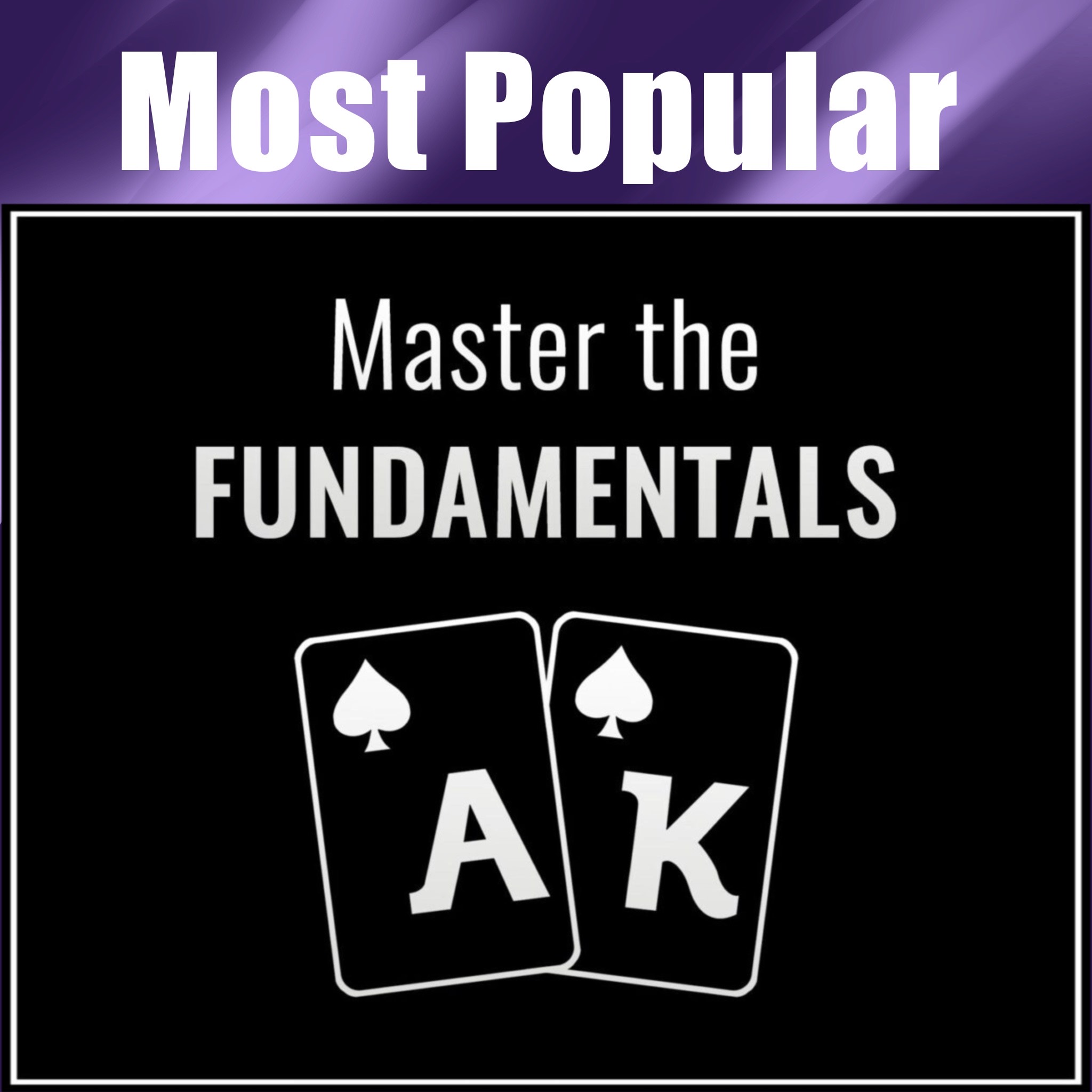 Pokercoaching.com Master the Fundamentals
Pokercoaching.com's Master the Fundamentals is a FREE 19-module course by Jonathan Little  that explains poker basics, and that will start you on your path towards becoming a successful poker player with a winning mindset.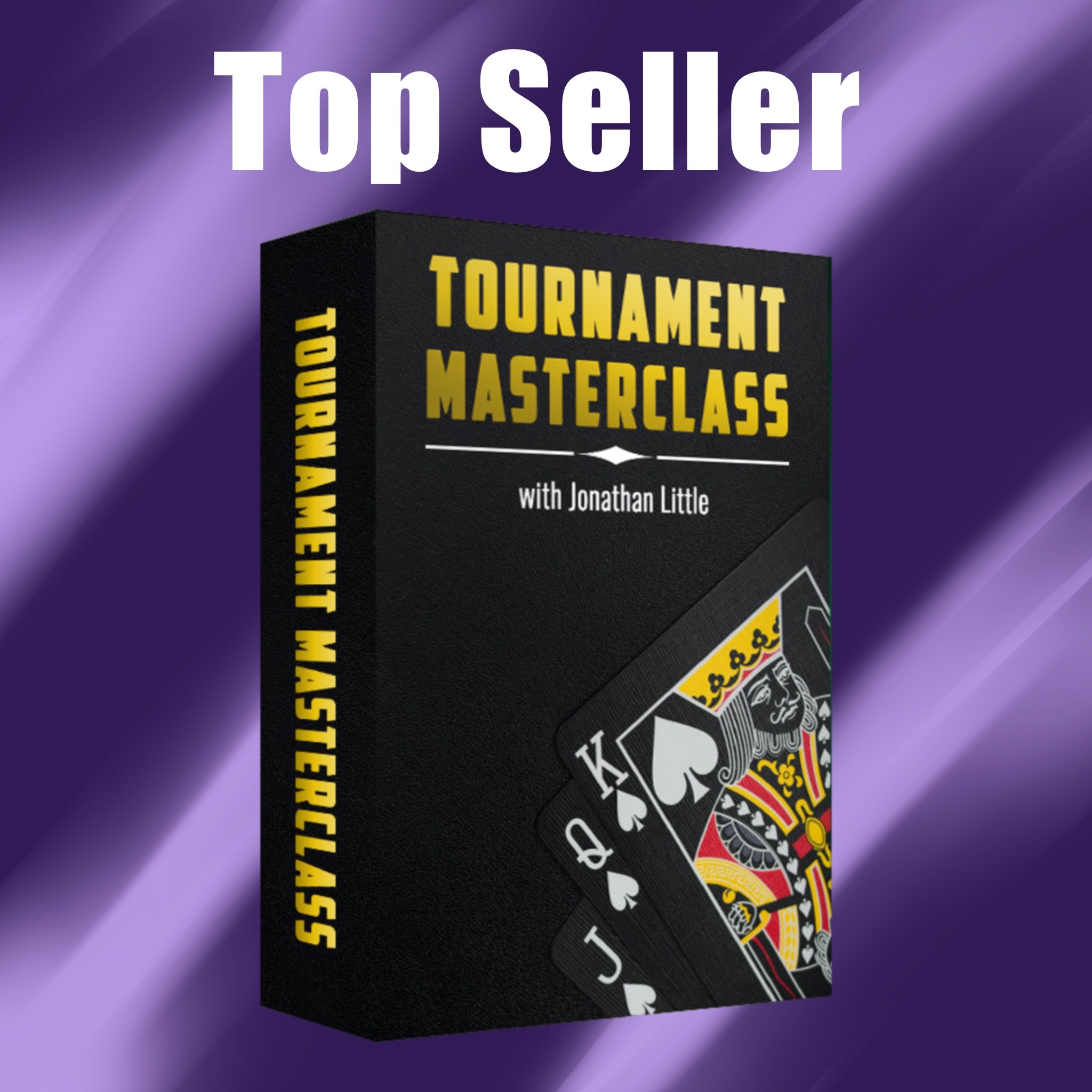 Pokercoaching.com Tournament Masterclass
Pokercoaching.com founder Jonathan Little's Tournament Masterclass is the most comprehensive, structured No Limit Hold'em tournament course on the market today. You're essentially guaranteed to get bang for your buck.
What's the best way to learn poker online?
One of the best ways to learn poker is to use online resources, such as websites or apps that offer tutorials, videos, and other training materials. The best app for learning poker will depend on your personal preferences and learning style, scroll down on this list to find what suits you best!
Additionally, there are many poker training software programs available, such as PokerTracker and Hold'em Manager, which can help you analyze your gameplay and improve your skills. By utilizing these online resources, you can learn the ins and outs of poker at your own pace and become a skilled player in no time.
Below is the full list of the best sites to learn to play poker online, including internal links to our reviews of poker training courses from some of the best poker schools like Run It Once Training, Upswing Poker, Red Chip Poker, Pokercoaching.com, and others.
Best Poker Training Sites: More Information
The table above includes a listing of some of the best poker training sites and courses on the market today, with numerous new additions and updates for 2023. Outfits that offer poker training online include the venerable Pokercoaching.com, Run It Once Training, Upswing Poker, and Red Chip Poker.
Individual instructors like Jonathan Little, Fedor Holz, Phil Galfond, Doug Polk and even Poker Hall of Famer Phil Ivey have also put together some excellent material that undoubtedly has the potential to improve your game. For some poker training sites, Cardplayer Lifestyle is able to offer you an exclusive discount, so you've certainly come to the right place!
Importantly, you should note that it's not just the bigger names in poker who have excellent reputations as poker coaches. You may not have heard of James "SplitSuit" Sweeney, Kelvin Beattie, or Steve Blay, for instance, but their poker training sites are super well-respected and they've got legions of students learning great poker tips and strategies from them who swear by the methods taught and have the results to prove their effectiveness.
Plus, as all good poker players know, training to become a better poker player goes well beyond just memorizing charts, knowing all the strategies, knowing the poker statistics and math inside and out, and being able to spot live tells. You also need to boost your mental game, which is why we're reviewed some excellent courses from you from some of the best coaches in the world, such as Jared Tendler and Elliot Roe.
To learn more about each poker training online site and course offered, be sure to click on the red buttons and check out our thorough reviews. Once you've decided which course is right for you, you can click the blue or green buttons to make your purchases.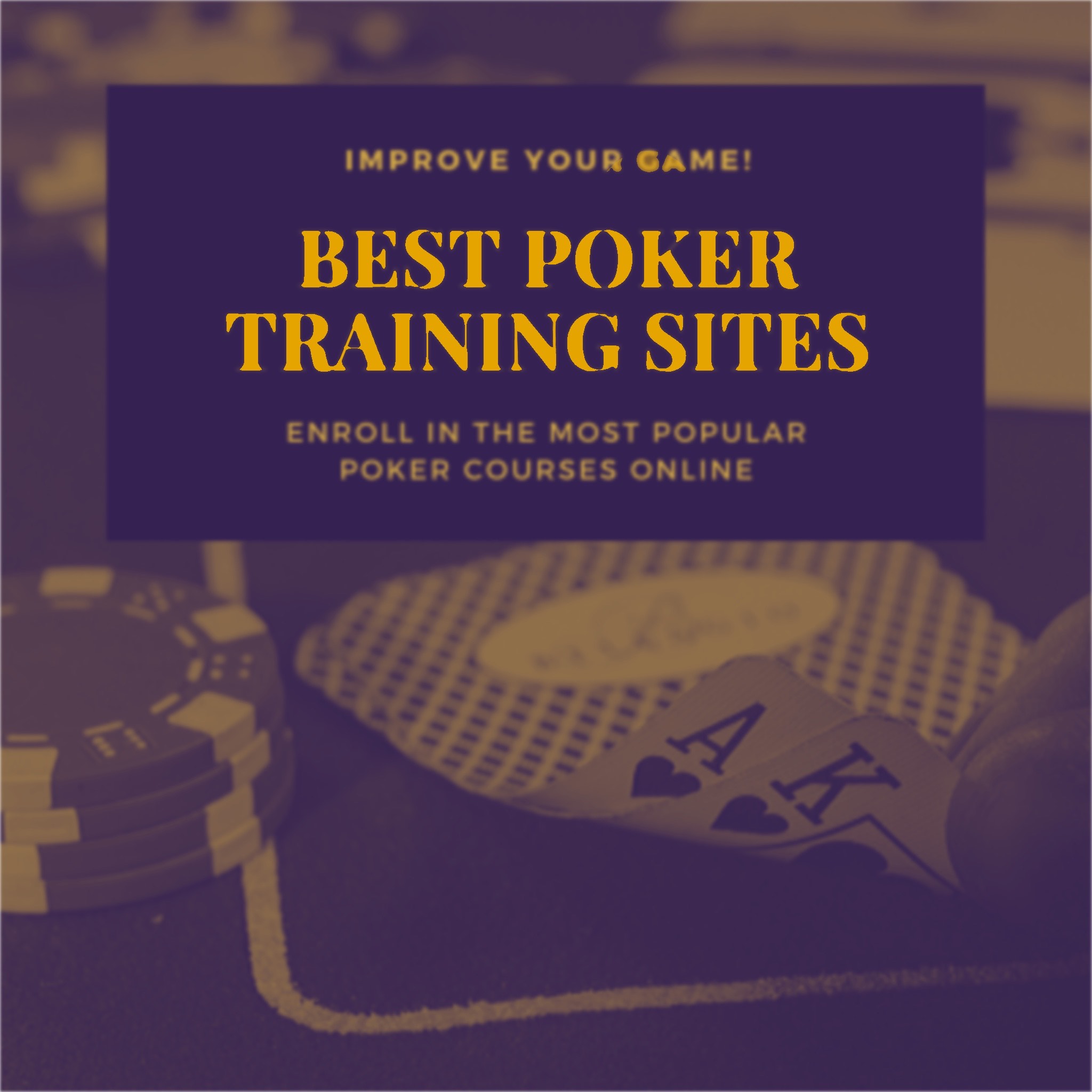 Why Enroll with a Poker Training Site?
As illustrated by the table above, a number of different organizations and companies offer a wide variety of poker training products and courses that have been proven to help players learn to play poker online and improve their skills in 2023. Whether you're new to the game and looking to slowly but surely master the basics, or a veteran player looking to add additional tools to your arsenal, there's a good course out there for you.
Whether you play poker professionally or as a recreational pursuit, it's only natural to want to win. As players get more experience under their belts and improve at the game, the competition naturally gets tougher, which is why it's more important than ever to take steps to boost your own poker performance. Many opt to do this via reading poker books, but enrolling with one of the best poker training sites seems to be the preferred method nowadays.
After all, who better to learn poker from than some of the biggest names in the game? Many of the best poker courses are offered by players who've proven over the years that they can win heaps, master the odds, and who've put in the work and study time to ensure that they can stay in the upper echelons of success, both at the cash game tables as well as in tournament settings.
Facts to consider for an advanced poker training review
When considering poker training sites, there are several factors to keep in mind. First, it's important to consider the reputation of the site and the instructors who provide the training. Look for sites that have a history of producing successful players and positive reviews from their students.
Second, consider the format of the training, including whether it's delivered through videos, articles, or live coaching sessions, and whether it's designed for beginners or more advanced players. We look for the best video poker training apps as it is one of the most fun ways to learn. It is also important that the website has the best poker training software. You should try every feature of the software and make sure it works well!
Third, consider the cost of the training and whether it fits within your budget. Finally, look for additional features such as community forums, hand analysis tools, and the ability to track your progress over time. By carefully reviewing these factors, you can choose the best Texas Hold'em training app that will help you improve your skills and achieve your goals.
Pricing: Investing vs. Spending Money on Poker Training
There's no magic pill to swallow or fairy dust that falls from the sky that can make you a better player in 2023. To be sure, you certainly need to put in the work. That means investing the time and effort — and money — to get batter at poker. It's important to also stress that word: invest! You're not just spending money on poker training online; you're investing in becoming a better player, which is something that's sure to pay dividends over the long run the more time you spend at the poker tables.
As for pricing, you can start upping your game for as little as $5 a week, while other poker training sites offer courses that are priced significantly higher (e.g., at $999 or more). One thing's for sure though, you certainly get what you pay for. By approaching studying poker and paying for some of the best courses as an investment, and working hard to implement the new skills you develop, you'll be sure to recoup the monies you spend in no time!
Notably, there's no direct correlation between the amount of money you spend on poker training and the amount you'll be slated to win after completing a particular course or set of videos. As with all things in life, you've got to select the best poker training site that's right for you to improve on the areas of your game in which you feel the weakest. For some, that'll be a relatively small, one-time financial investment, while for others it might be an ongoing commitment to ensure you stay sharp and keep on constantly improving.
OUR TOP 10 POKER TRAINING SITES RANKED
At the end of the day, pretty much ALL poker training sites are good ones. Which one you enroll with depends on numerous factors, including what area of poker you're aiming to improve on, whether you want to get better at Texas Hold'em or mixed games, how much money you're willing to invest in boosting your game, what type of student you are, how much time you have available to devote to poker study, and a host of other factors.
With that said, there are some poker training sites that have proven themselves over time to be a cut above the rest and the most popular choices among players who dedicate time and effort to getting better at poker.
1. PokerCoaching.com
Founded and managed by seasoned poker veteran Jonathan Little, PokerCoaching.com offers a unique Active Learning environment coupled with content that is enjoyed by thousands of poker players. Little is a two-time WPT title holder with over $8 million in lifetime tournament cashes. PokerCoaching offers monthly subscription options for new students looking to take their poker game to the next level as well as premium membership for more advanced students looking to get a leg up on the competition.
2. Run It Once
Phil Galfond is one of the biggest names in the poker world, and is also one of the most knowledgeable Pot Limit Omaha players on the planet. You can learn from him as well as some of the most successful poker pros at Run It Once, including players near the top of the all-time money list like Daniel 'Jungleman' Cates and Jason Koon. Having released two new training videos every day for years, with no signs of stopping anytime soon, this poker training site will continuously deliver value.
3. Red Chip Poker
Red Chip Poker is one of the most content-rich poker training sites available on the internet, with an intense focus on Smart Poker Strategy for Live Players. Commonly referred to as RCP by its customers, Red Chip Poker has quizzes, hand history breakdowns, and over 200 specialized courses that can be accessed on-demand by premium customers. With longtime instructors like James "Splitsuit" Sweeney leading the charge, you can start getting better at poker with CORE for just $5 (one red chip) a week, or invest more heavily by enrolling in their PRO membership package.
4. Pokercode
Pokercode is managed by well-known poker pros Fedor Holz and Matthias Eibinger, with additional instruction provided by beasts like Steffen Sonthheim, all of whom have enjoyed remarkable tournament poker success and who have won millions upon millions of dollars over the course of their careers. With a strong focus on community learning, premium members can browse through articles, quizzes, seminars, and vetted poker information at their leisure.
5. Upswing Poker
Headlined by heads-up No Limit Texas Hold'em guru Doug Polk, the Upswing Poker brand has become one of the mainstays of premium poker training through its course variety, social media engagement, and member perks. The site also offers a comprehensive library for students of all skill levels: from Beginner to Expert. Notably, it's one of the rare programs via which you can also find material to improve your mixed game mastery, courtesy of site instructor Jake Abdalla.
6. Advanced Poker Training
Advanced Poker Training is software-driven and offers unique tools for poker players to improve their game and discover their own leaks in a relatively short period of time. Founded and created by Steve Blay, Advanced Poker Training is endorsed by high profile poker pros and coaches including Jonathan Little, Alex Fitzgerald, and three-time WSOP bracelet winner Scott Clements.
7. Learn Pro Poker
Learn Pro Poker is one of the best poker training sites for students who wish to improve their chances of success specifically in No Limit Texas Hold'em tournaments. Founded and managed by head coach Ryan LaPlante, Learn Pro Poker offers training from a proven WSOP bracelet winner who has appeared at numerous WSOP final tables and accumulated over $3 million in live poker tournament cashes.
8. The Poker Forge
Founded and managed by veteran coach and longtime Cardplayer Lifestyle strategy contributor Sky Matsuhashi, The Poker Forge offers customers nine premium poker courses that can be accessed on-demand for a monthly subscription fee. Its premium audio-visual content focuses on turning its customers into winning players through strategy and insights.
9. MTT Poker School
If you're looking for specific content that deals in MTT education, then MTT Poker School is a good choice. Gareth James is one of the most highly recommended MTT poker coaches, with endorsements from poker pros Matt Berkey and Dara O'Kearney. The longtime poker coach is a relative newcomer to the scene as far as producing poker training material for the masses, but he's already attracted hordes of students who swear by his instruction.
10. pokernerve
The pokernerve service markets itself to beginning tournament players, and has one of the most in-depth content catalogs for students who are looking to make their mark on live and online multi-table tournaments (MTTs). Instructors Kelvin Beattie and Ben Hayles do a fine job of taking their students on a journey towards fixing leaks in their games and solidifying their overall poker skillset.
FAQ
Which are the best poker training sites in 2023?
The best poker training sites in 2023 are those which offer a variety of content, specialization in multiple formats, and consistently update their material. PokerCoaching.com, Advanced Poker Training, Run It Once, Upswing Poker, Pokercode, and Red Chip Poker all fit these requisites.
In today's ever-changing world of evolving knowledge when it comes to poker, you'll want to contract with a high quality poker training site that offers specialization in both cash games and multi-table tournaments (MTTs). Sit & Gos are another popular format, but generally don't offer an opportunity to achieve a huge cash prize relative to the original buy-in.
Texas Hold'em and Omaha are the two most popular variants in poker, and are therefore covered heavily by content that's provided by the best poker training sites in 2023.
Where can I get free poker training online?
You can get free poker training online through a variety of sources. Social media platforms such as Facebook and Twitter allow poker trainers to create threads that can often be very informative while fulfilling a much needed niche of free poker content.
Another great source for free poker training online is poker-themed forums – including the r/poker Reddit category that caters to poker enthusiasts of all skill levels.
If you're looking for free online poker training from an actual dedicated poker training site, then there are seasonal opportunities in which one or more sites may make a previously "premium" poker course free for a limited time.
Why pay for poker coaching when I could get free poker training online?
One of the most common reasons that players pay for poker coaching in lieu of focusing exclusively on free training is the specialized knowledge and experience that poker coaches can offer when compared to free training outlets.
If playing poker for-profit is your primary aim, it is highly recommended that you have an experienced poker coach with verifiable experience in beating the games you're competing in for a profit – and this is typically offered by premium poker coaches rather than free online training.
A poker coach can offer insights that are tailor-made to your own personal needs, and can exclusively focus on games that you wish to play for a profit. A poker coach can also consistently update material so that you're always on the cutting edge of gameplay knowledge instead of relying on outdated material that is generally available via free poker training.
Are poker training sites – and poker coaching in general – worth paying for?
Generally speaking, yes. The best poker training sites and coaches have worked hard to accurately gauge the monetary value of their individual poker courses and lessons relative to the stakes or buy-in level that their customers wish to improve upon.
The material presented by premium training sites and poker coaches is also commonly vetted and packaged over the course of hundreds of thousands (if not millions) of poker hands from a specific poker variant or game format. This means that many premium poker courses contain content that represents a human-picked selection of many, many online sessions or poker live streams.
Of course, there exists a point in which certain price thresholds become too expensive for the mathematical edges that are possible in any given poker game (such as charging millions to beat micro-stakes poker or online penny games). Fortunately for discerning poker training shoppers, there are a wide variety of premium training services and coaches to choose from – with different price points depending on the games that are being taught.
Why is PokerCoaching.com a good poker training site?
Through the use of its Active Learning portal, PokerCoaching.com students can choose from a vast selection of specialized poker courses or one-on-one training. Premium PokerCoaching.com customers can draw from knowledge that is posted through Quizzes, Learning Sessions, Classes, Courses, and individualized training that few other poker training sites can offer.
Regardless of whether you're playing poker in-person or online, PokerCoaching.com offers experienced instructors who are experts in numerous poker variant disciplines ranging from Texas Hold'em to Omaha; from cash games to large tournaments.
Why should you enroll with Run It Once poker training?
Run It Once poker training is managed by one of the most successful poker players of all time, Phil Galfond. It is also one of the few high quality poker training sites on the market that has a primary focus specifically on ultra-popular Pot Limit Omaha games.
If Pot Limit Omaha is your game, then you should probably enroll with Run It Once poker training due to the amount of expertise that the instructors have in the PLO poker variant, offering both beginner level and expert level courses. Run It Once also has an impressive catalog of Texas Hold'em courses to supplement Pot Limit Omaha classes and one-on-one teaching.
How popular is Advanced Poker Training vs. Upswing Poker?
Both Advanced Poker Training and Upswing Poker are extremely popular poker training sites.
Advanced Poker Training focuses more on software tools and granting players an opportunity for a quick boost in the games they're playing, while Upswing Poker contains more video content and specialized courses published by successful pro poker players, like Doug Polk.
You really can't go wrong with either choice if you're looking to up your game and take your poker knowledge to the next level – but keep in mind that the software tools offered by the Advanced Poker Training service are quite a bit different and unique to that specific poker training site brand.
Best Poker Training Sites: Conclusion
Whether it's MTTs, cash games, PLO, mixed games, the beloved and popular no-limit Texas Hold'em, Short Deck Hold'em, or even your mental game, there's always some aspect of poker you can improve at. There's no better time than right now to get started on the path towards becoming a better player, as you learn poker online with a great poker course.
So, what are you waiting for?