As longtime readers of the Cardplayer Lifestyle poker blog surely know, I'm a big fan of home game poker. My dad first taught me how to play poker back when I was a kid and for the last decade or so I've happily played in his home game as well as a home game of my own.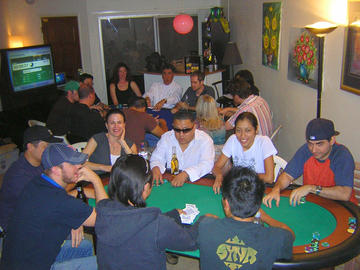 As millions of people across the world surely know, home poker games are the traditional proving ground for real talents of the game. To this very day even the most skilled pros still enjoy a good home game or two once in a while. It's the true core of poker if you ask me, and I'm pretty sure that most recreational players will agree. That said, even the friendliest group of characters playing poker week after week can see the game grow stale once in a while. Here are five things players can do to spice up the action and ensure that your home poker game remains exciting.
1. Up The Limits Occasionally
Ever since the World Series of Poker and High Stakes Poker started getting beamed into our living rooms, phrases like "raisy daisy" and "the price of poker's going up" has been a part of every recreational poker player's lexicon. There's nothing that spices up the action at a poker game like boosting the limits a little bit higher. Right away you'll usually sense player's adrenaline levels rise as everyone gets a little bit more serious about playing their best in order to scoop ever larger pots.
There are a few way to raise the limits at your regular game without things getting too out of hand. One way would be to have a "happy hour" during the last hour of the night before the game breaks up. Usually by this stage of the evening, there's a decent amount of money out there on the table up for grabs. There's nothing like raising the limits to give players who are down a better shot at winning, or the player who are in profit a chance to really notch a big score. One thing's certain, however, and that's that the last hour of your game will be exciting.
Another way to raise the stakes at your home game is have one "big game" every month in which the blinds/antes/limits double. If you're looking for something incredibly simple though, you could just introduce a straddle into the game, which is also sure to bump up the action among the players.
2. Introduce a New Game to the Mix
Ask any professional poker grinder and they'll tell you it's true: no matter how much you love playing Texas Hold'em, it can get a little boring after a while. Since it's the game that's been popularized on TV, Hold'em is pretty much the bread and butter of most home games around the world. If you're looking to mix things up a little and inject some newfound excitement into the game, why not try Omaha or 7-card stud?
On the other hand, your home game might already be a tough one that features a rotating lineup of standard games found in casino poker rooms worldwide like a mix of a few split pot games, flop games, and stud games. Yet, believe it or not, even an 8-game mix might get a little stale after a while too.
Rather than "snap into a Slim Jim", as Randy "Macho Man" Savage used to say, if you need a little excitement, why not simply introduce some wild poker games into the poker game rotation. You'll find that all of a sudden you'll need to be on guard again and pay close attention to the proceedings to ensure your stack doesn't disappear (or that you can capitalize on your buddies' lack of focus).
Finally, if you're hell-bent on keeping your home game "Hold'em only", you can always start adding the element of the "seven-deuce game", to ensure lots of exciting action.
3. Take Your Home Game to Your Local Casino
Let's say you've got a lineup of 10 players or so who regularly participate in your home game. One typical way to have the games hosted is to always hold the games at one person's house. He/she may be the one with the most spare room available, or simply the one who doesn't have to worry about waking up little kids late at night.
Another common way to host home poker games is to rotate the venue each week among the regular players. Of course that works too and makes for equally shared hosting duties over the course of a number of home game sessions.
Once you and your friends have been playing together for long enough, however, sitting around in each others' homes could potentially get a bit dull. If that ever happens, why not pepper the game with some additional excitement by taking it to your local casino's poker room?!
One of my favorite poker rooms, which is incidentally the world's largest, Commerce Casino, has long had a special promotion where you can "bring your home game here". So long as you ensure you come together as a full table, you and your buddies can have a grand time in the bustling, buzzing surroundings of a great professional poker room. Sure, you might have to travel a bit farther and you'll obviously have to pay rake to the house, but you'll get to play with professional grade poker tables and casino chips as well as have a pro dealer keep your game moving. If you ask me, it's not only worth the occasional cost, but a surefire way to renew the excitement of your regular home game.
4. Buy New Poker Supplies
One thing that started booming, along with poker itself, back in 2003 was sales of poker supplies. If you're like most recreational poker players out there, that means you've probably been playing with the same set of supplies for quite a while. Just like poker games can get a little stale unless you introduce some new variants, your supplies themselves can get a bit old and dull, not to mention dirty if you don't refresh them once in a while.
Another way that you and your friends can make your next home poker game more exciting is by pooling together to purchase a bunch of new poker supplies. These can include a brand new set of chips, decks of cards, cut cards, dealer and blind buttons, a card shoe, and a whole host of other trinkets and knick knacks that make playing poker more exciting. If you really want to splurge, you can go all-out and buy a brand new professional poker table that's sure to give your home game a boost.
And if your friends aren't too hot about spending extra cash on all those supplies, go on and do it yourself – personalize the set of chips and then you'll have something to truly treasure and enjoy using every time you ante up at the felt.
5. Send a Player to a Major Poker Event
It's every recreational poker player's dream to play in big name events. Whether it's to play in the high-buy-in tournament at your local casino, participate in one of the events when the WSOP Circuit rolls into a town near you, or take part in one of the big bracelet events at the World Series of Poker itself, the temptation of seeing your name in lights is something every poker player worth his/her salt fantasizes about.
That fantasy could become a reality, however, if you and your group of home poker game friends play your cards right with an exciting incentive: you could devote "rake money" or "jackpot money" each session to funding a big-name poker event excursion for one player in the group.
In other words, each time you all gather to play poker, set aside a few dollars per person into a jackpot. Whether you play cash games together, group tournaments, or both, points could be assigned each poker night to each player based on their performance. The player who accumulated the highest aggregate scores over a lengthy period of time – or who wins the jackpot tournament – will win the right to represent your home game at a big event.
When you all have something else to play for besides money and pride, it's guaranteed to up the excitement level, as everyone will be gunning for the type of poker glory that can be only be achieved outside your regular home game.