Poker and Sportsbetting: A Beginners Guide
You're at the table playing poker, and along with the other folks, there's that one guy who can't keep his eyes off the game on TV. While you focus on what's going on at the table and beating your opponents, he's jumping up and cheering when one team scores, then swearing and banging on the table when the other team scores. This is clearly someone who loves both poker and sportsbetting.
He's excited, emotional, and has no idea what's going on in the actual poker game. You of course stack him repeatedly, to which he says, "holy crap, now I really need the Cowboys to come through for me!"
The lesson here is to not let sports betting distract you when you're at the poker table.
But he did look like he was having a helluva time watching that game. So maybe there's something to sports betting on the side away from a poker table?
As poker players, we're naturally attracted to competition, action, and a good sweat. So sports betting is a natural accompaniment that many already indulge in. So, if you're curious, but have never ventured into the sportsbook of your local casino (or placed a bet on one of the many online betting sites available), I'm here to bring you a beginner's guide (from a poker players perspective) to sports betting.
First, a disclaimer. As with poker or any other form of gambling, please do it responsibly, only wager what you can afford to lose, and have fun.
With that said, let's get you ready for the betting window!
Poker and Sportsbetting Tip: Only Bet on What You Know
OK, first thing, before we get into any of the specifics of sports betting, let me make my own personal suggestion. Don't go betting on something you have absolutely no idea about, or interest in, just for the sake of having action.
Part of the fun of sports betting is having some added excitement on something you already enjoy. As a recreational sports bettor who loves hockey, if my team isn't playing on a given night I might throw down a small bet on a game to give me a rooting interest in watching it.
As with poker, the more you know, the better the chance you'll have at winning. Personally, I'm not going to jump blindly into a $10/20 Badeucy game just because I want to play poker. I have no idea how to play the game well, much like I'd have no idea who's going to win the Bulgarian Snooker Championships. So why would I ever want to put any of my own money on the outcome?
Have an interest and understanding of the sport you're betting on, and do a bit of research on the game(s) you want to bet, to give yourself the best chance of winning.
The Odds
One more quick thing before we really get started, for the purpose of continuity and simplicity, all odds will be referenced in the "American" style of presentation. There are two other types of odds, known as fractional (or British), and decimal (or European). A full explanation of each would take up quite a bit of real estate in this article, so we'll just refer you to Investopedia for a full odds breakdown.
Each are just different ways of expressing the same thing, and have no impact on the actual odds or payouts.
With that said, on to the fun stuff!
Moneyline
A 'moneyline' bet is the simplest bet you can make. Basically, you're just picking who you think will win. That's it, that's all. The caveat, however, is that the sportsbooks adjust the odds based on who they think will win. With American-style odds, the favorite is listed with a (-) in front of the odds, while the underdog has a (+) beside it.
For example: In the college football game below, Clemson is listed as a -250 favorite to beat Virginia. If you bet on Clemson, you would have to bet $250 to win $100. However, if you bet $100 on the underdog, Virginia, you could potentially win $205 if they win.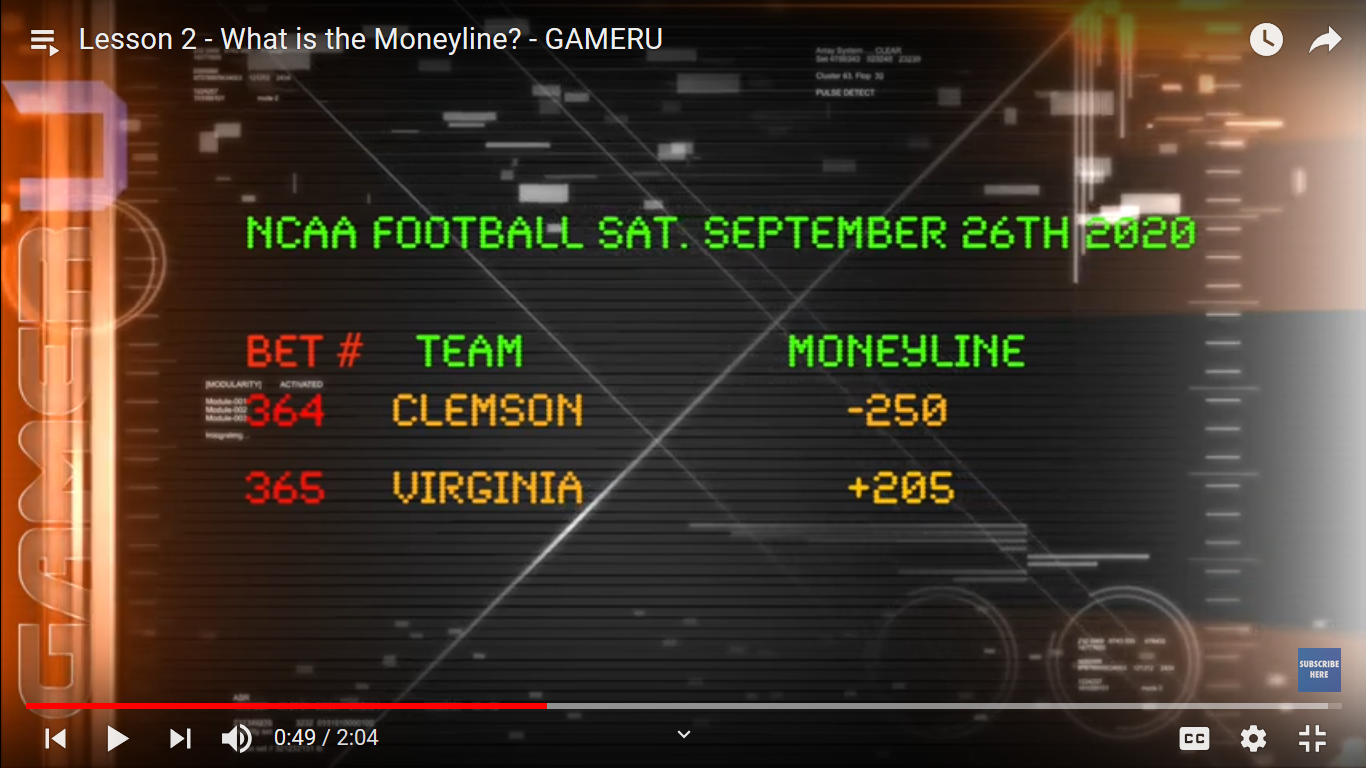 In a relevant poker example, Daniel Negreanu is listed on some sites as a -170 favorite to beat Phil Hellmuth in their upcoming match, meaning you would have to bet $170 on Negreanu, to win $100 profit. Whereas Hellmuth is listed as a +130 underdog, meaning if you bet $100 on him to win, you would win $230 ($130 profit) if he were to beat Negreanu.
The Point Spread
The point spread (also known as 'the line' – not to be confused with the moneyline) is a bet where the sportsbook gives the underdog a number of points before a game starts to even the odds. The favorite is listed with a (-), and the number of points they are favored, or the underdog is listed with a (+), along with the number of points they are being given.
It's basically like getting a head start on the scoreboard.
Some of the most dramatic point spreads you'll see come from college football, where a powerhouse team can be a huge favorite over a smaller program, so a sportsbook will give the underdog a large number of points before the game starts to balance the odds.
In the example below, for betting purposes, Rutgers has a 33.5 – 0 lead on Ohio State before the game has started.
So, if you think Ohio State will win by 34 points or more, you'd bet Ohio State -33.5 (known as "laying" the points). If you think Rutgers will keep it within 33 points or even win, you'd bet Rutgers +33.5 (known as "taking" the points).
To think of it using a poker example, it would be like if in the Negreanu/Hellmuth match the starting stacks were 100,000 chips, Hellmuth would be spotted an extra amount of chips to start, to even the odds since he's the underdog.
Over/Under
Over/Under betting is one of the most popular (and fun) wagers you can make on a game. Instead of betting on who you think will win the game, you're betting on the total amount of points the teams will combine to score.
A number is set by the sportsbook, and you simply bet over or under the total. The fun comes when betting the over. I mean who doesn't love to see a high scoring game, and then potentially get rewarded financially from it?! If you bet the under though, while not the same as betting against the shooter in craps, it's in the same wheelhouse, cuz it just ain't as fun.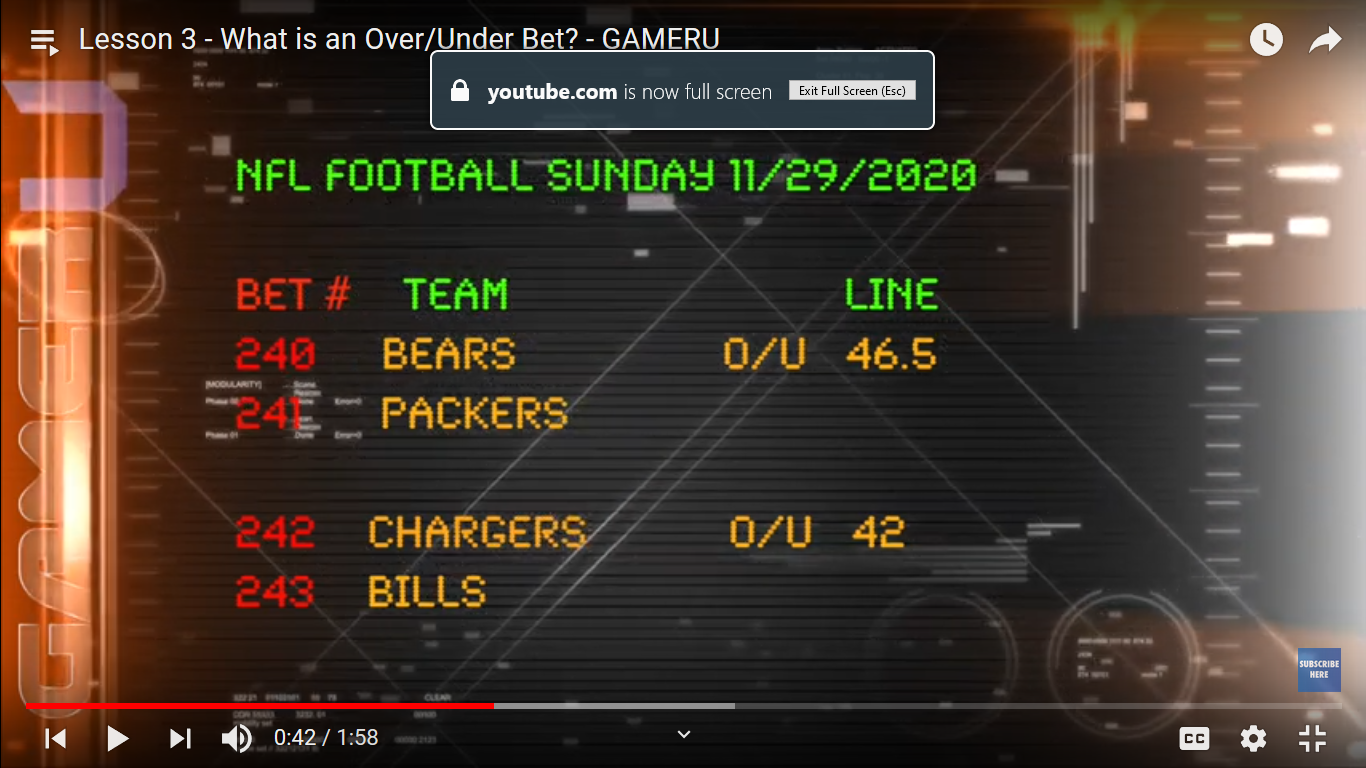 You don't win friends with salad, betting against the shooter, or betting the under.
Now, while I make fun of betting the under, it can obviously be the smart bet, like if you expect a pitching duel in baseball, or have a battle of hot goalies in a hockey game. But like I said, you're rooting against scoring. So just know what you're in for.
You can also make an over / under 'prop bet', wagering on things like a quarterback's passing yards in a game, how many goals a player will score, or how many rounds a boxing match will last. More on that coming up…
Also, of note, generally, a sportsbook's standard odds for an over / under bet will be -110, meaning you have to bet $110 to win $100, with that extra $10 going to the book for the vig / juice (that's part of how they make their money). Sometimes however, the book will tilt the odds slightly in one direction, so be aware of that when placing an over / under bet.
Poker and Sportsbetting: Prop Bets
Prop bets come in many forms. You may have heard of people making prop bets on the Super Bowl, since it's maybe the most heavily wagered series of prop bets all year. These are bets placed on specific occurrences within a game, as opposed to the score. Super Bowl bettors can wager on anything, from the coin toss, to the length of the national anthem, to the color of the Gatorade dumped on the winning coach at the end of the game.
Those are some unique examples. More traditionally, prop bets involve wagering on things in a game like whether Tom Brady will throw for more than 255 yards, or if LeBron James will score more than 28.5 points, or if Connor McDavid will score more than 1.5 goals. These are usually listed as -110 like an over / under bet (wager $110 to win $100).
Other sportsbetting props can be listed in an "index" form, with multiple options. For example, below you'll see a list of prop bet odds for who would win Super Bowl LIV Most Valuable Player.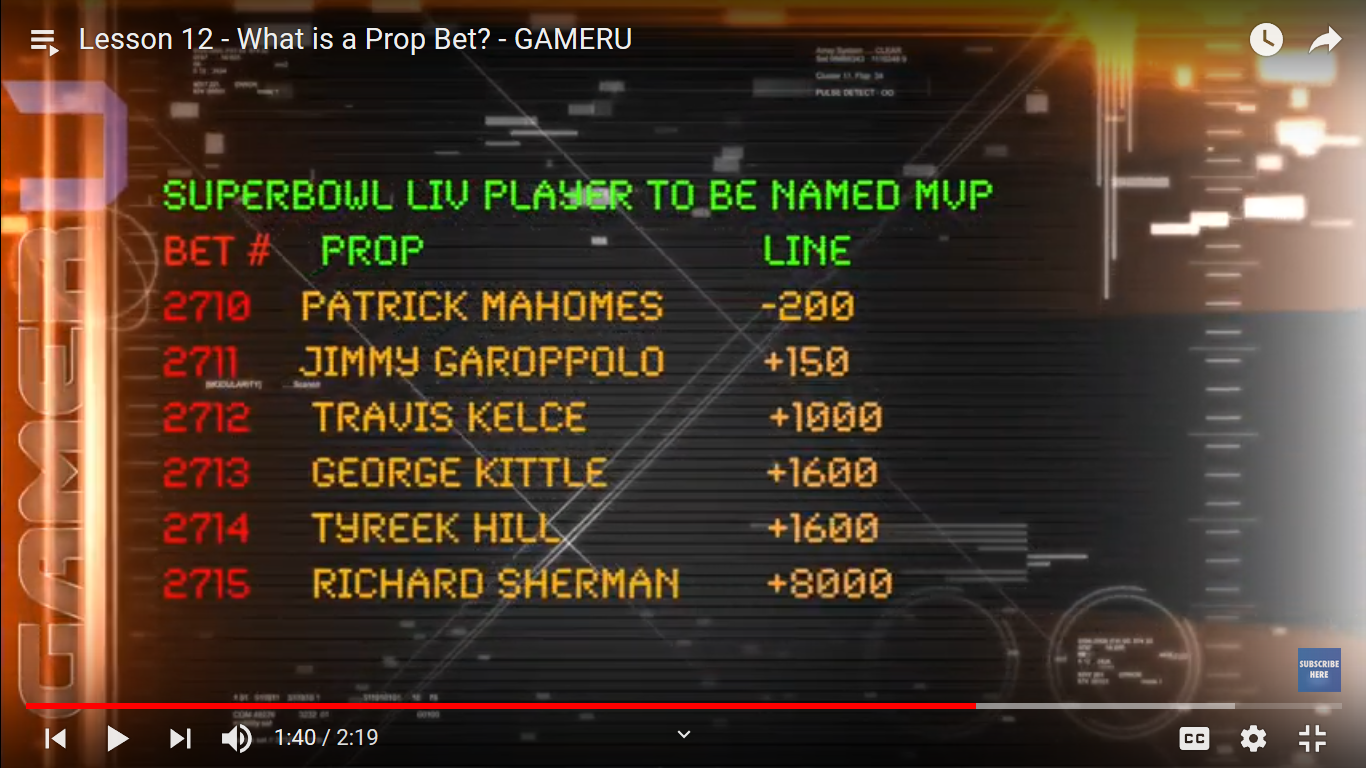 To go back to the Negreanu / Hellmuth match example, a fun prop might be 'How many times will Phil jump out of his chair and go full Poker Brat?' Or 'How many times will Phil curse?' Oh, how about 'How many seconds total will Daniel laugh at Phil throughout the match?' Come on betting sites, let's get on these! (BTW, I'm smashing the 'over' on all of these!)
Prop bets can be a lot of fun in both poker and sportsbetting, giving you a chance to not only root for your favorite team, but your favorite player as well!
Sportsbetting Parlays for Poker Players
A parlay bet is one that combines multiple bets on one ticket. For your parlay to win, you must correctly predict the outcome of all the games on your ticket.
While this makes it more difficult to win, the reward is greater. You can conceivably bet a small amount on a multiple game parlay and win much bigger than had you just bet on one game. But again, as you bet more games, your odds increase. It's essentially a higher risk (odds-wise) / higher reward (payout) kind of bet.
A popular way of making a parlay bet is to combine multiple heavy favorites together to improve your odds, generating a better payout.
For a poker example of parlay betting, it would be like betting on multiple matches in the first round of a 64-player heads-up tournament, but combined on one ticket. Say you parlay the results of four matches. You'd need to have picked the winner of all four matches to cash on your bet.
Sportsbetting Futures for Poker Players
A futures bet is one made on a team usually before a season or an event (although these can also be made mid-season), where a team or player is picked to win a championship. Betting on your favorite team to win the Super Bowl before the season begins, or on a golfer to win The Masters before the tournament has begun are examples of futures bets.
Sportsbooks will continually update these odds as events impact the likelihood of teams winning as the season progresses. For example, the Brooklyn Nets may have been +800 to win the NBA Championship before the season started, but since acquiring James Harden and now Blake Griffin, they could now be +300 co-favorites with the Lakers. If LeBron James were to go down with a season-ending injury, and the Nets added Kyle Lowry at the trade deadline, the book could move their odds significantly to make them an "odds-on favorite". More on that shortly.
Some of the fun in futures betting comes from betting on longshots with huge odds before the season starts. While the instances of these bets paying of is rare, it does occasionally happen. The most famous example is a few years back when Leicester City came out of nowhere to win the English Premier League title. They were such a massive underdog before the season, that futures bettors could get 5000/1 odds on them winning the title. Well, a few die-hard fans of the Foxes took that bet, and after a miraculous season, those fans were rich!
Odds-on Favorites
An odds-on favorite is a term usually used in futures betting to describe a team that is so heavily favored and bet upon against the rest of the field, that oddsmakers will adjust their odds significantly to make them an "odds-on favorite".
In the example below, no team is less than +350 (wager $100 to win $350) to win the Super Bowl. But if as the season went on, one team appeared head and shoulders better than the rest, the oddsmakers could potentially move their odds to as much as a minus number like -150 (wager $150 to win $100) if they determine that to be a more accurate line.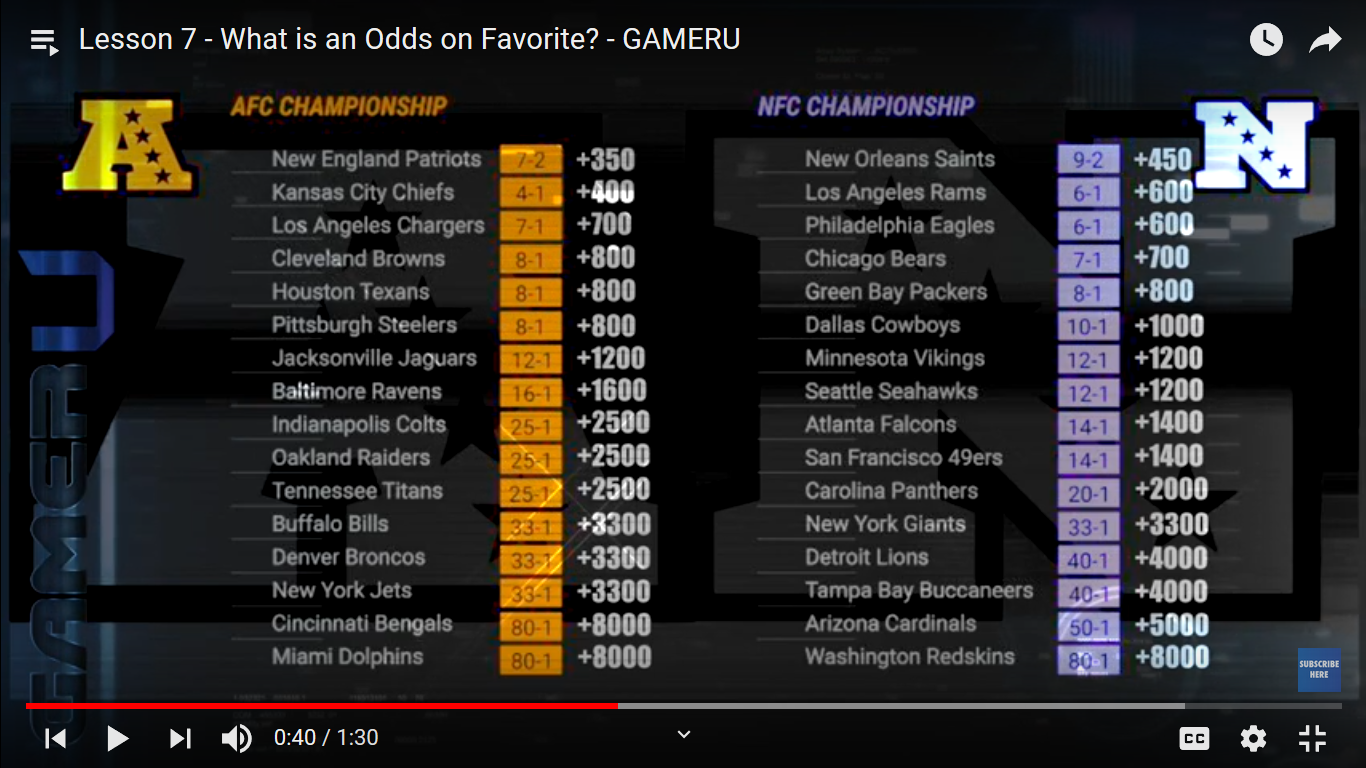 To put this into poker terms, imagine if Phil Hellmuth got to play an entire WSOP against nothing but recreational players. The index could look something like:
Odds to Win WSOP Player of the Year:
Phil Hellmuth -200
Seymour Butz +800
Jacques Strap +1200
Hugh Jass +1200
Ollie Tabooger +1500
Yuri Nator +2000
Mike Rotch +3000
Thus, against this collection of Springfield's home game heroes, Phil is the odds-on favorite.
How to Place a Bet in a Sportsbook
All right, you've decided you're going to combine your poker and sportsbetting passion, and jump into the sportsbook and place a bet while in the midst of a great poker cash game, so then, how exactly do you do it? And what's that giant wall with all the numbers?!?!?
The sportsbook may look a bit intimidating for newcomers, but once you know a bit of the lingo and where to look, it's really quite simple.
Along with that giant wall that displays all the potential bets available, there will be a desk or counter where sheets are provided, listing various bets. Simply find the sport or event you want to bet on and grab the corresponding sheet.
Once you've got that, you'll need to find the 'Betting Number' (also known as the rotation number) of the game(s) you want to bet on. On the image below, these are the numbers on the board highlighted in red. These will also be listed on the betting sheets.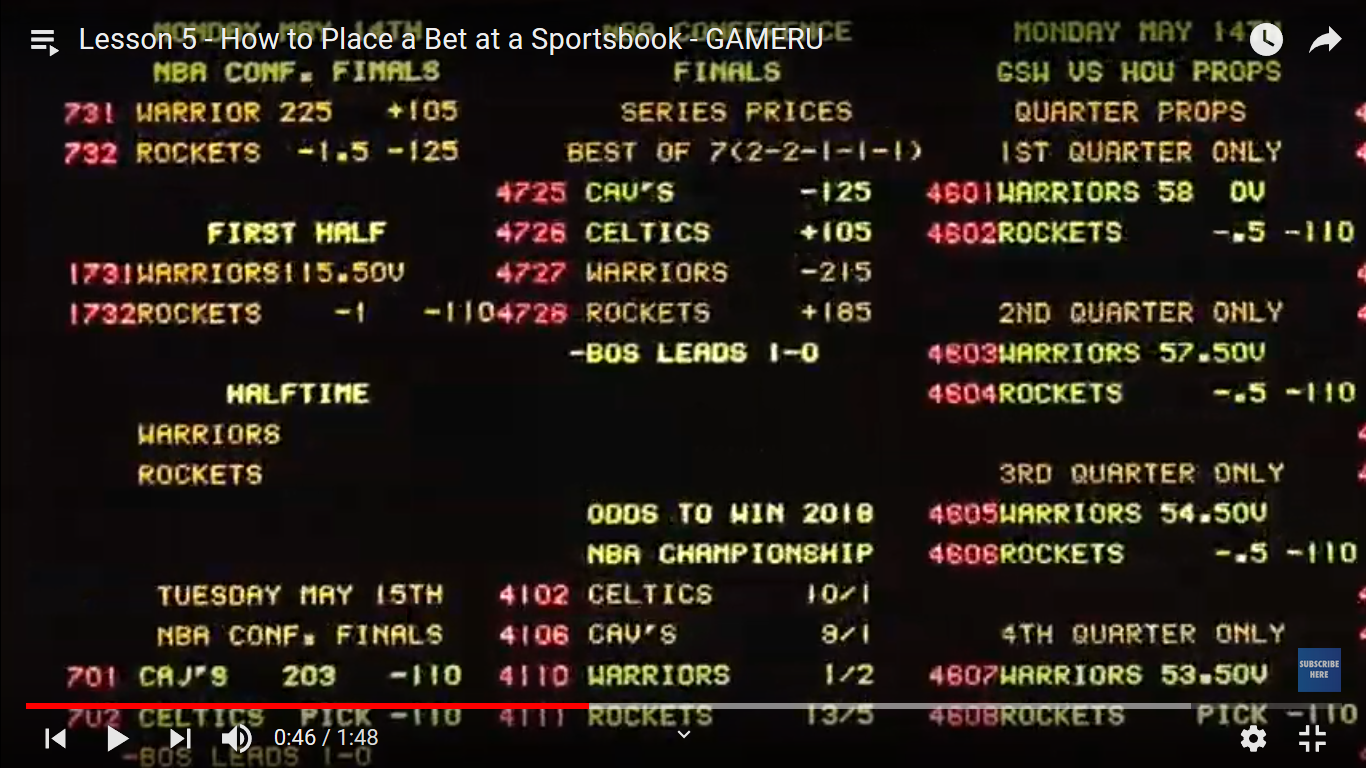 Next, you'll need to know what type of bet you want to make (moneyline, point spread, prop, parlay, futures, etc) and / or the team or event you want to bet on. Then, finally, the amount you want to bet.
From there, just head on up to the betting window and give the ticket writer the information for the bet you want to make. For example, if you want to place a $100 moneyline bet on the Packers based on the information below, you'd say "701, Packers on the moneyline for $100".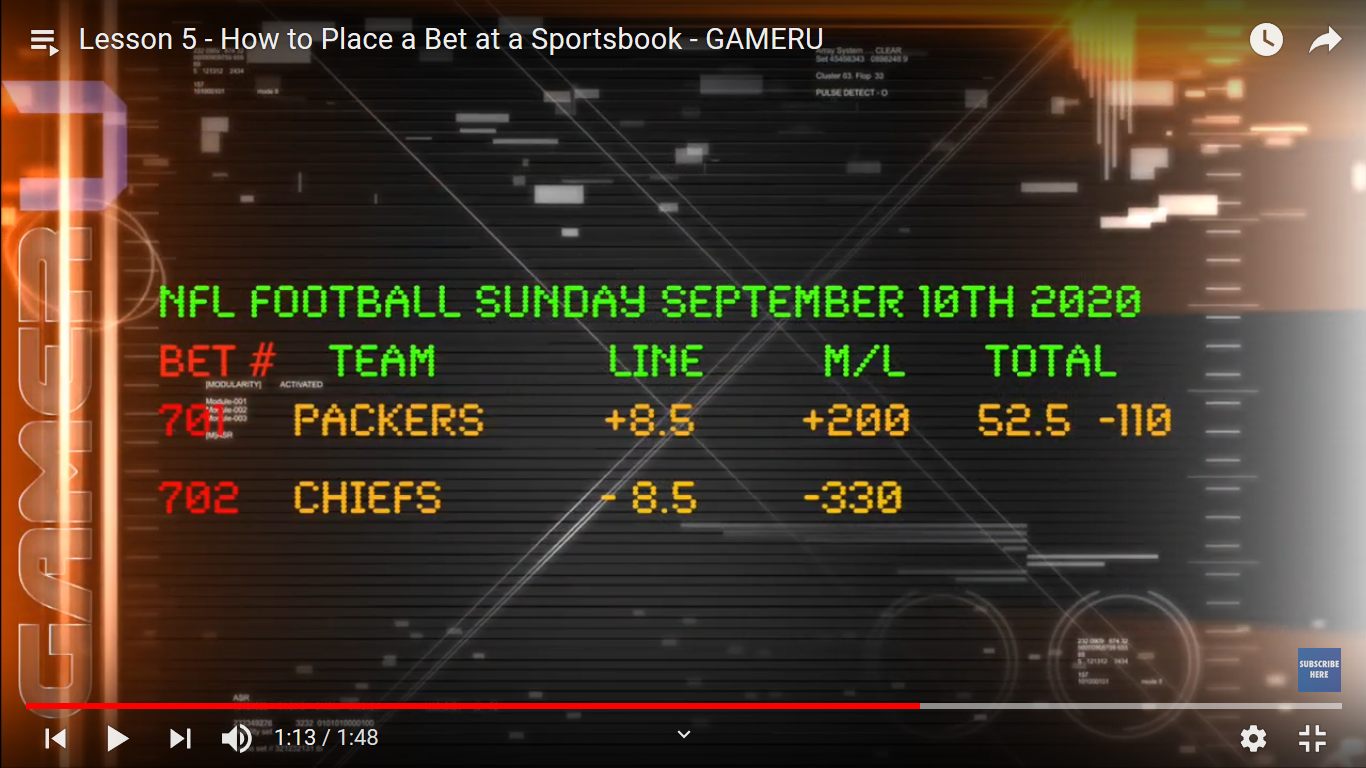 From there, you just pay your bet, the writer will give you a ticket with the details of your bet, and away you go!
Very important: Be sure to check your ticket before your leave the counter to make sure all the details are correct. The ticket writer could mishear you or accidentally enter your bet incorrectly. Once a game has started, you're pretty much out of luck to change a ticket if you've found a mistake.
Poker and Sportsbetting: This is Just the Beginning!
You've now got the basics to get you into a sportsbook, place a bet, and then sweat your game(s) in one of their comfy chairs in front of a giant wall of TV screens. Let the fun begin!
There's still much more to learn about the world of sports betting though. Along with the videos from our friends at GamerU that we've provided above, there are plenty more in the full multi-lesson series available here.
The series also covers topics such as how the bookmakers set their lines, how the vig / juice works, sharp money, hedging bets, teasers, and much more that will not only add to your sports betting knowledge, but put you on the road to becoming a 'sharpie' yourself!
Good luck, have fun, and never bet on the purple Gatorade shower!
If you or someone you know has a gambling problem, crisis counseling and referral services can be accessed by calling 1-800-GAMBLER (1-800-426-2537) (IL)
Gambling Problem? Call 1-800-GAMBLER (NJ/WV/PAMI), 1-800-9-WITH-IT (IN), 1-800-522-4700 (CO), 1-800-BETS OFF (IA), 1-888-532-3500 (VA) or call/text TN REDLINE: 800-889-9789.
21+. NJ/PA/WV/IN/IA/CO/IL/TN/VA/MI only. Deposit bonus requires 25x play-thru. Deposit Bonus issued as site credits. Eligibility restrictions apply. See DraftKings.com/sportsbook for details.