How to Run a Successful Charity Poker Event
So, you've decided to run a charity poker event. Congratulations! We here at Cardplayer Lifestyle hope your event is successful and that it raises lots of money for your chosen charitable cause! There are two types of charity poker events you can run: a tournament or a cash game session. You can either make it an invitation-only event or open it up to the public (to maximize attendance and donations); depending on how many poker tables your venue has room for. In the article below, we'll help you learn how to run a charity poker tournament or, alternatively a charity poker cash game.
Perhaps the most important thing to remember about charity poker events is the overall purpose of the night: to raise money for worthy and charitable causes. Of course some players may end up winning some money on the night, but even among the winner's it's traditional to donate a portion of those winnings to the event's charitable beneficiary.
Charity Poker Tournaments
There's a good amount of logistics that goes into proper planning and running of a charity poker tournament. Generally speaking, the more effort you put into the event beforehand, the smoother it will run and the better the experience for all involved. When it comes to running a charity poker tournament, it pays to make event pre-registration a must.
After all players are seated, but before tournament play begins, it's an optimal time for you (or a representative of the non-profit organization) to speak briefly about the night's charity beneficiary and the work they do.
Useful Tips
Designate a registration area to collect player entry fees and distribute table seating assignments.
Enlist the help of 1 volunteer per poker table to assist with setup, cleanup, and general event management.
Set up and double-check chip stacks before players are seated.
Prepare a blind structure and prize structure in advance and use a projector to display all relevant poker tournament information.
Have two decks of cards at each table. Assign a dealer and have the other players at the table shuffle the other deck. You get more hands played per blind level this way.

Charity Poker Cash Games
The mechanism behind charity poker cash games is rather simple. Each hand is raked at a pre-defined percentage of the pot (usually 5–10% with a hard cap). These monies then get pooled at the end of the event and donated to charity. Each table you set up can operate independently, choosing the stakes and games being spread.

The main advantage of a charity poker cash game session is that there's far less micromanagement necessary over the course of the evening. There's no need to break up and combine tables or assign seats, and players won't get locked out of the event in case they don't show up on time.
Generally speaking, running a charity poker cash game night is a far simpler endeavor, as tables tend to "run themselves", with far less logistics and advance planning being needed. You just have to ensure there will be enough attendees, and that a charity rake is being taken at each charity cash game table.
Useful Tips
Have two decks of cards at each table. Get a volunteer to deal and the other players at the table to shuffle. This helps increase the number of hands played (and the charity rake!) over the course of the night.
Assign someone trustworthy to handle all the money at each table.
Set rules for minimum and maximum buy-ins, as well as moving from table to table.
Optional: Have all players contribute a small sum towards a jackpot, given to the first player who hits a designated hand (e.g., four Jacks). If nobody hits the jackpot by the end of the night, the jackpot money is also donated to the charity.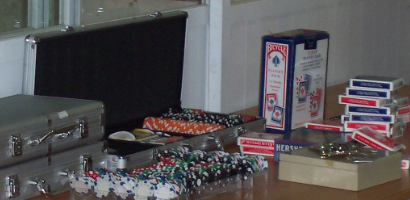 Charity Poker Event Checklist
No charity poker event is complete without the right equipment and refreshments. Here's a basic list of the things you should have prepared in advance:
Hall/venue with enough tables, chairs, and tablecloths
Per table: 300 poker chips, two decks of cards, one cash box
Refreshments station with hot and cold drinks, snacks, plastic cutlery
For tournaments: laminated seating cards, list of players, laptop, projector screen, envelopes for cash prizes
Optional: cut cards, chip racks, camera, opening remarks
If you'd like to donate the proceeds of your event to a Cardplayer Lifestyle charity poker partner, check out our Charity Poker Donations page.
High Profile Charity Poker Events
Obviously there's a major difference between grassroots-run charity poker events and top-tier charity poker events. At the end of the day, charity poker tournaments and cash games provide a great, fun, way to help raise money for ultra-worthy causes. Of course, if you've ever attended one of those glittering first-class charity poker affairs, you'll have an inkling as to how a charity poker night can be exceptionally well run.
In fact, some charity poker tournaments and cash games manage to reel in hundreds of thousands of dollars for worthy causes in a single night! The most high-profile charity poker events include the Big One for One Drop and Tiger's Poker Night, which we'll discuss in more detail below.
One of the most high-profile charity poker tournaments is the annual "Big One for One Drop" event, which stands out not only for its exclusive lineup of participants but also for its significant charitable cause. Originally conceived by Cirque du Soleil founder and recreational high stakes poker player Guy Laliberté, the tournament's buy-in is a whopping $1 million. The One Drop Foundation beneficiary charity, also founded by Laliberté support global access to clean water initiatives. Only the most elite poker players typical participate in this tournament, with other seats at the table usually occupied by celebrities, high wealth individuals, and well-known businessmen. The first three iterations of this event were held under the auspices of the World Series of Poker. The World Poker Tour has now partnered with the One Drop Foundation to host the prominent event under its auspices.
Another notable charity poker tournament is the "Tiger's Poker Night," which is part of the annual Tiger Jam festivities that are hosted by golf legend Tiger Woods. This event combines the worlds of sports and poker, and has attracted some of the world's top poker pros to come and participate in the festivities, including Daniel Negreanu and Phil Hellmuth. The tournament benefits the Tiger Woods Foundation, which focuses on empowering underserved youth through education and opportunities. With its unique blend of competitive poker and star-studded attendees, Tiger's Poker Night has become a must-attend event on the charity poker circuit, raising substantial funds for a noble cause.
Charity Poker: Disclaimer
Running a charity poker event may or may not be legal in your jurisdiction. If you intend to hold your event in a public venue, you are strongly encouraged and advised to check with the appropriate local authorities that doing so is legal before proceeding with your plans. If you hold a charity poker event in a private residence, inviting only people you know personally, you will usually not run afoul of any local laws, but it never hurts to check twice, just to be sure.