Certainly, poker is a game of information and the more information you have the better off you are. If you can work out a way of taking notes that enhances your knowledge and doesn't give away too much information in the process, and that doesn't create negative feelings that you can't exploit, then by all means.
Cardplayer Lifestyle is proud to present Poker Notes Live. This FREE mobile poker app allows you to take quick, efficient notes on yourself and your opponents on your mobile devices while sitting not in online casinos, but rather at LIVE poker tables. It's perfect for both home game use as well as in live poker rooms and a great fit for both professional and recreational poker players.


FANTASTIC APP! It definitely has piqued the interest of a lot of players. Go to the App Store and download this – I'm sure it'll be worth your time!

-Bernard Lee, of ESPN.com/poker
Poker Notes Live was specifically developed by poker players for poker players. This app gives you the power to quickly tag and classify all players at your table and jot down anything and everything you notice about them in a systematic, intuitive way.
Anyone who has ever played a hand of online poker knows how helpful it is to be able to take notes on opponents at the virtual felt. Now, finally, you have the tool you need to do the same at a live poker table.
Playing live so much I haven't had much use for all the software I used to rely on at online tables, though I do use Poker Notes Live in my phone, which is a slick little app that allows you to take notes on players at a live table much like you do online….it's a great value for what it does.

– Chris "Fox" Wallace, 2014 WSOP $10K H.OR.S.E. winner
Why Did We Create the App?
Though we've been living in the information age for a while, up until now there's never been any sort of high-tech, "smart" way to take notes at live poker tables. Notepads and audio recorders are outdated methods of note taking in the 21st century, when everyone's glued to their Smartphones and tablets. When we realized that everyone sitting at poker tables was already using their mobile devices in between hands, the idea to create Poker Notes Live was quite simply a no-brainer. The app is designed to allow you to take notes in flop poker games, including Texas Hold'em, Omaha, and Omaha Hi-Low, the games most frequently played in poker rooms around the world.
I really like this – I like the product and, as I said, it may be sufficiently terrific for me to go actually out and buy a Smartphone, which I haven't done yet. It may be bringing me into the Modern Era.

– Ashley Adams, Author of Winning 7-Card Stud
How Can You Benefit From the App?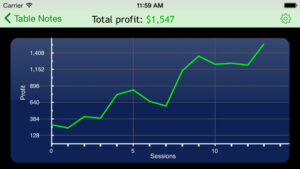 All Poker Notes Live app content is completely 100% user-generated, so you can enter as much or as little data as you want while playing. Among the app's benefits are your ability to:
Quickly make note of your opponents' general tendencies with icons and customizable tags
Instantly translate your observations at the table into scores of your opponents on a number of general parameters, including percentage of hands played and aggressiveness
Easily record your buy-ins, wins and losses, and tips given while at the tables – a great bankroll management feature
Use the Poker Odds – Range Calculator feature to take exceptionally accurate notes

(NEW)

Attach a picture of your opponent to your notes, for easy recall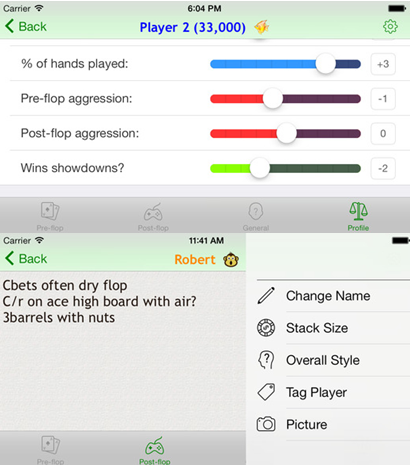 Anyone who has ever played live poker knows that there are plenty of lulls in the action when you're not involved in a hand. If you've got Poker Notes Live on your tablet or Smartphone, that "dead time" now becomes time that you can remain involved in poker thinking. With this app you can maximize your time at the table by taking and examining notes to eliminate your own mistakes and capitalize on the ones your opponents repeat.
We had a quick whirl with the app and liked how it was implemented but you definitely need some discipline to keep entering meticulous notes, which is how the Poker Notes Live app becomes really useful.
The Best Part – Poker Notes Live is FREE! No Ads!
Whether you're a recreational poker player or a grinder sitting in poker rooms every day playing to make a living, Poker Notes Live is perfect for you.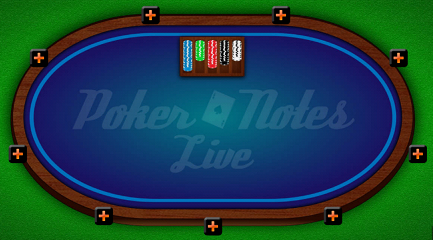 There's Also a Premium Version of Poker Notes Live
If you only play live poker once in a while, the free version of the app will perfectly suit your needs. The more often you play, however, the more benefits you're likely to derive from increased note-taking and record keeping. Here, then, are the main differences between the free and premium versions of Poker Notes Live:
| | | |
| --- | --- | --- |
| | Free Version | Premium Version |
| Table notes list feature | X | ✓ |
| Records and charts results across multiple sessions | X | ✓ |
| Import/export database (serves as backup of all notes + allows for manual sync across devices) | X | ✓ |
| Save all notes on every opponent you ever face | X | ✓ |
| Email notes to your PC for further analysis at home in between sessions [Android only] | X | ✓ |
| | | |
After trying out the free version of Poker Notes Live, you'll realize that the one-time fee for the premium app is one of the best long-term investments you can make at the poker table. At just $4.99, Poker Notes Live costs less than having lunch… with it, you'll be taking other players' lunch money in no time :-)!
If you are a regular cash game player, at $4.99, there is no reason not to get this app. Best-case scenario – it will help you increase your win rate in the long run, and even if it is by a small fraction of your current win rate, it still is a sound investment.
Available on Android and iOS, in Multiple Languages
Poker Notes Live is currently available on all mobile Android and iOS. It's also available in a dozen languages, with more in the pipeline:
English
German
Spanish
French
Italian
Russian
Hebrew
Dutch
Swedish
Czech
Finnish
Japanese


As I noticed while using the app and then researching the Premium version, the Premium version does everything I wanted the free version to do… considering how useful the Poker Notes Live App is I will probably purchase the Premium version before my next live poker game. If you play live poker even once a week I would definitely consider purchasing the Poker Notes Live App.

– Poker writer Steve Ruddock, Pokernewsboy.com
Check back here at Cardplayer Lifestyle or on the Poker Notes Live Facebook page for updates. You can also follow the Poker Notes Live mobile app on Twitter.