I was a little bummed out when I looked around my Barcelona hotel room on Sunday, and realized it was time to go home.
My first time attending PokerStars European Poker Tour Barcelona allowed me the amazing opportunity to visit the city and get a front row seat for one of the top destinations on the poker festival calendar. This trip was so full of experiences, both poker media-related and otherwise, that it's impossible to talk about them all in one article.
What follows then are just some of the many highlights of my trip to EPT Barcelona 2019, as a representative of Cardplayer Lifestyle.
On a catamaran off the shores of Barcelona! @PokerStarsLIVE #EPTBarcelona @cardplayerlife pic.twitter.com/ekdzKhfpN1

— Geoff Fisk (@GeoffFisk) August 28, 2019
The Interviews
Interviewing is my favorite part of journalism, and on this particular trip I had the opportunity to sit down with Team PokerStars Pros Andre Akkari, Lex Veldhuis, Muskan Sethi, and Kalidou Sow. The chance to talk to each of these personalities for 10-15 minutes each really gave me some insight on the life of the poker pro.
All four of these players have a unique and important role in the poker industry in 2019, with each taking a different path to where they are now. All were gracious and generous with their time, as they were doing numerous daily interviews with the various media representatives on hand at EPT Barcelona.
Seeing that process firsthand really gave me a deeper understanding of some of the duties of a Team PokerStars Pro away from the table.
I was also able to snag an unexpected interview with high-stakes pro Charlie Carrel, who is always an interesting conversation. Talking to the pros in person continues to be my favorite part of being in the poker media, and I had plenty of opportunities to engage in some great conversation at EPT Barcelona.
The EPT Barcelona Experience
Without getting into too many details, I can definitely say that the PokerStars team took great care of the invited media throughout this event.
The interviews were arranged ahead of time, and all of them started promptly and on schedule. Trying to get player interviews can be quite the challenge at a poker event, as the pros are on a grueling playing schedule, with time for anything else at a premium.
Away from the tournament, media members had the opportunity to engage in a number of organized social events.
I had an unforgettable experience on my first night there, meeting up with other media representatives at the Hotel Arts, right next door to Casino Barcelona. I was the only American at the table and made acquaintance with some very engaging and interesting people from Poland, Germany, Brazil, and Russia, some of whom were with mainstream media outlets.
I was fascinated to hear from these international reporters. To the representatives from the mainstream, "non-poker" media outlets, I tried to convey that they had indeed hit the jackpot with their assignments to EPT Barcelona.
That's the way I feel about working in poker media in general; if poker is your passion and you end up with the chance to write about it for a living, you really have hit the jackpot!
Other organized activities included a ride on a catamaran on the Mediterranean Sea, as well as media tournament that was one card away from being one of the crowning moments of my on-table poker exploits.
#EPTBarcelona Media Tournament, lets go! @PokerStarsLIVE pic.twitter.com/nR0zDMiOZi

— Geoff Fisk (@GeoffFisk) August 28, 2019
Unfortunately, with a massive three-way pot on the line at a critical juncture of the tournament, an ace hit on the river. My holdings did not include said ace, and it was time for me to head back to the hotel for some rest after that emotional rollercoaster.
The City
The sights and sounds from my brief venture into Barcelona will stay with me forever. What a vibrant, bustling and culture-rich place it is!
I took a couple of rides on a hop-on, hop-off bus tour around the city. Just sitting on the top deck of the open-air, double-decker bus as it cruised around the Catalonian capital was an awe-inspiring experience.
I had read about the Sagrada Familia, one of the master works of Catalan architect Antoni Gaudi. The work of Gaudi is visible all around Barcelona, and Sagrada Familia is particularly interesting, as it's been under construction since 1882 and is still unfinished, with an anticipated completion date of 2026.
I could see this basilica in the distance as I began my ride on the bus, and even from a distance it's impressive. This epic work of art then disappeared for a while on the route until suddenly, after the driver made a couple of turns, I was right under the structure.
This iPhone shot of the basilica doesn't do it justice, as it is one of the most spectacular works of architecture I've seen in my life.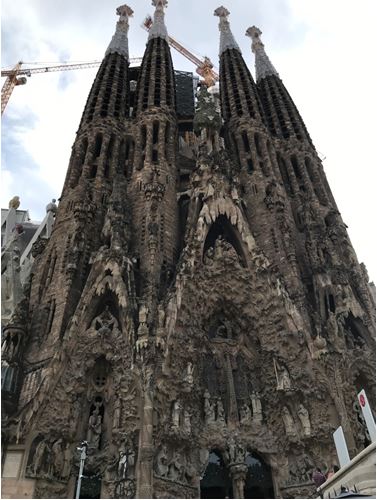 Unfortunately, I never got to go inside. On my last day in the city I walked over from my hotel and tried to buy a ticket, but they were sold out for the day.
I will not make the mistake of trying to see the inside of Sagrada Familia on my final day in the city if I ever get to go back to Barcelona. For now I'm relegated to looking at other people's photos of the inside of the basilica, and even the quickest look at those pictures makes it clear that I definitely missed out.
Barcelona has so many things to see and do that there's no way to get to it all on your first trip. I did get the chance to check out the Gothic Quarter, Las Ramblas, and Mercado de La Boqueria, as well as get a little bit of time in on the spectacular beaches of Barcelona as well.
My final day in the city included a trip to Park Guell, a public park designed by Gaudi that was at or near the top of every "things to do" list I read about Barcelona. This park includes a collection of spectacular architecture by Gaudi and a chance to see Barcelona from an elevated viewpoint.
Oliver Biles, who was at the event to do videography work for Carrel's vlog, came along on this mission, to get some shots of the city. We found a trail, off of the beaten path, that went to the top of the hillside and offered a view of the city that did not disappoint.
Last day in Barcelona! Found a trail at Park Guell with an elevated view of the city pic.twitter.com/N7MAvzXsn4

— Geoff Fisk (@GeoffFisk) August 31, 2019
Other highlights of the trip included the cuisine, which offered the chance for me to try paella for the first time. I found a couple of very cool craft beer bars with some locally-brewed selections that would fit in quite well where I live in San Diego!
In general, just riding around in the bus and wandering around the neighborhoods of Barcelona on foot were unforgettable experiences. No regrets on this trip; the entire experience, from covering the poker festival itself, to getting the opportunity to move around as a tourist, was truly the best combination of work and vacation that I could possibly ask for.
Hopefully, I'll get to go back someday!