As many readers may have learned through various media outlets, including the Wall Street Journal, PokerStars, the world's largest online poker site, is in advanced negotiations to buy out the Atlantic Club Casino in Atlantic City for a reported price of $50 million. While this news was greeted warmly throughout the poker industry, it would appear that PokerStars only has one interest in mind with the deal: gaining a foothold in a legal land-based U.S. casino market, which will eventually pave the way for it to offer online poker to Americans.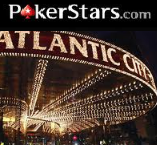 As part of their settlement with the Department of Justice 4.5 months ago, PokerStars retained the right to apply as a real-money online poker operator to the relevant US authorities when applicable through a state or federal framework. The current U.S. legalization path seems to be taking a state-by-state approach, so this potential acquisition represents PokerStars' attempting to jump on that bandwagon – not to saving a beleaguered Atlantic City.
The Steady Decline of Atlantic City
Regular visitors to our site know that Atlantic City is one of my favorite places to take a poker vacation. The action in the city's many poker rooms still packs quite the punch. Unfortunately, the overall trend of the area's casinos has been downward. Though the nation's second-largest gaming market is still tops on the East Coast, increased competition from neighboring states like Pennsylvania and Delaware has been eating away at local revenues for the last few years. Plus, AC has also been ravaged by two hurricanes in two years.
New Jersey State Senator Raymond Lesniak, a longtime online gaming advocate, hailed the news of PokerStars imminent purchase. With the passage of online gaming imminent and expected within the coming months in the Garden State, Lesniak touted the potential land-based and online impact of PokerStars as a huge engine for job growth, as well as for "keeping Atlantic City alive". He further added that "… this will be a big boost to the industry and will help our tourism industry as well".
Our Thoughts on a PokerStars-Owned Atlantic City Casino
If it were to complete the purchase, this would actually be PokerStars' second foray into land-based operations, after it partnered up with the Hippodrome Casino in London. That said, running a branded land-based poker room is one thing, but ownership of a casino is something else entirely.
While PokerStars has immeasurable experience as far as poker management is concerned, running a hotel, resort, restaurants, retails shops, and entertainment complex are not things the world's leading online poker brand is known for. Should the deal go through, we hope that PokerStars hires experienced professionals to do their best on the land-based operations side, while it continues to focus its efforts on online operations. Such an arrangement would have the best chances at succeeding in our opinion.