This surely won't come as news to most of Cardplayer Lifestyle's American readers, but Hurricane Irene is currently making its presence felt across the Eastern Seaboard, including one of this poker blogger's favorite destinations, Atlantic City.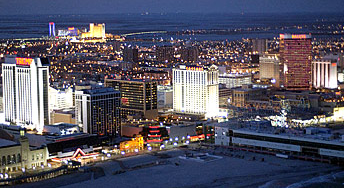 Following President Obama's emergency disaster declaration for the entire state of New Jersey, mandatory evacuation orders are in effect for over 1 million people, including everyone in Atlantic City. This has caused the closure of the casinos there, usually open 24/7, for only the third time since gambling became legal there in 1978.
Visits to the websites of all Atlantic City casinos turn up hurricane alert messages, indicating their closure. Normally, taking a poker vacation in Atlantic City and hitting a progressive jackpot is easy big money, but all bets are off until early next week, when the casinos are scheduled to reopen for business, as all cash and gaming chips have been locked away. Lower floors of many casino establishments were boarded up, with sandbags put in place to help protect against the likelihood of flooding. The only people allowed in the casino complexes will be police and security officials.
The Atlantic City International Airport has also been shuttered, along with the inbound traffic lanes on the Atlantic City Expressway. Atlantic City Electric has issued warnings of the likelihood for power outages and damage to the electrical infrastructure to the area, something that will likely continue to affect the casinos at least somewhat even after they reopen.
City officials reported that approximately 85% of residents have been evacuated, but the bigger question is what sort of mess they (and gambling tourists) will be returning to when Hurricane Irene finally clears the area.