Home to the highest concentration of poker rooms outside Las Vegas, Atlantic City is an incredible place to take a poker vacation. Reachable in just a couple short hours via car, bus, or train, from nearby metropolises such as New York City, Philadelphia, Baltimore, and Washington D.C., or accessible via plane and train from farther off locales, Atlantic City has been a magnet for East Coast poker players for years.

Total Bad Beat Jackpot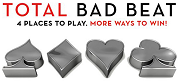 Another excellent reason to choose Atlantic City as your next poker vacation destination is the Total Bad Beat Jackpot. Back in the summer of 2010, Caesars Entertainment had the excellent idea to create a multi-room pooled progressive jackpot at its poker rooms in the city:  Bally's, Caesars, and Harrah's. The Total Bad Beat Jackpot was the only such linked-room progressive jackpot of its kind in all of live poker until the debut of the Mega Beat Progressive Poker Jackpot, which linked Caesars Entertainment's 7 Las Vegas poker rooms in January 2013 (since discontinued). All players seated at cash game tables are eligible for a share of the jackpot if a qualifying hand (4 of a kind or better) gets beaten.
The jackpot is started with at least $100,000 of seed money and $1 from each cash game pot is added until there's a qualifying bad beat in one of the 4 poker rooms. The largest share of the jackpot, 30%, is awarded to the player with the losing hand (the one suffering the bad beat). The second-largest share of the jackpot, 20%, is given to the winner of the hand. The remaining 50% of the jackpot is split among all players in the poker rooms, with each guaranteed a minimum of $100.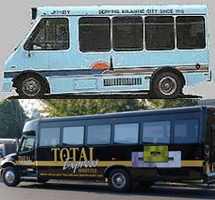 Getting to Atlantic City Poker Rooms
Traveling from one poker room to another in Atlantic Citycan be a bit tedious and the costs can add up quickly if you use the Jitney (close to $3 per trip) or cabs ($13 flat fee). The good news is that all of the Atlantic Cityhotels promoted by Cardplayer Lifestyle boast a free internal shuttle service, the Total Express Shuttle. The four shuttles operate from 10 a.m.–11 p.m., seven days a week, once an hour. While members of the Total Rewards Program can travel on the shuttle for free, it's worth bearing in mind that you're not allowed to take luggage with you.
Book Your Atlantic City Poker Vacation via Cardplayer Lifestyle
Needless to say, you'll need a place to stay while on your poker trip in Atlantic City. Cardplayer Lifestyle is proud to promote Harrah's, Bally's, and Caesars. As all of these casinos participate in the Total Rewards Program, playing at any of their 4 top-notch Atlantic City poker rooms entitles you to earn valuable comp dollars that can be applied to your hotel room! Just click the links below to obtain the best possible room rates at some of the top casino hotel establishments in Atlantic City.



Once you drop off your bags and head down to the poker room, be sure to ask the shift manager there how to get their poker room rate, if available, which can save you even more money. Especially on holidays or weekends or when big conventions roll into Atlantic City, this tip can becomes especially valuable to poker players, as standard room rates will likely be significantly higher.