I first connected with Arthur Crowson a little over four years ago, when I reached out to him to ask that he consider trying out and reviewing my Poker Notes Live Mobile app, for PokerListings.com. At the time it was somewhat of a "watershed moment" for me, as he was the first poker writer I'd turned to who actually agreed. I was and remain thankful for that kindness. I had certainly never imagined at the time that I'd get to some day meet Arthur in person. I was fortunate enough to finally have had that opportunity a couple months back at the World Poker Tour Tournament of Champions.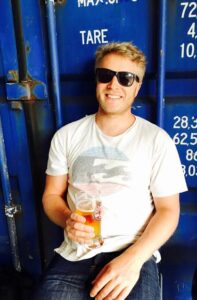 Over a pizza lunch together, we chatted a bunch and got to know each other a bit better. Right away, I knew he'd be a great subject for our ongoing Get to Know the Poker Media series; I'm happy he agreed to take part.
I know you'll enjoy getting to know Arthur better, too, so without further ado…
How did you first get into the business of poker writing and for how long have you been doing it?
I picked up the No-Limit Hold'em while working as a reporter for a small Canadian newspaper in the summer of 2005. I think the local hockey play-by-play guy actually introduced me to the game.
The next year, I responded to a Craigslist ad basically looking for WSOP interns for a company called PokerListings.com.
I wasn't sure it was a real thing and initially thought it was a scam. I think PokerListings' Editor-in-Chief Matt Showell (who was hired at the same time) convinced me otherwise, pointing out the fact they had given us laptops.
I was hired full-time the following summer and have been with the company ever since.
What poker outlets have you written for and which has been your favorite (one-time or ongoing) gig over the years?
Surprisingly I've written for just one, which is definitely not the norm in the poker industry. I feel very lucky in that respect. PokerListings has been a fantastic company to work for.
It's cliché but my favorite part is the relationships I've made with people in the industry over the years. I think it would be fair to call poker media a rag-tag bunch, but I've met some of my best friends on the poker circuit.
It seems like much of the work you do for PokerListings is from home, but occasionally you get to travel and do media work on the poker tournament circuit. What's the regular daily routine like and how does that differ when you're on the road?
My schedule has changed a lot over the years and in the first 2-3 years with the company I traveled a lot. That was back in the prime of the poker boom when we covered nearly every major tour including WSOP, WSOPE, WPT, WSOPC, APPT, LAPT, and EPT.
I think I was on the road for at least one week of every month. Maybe a bit more. During that time we were doing live updates, photography, interviews, blogs, and more. The hours were a bit insane and 10-14 hour days were not out of the ordinary while on the road.
It was amazing to see cities like Barcelona, Melbourne, Prague, and London on a regular basis, but it can become a bit of a slog if you're working all the time.
These days when I'm at home, I mostly write news and features for PokerListings as well as some back-end content.
If I do travel these days, it's entirely focused on news, interviews, and photos.
What is it that you love about poker that has kept you so interested in the game for so long?
Probably the easy-to-learn, hard-to-master nature of the game. I still think it's incredibly fun. I wouldn't call myself a great poker player, but I feel like I've made the occasional great play. Pretty much anyone can do that and I think that's what makes the game so appealing.
How often do you play poker? Home games mostly or in poker rooms? Online or live (or both)? Cash or tourneys?
Not as often as I'd like. We have a PokerListings home game every month or two. I play online a few times every week. I try to keep up-to-date with all the new games and variants.
I used to really like tournaments, but I've just been playing cash these days. No idea why; I like both.
What's the biggest misconception people have about poker writers/writing?
Probably that we have any control over schedules, start times, structures, or your online account balance.
What sort of job(s) did you have before getting into poker writing?
I worked as a reporter for community newspapers in British Columbia. At the time, it was a striking transition moving from the cash-starved newspaper business to the gold rush that was the poker boom.
I've never been around anything quite like the 2006 WSOP and most of the stories you hear about it are true.
Read Jason Kirk's epic story about covering the 2006 WSOP $50K H.O.R.S.E. Final Table
Poker sites were so eager to sign new players they were handing out buy-ins at the WSOP like candy!
I remember this funny moment while I was finishing up work after Brandon Cantu won his first bracelet for $757K. I was walking back to my hotel room when I ran into Cantu's friends. One of his buddies had this giddy look on his face and just shouted, "WE'RE ALL GONNA GET LAID!" to no one in particular.
That was the general feeling of the poker world in 2006.
We've recently become Facebook friends and there was a little tidbit that struck me, namely: you were born in Hawaii? I thought you were Canadian through and through. Surely there's got to be an interesting story there.
Ha, I was born in Canada but my parents actually immigrated to Hawaii when I was seven (they were pretty done with the Canadian winter) so I grew up there. I eventually moved back to Canada to attend College but I definitely identify with both places.
Could you tell us a bit more about your personal life; where you live, family, etc.?
Sure, I live pretty close to downtown Vancouver with my girlfriend Megan. I have one sister who lives in Colorado and my parents still live in Hawaii.
What other hobbies do you have? Tell us about them.
I play hockey and soccer. I also love biking, snowboarding, camping, and surfing. I'm a pretty die-hard Vancouver Canucks fan (which ain't easy these days). I'm also into comics, video games, and other card games. Lately I've been playing a ton of Hearthstone, too.
What do you enjoy writing about most in poker – lifestyle/feature pieces, op-eds, promotional stuff, tourney recaps, live/online poker news, or live reporting?
I really enjoy telling stories that haven't been told or have been otherwise missed. I've never been that hard-hitting guy and I have nightmares about misrepresenting an interview subject. My co-workers jokingly call me Heart-to-Art but that's probably not that far from the truth.
What articles (or other content) that you've written/produced do you look back upon and say "that was my best work"?
It's tough to narrow that down after 10 years but I'm really fascinating by young players who crush online.
For instance Annette Obrestad was dominating online when she was just 15. I was there when she won the WSOP Europe Main Event for $2 million at just 18 years old. That's not normal.
Work in the poker industry long enough and it becomes normal but to the rest of the world that will always be compelling. It's still fascinating to me.
Lately, I've also enjoyed doing a few retrospective pieces like 17 Unbelievable Things That Happened at the 2006 WSOP and Every* Poker TV Show Ever, Ranked because I feel like I lived through those things and there's something of an emotional attachment to them.
What's something you still haven't yet done/accomplished in poker that's on your bucket list?
I guess I should probably play the WSOP at some point, right?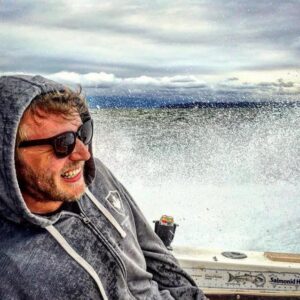 Alright, the stage is yours – go ahead and let loose about something you just HAVE to get off your chest.
Poker is really fun.
I think that gets lost, however, if you spend too much time on the forums or arguing on Twitter. Your mindset becomes: "everything is terrible and poker sucks." I think the mob sometimes feeds off its own negativity.
I think a lot of that negativity stems from the fact that it's become much, much harder to be a professional poker player. That sucks. I get that. I've had a lot of friends lose jobs in the industry because of that. But at the same time, poker is still incredibly fun. It can be enjoyed as a completely recreational activity. It doesn't have to be one thing.
Play a $5 home game and you'll almost certainly see some atrocious plays, but people are generally having a blast.
That's what I like about poker.