Table and card games have been around for centuries and despite their age, they are among the most popular casino games to date. According to some sources, poker itself dates back to 1829 and was only discovered when English actor Joseph Cowell started to spread the news on how to play. We've come a long way since the original 20-card deck was used, but the way you win has remained the same.
Thanks to technology, poker and casino aficionados no longer find themselves having to get dressed to the nines (or at all!) to play at a local casino. Instead, they can play from the comfort and convenience of their own home. You can find plenty of information and places to play online without stepping foot outside your front door.
Of course, poker players tend to love a good gamble, thus their interests also extend to other card games beyond poker itself. A such, we'll take a look below at five of the most popular card games for poker lovers to enjoy.
Pontoon
This exciting variant of blackjack delivers many twists which could see you cashing out a huge sum. The object of the pontoon is to collect cards with a face value higher than the banker's. However, just like blackjack, you must not exceed 21. Played with a minimum of five and maximum of eight players, simply get as close to 21 as you possibly can without going over. Picture cards (face cards) are worth 10 points, aces are worth 11 or 1, and all remaining cards are worth their numerical value. Hands ranked best to 'bust' are as follows:
Pontoon: The best hand reaches 21 with two cards; an ace and a picture card or 10.
Five Card Trick: Reach 21 (or less) with a hand of five cards.
Next best hand is a hand of three or four cards totaling 21.
Hands of less than 20 with five cards
Hands exceeding that 21 limit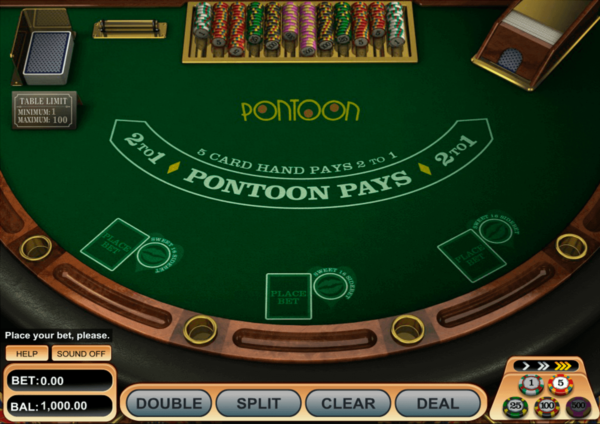 Blackjack
One of the most popular card games of all time is blackjack. The rules are simple; reach 21 and beat the dealer without busting. Unlike pontoon, this is played just a singular player against the house. Each player and the banker are dealt two cards to begin with. You can either stand, which ends your turn, hit to take another card, double down to take another card and double your stake, or split; separating your two cards into two hands. Simple, yet entertaining.
Baccarat
Also known as punto banco, baccarat is a renowned high stakes game and, as such, can often be found away from the main casino floor space. The simple card game sees you either backing the punter or the dealer – just who has the best hand? The goal is to get as close to 9 as possible. The cards 2 to 9 carry their face value whilst picture cards are 0 and Aces hold a value of 1. An even money return comes on correct predictions, or for increased odds of 8:1, you can place bets on a tie.
Pai Gow Poker
Pai gow poker is a US take on the popular Asian tile game, created by Sam Torosian in 1985. Like the majority of table games, players must place their bets on the table before the game begins. After all bets are placed, each player and the dealer receive seven cards. Now, you must arrange your cards into two poker hands; one made of five cards – this is known as the big/high hand – and the other made of two – the small/low hand. The 5-card hand must outrank the smaller hand. If both hands are better than the dealer's, you receive odds of 1:1.
Dragon Tiger
This very simple and fast paced card game is based on a guess. It has nothing to do with the Crouching Tiger, Hidden Dragon movie! The objective in Dragon Tiger is to predict whether the dragon or the tiger will draw the higher value card. To make things a little more exciting, players can also bet on whether the dragon or tiger cards dealt will be of the same value – this one delivers a tie. The rules:
Cards will be dealt from a shoe with eight decks (minus the jokers).
Players place bets on either dragon or tiger, tie or suited tie.
The dealer produces a single card face up on both dragon and tiger section of the tablecloth.
Highest card wins and pays evens of 1:1.
The card values from lowest to highest begins with the A at 1, followed by 2 and so on. In the event of a tie, half of your main bet is returned, and wins pay out 11:1.
If cards for both dragon and tiger are equal in value and suit, it's called a suited tie and half of your main bet is returned and wins pay out 50:1.