The 2022 World Poker Tour World Championship at Wynn Las Vegas has been nothing short of a magical experience. While my sentiments may be personal, I know for a fact that they are universally shared by all of my colleagues in the poker media corps as well as quite literally every single poker player – both professional and recreational – with whom I've spoken over the past week and a half. What has instantly become a new staple of the annual poker calendar was chock full of special moments throughout the entirety of the almost three-week long festival. I've been fortunate to be in attendance for the second-half of it, and here's a rundown of the top 10 highlights of my experience.
1. Welcome Party
After flying 7,500 miles halfway around the world for 22 hours, the thought of attending a party a few hours later might seem a little much; but this one was not to be missed. The World Poker Tour went all out with a fantastic welcome party at Area 15. From an open bar and full dinner buffet spread to virtual reality (VR) experiences, fire dancers, rides, WPT Passport giveaways, and more, hundreds of poker players got to experience the finest in Vegas-style entertainment.
Dad and I had a really great time at the @WPT Players Party at @AREA15official tonight.

After 20+ hours of travel and a day full of errands, seeing and reconnecting with so many familiar faces was an awesome way to end the day.

Props to the organizers for a phenomenal party! pic.twitter.com/C4lhlRXttq

— Robbie Strazynski (@cardplayerlife) December 12, 2022
2. Isai Scheinberg and Vince Van Patten Recognized with WPT Honors
While it's a no-brainer that the World Poker Tour would use its grandest showcase to inaugurate new members into the WPT Honors club, and that highly deserving 20-year WPT veteran commentator was tapped as one of the latest honorees, the other honoree was a shocker – and in the most positive possible way.
PokerStars founder Isai Scheinberg was long-overdue major official poker industry recognition for his incredible, one-of-a-kind contributions to the game. it was heartwarming to finally see him get his just dues and a massive round of applause and appreciation from a packed ballroom of poker players, as well as industry and media professionals.
On a personal note, it was exceptionally cool to wish him "mazel tov" and say a few words to him, his wife Dora, and his son Robert in our common language of Hebrew.
3. My Dad's Once-in-a-Lifetime Experience
I've waxed poetic about my father, Dr. Josef Strazynski's journey as he prepared to play in the WPT World Championship Main Event and take his seat as a WPT Global prize package winner. Throughout his week here, I documented the continuation of that poker journey every step of the way: from tournament registration to his 10.5 hours of playing in the tournament itself to the fact that he wanted to squeeze one last 3-hour cash game session in before heading home.
"We have 3 hours after Shabbat ends until I have to take you to the airport, Dad. Anything specific you'd like to do?"

Look what you've created, Vegas?! 😂

He says he wishes he could stay another month or two and that this entire experience has been out of this world. ♥️ pic.twitter.com/scVp51OvE3

— Robbie Strazynski (@cardplayerlife) December 18, 2022
Beyond my own coverage, Dad's WPT World Championship experience also got chronicled by other poker media outlets including by my new friend Landon Blackhall here and this deeply touching feature by my longtime friend Poker.org Editor in Chief Brad Willis here.
Being at Dad's side throughout was just plain awesome, and I want to publicly express my thanks to the Good Lord Above for having handed me a golden opportunity to fulfil the Torah's Fifth Commandment in the most special of ways.
4. The Poker Media Dinner
It's no secret that I love what I do and that I'm also a huge fan of other poker media outlets and the many wonderful people who work alongside me in this great industry. Opportunities for us to socialize and gather together without needing to simultaneously be working are relatively few and far between – and that much rarer when you live thousands of miles away from everyone else.
The World Poker Tour kindly treated assembled media to a first-class dinner that I thoroughly enjoyed. As an extra added bonus, I was delighted to discover that the Wynn's SW Steakhouse had a kosher meal option (massive shout out to Head Waiter, Corey!), but the evening's main course was undoubtedly our opportunity to engage in camaraderie.
This 👇

My inner poker fanboy still doesn't believe I get to be part of this #WPTWCWynn festival.

Nor that I got to sit next to 2 people I consider industry legends.

I'm having an absolute blast. Thank you, @WPT!

Before I left 🇮🇱, Miriam said: "go live your best life!"

— Robbie Strazynski (@cardplayerlife) December 16, 2022
5. The Awesome "Halftime Show" Performances
The World Poker Tour is known for not just hosting poker tournaments and events around the world, but rather for quite literally putting on a show. This was no truer than the outstanding halftime show performances staged on no less than three separate occasions throughout the WPT world championship festival.
From inspired musical performances to jaw dropping physical feats, the "halftime shows" helped add to an already "major event" type of feel in the Encore Ballroom; even WPT CEO Adam Pliska got in on the act!
6. Molly Bloom
I've had the opportunity to interview Molly Bloom in the past. Her 2018 appearance at a Unibet Open poker event in Romania was her first at a major poker event. She hasn't really been seen in poker circles since then, so it was surprising and delightful to see her make a big public poker appearance here in Las Vegas.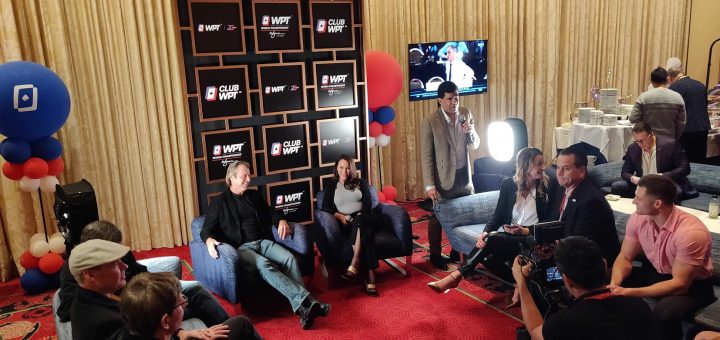 The World Poker Tour had already fully decked out the VIP Lounge for ClubWPT and WPT Global Package Winners, as well as WPT champions. From copious amounts of food and drink to pinball machines and air hockey tables, an A+ player experience was already guaranteed. To have added in a special "fireside chat" with Molly Bloom just took the proceedings to the next level for all in attendance to enjoy.
7. Ladies MUG + Championship Event
One of the pillars of our approach to poker media coverage here at Cardplayer Lifestyle has always been the proactive advocacy for increased women's participation in poker and the spotlighting of successful players and initiatives in that realm. So, it was fabulous to see that the World Poker Tour really took things to the next level here.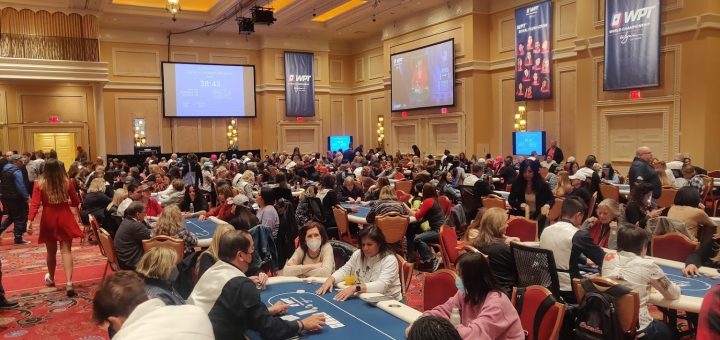 The Ladies Championship was not relegated to being a sideshow but rather it took center stage with a televised final table (won by Lina Niu). Already prior to the ceremonial "shuffle up and deal" – delivered with great gusto and visible emotion by Poker Hall of Famer and the first WPT Honors recipient Linda Johnson ­– the event had exceeded its $200,000 guarantee and with 578 players it stood tall as the second-largest Ladies event of the calendar year.
Moreover, the Ladies MUG, hosted by Jamie Kerstetter, was an unabashed success. Numerous current (and future!) Women in Poker Hall of Famers showed up to play low-stakes Hold'em and H.O.R.S.E. alongside many successful female pros and recreational players. That – and seemingly endless mimosas and candy-filled gift bags – resulted in a fun-filled raucous atmosphere that brought smiles to the faces of every dealer and staff member in the Wynn Poker room. The only question on everyone's lips was "why don't we have these things more often?!"
8. A $29 Million Main Event Prize Pool
Back in summertime, when the World Poker Tour first announced that it would be staging a $15 million Guaranteed World Championship Main Event at Wynn Las Vegas, there was some quite obvious concern about hitting that number, as such an ambitious goal had never been set before in the poker industry. Moreover, far lower guarantees had unfortunately been missed quite badly by other venues at other festivals in years prior.
The Final Numbers @WPT @WynnLasVegas
2,960 Entries
$29,008,000 Prize Pool
Televised Final Table Payouts
1st $4,136,000 + $10,400 Seat to 2023 WC
2nd $2,830,000
3rd $2,095,000
4th $1,608,000
5th $1,301,000
6th $1,001,050

370 Players In The Money
370th $17,400#WPTWCWynn pic.twitter.com/ZgePI86dXd

— Matt Savage (@SavagePoker) December 15, 2022
Wynn and the WPT didn't just hit the $15 million guarantee (by Day 1B!); they absolutely obliterated it and blew it out of the water, creating a $29 million prize pool – nearly double the stated goal! That's got to rank up there as one of the most prominent and impressive achievements our industry has ever seen.
9. Final Table Set/Production
Every magnum opus has a grand finale, and the World Poker Tour certainly knew how to showcase the conclusion of this incredible World Championship festival.
The move from the Encore Ballroom to the Latour Ballroom at Wynn marked the transition of the events "from stadium to center stage", and what a hell of a stage they constructed!
With poker's most ardent fans railing the action and rooting on their heroes at the felt, they've constructed the perfect conduit for the atmosphere at the three televised final tables to be nothing short of electric. I can only imagine how it's going to look and play out on the broadcast in the coming months.
Our @WPT Televised Final Tables are open to the public and located in Latour Ballroom #6!#WPTLadiesChampionship FT – Dec. 18th 4pm#WPTPrimeChampionship FT – Dec. 19th 4pm#WPTWorldChampionship FT – Dec. 20th 4pm

We highly recommend arriving early to secure a seat! pic.twitter.com/NixpK2i2PU

— World Poker Tour (@WPT) December 17, 2022
10. A Winter Poker Reunion
There's perhaps no better sign that poker is finally booming once again than the emergence of a brand new, must-attend festival on the yearly calendar. As the WPT World Championships draw to a close, there comes with it a slight feeling of sadness that over the holidays we'll all really be missing the buzz that's accompanied these incredible past couple of weeks at Wynn Las Vegas.
Much as everyone in the poker world always looks forward to our annual summer reunion, I'm beyond ecstatic that we also now have an annual winter retreat to eagerly anticipate. That the WPT-Wynn partnership is a multi-year affair is perhaps the best news our industry could have gotten in 2022.
Especially post pandemic, we've all come to value just how important and special real-life engagement and interaction is and how that enriches our lives. As great and critical as "Poker Twitter" and other social media platforms are to the building and maintenance of our wonderful community, there's simply no substitute for winning moments at the felt, hugs and smiles away from the felt, and life's in-person beauty through poker's prism to be felt.
After 20 years, we are so grateful to @WynnLasVegas for hosting our 20th Anniversary celebration!

We'd like to officially welcome all of our players and partners from all over the world to the #WPTWorldChampionship #WPTWCWynn!

Here's to another 20 years! #TheBestIsYetToCome pic.twitter.com/GzP8PJW4S9

— World Poker Tour (@WPT) December 8, 2022