News broke last month that the WPT World Championship would carry the largest single tournament guarantee in history, a whopping $15 million. The $10,400 buy-in event is set to be held at the Wynn Las Vegas, as the crown jewel of their end-of-year tournament poker festival taking place between December 1-20. More than a dozen other tournaments, including the popular Wynn Mystery Bounty and WPT Prime Championship, will further populate what's going to be a packed schedule. With that said, the $15 million GTD WPT World Championship is already grabbing headlines six months out from the beginning of play.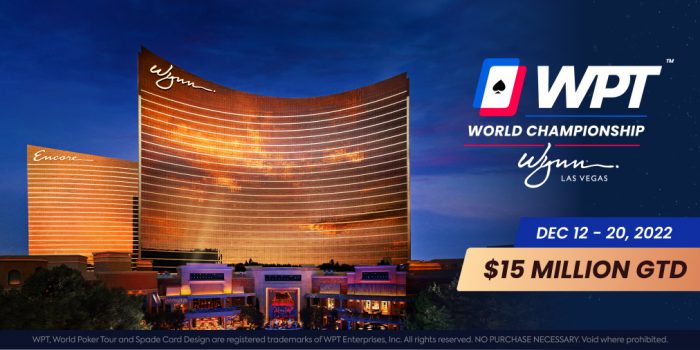 In particular, the emergence of this event signifies a notable change from the former "August-June seasonal poker calendar" to a more proper January-December calendar year for the World Poker Tour, with the WPT World Championship officially marking the close of their 20th Season.
READ MORE: The World Poker Tour Turns 20 | Episode 16 of The Orbit Celebrates
Events of this magnitude don't "just happen" and magically appear on the yearly poker calendar. It takes a special group of individuals working hard behind the scenes for marquee poker tournaments like the WPT World Championship to materialize. With that in mind, we reached out to Angelica Hael, Vice President of Global Tour Management at the World Poker Tour, and Ryan Beauregard, Executive Director of Poker Operations at Wynn Las Vegas, to gain some further insight into the efforts they've spearheaded on the tour side and operator side of things that eventually led to the formation of the major announcement.
The largest guarantee in live poker history.

This December.

The WPT World Championship at Wynn Las Vegas. pic.twitter.com/ZFrdQOKvfV

— World Poker Tour (@WPT) June 6, 2022
The big announcement happened on June 6. How long had things been in the works? When was the idea of attempting a $15 million GTD tournament first conceptualized?
Angelica: The idea's inception dates back to Q3 of last year. When WPT was acquired by a new investment group, it was unanimously agreed that we truly had to deliver a special event that would be synonymous with how we want to celebrate our 20-year anniversary.
It was still a chaotic period at that time for the global tour with widespread uncertainty amongst our global partners. It was an unbelievably challenging time; however, the concept of the World Championship Festival really began to take shape and so began many lively discussions and animated debate as to what the final product will look like.
Can you give us a bit of an idea as to what sort of logistical work was happening behind the scenes during the planning stages? I imagine that you living in Australia and the Wynn staff being in the US Pacific time zone meant that Zoom meetings and phone calls were often happening at some rather unusual hours…
Angelica: When your business is a global one, one has natural advantages because that's the standard fabric of your everyday professional life. I lived in the US for a very long time, and together with the team we were executing events in different continents outside of North America so I guess this is just the norm for us. The Global Tour Management team are made up of very unique individuals whose DNA don't seem to know what time zone differences mean, so that is also a tremendous benefit.
The World Poker Tour has scores of casino-resort partners across the globe. What factors went into the decision to stage this event in the United States, Las Vegas in particular, rather than elsewhere in the world?
Angelica: We are truly blessed to have some pretty fabulous partners around the world however, we knew fairly early on that an event like this could only take place in Vegas. After all, it is the entertainment capital of the world – there's no other place that can host a festival of this magnitude!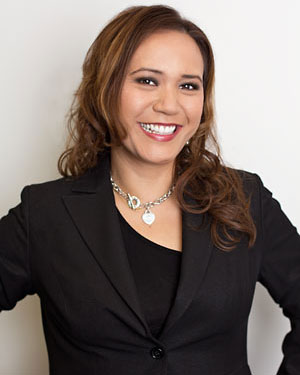 Once it was decided that Las Vegas was the right place to hold such a prestigious, one-of-a-kind event, you still had numerous potential venues to choose from. What, in your minds, made the Wynn the perfect place to play host to the 2022 WPT World Championship?
Angelica: Partnering with Wynn Las Vegas for our exclamation point on WPT Season XX means having our Festival in a globally renowned casino, with world-class amenities and one of the best poker rooms in the world!
Their receptiveness to take on a project of this magnitude was refreshing; their history of running the highly successful Wynn Millions and the stellar reputation that Ryan Beauregard and his team have were the key factors. Throughout the years, we have had exploratory discussions with Wynn but the timing just wasn't right. It wasn't until the start of this year that discussions really got traction and we're just absolutely delighted to have this partnership in place.
One detail that emerged from the announcement is that the staging of the 2022 WPT World Championship marks the beginning of a multi-year partnership between the Wynn Las Vegas and the World Poker Tour. Why do you believe that it was important that a longer-term deal be struck between the two parties rather than "just" collaborate closely for this one (massive) event?
Ryan: The World Championship is much bigger than a single event. The $15 million GTD marquee is going to lead headlines, but in year one we are scheduled for 20+ tournaments and more than $20 million in total guarantees. The scale is much bigger than our previous events, and requires a thoughtful amount of planning and logistics.
The long-term agreement now in place validates our commitment to growing this festival, from both sides, and ensures everything we put into it beginning year one is ultimately rewarded. I'm hopeful that the WPT World Championship at Wynn Las Vegas will be going strong for years to come, and creates a lasting legacy as one of the most fun, well-run events on the poker calendar.
Some partnerships are just meant to be. Looking forward to delivering this fabulous festival with @LVPokerBeau and his @WynnPoker team! #thebestisyettocome

— Angelica Hael (@AngelicaHael) June 6, 2022
Such a gigantic guarantee practically ensures that hordes of players will show up to take their shot. There are three Day 1 "freezeouts" on schedule, with one entry permitted per player per day. With that said, it's not as though someone needs $10,400 cash-in-hand to play. Can you tell us about the other ways in which someone could conceivably qualify for a seat at the WPT World Championship?
Angelica: We know to expect strong demand for players to try to get their seats into the WPT World Championship at Wynn Las Vegas, so we're going to be pushing from all angles. ClubWPT is the only way for American players to qualify online for the tournament, and with the promotions now active, we expect a lot of players to be generated from now until December. WPT Global will also be running online satellites with hundreds of packages up for grabs! Select global casino partners (including the US) will also be running satellites during their WPT events.
WPT Global is the only place outside of the US where you can win your WC package online. Packages and seats can also be won via WPT Steps, WPT League and LearnWPT. We have many avenues, pathways and feeders to the World Championship which we intend to announce shortly. These, of course, are all in addition to the many satellites that Wynn will run in the lead up to the event.
READ MORE: LearnWPT Online Poker Training — A Comprehensive Review
The Wynn Las Vegas poker room has proven unafraid to step up and take some bigger risks, which have thankfully paid off both for the players as well as via the room's increasingly stellar reputation in the poker community. Getting behind a $15 million single tournament guarantee might be in a league of its own though. How do you prepare on the operations side to handle an event of this magnitude? Is there anything you'll be doing differently beyond your usual excellent pre-series tournament prep, to handle what might end up being bigger crowds than you've ever experienced before?
Ryan: While we have certainly hosted some large, multi-day events, the grand scale of this series will be a first for us. The bulk of the series will run in the Encore Ballroom, 4-5 minutes from the poker room, and feature approximately 120 tables. Getting the area ready for multi-day fields of 2,000-3,000 entries (including an anticipated 500+ online and live satellite winners) is no small feat. And that's just for the main event!
On top of that, we will be hosting cash games and additional events in the poker room. So, to your point, the entire series is "different" for us and requires more prep than anything we've ever done before. But we're up for the challenge, and look forward to bringing it all to fruition.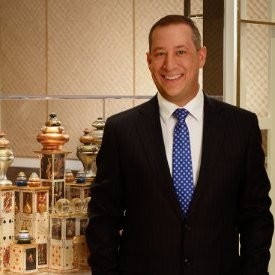 As popular as the Wynn poker room is and as many marquee events as you've hosted before, surely in the wake of this big announcement there will be some new players making their way to your room for the first time to play in the WPT World Championship, or perhaps some of the other big-name tournaments you have on the schedule. What practical tips do you feel would be helpful to share with these players to ensure that they have the smoothest possible experience with tournament registration, gameplay, obtaining information, etc.?
Ryan: First and foremost, reserve your hotel accommodation at Wynn Las Vegas now, even if you have to make adjustments later. We are offering preferred booking through the WPT.com website and, while we have a large amount of rooms held, they will likely sell out. Beyond that, keep your eyes open for the full event schedule, which will debut shortly, and follow along on Twitter (@WynnPoker and @WPT) for exciting festival announcements from now through December!
The World Poker Tour's motto has always been "the best is yet to come." Your organization seems to be ringing that bell increasingly often, as a cavalcade of major announcements have come out of the gates during this year's 20th anniversary celebrations. From a new logo to new ambassadors to new tour names and trophies to a new branded online poker venture via WPT Global and now the new record holder for biggest guaranteed poker tournament in history… It's incredible! I can't help but ask what else can you tease us with, that the poker world will get to see from the WPT from now until the end of 2022?
Angelica: We've been on a hot streak of announcements, as you've noticed. Poker players should look forward to the complete December schedule for the WPT World Championship, and you have my assurance that our motto will continue to ring true throughout the rest of 2022 and into the future. Our successes from new endeavors in Season XX will be the foundation for WPT's growth going forward.