It's an exciting time to be at the WPT World Championship Festival at Wynn Las Vegas right now, which has been running from December 1st and will end with its Main Event final table on December 20th with a guaranteed $15,000,000 prize pool, the largest single live tournament guarantee ever.
The WPT is also focusing on its initiative of supporting women in poker, and is holding its very first WPT Ladies Championship, an $1,100 buy-in affair that will take place from December 16-18th and carry a $200,000 guaranteed prize pool. As an added bonus, the WPT Ladies Championship will be recorded to be televised at a later date.
Jamie Kerstetter will be hosting a WPT Ladies Meet Up Game in the middle of the Championship, on Saturday December 17th, from 11am-4pm at the Wynn Poker Room, with 11 dedicated tables for the MUG and a number of additional WPT giveaways on tap. Kerstetter is a venerated poker player and WSOP commentator, Creative Producer for WPT Global, and boasts total live tournament earnings of $764,958 according to the Hendon Mob. She helped co-host an extremely successful first-ever WPT MUG in July, with the WPT contributing over $10,000 in prizes. This event was also co-hosted by notable poker players Kristen Bicknell, Xuan Liu, Veronica Brill, and Ashley Sleeth, amongst others.
Ahead of the upcoming ladies-focused festivities, Jamie was kind enough to take the time and share with Cardplayer Lifestyle readers about her involvement with the WPT, the Ladies Meet Up Game, and her hope for the future of women in poker.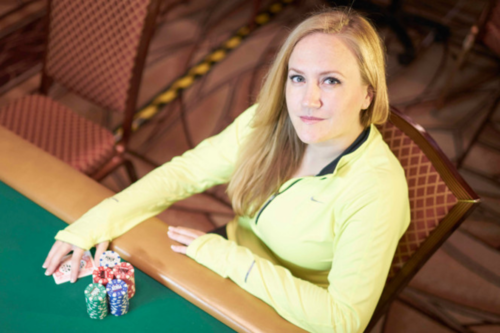 What does it mean for you to be involved, hosting and being the face of the upcoming WPT Ladies Meet Up Game this weekend at the Wynn? Especially after the roaring success of the last one held in July?
It means a lot that WPT took a chance on me for that first event. I have been told "no" quite a bit by other companies when I proposed some ladies' outreach projects — sometimes when there is just no guarantee of immediate value it's hard to get approval. For this second Ladies' MUG, both WPT and Wynn gave a resounding yes, and I'm so excited to make an even better second event.
What were your expectations for the first MUG in July? It's been said that you were really the person who made it happen. Why was it so important to you and how did it exceed your expectations? What was the atmosphere in the room like when it was happening?
My expectations for the first ladies' MUG were to fill five tables and make it a fun and memorable introduction into poker for any newer female players who attended. It's important to help women get over that one additional hurdle they may face when entering the live poker space — feeling intimidated in a male-dominated field. The event attracted over 100 women and MGM kindly utilized their entire poker room to accommodate the massive turnout. The atmosphere was loud and fun, and several players who had never played a hand of live poker before stayed well past the official end of the MUG, including the grandmother of popular poker vlogger Ashley Sleeth, who produced a great episode about the entire event.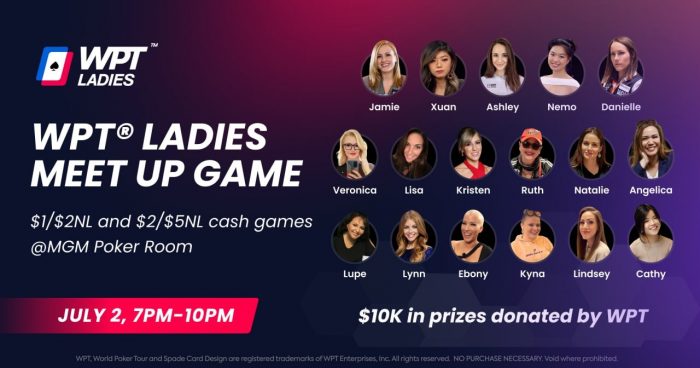 There definitely felt like a shift in the movement and visibility of women in poker this past summer. It feels like it's continuing to build with more and more groups supporting women in the game. How do we keep this momentum building and growing?
There have been those OG women's groups that really trail blazed the movement, WPA and LIPS are just a couple that have been around for so long – we owe a lot to them. Newer groups like Poker Power and PLON, and international groups like Herzdamen Club and Globetrotting Poker Women are doing a lot of the legwork to keep it all moving forward.
WPT is tapping into these already established groups and providing them live opportunities at MUGs and special tournament events. WPT Global is giving them online freeroll opportunities to match these live efforts. WPT Global satellited two women into the World Championship in a one package guarantee (with an added free $12K package!) on top of giving away five seats to the $1,100 Ladies' World Championship. Supporting these women's groups with opportunities like this is how we assure female attendance at poker events continues trending in the right direction.
What's it like to work with the WPT as their Creative Producer for WPT Global Poker? 
I am so fortunate to get to work with people passionate about growing the game in both the live and online platforms. Having the chance to boost other women by including them in content creation and also commentary roles is a huge perk of this job.
It's amazing that the Wynn has dedicated 11 tables for this upcoming weekend's event. What can people expect when attending this Meet Up Game? What type of games will be played?
People can expect to have a lot of fun, first and foremost. We will offer any type of game with which we can fill a table! Most of the tables will be $1/$3NL and $2/$5NL, but PLO and any mixed games or high stakes games are also on the menu if there is a demand.
We will have "mystery splash pots" to add excitement to the event – WPT has donated $5,500 in prizes that will be randomly added throughout the MUG to whichever table number is drawn.  Each envelope contains either a $100 Wynn gift card or an $1,100 WPT seat that the pot winner will open after showdown.
Are there any surprises or players we could expect to show up for the MUG on December 17th? Can any women attend, even if they've never played poker before?
There will be a lot of high profile members of the ladies' poker community in attendance, including WPT's own Lynn Gilmartin and newly minted Women in Poker Hall of Famer Angelica Hael. New players are strongly encouraged, as this environment will be a friendly, welcoming and fun introduction to the game.
Is this MUG especially meaningful being held while the WPT is having their inaugural WPT Ladies Championship with a $200,000 guarantee prize pool and $1,100 buy-in?
This whole series is an exciting step forward for women in poker. Having two major poker powerhouses like WPT and Wynn demonstrating with time, effort and money that they care about growing the game for us feels incredible.
Finally, where would you like to see the trajectory of women in poker go next year or in the future? What are you seeing that gives you hope in the future of women in poker?
I am looking forward to strengthening the WPT's relationship with all of the ladies' groups to further their own objectives for growing their communities. Walking into a poker room is vastly different now than when I started playing almost two decades ago; there are more women in every type of game including high stakes cash and high roller events. I want to help continue this trend so that women who want to try poker for the first time feel comfortable right away and see a path to the very top.
Popular poker player and podcaster Caitlin Comeskey, who herself is having a very successful year, commented about Jamie's influence in poker and for her personally:
"I think many women in male-dominated fields fall victim to a natural toughness or hardening, but Jamie continues to lead with warmth and kindness year after year." She reflects "she was one of the first people in poker to follow me and boost my content. I continue to be in awe of her power and genius and there's no doubt in my mind… (that she'll) continue to find ways to grow the game for women in empowering and creative ways."
New Women in Poker Hall of Fame Class Awaits Enshrinement
In another celebration of women in poker, the Women in Poker Hall of Fame (WiPHoF) celebration and induction Ceremony, will be held Wednesday, December 14th at 10am in Las Vegas at the PokerGO studio. The demand to attend in person was so high that the event sold out. That said, there will also be a watch party ($10 charity donation to attend) at the Table ONE room in the Aria Poker Room, where fans and supporters can watch the event, with doors opening at 10:30am. After the ceremony the watch party attendees will be invited to meet and greet the 2022 inductees.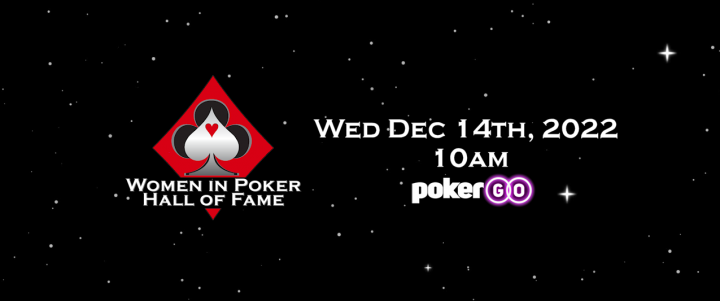 Angelica Hael one of these inductees, has been with the WPT for 13 years and is WPT's VP of Global Tour Management and has also been awarded the GPI Industry Person of the Year. Terry King, Vanessa Selbst, and Jennifer Tilly join her as 2022's fellow WiPHoF inductees.
Lupe Soto, Founder of the Women's Poker Association, and Women in Poker Hall of Fame has this to say about the WPT and Angelica Hael being a large part of putting women's poker initiatives as a priority:
"(The) WPT has put their commitment to women in poker at the forefront by developing this WPT Ladies Championship. To dedicate resources to televise the tournament and offer such a large guarantee, elevates the opportunity for women to new heights.

In the past, the WPT Ladies Night was an invitational, and yet was one of their highest rated shows. Now the world will see women who may not play professionally, compete at the highest levels of women's poker."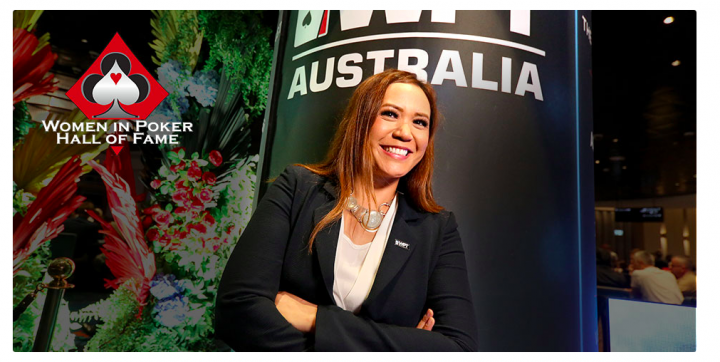 Speaking on the Women in Poker Hall of Fame ceremony Soto added, "once again, the World Poker Tour is supporting the Women in Poker Hall of Fame and one of their own, Angelica Hael, is being honored in the Class of 2022 Inductees. We couldn't be more excited to have her join the ranks of women who have contributed to the game in a big way."
The 20th anniversary of the WPT is a first-class celebration of many aspects of poker, including the women that help shape, are shaping and will shape the future of women in poker.