"You went without a brush for a month and a half?!"
This was my reaction when I found out that one of the people I was working with at the WSOP – not in my direct team – went a MONTH and a HALF without a hairbrush. This was not an unkempt or unattractive man, although someone's attractiveness unfairly gives them credit for doing certain things to maintain that attractive veneer.
Once, I forgot my brush when I was working the WSOP when it was still at the Rio. Ask me if I'd bought a brush at the first break in action. Yep, I did. I already feel as a woman that I have enough in my purse to build shelter if stranded on an island, with lip balm and a mirror to signal planes above. Maybe a snack or two is in there in a Ziploc with a napkin and spoon. And when I work the WSOP, my backpack has backpacks, that have lunch bags, that have lipstick, lip balm, etc.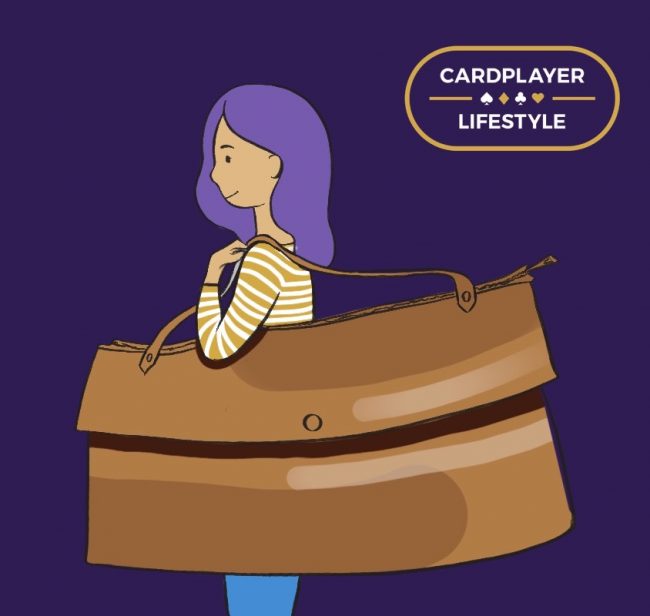 I have moments of amnesia where I forget I'm a woman who works in poker, a teeny tiny minority. And then I have glaring moments of clarity, such as the brush conversation of '22. A lot of what I do to prepare and work in poker is internal, like a lot of women's inner dialogues; ones that are so natural to us that talking about them usually doesn't occur to us or isn't encouraged as a talking point as a society.
Part of how I prepare is what I wear. What I wear to play poker is carefully thought out; if not the outfit, how I want to feel before I go through the sliding doors that'll lead me to a poker room. Unlike when I lived in Maui and had to do a spot check before I went anywhere in public, seeing if there's a bra and appropriate clothing involved, when I play poker, I don't leave anything to chance.
I used to like to dress in a feminine way when I would go play poker, curl my hair, check my makeup. I liked to look wholesome and approachable, but not too approachable. I wanted to feel like a baller inside, and I didn't want to have to think about my clothing once I got to the table. Dresses with WSOP sweatshirts, jeans and a cashmere sweater, sometimes cute professional jackets over dresses. I never wanted to have too much cleavage because I didn't want too much attention on me, I wanted to be absorbed into the game, into the banter, be comfortable.
I don't want to say that I don't appreciate women that have cleavage at the table. I love women who dress however the F they want to. We're WOMEN, and there are many ways to dress and comport ourselves as women. We can wear hoodies and sweatpants ourselves, just like the majority of male poker players do. We can have cleavage if we want to. We can dress for comfort. The fact is that most poker rooms – and casinos in general – feel like meat lockers, like they're trying to keep people alive and awake, as on many senior bus trips.
Clothes as a layer between me and the world
I usually like to write columns that touch on the absurdity of poker, the fun of it all, the craziness, the mishmash of all aspects of society. The fact that the Commerce offered multiple pairs of men's underwear, but no panties for me to be seen. I like to remind myself why; why I love it. Why even when I'm in the middle of the WSOP looking at the carpet to see if I could lay down and no one would notice – and then realizing 'heck no I'd never lay on that carpet if you paid me' – to remind myself why I'm not in a cubicle listening to a woman talking about buying khaki pants at Penny's every day for a while as I feel my life ebbing away. (Yes, I worked with Penny pants in a non-poker related job.)
Clothing for me is a layer between me and the world, between me and other players. I think about what I'm going to wear when I take out my trash (God forbid it's too revealing, and it's nighttime) even though my (male) neighbor almost never wears a shirt… ever.
I think about what I wear as a defense too; a shield, rendering me invisible or very visible. We need an extra layer of protection in this world, even as we're scanning the perimeter for escape routes, or just how to get back to our car safely. I stopped playing at the Commerce after dark, mostly because of safety, the neighborhood, the walk back to my car. Some people think it's being "too" safe, but too safe is still a mental buffer where we feel SAFE.
Last night after the poker session, I walked one of the players (a lady in her 60s) to her car.

It breaks my heart that women are (understandably) afraid in situations like that.

I guess we can't change the way the world is, but we can at least "be the change".

Offer to help.

— Robbie Strazynski (@cardplayerlife) September 18, 2022
It may seem silly to make a big deal about what you wear to a cardroom, but women are judged by what we wear, and I'm sure men are, too, but I can only speak to women. Separate from whatever you think happened with Robbi Jade Lew and Garret Adelstein, her appearance has been a big factor in how she's been judged. And in other cases, such as assault, or crimes against women: "WHAT WAS SHE WEARING?" echoes as such a big and persistent question. I should be able to play poker wearing whatever I want without fear. Plus, women also judge other women, so in a way we're screwed no matter what, so wear whatever makes you happy is where I aspire to be.
Asking other women poker players their process
As it's a topic that – to the best of my knowledge – really hasn't been thoroughly explored, I've asked some wonderful women in poker to share their thought processes in deciding what they wear to play poker, and I was excited at hearing their inner dialogues.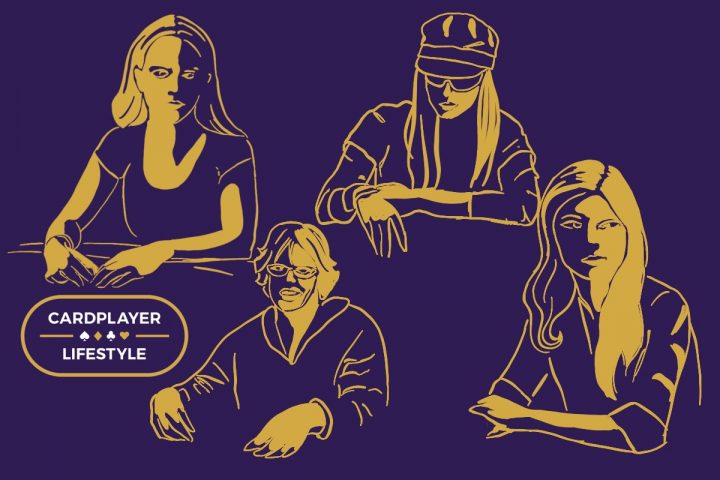 Terry King
"I think I've changed with age. I had a nice figure… I'm sure I flaunted it to some extent. I think many women dress for other women. I'm probably guilty at times. And dressing for men. I think as I'm older now, I dress for myself. Mostly I'm comfortable. But when I go out, I try to be presentable.
My mom had a saying. 'Didn't she look in the mirror before she left home?!' She was a hoot. I had a friend who would dress a bit provocatively, but get incensed if anyone made remarks. 'I should be able to wear whatever I want to play poker, without hearing comments.' I said yes, but people are free to say what they want. So put on some appropriate clothes and go make some money. It's detracting from your play if it bothers you."
Terry King is the 1978 WSOP Women's 7-Card Stud Champion, the administrator of the Facebook group Action Now Sports Poker, and is a member of the Women in Poker Hall of Fame class of 2022.
Linda Johnson
"For me, comfort at the poker table regarding my clothing is always most important. I dress very similar for cash games and tournaments. What I choose to wear is more based on the time of year and the weather, and whether or not the casino I am playing in is extremely cold or has an average temperature. I usually wear something long-sleeved, as many poker rooms are a bit chilly in Las Vegas because of the air conditioning.
I tend to dress slightly better for a Ladies' event and definitely a lot better for a live streamed televised event. I think it is important to represent the poker community well when the event is streamed or televised."
Linda Johnson was inducted into the Poker Hall of Fame in 2011, was the inaugural WPT Honors recipient in 2017, won her WSOP bracelet in the 1997 $1,500 Limit Razz event, and is also the cofounder of the Tournament Director's Association (TDA) and co-owner of Card Player Cruises.
Chris Read
"I don't ever wear clothes to use sexuality to distract or throw guys off. I want to be taken seriously no matter what I'm playing, cash or tournament. That said, I wear what I refer to as my 'poker queen outfit' to my Day 2s and live streams. It's just comfy pants and my Poker Queen Jersey with cami. I wear it for recognition purposes and for my brand. On Day 1s I just either wear something nice that makes me feel good or yoga pants and a t-shirt for comfort.
So many people have stopped me and said you're the girl who wears the Queen Jersey.
I have no issue with women who try to use sexuality to get ahead in the game, but personally I want them to remember my brain and how competitive I am more than anything else!"
Chris Read has over $250,000 in career tournament winnings according to HendonMob.com. She's also got the YouTube Channel "Chris Read Em & Weep- Poker, Places and Personalities," and founded the Facebook group Poker Queens.
Abby Merk
"When I decide what to wear at the table, it doesn't matter if it is a cash game or a tournament because it is going to be predominantly men either way. I like to dress conservatively (so that I am able to play free of fear that I will be objectified and sexualized), comfortably (because I will most definitely be playing long hours) and warmly (since it is always cold in those rooms, lol). If it is a ladies' event, I still stick with the last two points but the first I don't cater to as much.
Comfort is absolutely an important element due to the fact that you're going to be sitting a lot. I would never wear jeans, high heels, or honestly even makeup unless I'm playing on a live stream. I would also never try and use my body to throw men off their game. I think that is something that would make me feel severely uncomfortable. I would like to be known for being respectable and for me personally dressing sexy 'to distract' is not a way I would ever go about presenting myself.
I would like to be known for my game play ability and my personality at the table, not what I wear or what I look like."
Abby Merk is a poker player and Teacher with Poker Power, a "club led by women, for young women, with the primary goal of utilizing the game of poker to aid in everything from building confidence, challenging the status quo, learning strategy and assessing risk."
Kyna England
"I don't play a lot of cash games but when I do plan to go play anything, I always try to be sporty, comfy and cute. For the most part if I feel cute, I am more confident. Look good, feel good!
Obviously if I know I am going to be on a stream or TV table, I might think through what I wear a bit more. I just dress for the mood I'm in. If I want to dress a little cuter on one day I will, but it's generally a combination of top, hoodie and yoga pants."
Kyna England is a poker player with $845,239 in total live earnings according to HendonMob.com. She was named the Mid-States Poker Tour Player of the Year in 2021, the first woman to ever hold the title. She's also ClubGG's brand ambassador and a Poker Power instructor.
Dude, where's my brush?
Reading these other women's answers made me feel a few things:
Casinos will try to progressively freeze you, so comfort and warmth is always a thought.
How we represent ourselves to the world is a very individual and personal decision, and it helps to know how other women think and process the world around them, and I can't wait to learn more.
And… I'd still be horrified by the coworker with no brush…