Antanas Guoga, better known in the poker community as Tony G., has come quite a long way since his teenage years in Australia, washing car windscreens at traffic lights to cobble together his first bankroll. Seemingly having the Midas Touch, Guoga has been fortunate to thrive throughout his life across his numerous pursuits, including poker, politics, and the business world. While he's certainly a larger than life character, hard work and heart that have always been the cornerstone of Tony G.'s success.
Guoga had stepped back from the poker limelight over the past few years, saying he was "a bit burnt out from the grind and needed more purpose in life." While sitting out for a few orbits, he thrust himself into politics and managed some great achievements: Member of European Parliament active on numerous assemblies, delegations, and committees, as well as CIO to the Mayor of Vilnius and being the entrepreneurship and education ambassador in Lithuania. Plus, he's a husband and father to five children.
Then, he got the itch again.
I was delighted to meet Tony for the first time this past summer at the World Series of Poker in Las Vegas. Since then he's played and won a Triton Poker event in Rozvadov, returned to the Czech Republic to cash in two events at the WSOP Europe, and participated in the partypoker Caribbean Poker Party in the Bahamas. Most recently he was seen taking Phil Ivey and Tom Dwan's money on Paul Phua's jet and in Lithuania, and he plans to start off 2020 with a bang at a Triton Poker event in Manila.
I'm thrilled to be publishing Cardplayer Lifestyle's first ever feature interview with Tony G. I hope you enjoy learning more about this poker legend, and ask you to join me in wishing Tony a very happy 46th birthday.
It's so great to see you back and involved in poker once again. You've been quite busy doing some big things in the world over the last few years. What did you miss the most about poker that brought you back?
I missed the opportunity to squash nits!
In all seriousness, I also missed the sound of the chips, the crying of Phil Hellmuth, the thrill of game and its interesting characters. I have to credit Paul Phua for helping me fall in love with poker again. Other people such as Rob Yong and Cary Katz deserve credit for focusing on the community and throwing themselves into growing the game. I'm sure a lot of their poker business projects would have been easier back in the noughties and these guys deserve the praise they get. I have also noticed a great new generation of Lithuanian players. They have my full support as long as they don't become GTO robots!
While you were on a break from the felt, you were heavily involved in politics. You've said that "politics actually helps teach you patience for some of these deep structured tournaments." I had thought that you always preferred cash game poker, no? Has your stint in politics taught you anything that you specifically apply at the cash game tables?
I would say not really but you really need to have patience and a big heart to go into politics and be prepared to grind long and hard in politics and poker. Maybe politics has taught me further that Rome cannot be built in a day. I prefer cash games to tournaments – you have to dig deep and you are likely to come across more players that are businessmen rather than what I call Hunger Games pros playing for a small percentage of themselves.
You obviously attract lots of attention when you play, especially at a televised table. What do you enjoy most about that and to what extent do you ratchet the personality up from the regular Tony Guoga when the cameras are on?
I really get fired up on the televised tables and it is better to have chatty and entertaining players around to make a big show and help grow the game. I find this very enjoyable. I love playing with Hellmuth, it is like a switch for me – in his respect I think he is the finest tournament player around but his boasts on big cash game wins I doubt – he's the prey in the game.
Do I ratchet it up? From time to time I might think it is fun to make poker like professional wrestling, but I cannot help be fired up by crushing a nit and scooping a monster pot, preferably from a Russian.
Winner, winner, chicken dinner!I'm @tritonpoker @partypokerlive champion! I have the big heart and the big spray! #MILLIONSEurope pic.twitter.com/NvunboijTf

— Antanas Guoga (@TonyGuoga) August 14, 2019
You've just turned 46 years old. Happy birthday, sir! Back when you turned 40 you remarked in an interview that "after 40 it is hard to improve, to get better than you were before." You've also acknowledged more recently that "The game has moved on but if you have the heart and commitment you can catch up in qualifying yourself!" Have you taken concrete steps to improve your game? If so, how and in what ways?
Thanks, Robbie, another year goes by. I am working on self-improvement now. I have gone to a special healing clinic near Phuket in Thailand and am taking part in a water fast. I have been reading a lot about this recently and am intrigued.
Make no mistake – I am not Daniel Negreanu – but I am going vegan for two weeks and we will see what happens! I say this as a man who likes a steak, preferably with a bone in! Many say far too much!
So I have gone #vegan. Have last 2 days so far. Give me some advice please. Thinking to do a 14 day water fast too.

Me #breakfast this morning. pic.twitter.com/XJvUmz4FW9

— Antanas Guoga (@TonyGuoga) December 4, 2019
As for the game improvements, I am aware of what and how these super GTO players do to prepare their game. I have taken some of it on board but heart and commitment rules all. I would like to see these players that cover their faces at the table get penalties. They deserve to be punished.
Was there ever any point in your career where you've "gone into the lab" and studied poker math charts, done simulations with solvers, or signed up for poker training sites? Or do you primarily improve through playing and reflecting on your own sessions?
I mainly reflect on my own. That said, I have had a look at ways players improve their game, but I am yet to be converted!
Have you ever felt intimidated at the poker table? If so, how did you overcome those feelings? If not, what secret sauce do you possess that makes you feel invincible?
I don't think I have ever felt intimidated at the table. Why? Because I am the captain and any player worth his salt should aim for such a position! What super sauce do I use? think it is nice to share a good bottle of red wine to liven up affairs. I wouldn't credit the vino with feeling invincible though.
Of course you don't just play Hold'em and Pot Limit Omaha. In fact, your first recorded tournament cash was in 7-Card Stud, back in 2002. What's your favorite poker variant and why?
I generally prefer PLO cash games and the ones at King's in Rozvadov are a big reason for this – business people and a great atmosphere. I like PLO cash games for one simple reason – there is more action.
Short Deck seems to be the new "flavor of the month" in the poker world, and you recently won a big Short Deck event at the Triton Series in Rozvadov. Besides it being more of an action game, what do you enjoy the most about Short Deck and why do you think it's enjoying a surge in popularity at the moment?
Clearly, I enjoy short deck for the action but it is always great to keep the mind sharp and learn a new game, too. Triton, in the form of Paul Phua and Richard Yong, have done a great thing by introducing the rest of the poker world to the new variant.
I remember that around 12 months ago the Germans wouldn't play short deck because their stakers saw too much chance in it, but in the 12 months since you see the same and similar players getting fully involved. Maybe they have a strategy now!?
The recent return from the partypoker Caribbean Poker Party on Paul's private has convinced me that short deck will remain part of my diet. It was great to play with Ivey and Dwan then too – these guys are good for the game – they are clearly not nits and are seen as aspirational characters by some.
About to board Paul's jet. Going direct to Vilnius to play some poker. Plan is to play 5+ short deck on the jet.@philivey @paulphuapoker @TomDwan pic.twitter.com/TYB1NR25ZA

— Antanas Guoga (@TonyGuoga) November 24, 2019
Let's shift gears and talk about Tony G. the businessman for a bit. You founded PokerNews.com back in 2002; legend has it that you bought the domain for $8,000 and started by writing the articles yourself. Of course, it's now THE powerhouse premier poker media outlet. Over the years you slowly became less and less involved with the site, eventually selling your stake. Why did you decide to get out of the poker media business, and is there anything about running that business that you miss now?
PokerNews was a great ride and deserves its position as the premier poker media outlet. I got out of the business some time ago, before I become a politician. The affiliates to online poker rooms got squeezed hard and they continue to be to this day. Now they are squeezing, but I don't know if there is anything left to squeeze.
I do miss PokerNews and have particularly strong memories of the teams and events in Australia and Las Vegas.
Same question for TonyBet Poker. You founded the site in 2009 and I read that you sold your stake in 2016 to Betsson Poker. Do you miss owning an online poker site at all? Any favorite memories from your time at the helm of that business?
We only sold the Lithuanian business of TonyBet in 2016, so the rest of the brand is operating as normal. Our main focus of this business is TGLab though – we provide back-end software and operating solutions for online gaming companies and have many good clients.
The main memories I am thinking about are those in the future though. I am absolutely convinced that CoinPoker is going to be huge. There have been more than 50,000 people on CoinPoker at some point and it is growing. Our action and community numbers grow two to three times compared to the previous month. The players are from all over the world.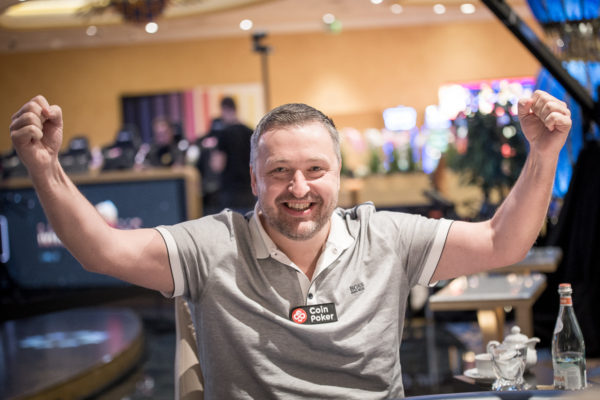 Recently, Viktor Blom (a.k.a., Isildur1) has been playing on the site. Now he is a player to admire if for nothing more than his balls of steel. It is great to have Viktor on board. We also have the likes of Isabelle Mercier working with us – she is a big CoinPoker fan but also is huge in the OFC world and TonyBet have the world's best app for that.
Warning to all the haters – CoinPoker is on the charge!
Between 2010-2012 you managed the Lithuanian national basketball team and assisted them with sponsorships, etc. I noticed you posted a picture recently with Lithuanian basketball legend Arvydas Sabonis. What do you enjoy most about the game of basketball are you still actively involved at all?
The absolute legend paid me a visit#basketball pic.twitter.com/MOGLzpU3tG

— Antanas Guoga (@TonyGuoga) November 13, 2019
I am not actively involved as much as before but basketball runs deep in my blood, like most Lithuanians. I grew up with basketball as my number one game and it was a highlight to be team manager and a special ambassador back at the London Olympics in 2012.
For every one of your successful ventures, I imagine there have likely been a few failures. Which (types of) businesses haven't done well for you, and more importantly, what sort of lessons you've learned from the failures you've experienced over two decades of being a businessman?
The big lesson is to not get too down on failure, pick yourself up and start again – have the heart and commitment to see it through. I was involved in trying to use the pokernews.com model for health subjects in the past and was convinced it was going to take off. I was proven wrong, but I look at it today though and am heartened (I am at a healing clinic in Thailand on a water fast). Perhaps it was just my timing and maybe there is potential in the fitter. I would say that now there are record gym memberships and people embracing meat-free lifestyles. Perhaps this concept may fly after all. This is a huge lesson.
Made it to day 5 of my hunger games, water only. feeling really good. Started yoga and meditation as well. Feeling like 14 days will be easy on just water and salt. Loving life. Good health to all. pic.twitter.com/nL9jqRkBCC

— Antanas Guoga (@TonyGuoga) December 10, 2019
In the past, you've been known to take some liberties with your diet and overall health, indulging in some port and cigars. By contrast, you've recently announced your intention to take on a healthier, vegan diet, and are currently putting yourself through multiple successive days of water-only fasting. What was the impetus for this and is this meant to be a long-term commitment?
I am not getting any younger and have had some health issues of late. I love a cigar and a cognac, but I have taken a massive step by going on this 14-day water fast – I hope it shows me the way to a healthier lifestyle.
So I made it through day 1 of my water fasting challenge. Only water for another 13 days. Who is going to join me in this challenge? I am at a fat farm with good medical facilities pic.twitter.com/OHHHrraxsU

— Antanas Guoga (@TonyGuoga) December 6, 2019
Ever since you've become a public figure, whether on the poker scene or anywhere else – and quite a bit in this interview, in fact – you've talked a lot about "having heart." Why do you keep returning to that phrase? What is it about "having heart" that's always resonated with you?
Heart is passion, everybody needs that!
Rather than rest on your past achievements, you continue to innovate and have most recently been spending a good deal of time getting involved in the blockchain space, specifically CoinPoker.com. What intrigues you about blockchain technology and what makes you feel that the time is right for a venture like Coinpoker to succeed?
I believe that blockchain is the future and we have opened a Blockchain Centre in Vilnius, Lithuania, that has made the country a significant player in that world. A leading involvement in the development of blockchain would sure be a life highlight and leave a legacy.
You've done so much and of course still have many, many productive years ahead of you. Of all the things you've done in your career, for what would you like to be remembered? What do you want your legacy to be?
What would I like to be remembered like – qualified with heart and commitment! Thanks for taking your time to speak to me Robbie.