Betsson Poker Room Review
Poker Room Reviews > Betsson Poker Room Review
Pros
Licensed in Malta
Trusted brand and company
Up to €2000 in welcome bonuses
Rewarding Loyalty Program
Cons
Live tournaments are not a focus (last sponsored/affiliated live tournament was in 2017)
Offerings are for a more casual market
Table of Contents
History of Betsson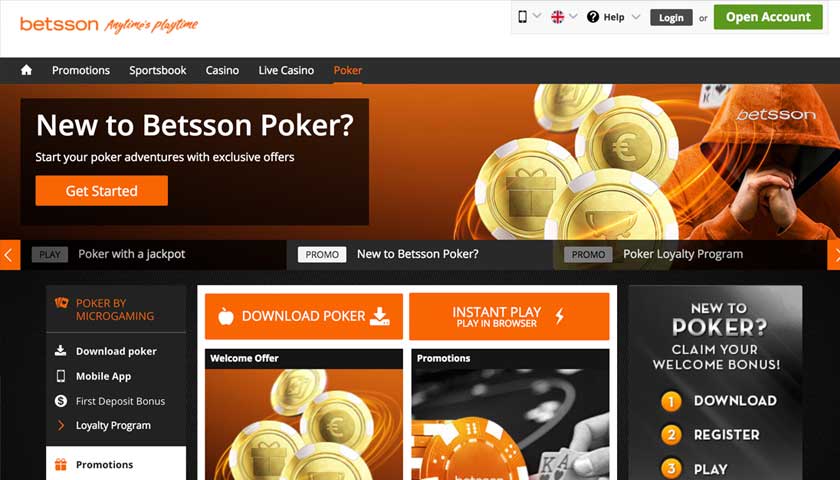 Perhaps one of the best online poker rooms today, Betsson (both the site and the company) has had a long and storied history. The company's history starts out with the establishment of AB Restaurang Rouletter in 1963 by Bill Lindwall and Rolf Lundstrom. In 1972, AB Restaurang Rouletter then went on to be called Cherry Foretagen. This company eventually found success as an operator of slot machines all over Eastern Europe. From the late 1990s to the early 2000s, the company then started acquiring stakes in (and in some cases, outright buying) casinos and online gambling sites. One of these was in 2003 and involved Betsson.com which the company acquired a stake in. This sports betting site was considered a promising brand at that time and was established by Anders Holmgren, Fredrik Sidfalk, and Henrik Bergquist.
After Cherry's investment, Betsson went on to post impressive growth. The brand eventually hit a new high when it debuted Betsson Poker in 2005. Another important event that transpired that year was the announcement by Cherry that it would split itself up into three independent companies. Before this though, the company got its hands on outstanding shares in Betsson. Despite the changes with its mother company, Betsson still managed to be profitable. In fact, its revenue in 2008 reached a whopping 1 billion SEK. From this point on, the company's upward trajectory seemed unstoppable. The late 2000s and the whole of the 2010s saw the company acquiring not only online casinos and sportsbooks, these years also saw the steady growth of its poker room. Though not the first to the market, Betsson Poker has undoubtedly become one of the most popular in the industry today for players who are still starting out or those just playing casually.
Betsson Poker Live Tournaments
Owing to its targeting of the more casual crowd, Betsson Poker has limited its sponsorship of live tournaments. It had partnered with the Microgaming Poker Network in the past (owing to its use of Microgaming's poker software), running co-branded events in Tallin, Manchester, and Malta where players could qualify for as little as €1 via online satellite and win €1,500 packages.
Those days are no more, however, as Microgaming announced in September 2019 that it would be folding up its online poker operations. As such, its MPNPT live tournament festivals de facto ceased to exist as well. Subsequently, Besson Poker migrated to the iPoker Network and de facto became associated with the iPoker Network's live poker events.
Betsson Poker Online Tournaments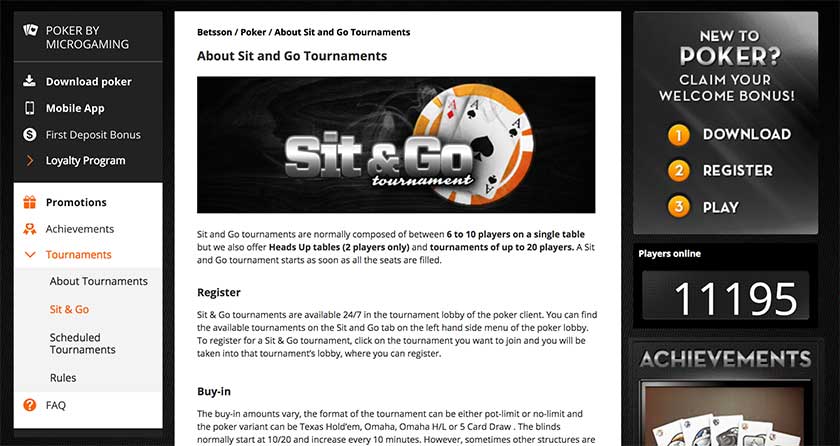 Betsson Poker provides its players with a wide variety of online tournaments to join. The poker room lobby conveniently divvies the tournaments into Guaranteed, Regular, Heads Up, Freeroll, Satellites, and Private categories. Within these categories, players can choose from Freezeout, Rebuy, Turbo & Super Turbo, Bounty Hunter, Deep Stack, and Shootout poker tournament types. There are also Sit and Go as well as Scheduled Tournaments. Players can always expect games and tournaments available on a daily basis.
Betsson Sponsored Poker Pros
The poker professionals that at one point or another have been sponsored by Betsson have one thing in common: they're all Norwegian. Stephan Kjerstad, Anders Smadal, and Ove Stenberg all boast years of experience and are considered to be among the best of the best in Norway. Stephan is a Team Betsson veteran and is known for his calm demeanor and warm sense of humor. As for Anders, he managed to win the 2013 Norwegian Championship as well as over 1 million NOK in another event in Dublin in the same year. What's surprising about him is that he actually started out as a tile fitter and eventually improved his skills through joining live poker tournaments and being active in the online poker community in Norway. Last but not the least is Ove Stenberg who managed to place 2nd in the Malta leg of the Grand Series of Poker in 2010. In addition, Ove also had a respectable 5th place finish in the 2012 edition of the Norwegian Championship.
The aforementioned exception? That would be the "Baltic Blonde," Daiva Byrne. Formerly sponsored by Unibet Poker, Davia is a major advocate for bringing women into the game of poker and to that effect heads a number of online ladies poker communities. Beyond her on-felt success, she's thought to be one of the foremost European poker ambassadors for women (and the game of poker in general).
Betsson Poker Welcome Bonus
Players who register for a Betsson Poker account for the first time will get to choose the welcome bonus that fits their finances best. Using the bonus code MPOKER100, players can enjoy a €100 bonus that will be paid out in four increments and would require them to generate a total rake of €500 in 60 days. If they want to further boost their bankroll with bonus funds, players can use the MPOKER300 bonus code to get €300 bonus cash in 3 increments after generating a total rake of €1,500 within 60 days. Players who want to try for even more can opt to get a €1,000 bonus paid out in two increments with a rake generation requirement of €5,000 in 60 days if they used the bonus code MPOKER1000 on their initial deposit. Topping all of these is a €2,000 bonus paid out in four increments with a total rake generation requirement of €10,000 within 60 days. In order to take advantage of this, players will need to use MPOKER1000 for their bonus code when depositing funds to their accounts for the first time.
Other than the welcome bonus, Betsson Poker also has a Loyalty Program that players automatically become a part of after their initial deposit. Through this program, players will get to enjoy more cash bonuses and cash back when they continue to wager real money. Players start out at the Bronze level of the program and then progress through Silver, Gold, and Star. To earn up to 30% in cash back, players need to accumulate Loyalty Points, which are generated from the players' rake at a rate of 10 Loyalty points for every $1 (in rake or fees).
Where to play Betsson Poker on your devices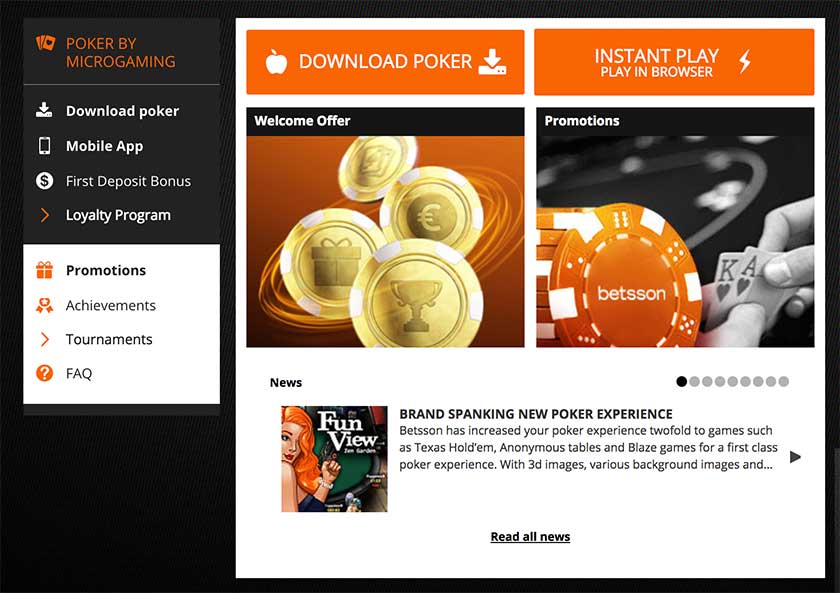 As with any modern poker room, Betsson Poker offers support for a number of devices. Players who enjoy being on their desktop/laptop computers running on Windows should have no problem accessing the poker room through its poker client or through Instant Play on their browsers. If they're using Mac OS then players are limited to using their browsers to access the poker room. Whether they want to use the poker client or access the poker room through their browsers, players would have no need to get a decked out personal computer. The poker client will run on any computer made in the last five years while Instant Play is accessible on modern browsers like Google Chrome, Opera, Safari, and even Edge. When it comes to mobile devices, players should also have no issues downloading the poker room's mobile apps through the Google Play and iOS App Stores. Additionally, it should be relatively easy for players to access the poker room's site on either their personal computers or mobile devices.
Betsson Licensing
To operate its poker room, Betsson currently has a license issued and regulated by the Malta Gaming Authority. The Malta Gaming Authority license covers players residing in European countries where online gambling is illegal. Other than this license, Betsson has a certification for being a responsible gaming website issued by the Global Gaming Guidance Group (G4). In a bid to guarantee the fairness and randomness of the poker games, Betsson Poker has monthly audits carried out by independent third parties.
Betsson Ownership
Betsson AB is currently headed by CEO Pontus Lindwall, son of Rolf Lindwall, one of Cherry's founders. The company has been pretty active as of late with numerous acquisitions in 2017 alone. Most recently, the company acquired NetPlay Plc, the British gaming operator that owns the Supercasino, Vernons, and Jackpot247 brands. In 2016, Betsson managed to snag TonyBet, a Lithuania-based and licensed operator that was founded by poker pro Antanas Guoga (Tony G). The same year also saw the company acquiring gaming licenses in Ireland as well as Latvia. As of now, the company is listed on the Stockholm Stock Exchange (STO) as BETS-B. On the company's investor relations page, it lists its revenue for 2017 as 4.7 billion SEK with a gross profit of 3.49 billion SEK.
Frequently Asked Questions
Question: Does Betsson take US players?
Answer: Betsson Poker only has an MGA issued license. As a result, the poker room is unable to provide services to players outside the EU. This means that players in the United States who wish to enjoy the poker room will unfortunately have to look elsewhere for their poker fix.
Question: Does the software allow for playing at multiple tables at once?
Answer: Multi-tabling support is to be expected. With that said, the poker room has special tournaments that make use of this feature. Players who want to try this out can check out Sit and Go Multi-Table Tournaments on their poker client.
Question: Is there a VIP & Loyalty rewards program for frequent players?
Answer: Yes, Betsson Poker has a Loyalty program designed to reward players for the time and money they spend in the poker room online. This program currently has four tiers with players starting out at Bronze and progressing through Silver, Gold, and Star levels. Every time they wager real money, the poker room will give players Loyalty Points. For every dollar spent in entry fees or generated in rake, players will stand to receive 10 Loyalty Points. Once they've accumulated 30 Loyalty Points, players can then have these exchanged for €1 in cash as well as cash back rewards that can rise as high as 30% (rate depends on player's Loyalty level) of their losses. Additionally, players can opt for an alternative Loyalty offer. Instead of bonus cash or cashback, players can opt to redeem 25 Loyalty points to get €1 for use in purchasing tournament tickets.
Question: What are the wagering requirements of the signup bonus?
Answer: To get Betsson Poker signup bonus, players will need to fulfill a couple of conditions. Players will need to contribute €5 in rake for every €1 of the bonus that they're entitled to after having made their first deposit. Additionally, the bonus will need to be cleared within 60 days from the time it was activated. Depending on the amount they deposited, players will have different increments for claiming the bonus. Players who deposit €100 can claim the bonus in four increments (€25 per increment). If they used the bonus code for €300 in extra funds, players can expect the whole amount to be awarded in three increments of €100. For players who are entitled to €1,000 and €2,000 bonuses, the poker room will release the whole amount in two or four €500 increments, respectively.
Question: Can I wager my welcome bonus on casino games or on the sportsbook?
Answer: Unfortunately, players won't be able to wager their poker bonuses in Betsson's casino or sportsbook. As is the case with its competitors, the poker room's bonuses function differently. Unlike in casinos or sportsbooks where bonuses are given automatically, poker rooms such as Betsson Poker instead release the bonuses in increments. As such, poker room bonuses will have different wagering requirements than that of casinos and sportsbooks. Similarly, players also won't be able to use the bonuses they acquire from their sportsbook or online casino accounts in the poker room.