My first recollection of seeing Will O'Connor's name in an article byline was in some poker blogging work he'd done for a Borgata event a couple years back. At the time, I didn't realize that Will was just beginning a career in poker media that would see his star rise quickly. Over the last couple of years, his work has earned him a stellar industry reputation and, just recently, a coveted spot on the brand new editorial team at Poker Central.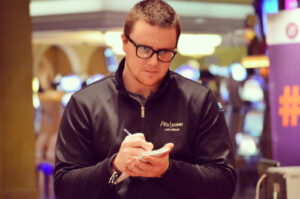 Will was gracious enough to agree to be interviewed for our on going Get to Know the Poker Media series, where he answered a number of questions on topics ranging from his personal life to his relationship with some controversial poker players to his career aspirations. Enjoy learning more about him.
How did you first get into the business of poker writing and for how long have you been doing it?
My senior year of college, a few friends and I went down to the Borgata in Atlantic City and the trip just so happened to be during the 2014 Spring Poker Open. The first day of the trip, we probably spent all day and night playing $1/2. While we played, there was a tournament going on across the Poker Room with a few people hovering around those tables taking pictures and writing things down. I figured they were reporting on the tournament and I briefly thought how that would be a cool thing to do.
Three days of Atlantic City later I had forgotten about those reporters, but a month later I saw a tweet from the Borgata Poker account that jogged my memory. They were looking for people to cover their Summer Poker Open in June and since I had just graduated and didn't really have a "real job" lined up, I thought it would be a fun thing to do for three weeks.
I covered a daily tournament as a 'working interview', probably the worst thing anyone in the world of 'poker media' has ever put on the internet, but I got the job and the next two years flew by. I was fortunate enough to have that first Borgata series lead to some pretty amazing experiences and opportunities.
What poker outlets have you written for and which has been your favorite (one-time or ongoing) gig over the years?
I've covered pretty much everything there is to cover on the East Coast and I've worked with every casino property from Maryland Live! up to Foxwoods. Borgata, Parx, SugarHouse, Rivers, MD Live!, Foxwoods and then a handful of Borgata World Poker Tour events, WSOP Circuit stops, the WSOP in 2015.
Towards the end of my 'blogging days', I worked a few PokerStars LAPT events that were some of the best learning experiences, both professionally and culturally, that I'll probably ever have.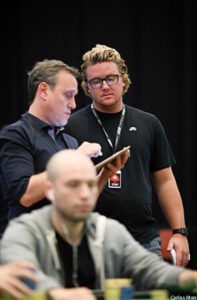 Also, last year I had the amazing opportunity to do live stream commentary for Poker Night in America and some Borgata Poker Open events. I loved commentating, bringing different pros into the booth and just watching awesome poker for an entire weekend straight. Gun to my head, that's would be my favorite just because it was something that was so new and so entertaining.
In terms of poker writing, I've also written for BLUFF.com and PocketFives.com, covering New Jersey online poker.
What is it that you love about poker that keeps you so interested in the game?
I think the easy answer, from a media side of things, would be to say that the storylines keep me interested in the game. In poker, every time someone wins a hand, wins a tournament, in today's day and age, sends a tweet, there could be a story there. But the most interesting part is that you never know what that story is going to be. With other casino games like slots, by contrast, the story is always the same.
You could run Day 7 of the WSOP Main Event or the final table of the Super High Roller Bowl infinite times and you're going to have infinite outcomes. The unknown is fascinating to me and that's why I love playing and working in poker.
What sort of job(s) did you have before getting into poker writing?
I can legitimately say that I don't think I ever got better than a C+ in any English class I ever took, so clearly my previous jobs didn't involve writing. I always liked telling stories though and would write half serious "articles" that my friends would read about our silly Fantasy Football league or 3-on-3 basketball league. (Shout out to the Coolidge Explorers, X-Factor, Dr. Schuck and Ms. Berg, the 3rd grade teacher who convinced me that anything was possible.)
Through high school and college I coached and referee youth soccer and then during the summers, I lifeguarded at the literal 'Jersey Shore' in Seaside Heights, NJ. I even made a few cameo appearances on the beach this past summer since I didn't work the WSOP. Other than those, poker has been it and I'm thankful every day that it's what I get to do for a living.
Tell us a bit about your personal life; where you live, family, etc.
Not born but raised in New Jersey for basically my entire life. Two awesome and inspiring parents that were nothing but supportive with my brother, Charlie (18 months younger), and me growing up. Mom was a journalist after she graduated from college and I remember the first time she showed me her 'portfolio'; it was one of the coolest things I had ever seen. Dad was an awesome coach and role model not only for me but for basically everyone that played sports in our town. Brother and I were normal, fighting, wrestling, he said-he said brothers until one day it just clicked and we became best friends. Have been ever since.
Played soccer all through high school and college, Ramapo High School and then played D3 college ball at Montclair State University (like 20 minutes from where I grew up). Sports taught me a lot about myself, so I'm super grateful for having those opportunities.
Graduated college with a Business degree, clearly not putting that to use right now but I'm sure that will come in handy on a rainy day in the future. Since graduating just grinding, grinding, grinding. I'm probably the only person in the world who has ever bought a house, in Seaside Heights about a mile from my mom's beach house, and then moved across the country five months later. LOL
How often do you play poker? Home games mostly or in poker rooms? Cash or tourneys?
Living in New Jersey when online poker returned in late 2013 was awesome because there is nothing better than sitting in the comfort of your own home and playing poker.
When I traveled for work, I'd try to get a session of cash in here or there, maybe play a small tournament if my schedule allowed. Over the last few months though, even though I now live in the poker capital of the world – Las Vegas – I haven't really been playing that much. Might have to change that soon…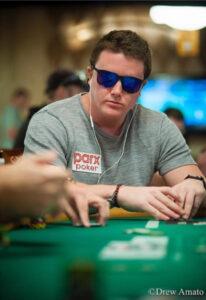 You seem to have a fantastic relationship with 2015 WSOP Main Event Champion Joe McKeehen. Can you go into a bit of detail as to how you two first met and how your relationship evolved over the years?
I think the first time we actually 'met' was when Joe won a Heads Up event during a Borgata Poker Open series. I was covering the tournament but I didn't even get to talk to Joe after he won because he immediately left to go register for another event. He then came back; we did the winner's photo thing but we didn't really get to know each other until later that year. Honestly, don't even know the particulars but I think we went to dinner together with mutual friends and then just started to be friends.
While we used to kind of be on the same 'circuit', we're kind of on different schedules now but any time we can, we will both happily take a free Chicken Parmesan dinner from Jonathan Borenstein. Thanks Jon.
It's well documented that McKeehen didn't exactly warm up to poker media outlets as much as did other past WSOP Main Event champions. It seems to me that Joe is quite a nice guy, but just isn't necessarily forthcoming with media people who he views with some apprehension. What tips would you give media with regard to approaching poker players who might be somewhat reluctant to open up?
Day 5 or 6 of the Main Event, I'm not sure which it was, it's all a blur, Joe got all-in with AQ against Josh Beckley's AK. Joe spiked a 10 on the river to hit Broadway and after he was shipped the double, he looked at me (I was covering the table for WSOP.com live updates) and said, "I still get to play this tournament!" That's all Joe ever wanted to be or wants to be now, a kid playing tournaments.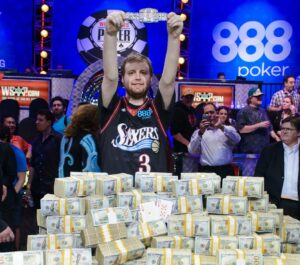 Without getting too opinionated, I think there were a lot of factors that contributed to Joe being so "apprehensive", as you put it, towards the media and some of it was from within our own circles.
From my past experience, not just with Joe but the entire community, if players see that you are hardworking, positive, trustworthy and genuine, they'll be much more open and willing with interview requests, articles, etc.
What's the biggest misconception people have about poker writers/writing?
I remember, maybe a year ago, someone asking me, "You only do this because you're not good enough to play poker, right?" They were half right; sure I'd love to be good enough to win the Main Event, when you find my 'Golden Ticket' let me know. But the fact of the matter is, I love being on my side of the ropes. I used to joke that I "min-cash every day" but I love it. I get to be in the middle of the poker world, a world that seems to become more interesting every day and get paid to do it? Thankfully I saw that Borgata tweet back then.
What other hobbies do you have? Tell us about them.
Before I spent two years traveling the circuit, I loved physical activity. Whether it was soccer, running, swimming, rowing, surfing, anything, I loved it. The grind kind of got in the way of that but since moving to Vegas in October, that passion is starting to come back. I also really enjoy watching movies, I'll seriously watch anything at least once and I recently started reading the screenplays of some of my favorite movies. It's weird but it adds a really interesting dynamic to the storyline.
What do you enjoy writing about most in poker – lifestyle/feature pieces, op-eds, promotional stuff, tourney recaps, live/online poker news, or live reporting?
Doing the same thing over and over can and will drive a person insane, so I always try to mix it up whether it's in a given day, a given week, a given tournament. I also always try to have fun with it, even a press or promotional release that is 99% boring, has 1% left to be creative with.
You've just been tapped to join Poker Central's media team. Congratulations! What role will you have there and what else can you tell poker fans at this stage about the new direction Poker Central seems to be taking?
In my, what I'm calling, previous life as a blogger, I primarily worked by myself but I'm extremely happy to have the opportunity to be a part of the Poker Central team. It's awesome to work with some of the most motivated people within our industry. The sky is the limit for Poker Central.
What's something you still haven't yet done/accomplished in poker that's on your bucket list?
In no specific order…
Get my face incinerated by Todd Brunson.
Get blocked by Joe McKeehen on Twitter.
Play on TV.
Bluff off my stack on TV.
Win a 'tiny glass Borgata' trophy.
Alright, the stage is yours – go ahead and let loose about something you just HAVE to get off your chest.
On advice of counsel, I'm going to not drop any 'hot takes', opinions, rants or anything else here. LOL.