Jaime Staples' vlog produces some of the most popular poker content you'll find on the internet. But what many people don't know is that the vlog is actually a family affair – taped, edited, and produced by Jaime's brother, Chris. He's more or less a one man show that brings us straight into Jaime's world on a near day-to-day basis.
During the recent PokerStars Championship Barcelona the Cardplayer Lifestyle Blog had the opportunity to sit down with Chris, and get a picture of the brother behind the camera. We asked him how it feels to be behind the camera instead of in front of it, his impressions of the poker world, and his thoughts on Jaime's famous weight loss bet.
So tell me about how you ended up being the man behind the Jaime Staples vlog?
Matt and Jaime were living in Calgary back in the day, and they wanted me to move in and I was working other jobs so I couldn't. But then finally when they were in Vienna I decided enough is enough and went to join them. And, Jaime really wanted to bring the vlog back up; back in the day he had done it solo shooting.
So I came out to Vienna with no video or editing experience, and learned as I went.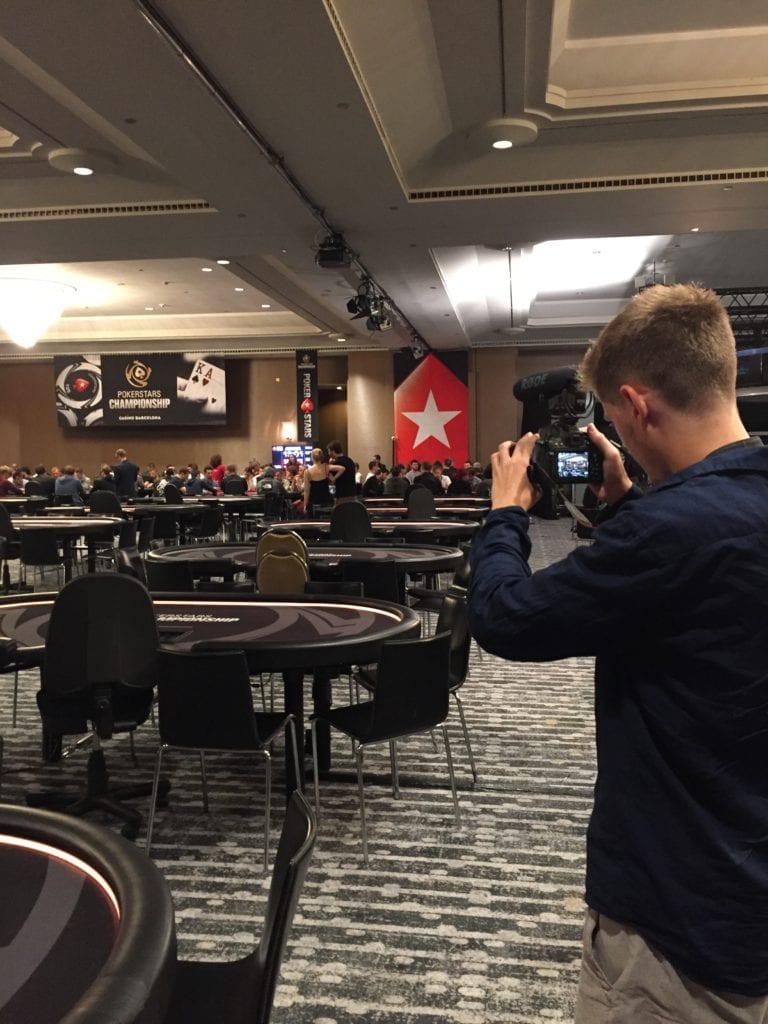 What is a typical day for you when you are making the vlog?
A typical day would be waking up at 9am, shoot an intro somewhere in the house, maybe shoot Jaime making his morning smoothie. Then we'll go do a workout segment; if Jaime is streaming I'll get some clips of that. We also do a little bit of general discussion about what the vlog for the day is going to be, so it's loosely planned in advance.
Our vlog is more chronological, showing you what we do from day to day, as opposed to being scripted. We're trying to a more scripted and general conversation format, but for now it's just chronological.
So you do you think you enjoy creating the vlog more because it's about your brother?
It would feel a lot more formal. I think I would enjoy it a lot less, just because of the comfort of being around just the brothers. We all fit in pretty well.
READ MORE: In-depth Interview with Jaime Staples
Do you feel any pressure to present your brother well?
I don't feel like I think about it like that, but I probably put more work into it because it's my brother than I would if it was a different type of job. The amount of hours, the amount of time I spend, it's not a 9-5 job; it's a lot of work. So, in that sense it's a lot different doing this for your brother.
I don't want to represent him negatively. So, he does watch all the videos before I post them and generally he doesn't have any problems with them. But also at the same time, I also don't think he cares as much as I do. Sometimes I'm surprised by how little he cares – for example I have a workout clip where he doesn't look the best he'll say "yeah just put it in" because that's what happening and real.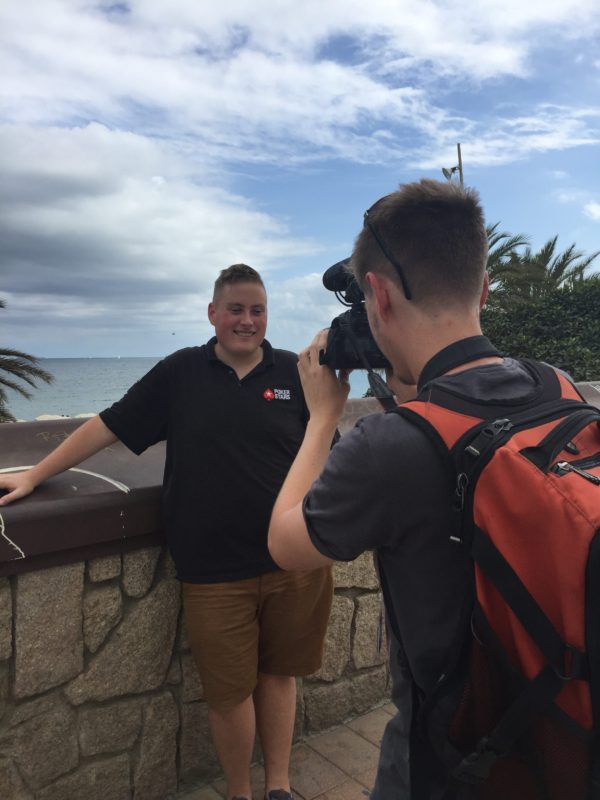 So there is a certain level of commitment to presenting not just the positive but also the struggle?
Definitely.
What's it like to be behind the scenes watching someone live the dream of a lot of other people? Do you ever get jealous or envious? Or are you happy where you are?
I'm happy where I am. I enjoy the experience from behind the camera. But I find it amazing how Jaime can do interviews in front of the screen. He'll do a five minute interview without messing up and it just blows my mind. It's crazy.
I don't know. Matt always tries to get me to stream on Twitch, but maybe later on. I'll grind micros. I lost my last $3 at the 1c/2c ZOOM tables, but I'm thinking I might be ready to try again someday.
As someone who is not a poker player and wasn't ever natively interested in the poker world like Jaime, what are your impressions of it?
I feel like it's all amazing. I feel like a lot of people in the poker world have money, so it's a higher class almost – at least at the live events we attend like in Monte Carlo, or here in Barcelona. That lifestyle is nice. But just poker in general is cool – I need to get into it.
I also like the banter with my brothers, hand discussions in the kitchen, everything. My absolute favorite part though is being able to use the poker world to spend time with my brothers and be a part of this.
As Jaime's brother, what are your thoughts on his weight loss bet?
I thought he was crazy. $150K, the same weight, I was like everyone else in thinking that it's an insane bet to start. But then once we looked at it practically, we realized it was doable. I feel like it's an 80% chance it's going to happen, which is way better than the 20:1 they are getting.
Just booked the craziest bet of my life. @PokerStaplesPA and I need to get within 1 pound bodyweight in one year. Our 3K to @bp22 150K

— Jaime Staples (@jaimestaples) 26 marzo 2017
Have you seen a change in Jaime? Are you noticing anything different about him or is it just the same except he's losing weight?
He also quit smoking at the beginning of the bet, which a lot of people don't recognize. The first two weeks, I think he was a little on edge because of quitting smoking but in general I think he's a more happy person now and I'm excited for the end of the bet.
For the end of the bet? Or the results at the end of the bet? Or the money at the end of the bet?
All of it, the full combo. I think Matt is the most excited about it, because 75K is a lot of money for him. Not like it's not a lot for Jaime, but for Matt, he can put that to good work for his stream.
Tell me about being the one brother that doesn't have to do anything for this bet right now?
It's interesting. I do go to the gym with Matt, and lately I've just been filming at the gym but I'm trying to go to the gym with Matt 5-6 times per week. I've been recording my own weight and we'll see what the progress is at the end.
How would you sum up your life right now overall?
I just feel lucky. Before this I was working on the Alberta oil rigs; Straight from there now I'm doing video and editing. I don't know what I'm going to do after this but I feel lucky and I'm really enjoying it.