There is no denying the fact that America is facing a labor shortage in the service industry. Countless restaurants, hotels, and retail stores have displays advertising job openings. Many businesses are open for shorter hours, or not open at all due to a lack of staff. This shortage is also affecting casinos, but more specifically, it is affecting poker rooms.
Casino Poker in New England
It's no surprise that casinos tend to favor table games and slots to poker rooms. Let's face it, the casino earns a much larger profit from Caribbean Stud even (indirectly, via) offering free slot games than from $1/$2 No Limit. That is fine. As a poker player from New England, I am used to our tables being tucked in the corner with one waitress for every 100 poker players. Is it ideal? Of course not, but it makes sense. But after COVID-19 protocols shut down many casinos, the executives seemed to leave poker out of the reopening process.
As a New England native, I have always had multiple options for playing poker. Connecticut has two large casinos in Mohegan Sun and Foxwoods, Rhode Island has Twin River, and my home state of Massachusetts saw the recent openings of MGM Springfield and Encore Boston Harbor. New Hampshire, lacking casinos has numerous small poker rooms under the state's charitable gaming laws. Having access to all of these rooms was amazing. That is until the pandemic hit.
Very pretty room. Beautiful hotel and casino. Great poker action. Boston is a lucky city to have the new @EncoreResortBH.

Cards didn't fall my way this evening, but had a fun time in my short 2.5-hour session ? pic.twitter.com/iskVhnbhiK

— Robbie Strazynski (@cardplayerlife) August 14, 2019
All of these properties shut down for some time in 2020 due to COVID. It was expected, as most of the world shut down. We all did our time in quarantine and slowly businesses started opening their doors, casinos included. Other than the plexiglass, the massive thermometers, and hand sanitizer stations, the New England casinos looked the same…minus the poker rooms.
While New Hampshire's poker rooms reopened as soon as the law allowed, all five of New England's larger casinos reopened without poker. It made sense at first, as certain states had a per table maximum of four players, and it's hard to navigate poker with plexiglass at the tables. Foxwoods and Mohegan made it work after being open for a few months, at first with plexiglass and 7-max tables but they are mostly back to normal. The rooms have limited hours, reduced table counts, and have generally forgone tournaments, but cash poker is definitely back. The other three properties have still not shown much interest in opening their poker rooms. Recently, the Massachusetts gaming commission, in response to thousands of player complaints have been putting pressure on MGM and Encore to bring back poker. In response, MGM Springfield has agreed to reopen their poker room in "Q4" of this year. The stated explanation for the closed rooms and reduced hours are the same: there aren't enough dealers.
Congratulations to the winners of the Hold'em Bad Beat Jackpot paying out a total of $203,841.Losing hand getting $101,921! ??

Our Wed night $280 NLH at a total of 391 entries totaling a $87,011 prize pool! 1st is a cool $18,856

Is it even possible to pay out more money?!??

— Foxwoods Poker (@FoxwoodsPoker) August 26, 2021
The floor staff I have spoken with at Mohegan Sun and Foxwoods agree that they simply don't have enough dealers to staff a 24/7 room, but they are happy to be able to provide a room for most of the day. They have recently extended hours on weekends, which is wonderful, and Foxwoods brought back a singly weekly tournament with a strict table limit. While it is easy to be angry with the other three casinos, I like to remember that dealing poker is quite different than dealing table games, and you cannot simply hire someone with no training or experience.
There are many nuances to dealing poker, but the most important is controlling the game. As a dealer, you are responsible for ensuring the players adhere to the rules of the game, but also that the game runs smoothly and at a good pace. Mis-deals, players not paying attention, and arguments between players can slow a game down, and the dealer is responsible for keeping these slowdowns to a minimum. Not only do dealers have those responsibilities, but they also must ensure there is no cheating in the game, as team play through signaling and protection betting are popular methods for partners to find an unfair edge in the game. Since dealing poker comes with many responsibilities, unfortunately, casinos cannot relax their qualifications when looking to hire dealers.
Where Have the Dealers Gone?
But why do poker rooms need to hire more dealers anyway? Where did they all go? Well, this question doesn't have a simple answer.
First, many career poker dealers had to find new work or new card rooms after the COVID shutdowns. I know many dealers left casinos and found home games to deal instead. Since relocating to Cape Cod in Massachusetts, two of the three home games I have attended had former Encore or Twin River dealers sitting in the box. When I asked them if they plan to return to casinos, they both said no. Something I learned firsthand while dealing in Los Angeles remains true in New England: home games pay more. Both dealers were more than happy to remain dealing home games as they enjoy the atmosphere much more and are taking home more money. Along with home games, some dealers found income running tournaments among friend groups online, using PokerStars, or other platforms to organize large online "home games". These games were very popular when live poker was not available, and many have continued beyond the restrictions.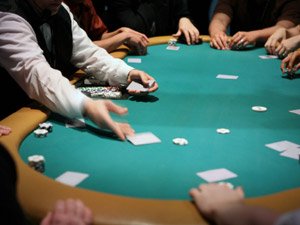 Also, since certain areas of the country opened sooner than others, some dealers migrated to states with fewer COVID restrictions. Texas has been taking over the poker scene in America in the last few years. Their private poker rooms are seeing huge amounts of action, a wide variety of games being spread, and a switch to paying time instead of raking pots. Texas poker rooms were also some of the first to reopen in the country. I was recently in Austin, Texas with my family, and I met three dealers from the New England area. All had moved to Texas during the pandemic in search of work as dealers. I asked if they are planning to return to deal at the New England casinos, and they all said no. There are many advantages to living in Texas besides poker, but the dealers all agreed they would rather deal at a private Texas club than a casino in New England. For those that did not want to migrate so far away, the rooms in New Hampshire opened up quickly, and dealers across New England had plenty of work there.
Lastly, dealers found income outside of the industry. Restaurants, hotels, and casinos have lost staff members to corporate or government jobs. With many companies migrating to a work-from-home model and keeping that model, there are numerous jobs available that are more attractive than sitting at a poker table. Additionally, the digital age offers people more room to work for themselves. The pandemic gave many people the push they needed to go out on their own.
Many factors go into the New England casino dealer shortage. Whether it be a move toward better paid home games, migration, or finding income away from poker. One thing is certain: the dealer shortage is bad for the game. Poker cannot hope to be back to its pre-pandemic heights until poker rooms have enough dealers to open and run 24/7, and to hold tournaments along with cash tables. While online poker may have boomed during the pandemic, if you prefer the feel of cards and the sound of shuffling chips, this dealer shortage is a thorn in your side.