This is the first installment in our Great Poker Reopening miniseries.
It is perhaps no surprise that a state with the motto "Live Free or Die" is among the first to re-open poker rooms as we emerge from lockdown conditions. While many states are still pondering the question of whether it's time to play live poker again and creating new safety guidelines, New Hampshire last week said "shuffle up and deal".
There are 12 poker rooms in New Hampshire and almost all have now reopened. All New Hampshire poker rooms fall under the state's charitable gaming law which requires that a set proportion of all proceeds go to charity. Across New Hampshire, charitable facilities collect over $10 million per year for New Hampshire charities. Other than the distribution of proceeds and the fact that rake is set at a standard 20%, New Hampshire poker rooms operate similarly to other poker rooms across the U.S.
The four largest and most active New Hampshire poker rooms are in the southern part of the state, not far from the Massachusetts border. These are the Manchester Poker Room, The Brook, Chasers, and The Boston Billiards Club and Casino. In all four, poker is accompanied by table games (blackjack, Spanish 21, etc.). The Brook and the Manchester Poker Room also offer sports betting. Three of the four normally offer both tournaments and cash games, while Chasers is a cash game-only facility.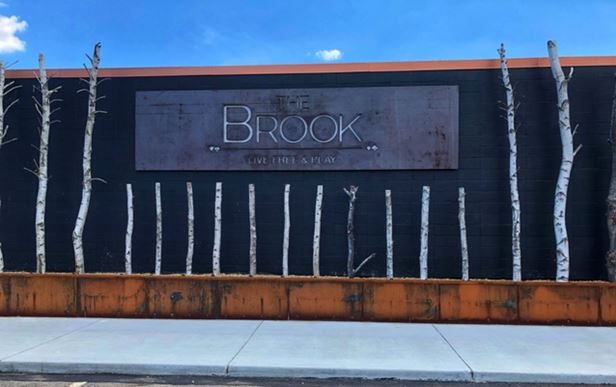 Current Health and Safety Measures
As a condition of reopening, the state of New Hampshire currently requires that all poker room staff wear protective gear and facial coverings, and that tables hold a maximum of six players at a time. Additionally, the state has created new sanitation rules and prohibited food at the poker table. All four southern New Hampshire card rooms report that employees are having their temperature taken before working and that all rails and chairs are being sanitized between player use. Beyond these ground rules, each room is taking their own approach to health and safety.
The Brook, an employee-owned room in Seabrook New Hampshire, is touting its increased sanitation practices. The facility recommends masks for all players, and offers masks, gloves, and hand sanitizers available for those ready to play. It has also added plexiglass dividers to blackjack tables to protect players and dealers from each other during this time. However, poker tables do not currently feature plexiglass.
We're re-opening on June 19th and our new Clean Team is trained and ready to personally sanitize any stadium or table games, poker, or racebook seating, upon request! So, when you're ready, we'll be ready to play.#GoingtheDistance #ReturnConfidently #PlayAgain #LiveFreeandPlay pic.twitter.com/zw8omtgJUb

— The Brook Casino (@TheBrookCasino) June 16, 2020
The Manchester Poker room also emphasizes increased sanitation practices in their social media postings. Manchester has spread its 20 poker tables across multiple rooms for greater social distancing. Early observations indicate a relatively low percentage of mask-wearing players at Manchester. In fact, pictures of Manchester's very first tournament in the "new era" show only one or two masks at each 6-handed table.
Chasers is a smaller room, with limited square footage for social distancing. They have compensated for that by reducing the number of tables to maximize space between tables. Mask wearing seems to be more evident at Chasers than at Manchester, with closer to 50%-60% adoption among customers. When visiting Chasers recently, I noted multiple tables where all of the players were wearing masks. While this is not a requirement at the room, several players noted that they were pleased that an all-mask table was an option.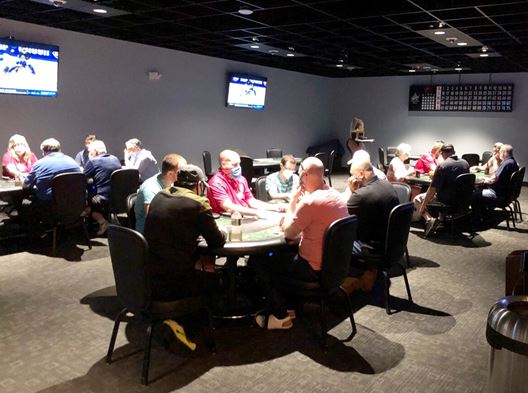 Finally, The Boston Billiard Club and Casino falls within the city limits of Nashua. Unlike the state as a whole, Nashua is currently under a mask order. So, in addition to increased sanitation, distancing and limiting tables, all customers at the BBC&C are required to wear masks at the table. Those who arrive without masks may purchase one at the door for $2.
Early Attendance
Turns out, if you re-open poker rooms, people will come! As has been seen in Florida, newly-opened poker rooms in New Hampshire have proven to be a big draw. Early numbers have been very strong. On the second day that they were open, Chasers filled all 10 open tables throughout the evening (five $1/$2 NLH tables, four $2/$5 NLH, and one $2/$2 PLO table). Chasers also reports extensive waiting lists for $1/$2 games, with up to 50 people waiting to get in the action at any one time. Chasers, being a cash game-only site, has traditionally been one of the most active cash rooms in New Hampshire. In January, they were averaging between 4-6 active tables on weeknights (with more on weekends). So far in June, they are maxing out their 10 open tables every day. Thus, even accounting for six players per table as opposed to nine or 10, Chasers is serving as many players during weeknights as they were prior to the shutdown.
Can't wait to open our doors again this morning!

Beginning at 11:30AM we will be open for #poker, #roulette and other table games, pool, and indoor #dining.

Get more info on our website!https://t.co/dJXHl0RCp2 pic.twitter.com/jzZNhKtfZx

— Boston Billiard Club (@BosBilliardClub) June 15, 2020
Cash games at the other three Southern NH card rooms have been running at, or ahead of, comparable January numbers ever since re-opening. Aiding New Hampshire's poker traffic is the fact that nearby Massachusetts has yet to approve the re-opening of casinos. Even when Massachusetts casinos open, they may be without poker for the foreseeable future. New Hampshire's nearest competition, the Encore Boston Harbor, which formerly hosted a 74-table room, has announced that poker will not resume for the time being. In fact, the Encore has gone so far as to re-structure their poker room for table games and video poker.
Given the New Hampshire regulation that no more than six players may play per table, it is notable that cash rakes have not been reduced in any room. However, there seem to be few complaints about this in social media discussion forums of local players.
Tournament Outlook
Manchester kicked off the first New Hampshire tournament of the "new era" with a triumphant $50/$50/$50 (buy-in, re-buy, add-on) tournament on a Tuesday night. An amazing 90 players entered with a total prize pool of over $8,600.
Manchester has resumed its full tournament schedule (three tournaments a week on Tuesday, Thursday, and Saturday), and is having clear early success. Tournament fields are comparable to those seen back in January before the shutdown. In a nod to the required six players per table maximum, the big blind ante has been cut in half for all tournaments.
Other rooms have decided that they are not yet ready to move back into tournament play. The Boston Billiards Club and Casino has temporarily put tournaments on hold. It is unclear when and how they will resume. The Brook was the last of Southern New Hampshire poker rooms to reopen. They have announced that they "intend" to post a new tournament schedule soon. However, rumors are that it will be a while before tournaments resume there.
Prior to shutdowns, The Brook, along with its former crosstown rival Hampton Falls Poker Room hosted the largest number of tournaments per week in Southern New Hampshire. Early in 2020, the owners of The Brook purchased Hampton Falls and were in the midst of a plan to fully absorb Hampton Falls staff and tournament structures into the operation at the former Seabrook site. That would likely make them the most vibrant tournament host in New Hampshire by far. The health crisis called an end to this gradual transition, instead shuttering the Hampton Falls site permanently. Thus, tournament players are eagerly looking forward to the release of the new schedule at The Brook to see how they combine the most popular tournament structures of the two rooms.
New Hampshire Poker Moving Forward
New Hampshire residents tend to show an independent and individualist streak, leading to a dynamic environment of differing viewpoints. In political terms, it is a solidly "purple" state. This is currently reflected in spirited online debates among local players regarding the state of poker in New Hampshire. Should rooms be open at all? Should masks be required? How many players should sit at a table? Social media is replete with advocates passionately arguing the pros and cons of these issues and more. New Hampshire will prove an interesting test case for other regions trying to meet the needs of a diverse set of players. Their biggest challenge, however, may making the greatest number of players feel positively about their poker experience.
Stay tuned.