There are so many options for poker players in the United States. Traditional resort casinos, independent poker rooms, casinos with poker rooms on Native American tribal lands, and online poker rooms are available across the country. However, gambling laws vary by state, so your options may be limited depending on where you are.
No matter where you are in the country, you have to be at least 18 years or older to play poker legally. Many states require you to be 21 or older, but not all states follow the country's legal drinking age when it comes to poker. Here is a comprehensive guide on where you can play poker in the US, grouped by legal age.
US States with 18+ Poker Options
Poker players aged 18-20 are limited when it comes to regulated poker in the United States. Many states adopted the country's minimum drinking age for gambling as well. Even in states that have a minimum gambling age of 18, some casinos will not allow players under 21 to enter so that they can offer free alcohol to patrons.
Despite the limitations, younger poker players still have options throughout many states for poker action. Below is a list of the states that offer legal poker options for players 18+ and where you can get some cards in the air.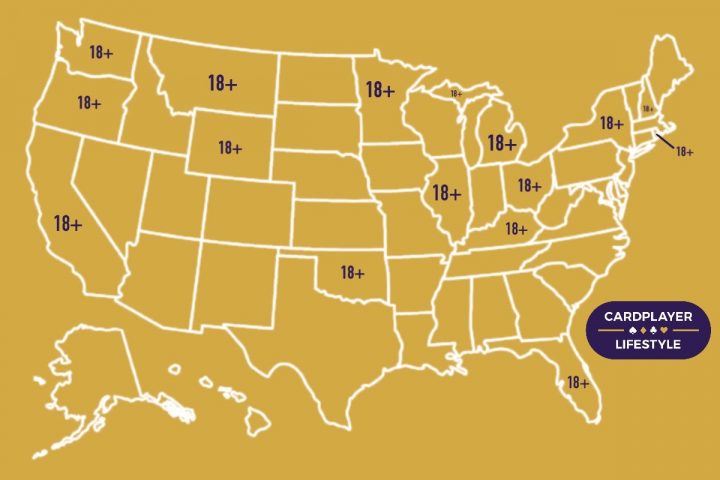 California
California is host to many poker rooms and the minimum age requirement to enter each casino varies. While most poker rooms are 21+, you can still find some card rooms that allow younger players. Morongo Casino Resort & Spa and Bear River Casino, for instance, are popular destinations that allow 18+ to enter.
Florida
All except one of Florida's 28 poker rooms allow gamblers aged 18+. Florida has cemented itself as a premier poker destination over the last few years. With large tournament series at Seminole Hard Rock Hollywood and constant action at BestBet Jacksonville, 18-year-olds have plenty of great poker options in the Sunshine State.
Illinois
Illinois law allows for charity poker rooms in the state, and some of these are 18+ to enter. Chicago Charitable Games and Chicagoland Charity Poker are two poker rooms allowing gamblers under 21 years of age.
Kentucky
Although most forms of gambling are illegal in Kentucky (other than the lottery and horse racing), there is one private social club in the state that hosts poker. The Royal Social Club has eight poker tables and offers cash games as well as tournaments. Their website states you need to be 18 or older to join.
Michigan
Michigan is home to both small charity poker rooms and large resort casinos. While the resorts are all 21+, the smaller charity poker rooms leave plenty of options for younger poker players. Corunna Poker Room and Rosemack Poker Room are popular destinations.
Michigan is one of the few states that have legal online poker, although it is only for people aged 21+. You can play at WSOP.com, BetMGM, and PokerStars, although currently the player pool is not shared with any other states.
Minnesota
Minnesota state legislature allows for 18+ patrons in the state's card rooms, and there are plenty of rooms that follow this minimum age. Running Aces Casino & Racetrack, Grand Casino Mille Lacs, and Canterbury Park are some of the notable 18+ poker rooms in the state.
Montana
Montana allows for 18+ players in all of their poker rooms. There are 15 open poker rooms to choose from in Montana. however, none have more than four tables.
New Hampshire
New Hampshire doesn't have traditional resort casinos, but the state has many charity poker rooms which are 18+ to enter. These rooms offer plenty of action, and recent laws have increased the maximum buy-in and hours of operation. Chaser's Poker Room and Boston Billiards Casino are two of the premier 18+ options in the state.
New York
The Big Apple doesn't have much poker to offer unless you find some Rounders-style home games. Upstate New York on the other hand has plenty of live poker rooms. Turning Stone Casino is 18+ and, just over the border into Canada, Casino Niagara is 19+, so there are some options for players who can't order a beer at the bar. Turning Stone recently hosted a WSOP Circuit stop and looks as though they will continue to do so in the future.
Ohio
Poker players are running good in Ohio! There are some smaller rooms like Deep Stack Poker & Card Room and Mad River Poker Club which allow players 18+. The state also has larger casinos like JACK Cleveland Casino and Hollywood Casino Columbus, but you must be 21 to enter those rooms.
Oklahoma
Oklahoma is another state that allows people 18 and older to play poker. With large poker rooms like Choctaw Casino Durant and WinStar World Casino, younger players have some premier poker options in the state.
Oregon
Oregon is similar to California, where the law allows for poker rooms to be 18+ but not all establishments follow the state guidelines. In Oregon, you will find both 18+ and 21+ poker rooms. Full House Poker and the Diamond Poker Room are two of the many 18+ poker rooms available in the state.
Rhode Island
Just north of Providence, you will find Bally's Twin River Casino, an 18+ casino that offers a live poker room. However, Twin River's poker room has remained closed since 2020 with no targeted date for reopening.
Washington
Washington state is another area that allows 18-year-olds to play poker, although not every poker room does. Wildhorse Casino and Fortune Poker Room are two notable establishments for 18+ poker players.
Wyoming
There are only a few small poker rooms across the state, but two of them allow players 18+. Wind River Casino and 307 Poker are friendly spots for young poker players, however, they only have four tables between them.
US States with 21+ Poker Options
The majority of card rooms in America have a minimum age of 21. Below are the states that have live and/or online poker available for adult players.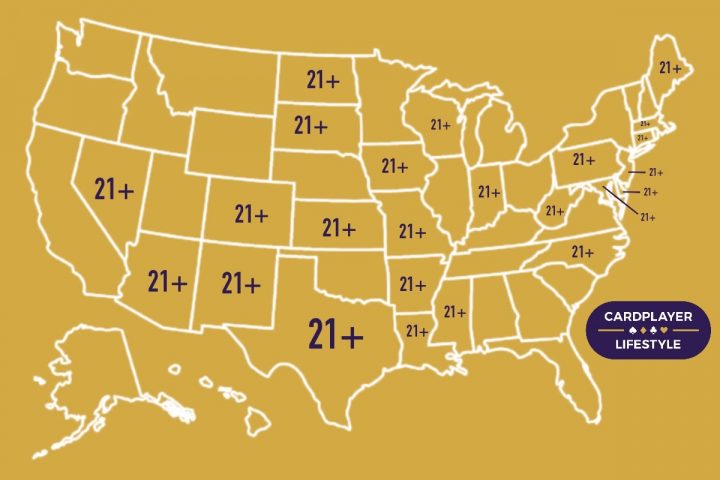 Arizona
Arizona has many poker rooms available for players 21 years or older. After visiting the Grand Canyon, you can make your way to Talking Stick in Scottsdale to play at one of their 47 poker tables.
Arkansas
Despite favorable gambling laws surrounding poker, there is only one poker room operating in the state. Saracen Casino Resort in Little Rock has a 10-table poker room available for players aged 21+.
Colorado
Colorado offers a poker oasis located just 35 miles West of Denver in Black Hawk. That city has four different poker rooms within a 1/2 mile radius.
Connecticut
While the state of Connecticut doesn't allow for any gambling, there are two large resort casinos located on tribal lands within the state. Mohegan Sun and Foxwoods Resort Casino are just a 15-minute drive away from each other in the southeastern part of the state. Both poker rooms are quite large with 23 tables at Mohegan Sun and 52 at Foxwoods.
Delaware
The small state of Delaware has one live poker room at Harrington Raceway and Casino. This room offers 10 tables and their website states they offer Dealer's Choice, although it may not run as frequently as Texas Holdem.
Delaware is also one of the few states that offer legal online poker options in America, and they have a shared player pool with New Jersey and Nevada. WSOP.com is available as well as three sites each affiliated with one of the three casino and racetrack properties in the state (Harrington Raceway, Dover Downs, and Delaware Park). Those affiliate sites operate using 888 software and also share player pools with New Jersey and Nevada.
Indiana
Indiana plays host to a few 21+ poker rooms including Horseshoe Indianapolis and Caesars Southern Indiana.
Iowa
The Hawkeye State has seven different casinos that host live poker. With some noteworthy names like Bally's Quad Cities and Horseshoe Casino Council Bluffs, there are plenty of live poker options in Iowa.
Kansas
Kansas plays host to a couple of poker rooms for live players over 21 years of age. In Kansas City, you will find Hollywood Casino Kansas Speedway, a great option for cash games and tournaments.
Louisiana
Home of Cajun cooking and Mardi Gras, Louisiana offers live poker for gamblers aged 21+. Poker in the United States got its start on riverboat casinos in New Orleans, and today you can find a game at Harrah's New Orleans or one of the other nine casinos in the state.
Maine
Maine doesn't offer many poker options. There are only four tables at the state's only poker room located at Hollywood Casino Bangor. The poker room has been closed since 2020 and it is unclear when (or whether) it will reopen.
Maryland
The Old Line State is bustling with poker action for people of legal drinking age. Between MGM National Harbor and Maryland Live!, there are plenty of opportunities for those over 21 to play cards.
Massachusetts
Massachusetts has two fairly new casinos that offer poker rooms. MGM Springfield and Encore Boston Harbor both have poker rooms offering cash games.
Mississippi
There are multiple casinos with live poker rooms in Mississippi. Beau Rivage Resort & Casino in Biloxi is the most well-known name in the state, but there is also an Ameristar property and Horseshoe Casino Tunica to play at.
Missouri
Missouri offers poker for players 21+, and you can expect plenty of calls on the river in the Show Me State. Kansas City, for instance, has a Harrah's property which is ripe with action.
Nevada
It's no surprise that Nevada offers numerous poker options. Las Vegas, after all, is the Mecca of poker. There are too many poker rooms to name, but they are all 21+.
Nevada also has legal online poker. Players can enjoy the shared player pools with New Jersey and Delaware on WSOP.com.
New Jersey
New Jersey offers another large poker market. Atlantic City has some live poker options, and online poker is legal as well. So players can enjoy the live game at the Borgata and then head home for a tournament on one of the Garden State's online poker sites.
New Mexico
There are two 21+ casinos in New Mexico currently operating. While there are not many options, Sandia Poker Room in Albuquerque offers 15 tables for live cash games and tournaments.
North Carolina
There is one casino in North Carolina offering live poker: Harrah's Cherokee. This is a regular WSOP Circuit stop that regularly runs cash games in the 21-table poker room.
North Dakota
As a small market, North Dakota has small poker venues including 4 Bears Casino & Lodge with six poker tables.
Pennsylvania
The Keystone State offers premier poker rooms for players 21+. Parx Casino and Live! Casino Philadelphia offer a combined 77 tables, and there are nine other poker rooms in the state.
Pennsylvania also offers legal online poker, although they do not currently share a player pool with any other states. You can play on PokerStars, BetMGM, WSOP, and BorgataPoker.com in the state.
South Dakota
Fans of Deadwood can pull up a chair and play some poker at the No. 10 Saloon, an old-west style 4-table poker room and restaurant. While there are only three open rooms in the state, you can play poker in the town where legends like Wild Bill Hickok played. Just be careful if you get dealt the dead man's hand!
Texas
Poker is booming in the Lone Star State. With recent legislation allowing for independent poker rooms to operate, there is no shortage of big pots in Texas. Whether you hit the Lodge for some vlogger-friendly poker or try to get on the stream at Texas Card House, you can play poker all over the state.
West Virginia
There are a few poker tables at Mardi Gras Casino West Virginia, but what makes the state unique is its online poker laws. Online poker is legal in the state as of 2020, but due to delays, no operator has been granted a license as of yet. Online poker should be coming soon for West Virginians.
Wisconsin
Wisconsin has some live poker options for players 21+. Oneida Casino in Green Bay is a favorite for cheeseheads.
US States where Poker is Illegal
Unfortunately, not all states offer a legal poker option. Below are the states where you are drawing dead for traditional regulated poker rooms.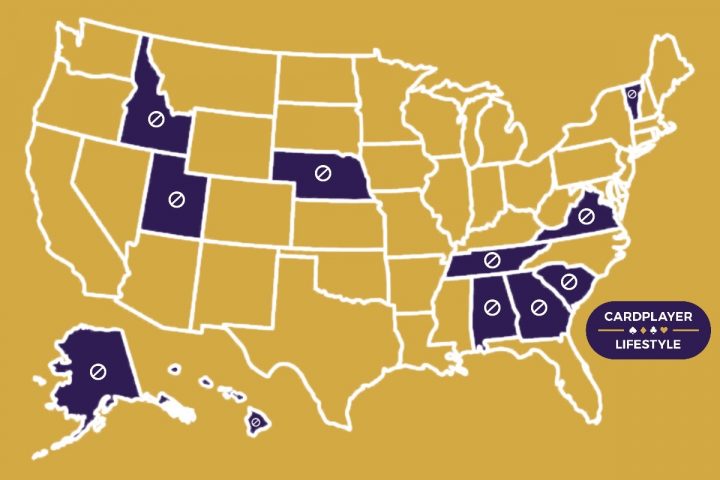 Alabama
There are no licensed poker rooms in the state of Alabama and no regulated online poker options.
Alaska
Alaska also has no options for licensed poker. Seems they have an issue with cold decks.
Georgia
While Georgia doesn't offer any traditional poker options in-state, you can find plenty of non-profit poker leagues. A quick Google search yields plenty of results for Georgia poker leagues if you are looking for a poker fix. Little Kings and Queens is a popular option.
Hawaii
While you can find plenty of beach resorts on the islands of Hawaii, none will have a casino. Gambling is banned entirely in the great state of Hawaii, so unfortunately there are no live or online poker options.
Idaho
Poker has been deemed a game of luck and not skill in Idaho. Therefore, you will not find any legal real-money poker rooms in the state. However, there are options to play poker tournaments for prizes as long as they are not cash prizes.
Nebraska
While Nebraska does offer some casinos, none of them have live poker rooms and there are no online options in the state. The recent legislature passed allows for more casinos to open, so there may be some live poker available soon.
South Carolina
Unfortunately, there is no live or online poker available in South Carolina per state law. You may find some riverboat casinos docked in the state, although they don't appear to offer poker.
Tennessee
Tennessee does not offer any live or online poker options. The state has deemed poker completely illegal, so unfortunately you are drawing dead in Volunteer country.
Utah
There are no poker options in the state of Utah. Just as many counties are dry for alcohol, the state is bone dry for poker as well.
Vermont
Vermont is not friendly to poker players, unlike their neighbor New Hampshire. There are no legal poker options in the state. Luckily New Hampshire offers the Lebanon Poker Room right on the state line.
Virginia
Virginia poker is a tricky subject. While in 2020 the legislature allowed for charitable poker rooms, that law was rescinded as of July 2022. The state has some approved casinos but so far none that are operating offer poker. Pop's Poker in Richmond previously offered poker, however, there currently are not any open poker rooms.
Poker is Legal in Almost 80% of the United States
Poker is alive and well across the United States. Unfortunately, 11 states don't quite understand the game, as they have ruled poker is a game of luck and banned it outright. Luckily, the remaining 39 states offer brick and mortar poker rooms. While you need to be at least 21 years old in 24 of those states, 15 states have rooms that allow gamblers 18 and older to play. If you find yourself in a state without legal poker, the good news is you don't need a passport to get somewhere to play. Wherever you find yourself in the US, a legal poker room is probably not too far away.