WSOP.com Poker Room Review
Poker Room Reviews > WSOP.com Poker Room Review
Pros
Online satellites for the World Series of Poker
Accepts US players
Generous welcome bonus offer
Supports multi-tabling
Daily and weekly online tournaments
Rewards program
Cons
Only accepts players physically located in Nevada, Pennsylvania and New Jersey
Players limited to a maximum of 6 tables simultaneously
Table of Contents
History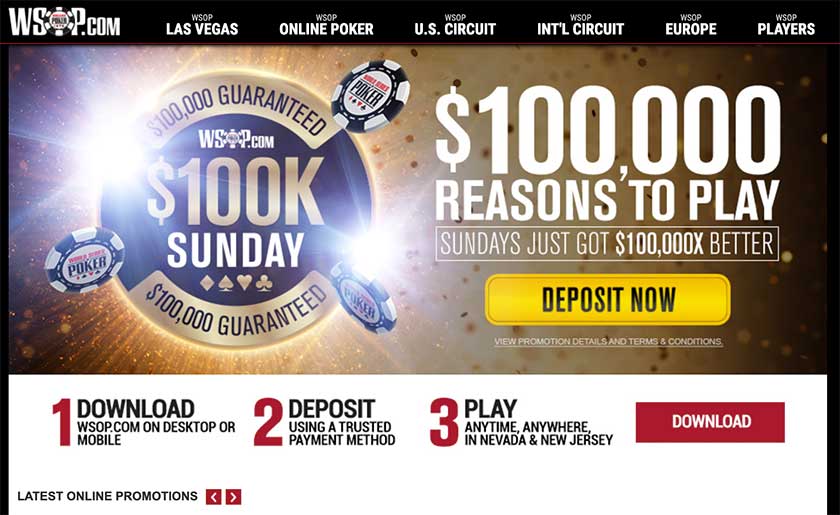 The World Series of Poker has been one of, if not the premier poker tournament series in the world since its inception in the 1970s. As the online poker industry took shape, the world's most famous poker brand saw to it that they'd join the party as well (albeit significantly later than newer online-exclusive poker operators) with the launch of a branded online poker room.
While WSOP's live tournament series has consistently gotten mainstream attention since its inception, its poker room has made far fewer headlines. It was specifically the events of Black Friday in 2011 that eventually led to the creation of the WSOP online poker room within the newly regulated US market. Online poker has been regulated in Delaware, Nevada, and New Jersey as well as Pennsylvania and WSOP.com (the online poker room) has found itself with a steady stream of real money players specifically in Nevada, Pennsylvania, and New Jersey. Outside of the United States, WSOP has a version of its poker room that international players can access and play on for free. This free-to-play WSOP (playwsop.com) started its operations in 2015 and is still around as of this writing.
Live Tournaments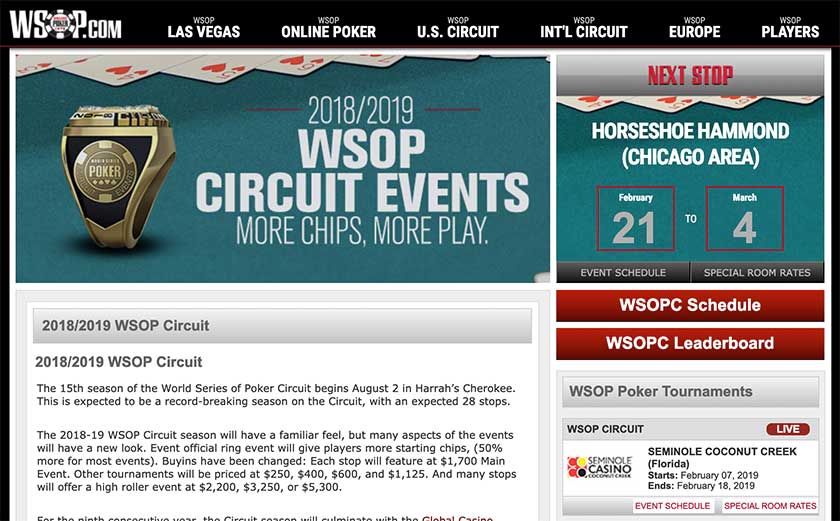 Much like any sporting organization/league, the World Series of Poker live tournament series is a major event. The brand also has sub-brands beyond its six-week long summer series and all WSOP-branded play occurs over a season. The WSOP brand is active throughout the year at multiple Circuit events that primarily take place in the United States, but also at select stops around the world. To an extent, Circuit stops function a bit like satellites and have tournament buy-ins that range from $250 to as much as $1,125. For the Main Events on these stops, players will have to shell out $1,700 for a buy-in. Depending on the stop, there might also be high roller events with buy-ins that range from $2,200 to $5,300. Dozens of bracelet events are held during the WSOP summer festivities with buy-ins ranging from just a few hundred dollars up to six- and seven-figure sums, as well as the most prestigious of them all, the $10,000 buy-in Main Event.
As mentioned, WSOP expanded their live branded events to an international Circuit that culminates with the Global Casino Championships, which also awards a gold bracelet to the winner. To earn a seat at the GCC, players will need to win a Main Event on one of the Circuit stops or get a Casino Champion title. The latter option will require players to garner the most official ring events points at any of the stops in the International Circuit.
Online Tournaments
The WSOP.com poker room offers satellite tournaments to live events. It should be noted that not all of the satellites are for the Main Event though. Players who want to try and claim a seat at the Main Event will need to join the special Main Event Satellites that have a $215 buy-in and guaranteed prize of $10,000 (equivalent to the buy-in). Depending on how many players register for each of these, multiple seats to the Main Event are sometimes awarded. Other than the Main Event though, there are other live events of the summer WSOP series that players can try to qualify for online. These include the $565 Casino Employee Event, the $365 Giant, the $565 Colossus, the $365 PLO Giant, the $565 Pot Limit Omaha, the $888 Crazy 8's, and the $1,111 Little One for One Drop. Buy-ins for all of these other satellites start out at $10 but can go as high as $365. As for guaranteed prizes, these equal the live event's buy-in.
Players who aren't too concerned with playing in live events are still able to enjoy WSOP.com's other online offerings. As of this writing, the poker room offers cash games for Hold'em, Omaha, Stud, as well as Sit & Gos. Hold'em has both No limit/Pot limit and Fixed Limit versions while the Omaha and Stud sections have Omaha Hi/Lo and Stud Hi/Lo versions respectively.
Sit & Gos have gotten popular thanks to how relatively fast the games play out. Additionally, buy-ins are relatively low. Players can join a table with a buy-in as low as $0.25. Of course, if they want to up the stakes (and potential winnings) then players can also join tournaments with higher buy-ins (the highest of which is $200).
Players can also try out the WSOP.com poker room's regular tournaments. Daily tournaments include the $25 Daily PLO which has a $1 buy-in and $25 in guaranteed prizes, as well as $100, $150, $200, and $750 Daily (guaranteed) tournaments with buy-ins that range from $5 to $10.
Players chasing higher guaranteed prizes would do well to check out WSOP.com's weekly tournaments such as the $5,555 Monday Weekly, Tuesday Showdown ($30,000 Guaranteed), $20,000 Weekly Tuesday, $20,000 Sunday Kick-off, and $15,000 Weekly Sunday just to name a few. Unlike the daily tournaments though, these typically have higher buy-ins. Typically, players can expect the buy-ins to increase as the tournaments' guaranteed prizes rise. In the case of the $5,555 Monday Weekly, its buy-in is set at $55. By comparison, the Tuesday Showdown which has a $30,000 guaranteed prize has a whopping $500 buy-in.
Sponsored Poker Pros
The World Series of Poker online poker room doesn't have sponsored poker professionals. This is perhaps understandable considering that it would be bad optics if the (publicly traded) company running the poker room (Caesars Entertainment) were to sponsor poker professionals to compete on its own tournaments/tournament series.
READ MORE: 5 Celebrities WSOP.com Should Recruit as Brand Ambassadors
Welcome Bonus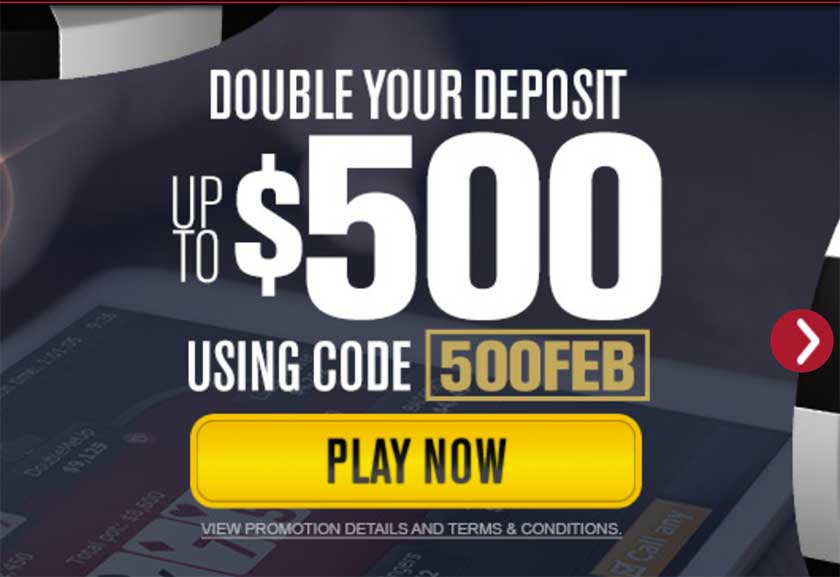 Regardless of whether they're in New Jersey or Nevada, players will get to enjoy a generous welcome offer when they register for a WSOP.com account. Upon their first deposit, the poker room will give players a 100% match bonus that can go as high as $600 to go along with $100 daily freerolls for their first week. Unlike with online casinos, the match bonus that players will get won't be released as a whole amount. Instead, the poker room will release these in increments of $5. Getting the poker room to release an increment will require players to get 50 APP or Action Player Points. 2 APPs are rewarded to players for every $1 they generate in rake.
Devices
Players can access the WSOP.com poker room on a wide range of devices. The poker room has a dedicated application that players can download on their desktops/laptops that run on either the Windows or Mac operating systems. What's great about the app is that players don't need to have high-end hardware to run it. If they prefer to experience the poker room on the go, then players can download the dedicated WSOP app on their mobile devices running Android or iOS.
Licensing
The WSOP.com poker room is currently licensed to operate in the states of Nevada, Pennsylvania, and New Jersey. Players located in the United States can access the poker room and make deposits even if they're not from the two states mentioned, but they cannot actually play outside the aforementioned states' borders.
As for players outside of the United States, accessing the poker room will result in them getting redirected to playwsop.com. This is a play-for-free poker room targeted for casual players and does not accept any real money wagers or buy-ins. However, players can still purchase chips if they want to increase their play money bankroll.
Ownership
First organized by gambling icon Benny Binion, the World Series of Poker started out as an invitational tournament patterned after the Texas Gambling Reunion. This event was held at the Binion's Horseshoe (now called Binion's Gambling Hall and Hotel) and featured seven of the most renowned poker players at that time. The tournament consisted of a series of razz, seven-card stud, five-card stud, deuce to seven low-ball draw, and Texas hold'em cash games. Johnny Moss would eventually go on to be the event's inaugural winner after receiving the most votes from his peers.
Almost immediately after the inaugural tournament, CBS took up the television coverage of the WSOP. In the 80s, coverage was taken up by ESPN, which at that time only featured delayed broadcasts. The Discovery Channel then took on coverage of the event from 1999 to 2001 with ESPN taking it back in 2002 and holding the rights ever since.
2004 marked a significant turn for the World Series of Poker with Harrah's Entertainment (now Caesars Entertainment Corporation) purchase of Binion's Horseshoe. Aside from acquiring the hotel, the company also got the rights for the WSOP and Horseshoe brands. The company then sold the hotel and transferred the venue of the tournament to its own Rio Hotel and Casino. In the summer of 2022, the World Series of Poker moved to the Las Vegas Strip for the first time, with the events taking place at the Paris/Horseshoe (formerly Bally's) hotel/casino/resorts.
READ MORE: How ESPN Gets Player Info During the WSOP Main Event
Frequently Asked Questions
Question: Does WSOP.com take US players?
Answer: So long as they are physically located in Pennsylvania, Nevada or New Jersey, players will be able to access and make real money wagers on the WSOP.com poker room. Players outside of the United States who attempt to access the poker room will be redirected to the free-to-play playwsop.com site.
Question: Does the software allow for playing at multiple tables at once?
Answer: The WSOP.com online poker room uses the same software as 888poker and as a result, it also supports multi-tabling. Initially, the poker room allowed players to have as much as 10 tables open at the same time. However, changes instituted back in 2015 limited the number of tables a player can have open at the same time to 6.
Question: Is there a VIP & Loyalty rewards program for frequent players?
Answer: As its name implies, the WSOP.com Poker Rewards program seeks to reward players for their continued activity and loyalty to the poker room. For every $1 that gets raked, players will get 2 Action Player Points (APPs) from the poker room as a reward. As players collect these APPs, they can then move up from the starting Player Level to the Bronze (250 APPs), Silver (750 APPs), and Elite (1,500) Levels. If they manage to accumulate 20,000 APPs in a year, players can then progress to the Champions Club.
The moment they reach at least the Bronze Level, players' APPs will automatically be converted to WSOP Points. Once this happens, players will then be able to convert their accumulated APPs/WSOP Points to cash. As of this writing, the program's exchange rate for APPs/WSOP Points to cash is set at 100:$1. It should be noted though that the poker room will require players to have at least 1,000 WSOP Points before it processes any conversion.
Question: What are the wagering requirements of the signup bonus?
Answer: Much like with most poker rooms these days, WSOP.com's signup bonus is not automatically credited to players' accounts. Instead, the poker room will release the bonus in increments of $5. In order for a release of these $5 increments to happen, players will need to accumulate 50 APPs. As mentioned earlier, APPs are rewarded to players every time they generate at least $1 in rake.
For the seven $100 freeroll tournament tickets, these do not have any wagering requirements. With that said, players will only be able to use these for the seven welcome freeroll tournaments following their initial deposit.
Question: Can I wager my welcome bonus on casino games or on the sportsbook?
Answer: Unlike most poker rooms, WSOP.com does not have a casino games or sportsbook section.