With 2020 coming to a close, from a historical perspective it may be among the top 3 of unforgettable years in poker (along with the Poker Boom during 2003 and Black Friday happening in 2011). As this year is coming to an end, I will be sharing events having a profound impact on the poker community.
The Galfond Challenge
On November 19, 2019 Phil Galfond issued a high stakes poker heads up challenge to  promote Run It Once Poker. Bill Perkins, Daniel "Jungleman" Cates, and Chance Kornuth are some of the big names that accepted the challenge, but it would be the first match against Venividi1993 that highlighted the roller coaster ride of emotions playing 25K hands of €100/€200 PLO. The match began on January 22 with Venividi taking a nearly €400k commanding lead over Phil within two weeks. On February 11, Phil took to Twitter and provided his thoughts regarding the challenge. He announced that his downswing had grown to €900k, contemplated waving the white flag, and would take some time off from the challenge to determine if he would be ready to continue in March.

On February 26 Phil announced his decision on the Run It Once news page, concise and bold: "I'm gonna keep playing". The rejuvenated Galfond got back into rhythm and progressively erased €400k of the lead by March 14. Phil and Venividi continued to battle hard every session with Phil getting closer to breaking even. With fewer than 100 hands remaining in the challenge, Phil won the pivotal €21.5k hand comfortably sat out and sealed the victory. Congratulations Phil and Venividi for creating some of the best heads up PLO action I have ever witnessed and good luck on your current match against Chance Kornuth!
The Ooka Luka
In early May, Norman Chad began posting short videos on YouTube titled The Ooka Luka is Here. He created a song and dance during a period of loneliness as a result of being apart from his wife, Toni, for an extended period of time, and the passing of his dog, Daisy. Jesse Fullen, of PokerNews, was hosting a WSOP stream on Twitch and informed the viewers of the Ooka Luka Challenge, a contest requiring the individual to film the Ooka Luka with the top 3 winning prizes.
I decided to throw my hat in the ring and filmed myself performing the Ooka Luka. I was excited when Norman announced that I placed third because I had taken a different approach and I had fun filming it. His movement of spreading positivity and message of treating others with respect has resonated with me.
There is still time to submit your Ooka Luka! Here is my submission 🙂 @NormanChad @PokerNews #OokaLuka pic.twitter.com/6i5UFUUKHE

— Dano Arluison (@ManAllusion) August 18, 2020
After the challenge ended at the end of August, Norman launched the Ooka Luka Charity Challenge. He 'challenged' Tony Dunst and Ebony Kenney to create an Ooka Luka video, donate $50 to 'Keep the Lights On' and to challenge two others to do the Ooka Luka. Currently, there are over 100 videos of Norman performing the Ooka Luka. Be sure to watch one or two, it will brighten your day. If you're slightly more daring, then perhaps you can show off the Ooka Luka to your friends and family!
The WSOP Online Summer Series
The annual excitement of a six week-long live poker series with thousands of players flocking to the Rio in Las Vegas, yearning for a shot to win a bracelet, heaps of cash, and competing live on the biggest stage would have to wait. Due to COVID-19, the 2020 World Series of Poker scheduled to start on May 27, was called off. Pivoting, the WSOP announced an Online Summer Series from July 1 to September 6 featuring 85 bracelet events split between WSOP.com (31) and GGPoker (54).
Notable pros winning their first bracelet included: Roberto Romanello, Daniel Dvoress, Eoghan O'Dea, and Connor Drinan. Four women won bracelets including Nahrain Tamero, Thi Truong, Melika Razavi, and partypoker ambassador Kristen Bicknell (her third). Other players who added to their career bracelet totals included: Michael Gathy, Joe McKeehen, Fedor Holz, Anson Tsang, David Peters, Alek Stasiak, Yuri Dzivielevski, Juha Helppi, Nick Binger, Tony Dunst, Kevin Gerhart, and Nathan Gamble. And of course we can't forget to mention Stoyan Madanzhiev, who took down the Main Event for almost $4 million in the biggest single tournament online poker win in history.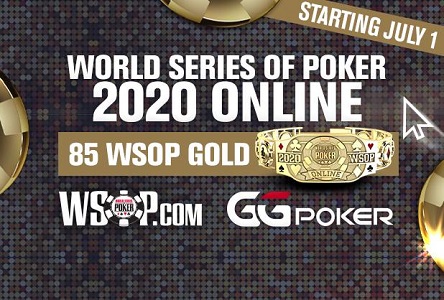 Some other highlights from this year's first fully-online WSOP included: Ryan Depaulo winning a bracelet while playing in a Whole Foods parking lot in New Jersey, Connor Drinan securing a $100k bracelet bet from Daniel Negreanu after winning the $10k Super Million$ event, and a Guinness World Record for 'Largest Prize Pool for an Online Poker Tournament" for Event #46 $5K Main Event on GGPoker.
The Passing of Mike Sexton
The poker world was deeply saddened to hear the news of Mike Sexton's battle against prostate cancer and eventual passing on September 6. Mike is regarded as the greatest ambassador of poker. His involvement with partypoker and the World Poker Tour have been immeasurable to the growth of the game.
The only silver lining was that , albeit for just a brief window, the entire poker community had the opportunity to pay tribute after tribute to Mike while he was still alive and could see just how universally beloved he was.
The World Poker Tour pays tribute to Mike Sexton. #ThankYouMikehttps://t.co/RkLnRN7ux2

— World Poker Tour (@WPT) September 8, 2020
I met Mike at the World Cup of Cards series held at the Playground Poker Club in Montreal in 2016. I had hoped that I would have played at the same table as him at some point throughout the tournament, but that opportunity did not come. I remember vividly the moment I introduced myself and shook his hand, I felt a great warmth and happiness simply to be in the presence of a true gentleman. You will not be forgotten Mike. Your stories on and off the felt will continue to be shared for years to come.
Negreanu vs. Polk Grudge Match
Doug Polk came out of retirement to issue a heads-up challenge that Daniel Negreanu felt compelled to accept. The history between these two poker greats has been a rocky one. Throughout recent years there have been quick jabs directed at each other either on Twitter or during live high roller tournaments. To me, this match is reminiscent of the Mayweather vs. McGregor with Doug listed as the heavy favourite, having been regarded as one of the best heads up no limit players. Daniel may be out of his element, but his perseverance and 20+ years experience in poker should not be overlooked.
I officially challenge Dnegs to a HUNL battle. I am hoping to leave with both his money, and my teeth still in my mouth. https://t.co/yE4ibc8Ydl

— Doug "Truck Driver" Polk (@DougPolkVids) July 28, 2020
The conditions of this match are as follows: 25K hands of $200/$400 No Limit Hold'em with an option to wave the white flag after 12.5k hands. On November 4, the first 200 hands were played live at the PokerGO Studio in Las Vegas. It was refreshing to see no animosity between Doug and Daniel during the match. Action started right away in Hand #1 with Doug attempting a river bluff only for Negreanu to call with top pair. Two key hands involved both players making a river shove in position but it would be Daniel "Old Man Speeding" Negreanu securing a $117K win in round 1.
On November 6, Round 2 began on WSOP.com with the remaining hands to be played out exclusively online on two tables simultaneously. Now on Polk's turf, the momentum has certainly shifted in his favor. The first online session saw several $100k pots all-in preflop fall in Polk's favour. Doug ended the session winning $218K with fewer than 500 hands having been played. Expect to see more big pots and perhaps the return of some trash talk between these two as the grudge match continues.
The Return of High Stakes Poker
Poker fans should be thrilled that High Stakes Poker will be returning for an eighth season. If Twitter is anything to go by, the excitement for the show's return is at fever pitch. Important questions that some might be thinking are: who will be in the lineup? Will Gabe Kaplan and AJ Benza return as hosts? Be sure to watch High Stakes Poker, exclusively on PokerGO starting December 16.
ICYMI: High Stakes Poker is BACK!!!! New episodes premiering December 16, only on #PokerGO!

Use code HSP2020 for $10 off a subscription: https://t.co/vNIqJCNLne pic.twitter.com/KH7kyjgaNg

— PokerGO (@PokerGO) October 31, 2020