This series of PokerGO's original programming reviews is proudly brought to you by ProfessionalRakeback.com.
For many poker fans, their exposure to the world of poker only goes as far as the shows they see on TV or the articles they read on sites such as PokerNews and Cardplayer Lifestyle. Many are clueless as to what goes on behind the scenes of a major poker tournament or the struggles that top players experience in their daily lives.
Inside Poker takes a deep dive into the world of poker, bringing fans interviews from top players and industry professionals. Each episode features around 20 minutes of fast-paced, hard-hitting and often hilarious interviews giving viewers a peek of what goes on away from the felt in the poker world.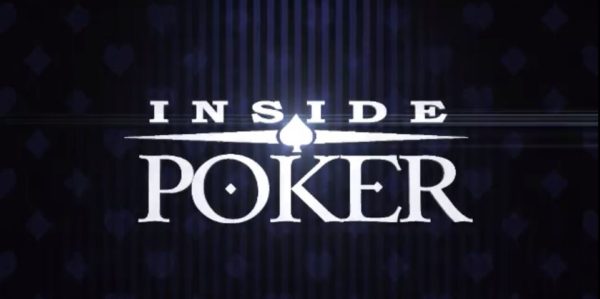 Matt Savage and Sarah Herring Take a Look at a "Gramazing" Game
Hosts Sarah Herring and Matt Savage take a more in-depth look at the world of poker. Through a series of interviews and on-location segments, the pair explores the lives of the players, industry professionals, and media members that help to make poker the great game that it has become.
Each segment has an overarching theme. For example, Episode 2 focuses on women in poker, featuring interviews with both Jennifer Harman and Jennifer Tilly. The episode explores the evolution of women in the game and the struggles they still face in a male-dominated sport. Other episodes focus on the World Series of Poker, the World Poker Tour, poker personalities, poker media, playing on the pro tour, and more.
Something that poker fans will appreciate is that these segments come off as an "off the cuff" and natural, highlighted in the opening segment of the first episode when Savage called the World Series of Poker "gramazing," which we can only assume is a hybrid of great and amazing. During the interview, you will see more of this as Savage allows conversations to flow naturally rather than sticking to a pre-determined script.
Watching "Inside Poker" on @PokerGO and found out that @SavagePoker think that the @WSOP is "Gramazing" 😀

— James Guill (@compncards) June 9, 2018
Here's a list of the series' 10 episodes, along with their titles and which personalities are features in each one:
Episode 1: "WPT" – Mike Sexton, Lynn Gilmartin, Vince Van Patton
Episode 2: "Poker Women" –  Jennifer Tilly, Nolan Dalla, Jennifer Harman
Episode 3: "WSOP" – Greg Merson, Norman Chad, Phil Laak
Episode 4: "Pro Tour" – Dan Shak, Darren Elias
Episode 5: "Cash Kings" – Chris Moorman, Jason Mercier
Episode 6: "Poker Media" – Matt Salsberg, Joe Giron
Episode 7: "WPT 2" – Adam Pliska, Mike Sexton
Episode 8: "Personalities" – Norman Chad, Jennifer Tilly
Episode 9: "Personalities 2" – Vince Van Patten, Greg Merson
Episode 10: "WSOP Boss" – Ty Stewart, Darren Elias, Faraz Jaka
What Worked?
Savage has always done well at interviewing players and others in the poker industry, so it was of little surprise that he was hosting an interview show. I felt he hit the perfect balance of talking about poker and bringing out aspects of his guests' personalities.
I also liked the different venues picked for interviews. Whether it was in a poker room, on the rail of a final table, or at a bowling alley, each venue seemed fitting for each guest. That may not seem like a big deal, but the atmosphere can help contribute to a great interview.
What I liked best about the series is the variety of personalities he interviewed. In addition to talking to top players such as Greg Merson, Chris Moorman, and Jason Mercier, Savage also interviewed senior executives from both the World Series of Poker and the World Poker Tour. His interview with photographer Joe Giron gave a glimpse into a side of poker media that's often overlooked.
What Didn't Work?
One thing that I would have liked to have seen more of is focusing on tours and executives not tied directly to either the World Series of Poker or the World Poker Tour. While it is understandable that those tours will receive the greatest focus, as they are the ones that are most familiar to the general public, for the show to be called "Inside Poker," I felt there needed to be a bit more variety in what was featured from the industry side.
#PokerCentral has another premiere for you tomorrow. Don't miss a new episode of #InsidePoker https://t.co/tou98NIefO

— Poker Central (@PokerCentral) March 20, 2016
In terms of the show's individual segments, I felt that the "Savage on the River" segments were a bit "meh." Except for the one focusing on misogyny in poker, they came off just a bit stiff and dispassionate in my opinion. To me, less looking around to different cameras and a bit more passion would make those segments seem more genuine.
Plenty of Room to Expand for Future Seasons
This series was originally produced back in 2016 for Poker Central before the switch to PokerGO's new network subscription format and has yet to be renewed for a second season. That's a bit disappointing because there's a lot of room to expand for this series.
Matt Savage and Sarah Herring do a great job in giving fans a broader view of the poker world, and there are so many other players, tours, and venues to explore to provide content for a second season and beyond.
With the recent developments in sports betting and online poker regulation in the United States, producers may want to put some focus on these topics, starting with a look at the past of iGaming and the future, especially in the United States.
Inside Poker has only scratched the surface of what's out there, and there are many more stories to tell from around the poker world. Hopefully, the producers over at PokerGO decide to revive this series or produce a similar one soon.
Cardplayer Lifestyle would like to thank ProfessionalRakeback.com for sponsoring this series of PokerGO original programming reviews. We encourage you to visit their site and check out their offers.