Today's poker games can be traced back to a Persian betting game called As Nas which was introduced into France in the late 16th Century and led to the French and German games Poque and Pochen. Later, these games came to the United States with the arrival of European colonists, evolving into modern-day poker. Currently, Texas Hold'em is the most popular poker game in the country. Created in Robstown, Texas, in the early 20th Century, the game spread throughout Texas and was introduced to Las Vegas in 1963 at the California Club Casino by poker pro Felton (Corky) McCorquodale (1904-1968). Corky was among the first players inducted into the Poker Hall of Fame in 1979. As more people learned how to play Texas Hold'em poker, the game rapidly spread into other Las Vegas casinos such as the Golden Nugget, Stardust, and Dunes.
These days, it's far easier to learn how to play poker, Texas Hold'em in particular, at sites online like casinotipspro and other places around the internet. The fact is that far more knowledge is readily available in the modern world at people's fingertips versus back in the old days when you had to find a poker book or have someone teach you the game.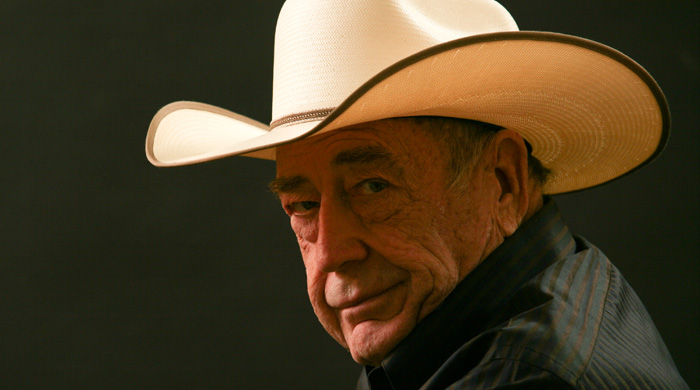 In 1967, a group of Texas card players, including Crandell Addington, Doyle Brunson, and Amarillo Slim, were visiting in Las Vegas and enjoyed the game. Compared to draw poker, in which betting occurred twice during a hand, in Hold'em you bet four times. And strategy played a bigger role in Hold 'em. This they liked.
The World Series of Poker
Poker pro Tom Moore established a "Gambling Fraternity Convention" in Las Vegas in the late 1960s. Originally, a San Antonio, Texas businessman, Moore was part owner of the Holiday Hotel and Casino in Reno. At the group's second convention in 1969, a tournament was held with Hold'em as one of the games played. The following year, Benny and Jack Binion purchased the rights to the convention and renamed the tournament the World Series of Poker (WSOP), with no-limit Hold'em as the main event. The WSOP started with only a handful of players, but by 1982 there were over 100 entrants. The WSOP has obviously continued to grow from there.
Hold 'Em in Books, TV and Movies
As the WSOP grew, featuring Hold'em as the main event, a number of poker books became available for players looking to learn more about the game. Doyle Brunson's Super/System was published in 1978. In 1983, Al Alvarez' The Biggest Game in Town focused on the WSOP and stimulated the publication of other poker books and widely read magazines, introducing Hold'em to a growing audience.
READ MORE: Five Books to Help You Learn TheHistory of Poker
U.S. interest in Texas Hold' em beyond Texas and Nevada also began to grow in the 1980s. California card rooms offered draw games, but Hold 'em was prohibited under a statute that made illegal the poker game of "stud-horse" (no longer being played). In 1988, Hold 'em was declared legally distinct from stud-horse in Tibbetts vs. Van de Kamp. This decision regarded Hold 'em as a game of skill. Almost immediately, card rooms across the state began to offer Texas Hold 'em.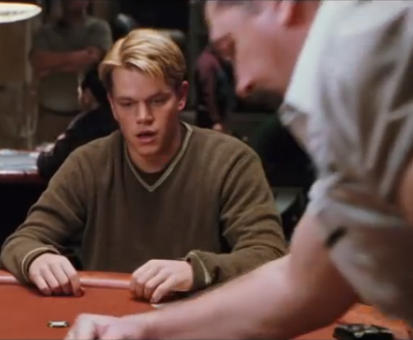 After a visit to Las Vegas, bookmakers Terry Rogers and Liam Flood introduced Texas Hold 'em to European card players in the early 1980s. This nicely completed the cycle that started centuries earlier when poker was first introduced into the U.S. by European colonists.
A number of movies were produced prominently featuring Texas Hold 'em, starting in 1998 with Rounders, starring Edward Norton and Matt Damon. Several other poker movies followed.
Hold'em tournaments were televised starting in the late 1970s, but became really popular starting in 1999 when hidden lipstick cameras were introduced to show players' hole cards on the Late Night Poker TV show, and in 2003 when the World Poker Tour introduced lipstick cameras.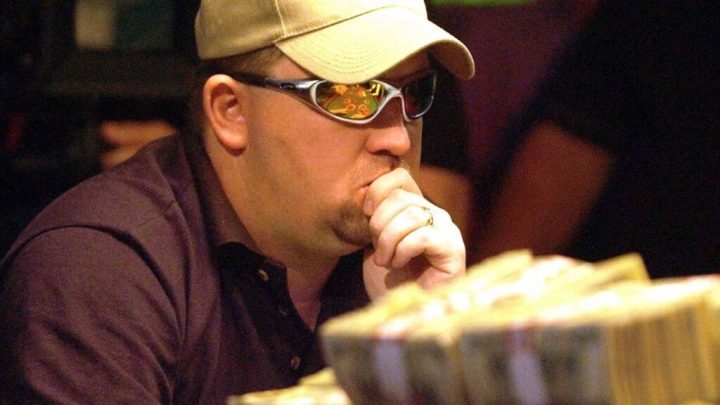 Chris Moneymaker and Greg "Fossilman" Raymer
Also in 2003, the WSOP experienced the unexpected victory of Chris Moneymaker, a recreational player who earned his buy-in to the tournament by winning an online tournament. This win by a non-professional player resulted in an outpouring of interest in the game of Hold 'em – and in online poker. Imagine, even a rank novice could become a world champion! And then, a year later, adding to the excitement, Greg "Fossilman" Raymer, another recreational player, took the 2004 WSOP Main Event.
Today, millions enjoy Texas Hold'em, and its future looks bright.