The most popular poker books tend to be those focused on strategy, the mental game and biographies. But there are also a number of very good books that talk about the history of poker.
To be sure, there's a wide variety of reading material out there where you can learn about all sorts of gambling- and poker- related topics. Naturally, this material isn't just confined to books in print; you can glean plenty of interesting information online, too, such as where to find the fastest payout online casino nz sites, if you're into that sort of thing. But there's nothing like turning the pages of an actual physical copy of a good book.
In this article I am going to recommend five books where you can learn about the origin of this game of poker that we are so passionate about. By reading them you will learn about how poker grew by leaps and bounds over the years to become such a popular game the world over.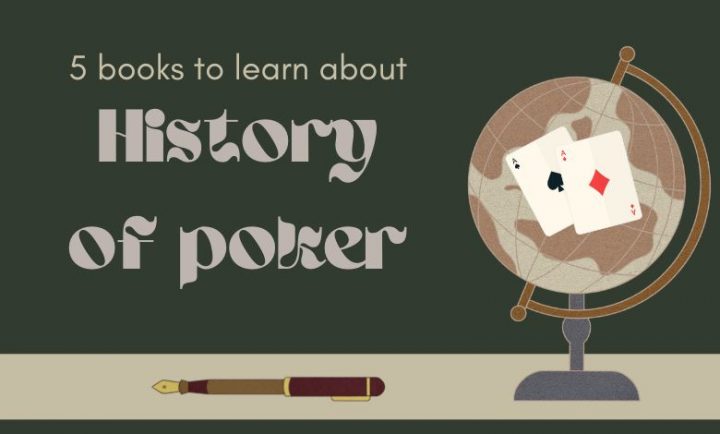 "Poker & Pop Culture" (2019) by Martin Harris
Martin Harris is a writer, teacher and poker reporter who has covered the game for the last 15+ years. In his book "Poker & Pop Culture" (Global Poker Awards 2019 winner) he wrote 23 chapters about poker in different contexts: casinos, politics, books, movies, war, television and radio, to name a few. The digital edition contains an appendix with what are for Martin the 100 best poker movies.
"Cowboys Full" (2009) by James McManus
The author was a finalist in the WSOP 2000 Main Event where he finished fifth and recounted his experience in the classic book "Positively Fifth Street". In "Cowboys Full", James McManus does a complete review of poker history including the old west, legendary duels and the World Series of Poker in 500 pages.
"All In: The Almost Entirely True Story of the WSOP" (2005) by Jonathan Grotenstein and Storms Reback
The World Series of Poker deserves a separate book for its rich history and Jonathan Grotestein and Storms Reback wrote it in 2005. In just over 300 pages it begins with the first edition in 1970 organized by Benny Binion and goes up to the 2005 edition. The authors tell great stories and the main protagonists of each year's proceedings.
"The 50 Greatest Stories in Poker" (2022) by Marton Magyar
This book manages to tell through 50 entertaining stories almost the entire history of poker. Each one has only a few paragraphs, so it ends up being a short book of 160 pages. Among the stories are Bugsy Siegel, Richard Nixon, Nick "The Greek" Dandalos vs. Johnny Moss, Stu Ungar, a chip and a chair with Jack Strauss, Andy Beal vs. The Corporation, Archie Karas, Black Friday, Dan Bilzerian and recent cheater Mike Postle.
"An Illustrated History of the Main Event" (2022) by David Mc Naboe
David McNaboe had an original idea: he told the story of the Main Event of the World Series of Poker with 52 illustrations. Like a deck of cards, with 52 pictures we can learn about all Main Event champions and finalists from 1970 to 2021. A quick and entertaining read.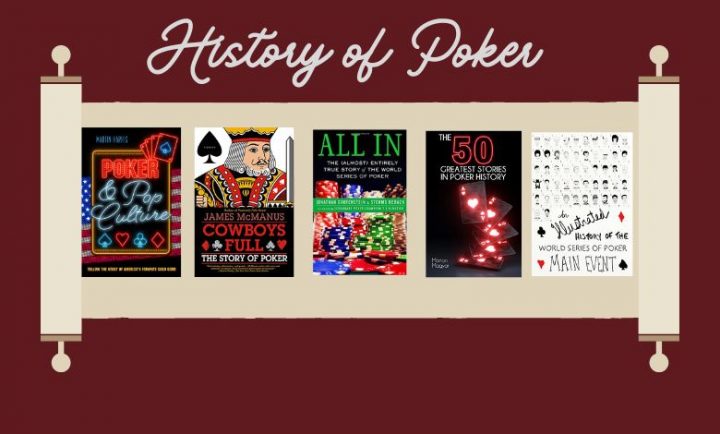 Other Great Poker History Books
If you have already read the five books mentioned above, or if you want to learn even more about poker, here are some more book titles I'm sure you'd enjoy:
"The History of Poker" by Ken Warren
"Forty Years a Gambler on the Mississippi" by George Devol > You can read it for free on Amazon
"The Moneymaker Effect" by Eric Raskin
"Raising the Stakes" by Sean Chaffin
"Aces and Eights: Poker in the Old West" by Ralph Estes
"Ghosts at the table" by Des Wilson
"Gardena Poker Clubs" by Max Votolato
So there's a wide variety of options for your next poker reading session. Enjoy!