It's kind of rare for me to publish a new article referencing something I wrote here at Cardplayer Lifestyle close to five years ago. Yet, in preparing to write up this review of the Maryland Live! poker room, I couldn't help but think back to November 2012, when I published a post excitedly heralding the coming of live poker to Maryland. Indeed, in the time since, the Baltimore/Washington DC area has become quite a popular poker hub, with some great rooms serving the region's millions of residents. While on vacation this summer, I finally had the pleasure of visiting in person and decided to select the largest room as my destination.
It's HUGE!
I've been to Las Vegas many times. I'm used to huge casinos. Still, the sheer size of Maryland Live! stunned me; I wasn't prepared for it. For starters, it's located adjacent to a Walmart and Costco, each quite sizable in their own right, as well as the massive Arundel Mills Mall. Multiple, vast parking areas and garages surround the place. It took me a while to get my bearings, but after I found a spot to park I walked towards the casino. And what a casino it is! You see the number – over 160,000 square feet – but can't truly grasp how large the gaming space is until you're walking around inside.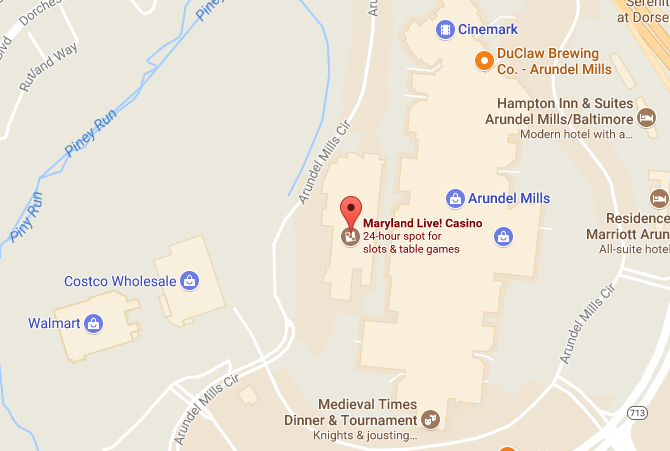 I imagine that for locals and those who've been to the poker room before, all of the above is old hat, and you know the quickest way to beeline towards the tables. For a first-timer like me, however, taking it all in was part of the experience, and I must say that the half hour or so between arriving at the property and taking my seat at a $1/2 NL Hold'em table was spent wide-eyed, simply trying to get a handle on the immensity of the place. I've read that a 300+-room resort-hotel is being built next door to the casino, which will just add even more size and visual stimuli to the MaryLand Live! complex.
The Poker Room
Part of the reason I chose to visit Maryland Live! versus the other poker rooms in the area was that the Bravo Poker Live app indicated over 25 tables running… on a Wednesday night in August! That was something I had to see with my own eyes, and I wasn't disappointed. Making my way past the dozens of other table games and hundreds of penny slots and video poker machines on the casino floor, I finally spotted the poker room.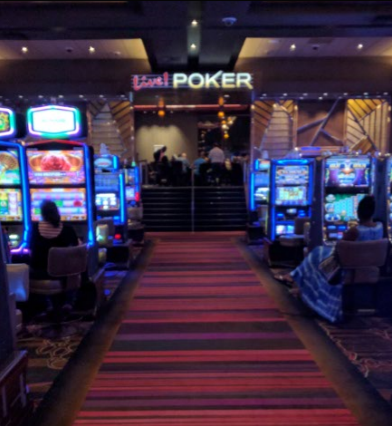 Clocking in at a sizeable 15,000 square feet and 52 tables, the Maryland Live! poker room really does feel as large as advertised. Tableside food and beverage service, multiple masseuses walking around, and built-in USB chargers for mobile devices all added to the Las Vegas-like feel of the establishment. High marks to the proprietors for investing the resources to make this room something special.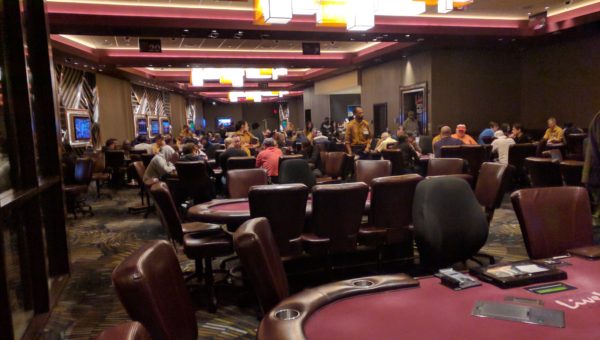 Another thing that caught my eye as unique about the Maryland Live! poker room was that in addition to name badges, the dealers also had little badges indicating their hobbies. They make for great conversation starters! Each time a new dealer sat down, it only seemed natural to ask them about the hobbies they listed, whether it was outdoor activities, playing poker themselves, or their favorite TV shows. This, in turn, got other players talking, which I felt helped contribute to a friendly atmosphere, something the room staff clearly seems to strive for.
The Games Themselves
I'm a low-stakes recreational player, so it was no surprise that Maryland Live! had plenty of suitable tables running. I did notice, however, that there was also a good amount of mid- and high-stakes action as well. A good few tables of $5/10 NL Hold'em and up, as well as a $25-25 Mixed Game, were heavy on the action, so players with higher bankrolls will also feel right at home.
What caught my eye, however, was a $4/8 Stud Hi-Lo/Big O mixed game… again, on a Wednesday night in August! I immediately put my name on the list and had to wait for about an hour at the $1/2 NL Hold'em table until my name was called.
Over the next couple of hours I had a blast! Most of the table was populated by locals and regulars, while there was also another out-of-towner, like me. While I was, as usual, probably the youngest one at the table, the gentlemen I joined were all class acts and a pleasure to sit with.
(Aside: Seriously, though! Why doesn't anyone under 40 play mixed games unless they're a pro traveling the circuit?! Where are all the home game heroes? Alas, I digress…)
As the hour grew late and our numbers started to dwindle, we agreed to a final orbit and then the remaining three players and I called it quits at around 2:30 am. I happily took my $48 in profit to the cage, where the cash out was smoothly processed.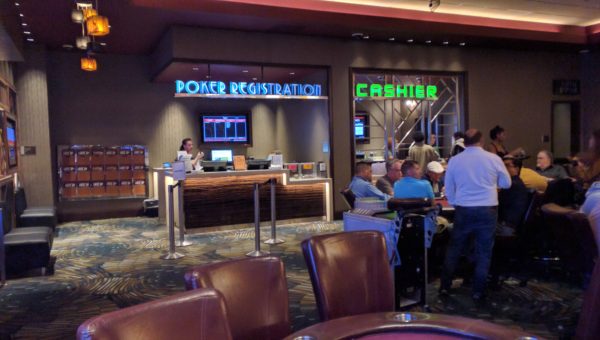 Conclusion
Generally, my natural inclination would be to visit the region's other poker rooms next time I'm in the Baltimore/Washington DC area, just to see them for the first time. I think I'll have to make an exception though, and be sure to ALSO head back to Maryland Live! Again, I was just so impressed and had such a wonderful poker session there, it would be a shame to not return to a place that made me smile so broadly.