The Argentine professional poker player José Ignacio "Nacho" Barbero has been having the best year of his career. Recently the hashtag #TheYearOfNacho went viral on social networks. Nacho's success is not by chance. For the past 18 years he has made a name in the live tournament circuit, earning more than 200 cashes across 23 different countries according to his HendonMob profile.
The #WSOP has kicked off in Las Vegas and I'm ready for some action! #WSOP2023 #TheYearOfNacho pic.twitter.com/d9eZaazAJ5

— jose ignacio barbero (@nacho_barbero) June 12, 2023
In this Poker Profile, you will learn about the life and career of José Ignacio, who currently ranks first in the Global Poker Index and in the GPI "Player of the Year" ranking.
A Movie and a Trip
Nacho was born on February 15, 1982 in Buenos Aires and grew up on the outskirts of Campana, Argentina. When he was 18 years old and finishing high school Nacho saw the movie "American Beauty" which made him think about his future. He didn't want to be 40 and regret how he lived his life. He also did not want a job, to get married, or have kids. He wanted to see Europe and have the freedom to do what he liked.
After high school, Nacho studied Law and worked with his father, but he did not enjoy it. In 2001 Argentina had a major political crisis and a friend offered to buy Nacho a ticket to fly to France 🇫🇷. Nacho did not hesitate for a second. He left for Europe at the age of 22.
Nacho Barbero Moves From Magic to Poker
At the age of 17 Nacho started playing Magic The Gathering and became very good at it, entering competitions around the world. In 2001 he earned his first Grand Prix, placing 16th at the Yokohama Pro Tour and winning $16K. With that he returned the ticket money to his friend and set up his bank account. Nacho says that the Magic helped him prepare to play head's-up poker, read his opponents, and anticipate their actions.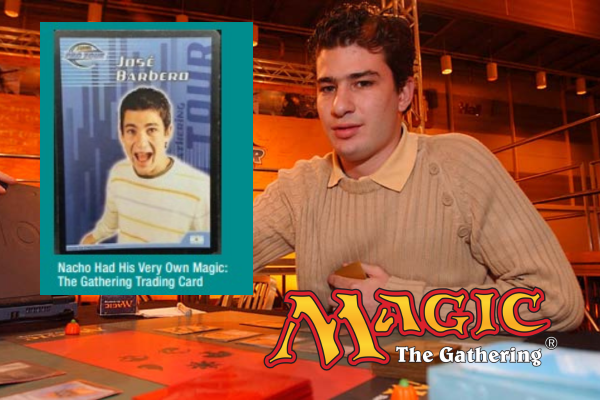 In 2002 a friend from Magic, Gabriel Nassif, showed Nacho how to play poker online on PartyPoker and he decided to try playing. That night he lost the $850 that his friend had in his account and couldn't sleep because he felt bad for losing all of his friend's money.
Nacho decided to learn how to play poker and began to study with what little he could find online at that time. In 2003 he was already playing more online poker than Magic. By 2004 most Magic players had switched to poker, as there was more money to be won in poker than in Magic The Gathering.
In 2005 José discovered live tournaments at the mythical Paris Aviation Club. His first tournament was a Limit Hold'em game that he didn't cash. The next day he played his first No-Limit Hold'em event and unbelievably won the top prize. The buy in for the tournament was €500 and he cashed for €19K and first place. In September that year Nacho attended EPT Barcelona and came second in a €500 event, winning €27K.
The following year Nacho Barbero traveled to Las Vegas 🇺🇸 for the first time and made his first two WSOP cashes, winning $5.5K in total. Afterwards, he made it a point to attend the WSOP every year and soon earned his first Main Event cashes, placing 496th in 2007 for $25K and 89th in 2008 for $64K.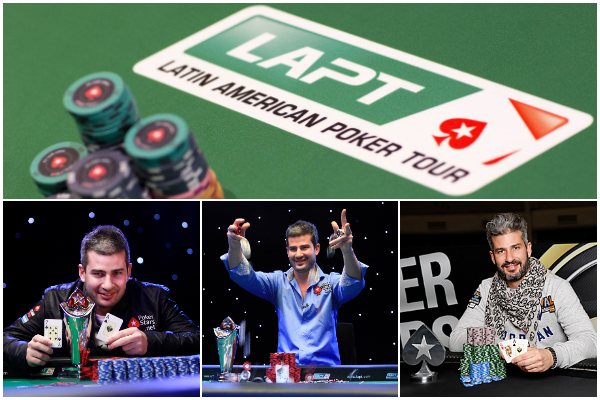 Mr. LAPT
Just as Phil Hellmuth is Mr. WSOP and Darren Elias is Mr. WPT, Nacho Barbero is Mr. Latin American Poker Tour for the success he has achieved on that circuit. Nacho holds the LAPT record for cashes (15), main event final tables (7), titles (3) and earnings ($917K).
His first title was obtained in the 2010 Punta del Este 🇺🇾 , earning $279K , then in Lima 🇵🇪 he was also crowned champion, earning $250K. His third trophy was won during 2016 in São Paulo 🇧🇷, adding another $100K to his bankroll. Nacho is the only three-time LAPT champion.
In the below compilation you can see some of the hands with which Nacho won titles in the LAPT:
From Bankruptcy to Bracelet
2022 generated a roller coaster of emotions for Nacho. In May, the Terra LUNA cryptocurrency had a sudden drop losing almost all its value. May's crypto downturn was bad news for Barbero, who had 95% of his bankroll in Terra LUNA, leading him to lose millions of dollars. This event affected many poker players and people known to dabble in the online gambling space. To lessen the likelihood of your finances being so negatively affected by events in the online gaming sector, it pays to expand your iGaming knowledge at Casinocrawlers.com and find the best places to try and spin up your money.
Anyhow, Nacho was depressed after this loss, and had a tough time bouncing back. But since he was about to start the WSOP, he concentrated on poker to try to win back his bankroll by winning tournaments. Nacho started meditating, going to the gym and eating healthy, and avoiding alcohol and going out at night.
Concentrating 100% on tournaments, Nacho had deep runs in several WSOP events, scoring five cashes early in the series. In Event #67 – Super Turbo Bounty $10K Nacho won a long-awaited WSOP bracelet, along with a prize of $587K. Two months before he had been bankrupt and now he was fulfilling his dream as a poker player. He closed out the 2022 WSOP with 10 cashes and earnings of $690K.
He declared after his triumph: "It feels amazing. I'm so happy. Literally, my dream in poker was to win one. I've been coming since 2006, so many close ones and I never could close it out. And, finally" he added, "the South American rail is the best. All of my friends came. The vibe was amazing. I felt like I wasn't going to lose any hands, and it kind of went like that, actually. I ran super pure and everything went perfect."
One of Nacho's last trips in 2022 was to Qatar to see the Argentine team in the FIFA World Cup. Nacho had predicted on the Jeff Gross Podcast that Argentina would be the champion, and so they were. Nacho had witnessed the final that Argentina lost in the 2014 World Cup in Brazil, but this time he was able to celebrate his team and watch the game live.
#TheYearOfNacho
Nacho started 2023 in the Bahamas, 🇧🇸  playing the PokerStars Players Championship $50K. He started the final table as chip leader, but in one of the first hands he got distracted and lost 20 big blinds when he did not see a raise from another player.
And we're already off to a very odd start…

A mistake from @nacho_barbero sees him lose 20BBs right off the rip!

This final table is now WIDE open 👀

📺: @PokerStarsLIVE pic.twitter.com/Yjky4XJqhN

— PokerNews (@PokerNews) February 3, 2023
He says "It was the worst mistake I made in my career and in my life. It is a mistake that can cost me between $200K and $300K. I was talking to the public and I didn't hear that the other player had raised. Luckily I didn't go all-in, as I could have lost even more chips". The Argentine was eliminated in fourth place, yet won the biggest prize of his career: $1,551,300.
In March, Nacho traveled to Vietnam 🇻🇳 to play in the Triton Super High Roller Series, where he won Event #2 for $600,000 and placed second in Event #8 for $460,000. He then returned to Las Vegas 🇺🇸, where he made five final tables and claimed a PokerGO Tour title.
In April he was in Monte Carlo 🇲🇨 playing the European Poker Tour, where he made four cashes and two final tables. In May he traveled to Cyprus 🇨🇾 to play the Triton Super High Roller Series, taking a second place and two cashes, earning $721K.
In the first five months of this year he already has 17 cashes, 12 final tables, 3 second places and 2 trophies, with earnings of over $4M. Those numbers have led him to the top spot in the Global Poker Index in the GPI "Player of the Year" ranking. He also rose to first place on Argentina's 🇦🇷 All Time Money List with $9.6M and is currently the highest earning player from Latin America.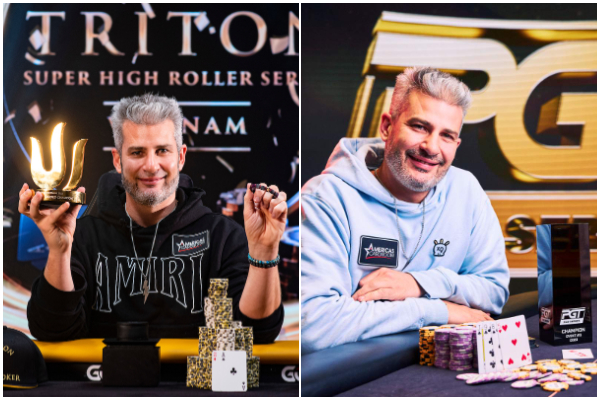 The hashtag #TheYearOfNacho is trending on social media due to his great moment and he was chosen by CardPlayer magazine for their latest cover. Nacho Barbero is the second Argentine to be on the cover after Damián Salas for his victory in the 2020 WSOP Main Event.
Nacho's next destination will be the 2023 WSOP, where he will look to continue his hot streak and try to win the second WSOP bracelet of his career. He also told Dan Cates that he was going to face him in the Poker Players Championship $50K to prevent Dan from winning it for the third time in a row. Will he be able to do it? In the #YearOfNacho everything is possible.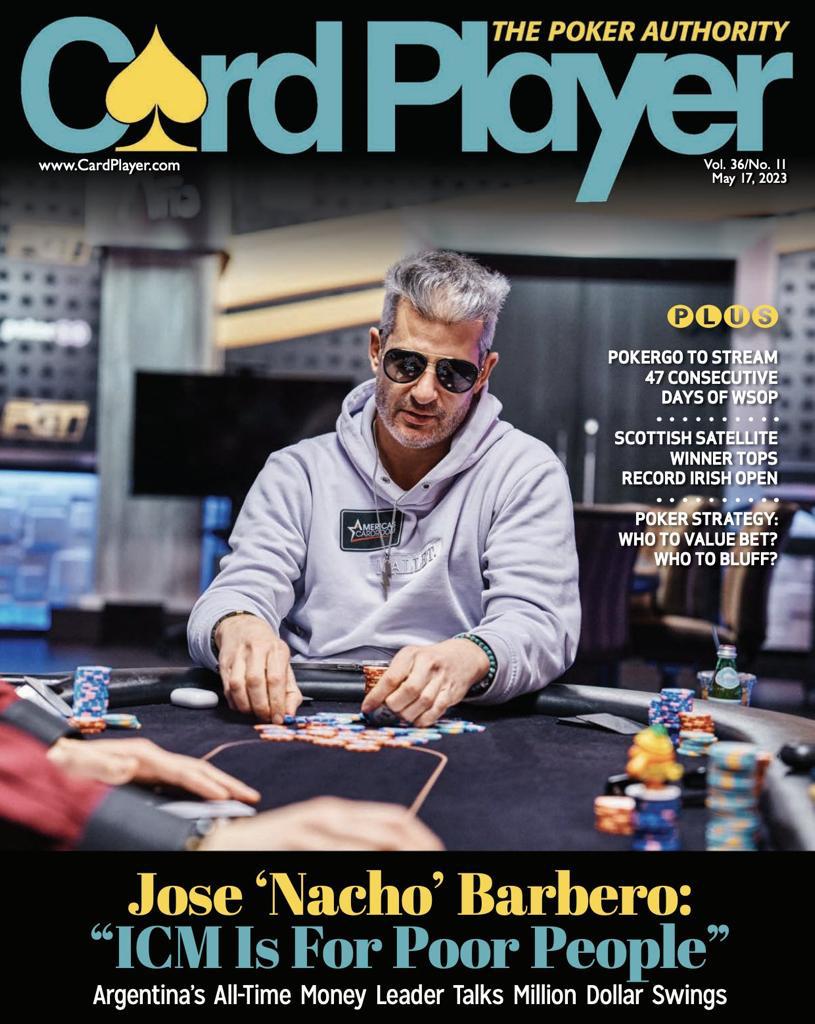 More Profiles: