Alejandro Lococo of Argentina is known worldwide by his nickname in the freestyle rap world: "Papo MC". After 10 years competing and winning freestyle rap tournaments he started playing poker. In 2021 he was one of the finalists of the WSOP Main Event, eventually bowing out in seventh place. In 2022, he again made a deep run in the WSOP Main Event, finishing 39th and earning his first nomination at the Global Poker Awards for one of the hands he played.
Let's get to know his story, both at the mic and at the felt, a little better.
Papo MC's beginnings with freestyle rap
Alejandro was born on December 5, 1991 in the city of Mar del Plata, home to the most popular beach in Argentina. At the age of 14 he became interested in hip hop after watching music videos, and at the age of 16 he started rapping and doing freestyle duels in parks and bars.
In 2013 he reached the finals for the first time in the Red Bull freestyle competition, where he was defeated. The following year he reached the final again and again lost in the last duel. In 2015 he quit his job and decided to rap on buses as a form of training. During 2016 his first daughter, named Uma, was born. That year he was finally able to win the Red Bull competition and emotionally dedicated the triumph to his newborn daughter.
Poker enter's Papo MC's life
When he was 14 years old, Alejandro's older brother taught him to play poker and they played among friends for small stakes. After watching the WSOP on ESPN, he bought a book to learn how to play Texas Hold'em as well as general poker strategy. He started playing freerolls online to gain experience and traveled to Buenos Aires to play in his first live tournament.
His debut was in 2016 in a Second Chance and to his surprise he finished fourth. He started playing the Argentine circuit and in 2018 came his first title with a $600 tournament in Uruguay, winning $20K. Thus came his first contract with a Casino in Uruguay to be an ambassador and in 2019 he traveled to the partypoker MILLIONS South America in Rio de Janeiro.
In Brazil he finished fifth in the Open event, winning $36K, and he was the winner of a celebrity Sit & Go, where legends Mike Sexton and Phil Hellmuth were also present. Phil asked him to improvise some rhymes and played music in the background, with this great result:
Guess who's still in the @WSOP Main Event: Get em Papo MC!! @papomcarg World Champion of Poker could be a rapper from Argentina, love it!! #POSITIVITY

FREESTYLE de PAPO en TORNEO de POKER 2019 -Party Poker EU- https://t.co/vAalCgMcIF via @YouTube

— phil_hellmuth (@phil_hellmuth) November 17, 2021
Papo MC: Poker Streamer
In 2020 Alejandro launched his Twitch channel, which grew by leaps and bounds and today has 1.8 million followers. His popularity grew in part thanks to Papo's friendship with Spaniard Ibai Llanos, who has no less than 13 million followers himself.
The two made one-year weight loss bet whereby the loser would have to pay the winner $30,000. The following year they weighed themselves and the Argentinean's scale read 88 kilos, dropping 42 kilos from his previous weight and winning the bet.
Papo's YouTube channel now has 2.5 million followers. On Twitter he is followed by 873K people, and on Instagram by 2.7 million. If we add up all his social networks, he has a total of 7.8 million followers!
WSOP 2021: Papo MC's Poker Career Highlight
2021 was a big year for Papo. First his second son Branko was born in January and then Alejandro was announced as a PokerStars Ambassador. The best was to come months later in Las Vegas. Alejandro was one of the 6,650 players who played in the Main Event. It was his second time playing the Main Event and he advanced to Day 2 with a stack of 88K. But on the second day of competition his aces were cracked and he was left with only 8K, which was 8 big blinds. He managed to double up, recovered and closed the day with 174K.
As the days went by, Lococo continued to add to his pile of chips. After seven days of competition, Alejandro became the second Argentinean to reach the final table of the WSOP Main Event. He started with the third best stack of the finalists, but on the 61st hand of the final table he clashed with chipleader Koray Aldemir, who had a full house beating Papo's 10-10.
You can see the hand here:
Alejandro finished seventh in the Main Event, winning the biggest prize of his career: $1,225,000.
A great 2022 for Papo MC
Alejandro kicked off 2022 with a title in a Second Chance in Uruguay. In March he traveled to EPT Prague, where he won two trophies as well. One was in the Eureka Poker Tour Main Event for $457K and the other in a $2K side event for $97K. From there, he traveled to Las Vegas, where he collected five cashes, four of which were at the 2022 WSOP.
In the WSOP Main Event, Lococo again had a deep run by placing 39th, winning $214K. On Day 5 he made a risky bluff by going all-in with only ace high, folding to his opponent. The hand was published in PokerNews coverage and was chosen as one of the best hands of the year at the Global Poker Awards.
In August he traveled to the EPT Barcelona and won yet another title by winning a $1K side event for $65K. He also cashed in the series' Main Event, finishing 264th. He closed out 2022 with 17 cashes, six final tables and four titles, with combined earnings of $925K. For this he was nominated in the "Breakout Player" category of the Global Poker Awards.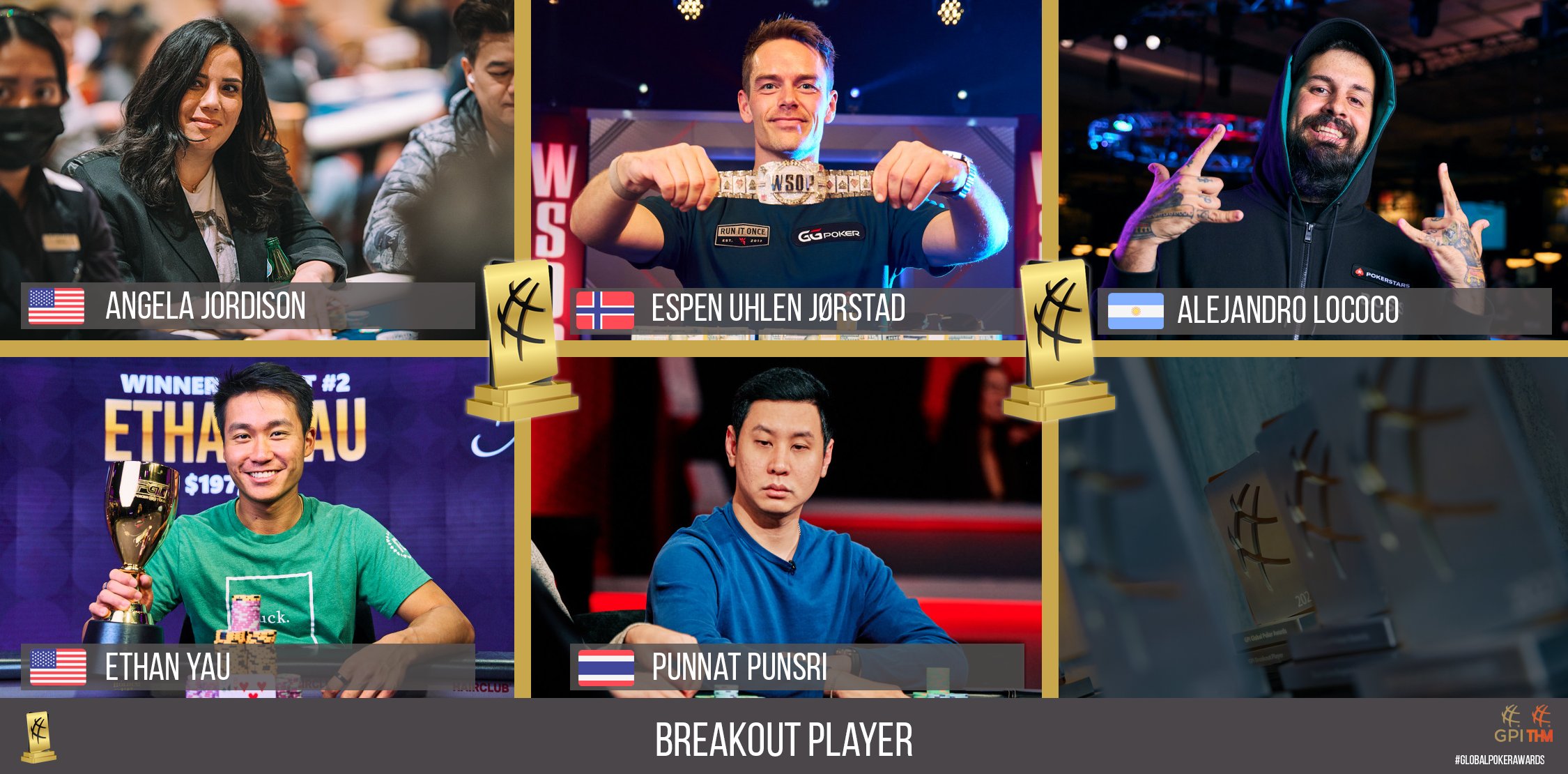 Alejandro Lococo: Freestyle Master Series (FMS) Champion
This year Papo MC returned to freestyle rapping and did it in style by winning the 2022 season of the Freestyle Master Series (FMS). It was a pending account in his career with the microphones and he expressed his happiness all over his social media channels for being crowned champion. He proved that he is still going strong despite the passing of the years and the lack of training due to the time he dedicates to poker, streaming and his children.
Buen día ☀️🧉 pic.twitter.com/qzwZw4huxb

— BESTIA Papo MC 🔥🦅 (@PapoMcArg) March 5, 2023
The future of Papo MC
What will Alejandro's future look like? In a recent livestream he did on Twitch he said that he still doesn't want to retire from freestyle rapping, but he doesn't know if it will be competing, as a judge,  or as an organizer. He said that rapping is part of his life and makes him happy, but that competitions are stressful and demanding. Today he is a family man and has other priorities, but he will be involved in freestyle in some way.
As a PokerStars ambassador, he will be present at some of the most important poker festivals in the world, including the World Series of Poker in Las Vegas in July. One of his dreams is to win a bracelet and he will keep trying this year. We'll see if he makes another deep run in the Main Event, where he was already seventh and 39th. He is undoubtedly one of the players to watch closely during the 2023 Main Event.