This is the second in a three-part series about poker in London. In my last article I wrote about the London poker scene in general, and then some specific information about the largest room, Aspers. This article will look at two of the other large rooms: The Hippodrome and The Empire.
Hippodrome Casino (PokerStars Live Poker Room)
The Hippodrome is an historic building in the heart of Leicester Square, at the intersection of Charing Cross Road and Cranbourn Street. Though the iconic building is brilliantly lit up with a huge neon sign, it would be easy to miss the poker room. It's up on the 4th floor (with an overflow room on the third floor). The room itself is relatively modest, with just 13 tables, packed closely together on what would otherwise be considered a balcony in this grand old building, with a cavernous ceiling that is five stories high. If you have foreign currency you need to change it on the first floor. As is the case with all casinos that I visited in London, though the exchange rate is generally not as good as non-casinos like banks and money exchange kiosks located throughout the city, you will be able to change your pounds back into your local currency for the same rate as you bought your pounds.

The room's bread and butter game is £1/2 no limit, with a £400 maximum buy-in. It is raked at 5% up to a max of £10 — the standard in London. They also spread a £2/5 game that runs chiefly on weekends. £5/10 runs "occasionally"; and has a time charge of £8 every 30 minutes. There is no high hand or bad beat jackpot. The comps are fairly generous, with players earning £.60 an hour, and with free soft drinks, coffee, and tea. There's a reasonably priced poker room menu — with sandwiches, Indian, and Asian food. There are no regular tournaments, though the room spreads one every few months.
I visited the room several times. Though it purports to run games 24/7, there were no games running at 10:30 on Monday morning; two £1/2 games going at 2pm on Monday, four £1/2 games going on Sunday evening, three £1/2 games going on Tuesday afternoon, and six £1/2 games going on Tuesday and Wednesday night. I gathered from seven or so conversations with regulars, that the action is best on weekends and at night, with a demographic that is younger than the other rooms I visited. That being said, I would be remiss if I didn't also share my impression, and that of others I spoke to about the room, that some of the staff seem to have an unhelpful arrogance about them that is unwelcoming and off putting. Even so, the PokerStars Live Poker Room at the Hippodrome is a comfortable, if crowded place to play, with decent game selection in the evening and on weekends.
The Empire Poker Room
The Empire is a nine table poker room right in Leicester Square, just down the block from Hippodrome. It's on the bottom floor of a full-service casino. They had a £1/2 game going early on the Sunday morning that I visited, and five games going at the other two times I was there, later in the day. I was told that they rarely "go dark" with games going a full 24 hours a day, 7 days a week. They rake their game as they do in the other London rooms: small games at 10% up to a £5 maximum; larger games at 5% up to a £10 max. They also advertise a PLO game raked at 5% up to £7, but though I visited the room five times, including a weekday evening, I did not see the game spread. They also run a small tournament at 2PM.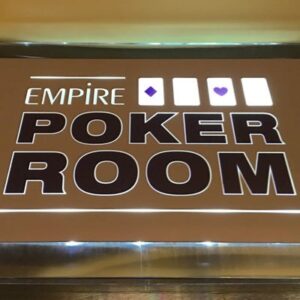 The room has a bad beat jackpot, for which they take out an additional pound when the pot reaches £2. It takes quads beaten to get it. They have another promotion that is funded by the house: If a player wins with a suited 5-6 (known as "The Empire hand") they get a ticket good for a rake-free playing session. The room also serves free soft drinks, coffee and tea.
I played and I watched play for six or so hours spread over three different sessions. From that limited sample I observed that this was generally a tougher room than the other London poker rooms, with a higher concentration of better, more aggressive players. Even so, the room was a very nice place to play, with an attentive and engaged floor staff.