Ed. note: Ashley is working on a book of his poker travels entitled Poker in 50 States (and 26 countries). He has agreed to publish a few of his chapters here first. This is the fifth in what will be a six-part series. Be sure to also check out his first, second, third, and fourth installments.
I just returned from a four-day trip to Dallas, Texas. What a great city. What a great place for poker!
I had gone to play poker in Texas before — a couple of times. The last I was there, eight years ago or so in 2015, I flew into Houston and played in the only legal poker room in the state — in distant Eagle Pass, on the Kickapoo reservation, at the Lucky Eagle Casino. It was a great trip, that included a couple of days there and then a private game in Austin.
What a different world today! In 2015, there was ONE(!) legal public poker room in Texas. Now, in 2023, there are 65 (and counting)!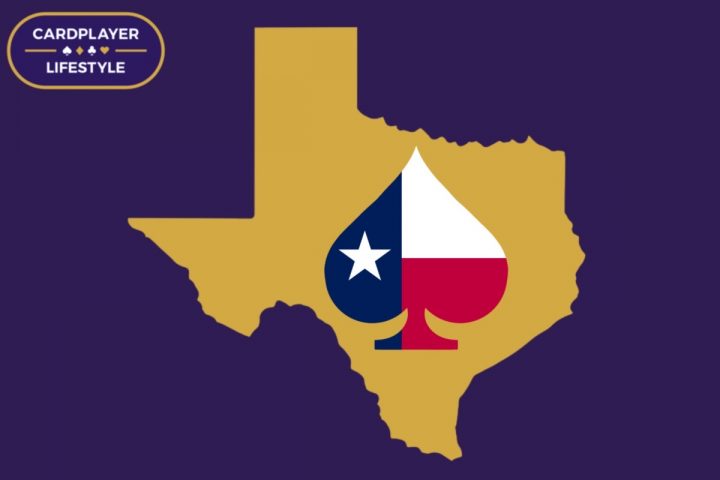 There are five rooms in the Dallas-Fort Worth (DFW) area, four in and around Dallas and one near Fort Worth. I played in them all on this trip, as well as at The Lodge, the largest room in the state down near Austin, famous for being part-owned by celebrity poker players Doug Polk, Brad Owen, and Andrew Neeme, and for all of the super-wild and wooly games that are live streamed.
Of course, there was always poker in Texas — lots of it in Dallas, Houston, Austin, San Antonio, and probably every other city as well. It's said to be the birthplace of Texas Hold'em. But up until recently all that poker was being played underground — in private homes, bars, restaurants, bowling alleys, and private clubs that were known only to those who played in them. But now it's out in the open, with the state taking its cut. It's the way it should be in every state – and every country!
Texas poker rooms fit through a loophole in the current Texas law that prohibits a gambling establishment but allows a social club that doesn't take a direct interest in the gambling that may go on between and among members of the club. The creative Texan entrepreneurs who run poker games have set up "social clubs" – not poker rooms.  Patrons, or rather "members", must join the club if they want to play. And then they may play poker, with house dealers who don't rake the game.  Instead, members pay an hourly rate for every hour they play poker.
Membership usually costs $10 a day, $30 a month, or $300 a year in most places.  I bought the cheapest membership available wherever I played, since I didn't think I'd play more than once in any one room. If I lived in DFW however, I'd surely buy the monthly membership — as it would pay for itself with only three days of play per month.
If this sounds a bit convoluted, it's because it is.  Some of the poker room operators are attempting to clarify and simplify the status of legal poker businesses in Texas.  Legislation has been introduced and is being pursued actively that would fully and clearly legalize poker rooms in the state.  Until then, poker room operators will continue to run the risk of being shut down by local police and city councils.  Stay tuned!
We want clarity pic.twitter.com/ZgnLwqA15z

— Texans For Hold'Em (@TexansForHoldem) April 4, 2023
I enjoyed every poker room I visited; and I enjoyed the area too. Lots to do during the day and night, with museums, restaurants, botanical gardens, music, cultural centers, and shopping.  While DFW is no 24-hour city, there's an active nightlife, especially in the Deep Ellum section of Dallas and the Stockyards of Fort Worth.  I should also mention that I participated in the Jewish Community Center's 75th Israeli Independence Day celebration.  It was a lot of fun, with Israeli music, food, and crowds of people of all ages.  I had many conversations about the vibrant Jewish community in the DFW area.
The Dallas Fort Worth area (known familiarly as DFW) has a lot to recommend it even without poker.  It's the fourth largest metro area in the United States, with all of the attendant restaurants, bars, clubs, sports teams, and shopping that you'd expect.  During my four-day stay I enjoyed great dining – not just the barbecue that I expected, and that's ubiquitous, but excellent Japanese, Mexican, and Chinese restaurants, as well as a lovely salad and sandwich place and a terrific place for ice cream.  Foodies will have a great time here.
Fort Worth has the Stockyards, which is home to a museum, working stockyards, and a hub for strolling, eating, and shopping.  The restaurants there are overpriced in my opinion, but it's the place tourists love to visit. I recommend the restaurants on the fringe of the area.  Better prices, good quality, and shorter lines!
Dallas is also the home of the historic Sixth Floor Museum at Dealey Plaza, in the Texas School Book Depository Building, that chronicles the Kennedy administration and his assassination from the building in which the museum is housed.  It is a somber must-visit place for even those with the most casual interest in 20th Century US history.
There are nearly 50 other museums in DFW, including the George W. Bush Presidential Library and Museum, the Perot Museum of Nature and Science, the Dallas Museum of Art, the Dallas Holocaust and Human Rights Museum, the Museum of Biblical Art, the Crow Collection of Asian Art, and the African-American Museum.
I visited at an ideal time, in late April and early May.  There were sunny skies and temperatures between the 50s and 70s.  I'm not so sure I would like it much in the heart of the summer, when Dallas temperatures can reach the 100s for many days in a row.
Poker was the reason for my visit.  I was fortunate with my timing, as I attended the grand opening of the Texas Card House in Las Colinas, in the northwestern part of the Greater Dallas area, in the city of Irving.  It demonstrated to me how much of a market there is for public poker rooms. Some people waited in line for more than two hours to play.  With a full kitchen and bar, it may well become the place to play in the DFW area.  And that's saying a lot.  Because each of the other rooms have something to recommend them.
Rooms change quickly in the poker business.  Players tend to like to head towards the latest hot spot.  New rooms open regularly; old ones close.  Places expand, change management, and add and subtract tables.  Promotions come and go.  But it's unusual for a region to open up poker for the first time.  That's what's happening now all across Texas.
The best poker games for a skilled poker player are when public poker emerges in a region after being prohibited for a long time.  All of that pent up demand, bottled up for so long by poker prohibition, is unleashed like steam from an exploding pressure cooker.  Games are never softer, juicier, or more profitable.  I've had the good fortune to play in Connecticut, New Hampshire, Florida, and the Baltimore-Washington areas during such periods in their history.  It is a wonderful thing – like fishing in a stream that's just been stocked.
Poker Rooms Near Dallas-Fort Worth
Here's a list of the current rooms in the area.  You can also go on pokeratlas.com to check and see if any new ones have opened up since I wrote this article.  I suggest, as I always do, that before you visit, you call up the room to check on games.  Announced hours aren't always the same as actual hours of operation!
Shuffle 1141 East Northwest Highway, Suite 111 Dallas 2142585505.  Friendly and welcoming place. On the east side of the city.  Not a huge room.  A very happy feel to it, with players generally knowing each other and having a good time.  A serious player would enjoy this place because the players don't seem too serious!
Texas Card House, Dallas 11824 Harry Hines Blvd., #135, Dallas 469-521-9269. Large, busy, excellent game selection.  Well run. In the heart of Dallas.  Easy access from the highway. Most similar to the big California and Las Vegas poker rooms.  Always has a game.
Peaks 1231 Wycliff Avenue, Suite 100, Dallas 214 396-0198  Smallest and most intimate of the DFW rooms.  Only monthly and annual membership available (Monthly is only $15 – the best deal around).  They are truly building a community of people who want to hang out together. Family run, with the young guy, Eric, who owns the place playing regularly. Extremely classy.  Truly a private club feel to it, with a great bar and laid-back vibe. Don't let the relaxed environment fool you, however.  They often play for serious stakes in this room.
Poker House Dallas 1676 Regal Row, Dallas 214 810-1820  Large room with regular and consistent action and good game selection. Well run. A truly 24/7 room.  Similar in size and business to major LA and Las Vegas rooms.  (As this went to publication, they have announced the city constabulary may be shutting them down.  So double check on their status before visiting).
Texas Card House (TCH) Social, Las Colinas  955 West John Carpenter Freeway, #110, Irving 945-455-7945. Looks like a great room in the making with excellent food. (See report above about their opening day.)
The Fort Card Room 8450 I-20, Aledo 817-441-1045 (Note that GPS may incorrectly take you beyond this room.  Just look for the huge sign when you exit and you'll be fine).  Bustling Fort Worth area room with at least two tables going at announced opening time of 9:00 AM.  At least half a dozen tables in action most of the time.  The whole room of 16 tables is filled during busy times. My favorite place to play.  A very friendly, welcoming place with the best dealers.  Run by a former top-level dealer himself, who really knows how to run a poker room.
Pay attention poker players the world over.  These golden games won't last forever. Now is the time to visit and play poker in Texas!