Ed. note: Ashley is working on a book of his poker travels entitled Poker in 50 States (and 26 countries). He has agreed to publish a few of his chapters here first. This is the second in what will be a six-part series. Be sure to also check out the first installment, Poker in Aruba.
What comes to mind when you think of Southern California? Beautiful blondes? Surfing? Beaches? Sunshine? Hollywood movies? Maybe Disneyland? Well, there's something else to add: POKER!  Yes, it's fair to say that this is the poker capital of the world!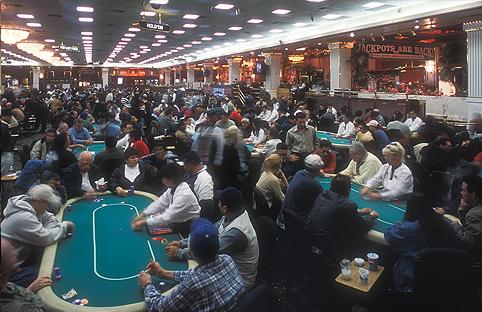 HISTORY
Legal poker rooms in California date back to a court decision in 1911 that found certain forms of the game not to be gambling, and hence legal in the state. Draw poker was specifically mentioned as a game of skill, and thereby legal; while other card games (specifically "stud horse poker" – whatever that is) were considered gambling, and hence illegal.  Accordingly, by local ordinance, "card rooms" featuring draw poker only were allowed, and flourished. Legal, licensed, and profitable draw poker rooms sprung up in up and down California, including in and around such Southern California communities as Gardena, Bell Gardens, and Hawthorne. They became pillars of those communities and meccas for serious poker players.
READ MORE: Poker Book Review — Gardena Poker Clubs: A High Stales History
Those rooms thrived as state law in the 1980s expanded the definition of legal poker to include the immensely popular forms of stud, hold'em, and Omaha. State law also recognized the legality of gambling, including poker, on tribal land. Today, there are dozens of rooms in and around Los Angeles, San Diego, Palm Springs, and areas in between. They include the very largest "poker palaces" in the world, including the Commerce, the Parkwest Bicycle Casino, the Gardens, and Hollywood Park.
THE POKER OF SOUTHERN CALIFORNIA
Though I live on the opposite coast, in Boston, Massachusetts, I've worked and visited friends and family in Southern California more than a dozen times over the past 25 years. I've managed to play in every poker room in the area, including some that are no longer around. I just came back from a recent trip, checking out the poker scene now that Covid restrictions have been lifted.  I'm happy to report that poker is once again alive and well in Southern California!
Southern California (Los Angeles, San Diego, and cities and towns in between) is rich in poker, with a total of 10 rooms and 699 tables. In Los Angeles County alone there are six poker rooms with 638 poker tables: The Commerce, 150 tables; Hollywood Park, 51 tables, The Bike, 185 tables; Larry Flynt's Lucky Lady Casino (formerly the Normandie), 18 tables; Hustler, 50 tables; and The Gardens (formerly Hawaiian Gardens), 184 tables. In greater San Diego, there are three open rooms: Sycuan, 11 tables; Jamul, 10 tables; and Seven Mile, 9 tables. In between, in Oceanside, there's the storied Oceans 11, with 31 tables. There are also many rooms and hundreds of tables just a little further west towards Palm Springs, Indio, Lake Elsinore, and Pechanga, or north towards Bakersfield and Fresno.
This post-Covid trip took me to Los Angeles, San Diego, and Chula Vista. I visited the poker rooms in the LA area at the Commerce, Hollywood Park, Bicycle Casino, Hustler, and the Lucky Lady. I then headed south and played at Seven Mile and Jamul near San Diego. I played in no limit games that ranged from $2/3 to $5/10. And I played in an $8/16 limit OE game (Omaha8 and Stud8). I had occasion to speak to many players who also frequented the other rooms in the area. With my first-hand experiences, and my many conversations, I have a good sense of the poker scene in this the poker capital of the world.
The poker scene is thriving, though not quite as hot as it was in the early 2010s and before. No limit games clearly dominate the scene, with multiple NLHE cash games and tournaments running 24/7. There is the occasional mixed game. And you can find a PLO game most of the time, somewhere, if you look for it.
Gone are the days when poker rooms competed aggressively for players by offering free food. Instead, players earn points for each hour played. Depending on game and location, players earn from $.50 to $3.00 an hour. These promotions change regularly, and vary from game to game and from hour to hour. I suggest you check in directly with the poker room before you arrive to find out what they are giving out for your playing time. They sometimes offer a premium during certain hours, to get games started.
Among the three San Diego rooms, I enjoyed Seven Mile the best. It had a smaller and more intimate feel to it – though I'd call in advance. I played $2/5 with a couple of good serious players – and the rest out to gamble. Jamul has a nice small room as well; and was well run. But there may not be a game, especially in the wee hours, so make sure to call ahead. Sycuan has the most consistent games – both limit and no limit and even an occasional low limit stud game (so I've been told).
In LA, there is a lot of variety. Everyone has NLHE – typically $1/2, $2/3, or $2/5. Hollywood Park, Commerce, The Gardens and The Bike are almost certain to have a $5/5 or $5/10 game as well. There is often an $8/16 Stud8/Big O game going at the Lucky Lady. The biggest games are surely at the Commerce, which will always have a $5/10 NLHE game going, and usually a $40/80 and $60/120 limit hold'em game as well. They frequently have much larger NLHE games as well. They also get Mexican Poker (a variety of 5-card stud) and a wide variety of lower limit no limit and limit hold'em. The Hustler has a good $5/5 PLO game that runs most of the time (and also an $8/16 and $25/50 LHE). You can check out all the games that are offered when you want to play on both the Poker Atlas and the Bravo systems. I also recommend that you give the room a call before you go, as the listings tend to have a little lag time in being up-to-date.
READ MORE: The Great American Poker Trip — Los Angeles
The structure of California no-limit hold'em games tends to be different from games elsewhere. Typically, in other parts of the US and around the world, the entry no limit hold'em game is $1/2, typically with a $100 minimum and a $300 maximum. Not so in California. Many of these rooms offer games with much lower maximum buy-ins. At the Commerce, for example, their $1/2 game has a minimum buy-in of $40 and a maximum buy-in of $80. The Gardens is the same. Their $2/3 game has a $100 minimum and a $200 maximum. Hollywood Park's smallest game, $1/2, has a $40 minimum and a $100 maximum. Other rooms are similar. This structure prompted me to play in games with bigger blinds than I would typically play in – sitting in a few $5/5 and $5/10 games.
The rakes have all gone up from pre-Covid levels, and were sometimes more than those reported by Poker Atlas.  Though some rooms list a rake of $4, I found no rooms with less than $5 rake and a $1 promotional charge, with many having gone to either $6 + $1, $5 + $2, or $6 + $2. Again, I suggest you ask the floor directly, as these rates were all in a state of flux when I visited (all going up; none going down).
All of these card rooms have, in addition to poker games, a supply of "California Games". These are gambling games that are slightly altered to fit within the unique California definition of what is legal. There is blackjack and other traditional house-banked gambling games. Though these games may not interest you (I never play these games), they are surely good for poker, as gambling players from those games do occasionally wander into a poker game to try their luck. These are usually ideal opponents for obvious reasons!
There is no sports betting as of now, though that may change. The question came up in a couple of forms on this past year's ballot and both were all roundly defeated. But it seems inevitable to me.
SOUTHERN CALIFORNIA AS A TOURIST DESTINATION
The great thing about visiting this part of the world is that there is a lot to do besides poker. Southern California is one of the great metropolitan and recreation areas in the world. You have the ocean, mountains, and even a nearby desert. They come with an enormous variety of outdoor activities like hiking, swimming, jet skiing, fishing, whale watching, island visiting, and exploring.
There are also the many activities of a major metropolitan area. You have thousands of great restaurants, museums, shops, music, and nightlife. You have Disneyland, Hollywood, Universal Studies, and a dozen professional sports teams. San Diego has one of the best zoos in the world and, of course, the weather of Southern California is legend.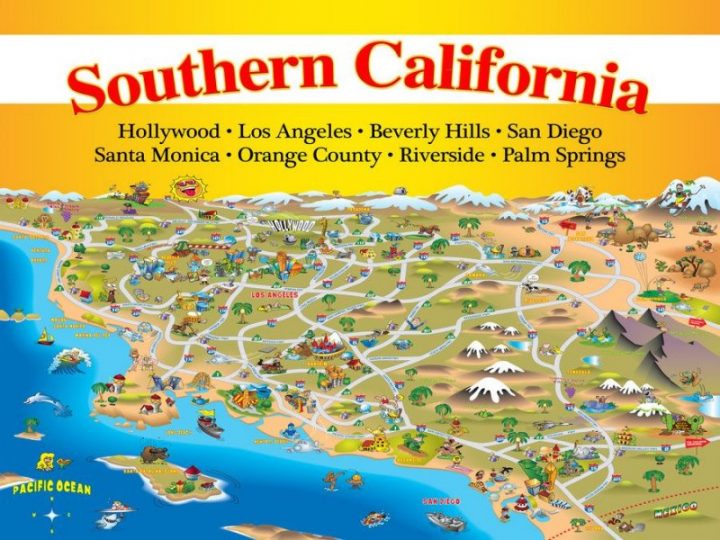 ACCOMMODATIONS
Be very mindful of where you stay. Don't just pick the first place that pops up on your browser. This is true for a few reasons. Southern California is vast. Los Angeles itself is enormously spread out. Tend to get a hotel near where you'll be playing poker. There is some of the worst car-stopping traffic in the world. You'll want to avoid driving during the morning (7-10am) and evening (3-7pm) rush hours, as the highways are often debilitatingly choked with traffic at those times.
Hotels vary widely in price. $200 a night now seems fairly reasonable for the total cost of a decent room. When my wife and I stayed in LA we had $700/night choices and $70/night choices. The lower end places tend to be local flea bags, often in sketchy neighborhoods. We spent $180 for a good place in a good area. But there were a number of "hidden" fees that brought the bill to about $250 a night including parking. Make sure to look for "destination charges" added after the room is booked. Also check out the parking situation. Websites often advertise "parking available", and then sock you for $25 (or more) for parking your car on site.
FOOD
Meal prices have jumped considerably in the last couple of years. Prior to Covid, I could usually budget $50 a day for three modest meals, with breakfast often provided by the hotel. Not so now! Breakfast will typically run you $15-20 on the low end, lunch closer to $20-30 and dinner $30-50 for a reasonably priced place. Yes, you can go to the supermarket or to fast food places and get away with spending less.
And, of course, there are truly high priced places that will run you $100+ per person. But I found that $100/day for meals (per person) was reasonable. Also, once again, make sure to focus on the location of the restaurant you're planning on visiting. A great restaurant in the LA area could be an hour or so away from your great hotel in the LA area.
TRANSPORTATION TO THE AREA
LA is served by a few different airports. LAX is the biggest, most traveled, and most central, but may not be the best for you. Flying to LAX tends to be the cheapest option, but this is not always the case. Also, it tends to take longer to get in and out of it, or to rent a car. It's perfect if you're going to be staying near or playing at Hollywood Park (about a ten-minute car ride away).
But if you're thinking of playing at the wonderful Gardens poker room, south of LA, you might look to fly into Long Beach. It's a much smaller airport than LAX, less crowded, easier to get in and out of, with a more convenient rental car service located right across the street from the airport. Similarly, if you're looking to visit or play north, west, or far south of LA, you might check out flights to Burbank/Bob Hope, Ontario, or Orange Count/John Wayne respectively. They are all smaller and easier to navigate than LAX. And, of course, if you're looking to spend most of your time in the San Diego area, you should consider flying directly there.
Public Transportation
There is public transportation, and it helps to have an app for that, but it is not nearly like getting around eastern US cities, Europe, Asia, or even Las Vegas. Traveling by public transit, for all but the shortest trips, usually takes a long while because of transfer delays. If you're fat on time, it may be worth considering as an option, but it frequently is very inconvenient.
Car Rentals
Unless you already have a car, or are meeting someone who will drive you around, I recommend that you rent a car when you visit Southern California. Unfortunately, it's not quite as inexpensive as it used to be. Before Covid, I'd typically pay a total of $30-40 a day, including taxes and fees, for a compact car from a major company (I'd use one of the many multi-listing services like Hotwire, Priceline, Expedia, Orbitz, or Travelocity).
But those rates jumped with Covid. They've come down some since then, for the most part. On my recent trip, for instance, I found a compact car for $400 for a week. Beware of unknown companies promising much cheaper prices. Some tack on hidden fees, or have terrible customer service records. Make sure to do a little digging if the rate seems too good to be true.
CONCLUSION
Southern California is a great destination for family fun and poker. I recommend it highly. It's a huge area geographically, so make sure to take care when you book your hotel and rental car.