Some of the more hardcore poker fans out there have heard of, or possibly even played poker with, Todd Breyfogle. Others among poker fans may have perhaps heard of the man known online as Sharkslayerrr. Still others may not be familiar with Todd whatsoever. I first "discovered" Todd due to his strong Twitter presence. After following him for a while, I discovered that he was actually pretty well known locally on the Minnesota poker scene, the MSPT (Mid-States Poker Tour) in particular. Having done a bit more digging, I felt that I wanted to share more of Todd's story with "the poker world". Without further ado, I hope you enjoy this interview with the Sharkslayerrr himself, Todd Breyfogle.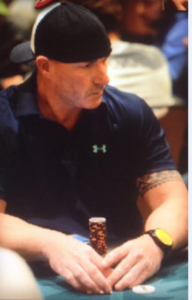 How did you first get into poker?
I first got into poker in my teens while playing baseball.  On road trips we would play $.05/$.10 mixed games but never Texas Hold'em. I continued playing when I was attending Kansas University, which, incidentally, is also when I started wearing my baseball cap backwards (that's how a lot of people recognize me at the tables).
You used to run a successful home appraisal business, but sold it a few years back to become a full-time professional poker player. What inspired you to leave the "traditional" workforce and dive into the poker world full-time?
I was playing almost full time poker online when I still had my business. What inspired me to get fully into poker was the freedom it allowed me to have. In other words, you're basically still running your own business; the only thing that changed was that "I" was the product in poker. Of course, playing poker for a living with no other income to fall back on – like when I had my business – is a whole different animal. That said, there are still a lot of the same fundamental principals that made me successful as a business owner.
I've been following you on Twitter for quite a while. I'm used to seeing very large stacks of chips at the cash game tables in your feed. Do you prefer cash games to tournament play?
It's not that I like cash games more; I was just sort of to play more cash games online than MTTs for the simple reason that you can get up and leave at any time during a cash game. In an MTT it can take 8-12  hours to reach the final table. In the last five years I've added more MTTs to my routine, to the point where I am probably now 70/30 (70% cash). Prior to Black Friday I was almost 90/10.  Also, making a living playing MTTs is almost impossible no matter how good you are. In my opinion, the best poker players in the world  are the cash game players – probably names most people have never heard of.
On the tournament front, while you have a few dozen results on your Hendon Mob page, there's nothing that really stands out as a major score. Is that something you're sort of waiting for that you feel is missing from your resume or that would further validate you as a professional poker player?
I disagree with that actually, or I guess it depends what you consider "major". Keep in mind I rarely play any MTTs with a buy-in of higher than $2,650. I have played maybe three $5k buy-in tournaments and probably the same number of $10k buy-ins. Too many players have huge egos and fly around and have to play the biggest buy-ins. That makes zero sense to me when there is huge value in $1,100 and $2,650 MTTs with way softer fields that still feature six-figure first place prizes.
With all that said, I think I have done extremely well considering that I have not played a lot of MTTs overall. In fact I had never really even played a MTT outside of Minnesota until 5-6  years ago. Since that time, I think I've had 34 cashes in what I would consider major tourneys; ones that have a buy-in of $1,000 or more or have more than 2,000 runners. The HendonMob stats are off on a few tourneys I definitely think were major, specifically:
2011 Binions Main Event: I took 1st place for $72,000 (not $54,000) against a very Euro-heavy field that was very aggressive and very tough
2012 WSOP Main Event: I was the last player standing from Minnesota. I lost a 1.8M chip pot (AK vs QQ). Had I won it, I would have been top 5 in chips. Instead, I went out in 328th place for $32,800.
2010 LA Poker Open Main Event: This was the first tourney I had ever played outside of Minnesota (except for the WSOP). I chopped, finishing 4th for $88,000 (not $46K) against a pro-heavy field.
My most recent major score was finishing in 5th place last year in the Chicago Classic against a very tough field ($2K buy-in event) for $43,500. Again, a brutal beat knocked me out or I would've finished higher.
I didn't play many MTTs online but back in 2007 or 2008, I did take 1st place playing in Full Tilt's Monday $1k, which was generally considered to be one of the toughest fields. I scored around $77K for that win.
You talk a lot about playing poker in Minnesota. Is that to say you mostly play there and don't travel around the circuit too much?
Actually, I barely play in MN at all and almost exclusively travel nowadays. At least one weekend a month (most times two), you'll find me at a big MTT somewhere. My formula has always been to follow the big MTTs – not necessarily the biggest buy-ins, but rather the big fields – and the cash games will always be good. I have been doing this for the past five years and I am a frequent visitor to the following casinos, where the staff and the regular cash game players all know me very well:
Choctaw
Hammond, IN (Chicago)
Borgata
Hard Rock Hollywood FL
Commerce
When I'm in Las Vegas, my favorite card room, by far, is Aria. I like the deeper buy-in events there. They've got a wide range of games to select from and they also have some of the bigger cash games running in Las Vegas. My main games are $5/10 and $10/25 NL Hold'em and PLO, I am at my best when the cash games are uncapped.
Check out our interview with the Aria Poker Room Staff
Being based in Minnesota, you unfortunately don't have the ability to play poker online at any legally regulated room. Obviously, millions of Americans are in the same boat. While it's understandable that the temptation to play online poker is incredibly strong, why do you – and why do you think that many others – play at unregulated sites?
Until four weeks ago, I had not really played much online. I tried Bovada a few times, but quite honestly I do not trust it, and I can't stand the ghost player aspect. In my opinion, this is a huge issue that I would rather not get into. However, recently I started playing on ACR (Americas Cardroom) and I love the site. The feel I get is that it's the only site that's completely player-friendly. As a matter of fact, I like the site so much that I became a Super Affiliate, which means I now refer players to the site. You can get 27% rakeback when you sign up for an account there using the Promo Code "shark2".
Why playing @ACR_POKER will improve your game
-huge volume vs live
-stats data tracking
-low cost buy ins
-export data to poker coach

— Todd Breyfogle (@sharkslayerrr) April 28, 2016

Many poker aficionados and recreational players harbor dreams of quitting the 9-5 work grind and becoming professional players. As someone who has done so, what three tips would you give people who wish to try their hand at pursuing that path?
Don't quit your day job, lol! Seriously, though, playing poker professional is a very tough job – 90% of those who try fail at it!
Gradually work into it. Don't just cold quit your job with no thought behind it. Also, make sure you not only have an adequate bankroll, but also six months of extra cash set aside for bills and emergencies.
Talk to someone currently playing poker professional in order to get the real perspective on the ins/outs and ups/downs. Many players glorify the lifestyle and are not honest about all the negatives, etc.
What sort of goals/things do you hope to accomplish as a professional poker player over the next few years besides winning lots of money?
My main goal is to get a six- or seven-figure MTT score. I have come close 8-10 times, but AK has just been the kiss of death for me at crucial end-stage hands. I either have AK and completely brick it, or I'll have something like a pair of 10s all-in pre-flop against AK, and they'll catch up. I'm not kidding! AK has probably cost me anywhere from $500-$800k in "lost winnings". In other words, if my hand would've won at those critical junctures it usually would've meant significant pay jumps. Most of the hands that have felted me were with >30 players  left in big buy-in MTTs.
I know that you also do poker coaching. Is there anything you want to leave our readers with in that regard before we go?
I'd like to encourage poker players who are unhappy with their results to be more open minded and to consider if the same things are happening over and over again. At some point, you're not just "running bad." Rather, chances are very high that there are multiple flaws in your game. In my opinion, the best thing for you to do, if you truly want to improve your game, is to hire a poker coach. A good poker coach can usually very quickly isolate specific ideas; leaks that are causing you to not play optimally. Now there is no overnight cure, but I've seen drastic improvements in some of my students in as little as 3-4 sessions.
Everyone is different and everyone is at a different level in their poker career, but if you truly want to improve your poker game, win more often, and go deeper in MTTs, I highly recommend working with a poker coach. I also strongly suggest that you find the right coach that understands the games and stakes you're playing.
As in life, I believe you get what you pay for. Sure there are poker coaches who charge $45/hr, but I guarantee that that coach is not as skilled nor has the concepts down as well as someone who might be a little more expensive. A good poker coach will usually talk to you FREE for 15-30 minutes, asking you lots of questions to see if you're a good fit as a student. For example, I turn down lots of coaching requests for exactly that reason; I'd rather be upfront and honest than just take someone's money if I know I'm not the right coach for them. That would only hurt both of us in the long run.
Finally, if you like chip porn from live cash game sessions follow me on Twitter @sharkslayerrr.
Thanks so much, Todd for taking the time to speak with us. We wish you the best of luck at and away from the poker tables.