October 15 marked 25 years since the opening of one of the most iconic casinos in Las Vegas and the venue of one of the most prestigious poker tournaments: the Bellagio. Its famous dancing fountains have been featured in hundreds of movies, such as "Ocean's Eleven" and million-dollar cash games have long been contested in the Bellagio poker room among legendary poker players.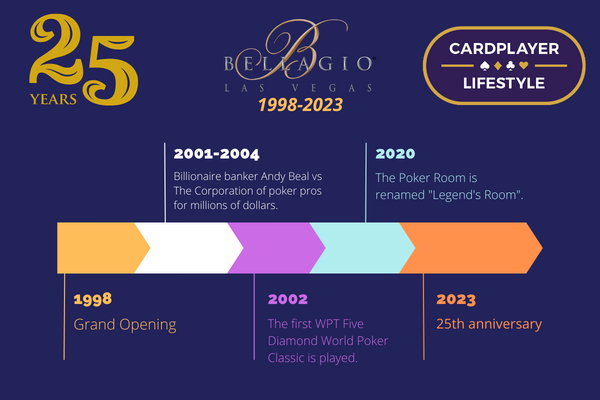 Bellagio's History
In late 1992, businessman Steve Wynn bought the Dunes Hotel & Casino for $75 million and demolished most of it. In 1995, construction of the Bellagio began and the design was inspired by the town of the same name located on the shores of Lake Como in Italy. The total cost of construction was $1.6 billion and it became the most expensive hotel in history at the time.
The inauguration took place on October 15, 1998 and Wynn spent $88 million on the opening night ceremony that featured a Cirque Du Soleil water show. Celebrity guests included Michael Jordan, Clint Eastwood, George Lucas, Drew Barrymore and Nevada Governor Bob Miller.
Poker Hall of Famer Eli Elezra's memories of Bobby's Room
The Bellagio poker room opened in 1998 along with the rest of the casino, but in 2004, in the midst of the poker boom, they decided to open a special room to host high stakes games. They named it "Bobby's Room" in honor of Bellagio's then-president Bobby Baldwin, who won the WSOP Main Event in 1978.
This is how 5-time bracelet winner and Poker Hall of Fame member Eli Elezra remembers it in his biography "Pulling The Trigger" (which was translated from Hebrew into English by Cardplayer Lifestyle founder Robbie Strazynski):
"Once stepping into the room, the first two faces that I saw were those of Chip Reese and Doyle Brunson, who, in my mind, are poker's two greatest legends. Doyle is considered to be the Godfather of Poker and for more than 60 years has made millions from the game. Chip was the best player I've ever seen, a true professional. Always relaxed, always at peace, always smiling."
"The stakes were higher than I had ever played for and this included mixed games with limits of $1K/$2K and $1.5K/$3K where it was standard to sit with $60K. I had $100K in available cash and decided to take a shot. The first times I played, I won, and within a few months that $100K had turned into $800K. The money felt fast and easy, and it gave me a feeling of euphoria. The most incredible thing was that I made the lion's share of my winnings playing with Chip and Doyle."
"I became a regular in the Big Game and Chip and Doyle became my closest poker friends. The game always started with the three of us and then other people would join. These included Jennifer Harman, Chau Giang, Barry Greenstein, Phil Ivey, John Hennigan and other big names." The Big Game that Eli is referring to was the inspiration for the television show High Stakes Poker, which premiered in 2006 and whose seventh season was filmed at the Bellagio.
In Eli's opinion, the atmosphere changed at Bobby's Room in 2007 for three reasons: "First, was the global financial crisis which impaired the ability of all the Big Game players to play as high as we used to. Second, was the blossoming of poker online, which diminished, to an extent, the appeal of our game. Because everyone had a big game available anytime they wanted, they no longer needed to fly all the way to Vegas to get one. And third, the death of Chip Reese during December 2007."
In 2019, Bobby Baldwin left his position at MGM Resorts and became CEO of The Drew Las Vegas. In November 2020, the Bellagio managers decided to rename the property's famous poker room as "Legends Room".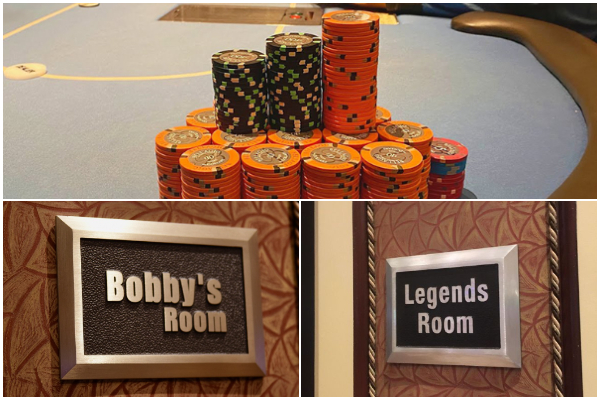 The Marquee Bellagio Poker Battle: Andy Beal vs. the Corporation
During February 2001, banker Andy Beal was playing a cash game at the Bellagio when he told Todd Brunson that he wanted to play for higher limits. The next day they opened a $1K/$2K table and Andy won $100K against tough opponents. Months later, Andy contacted Doyle Brunson and asked him to assemble a team of professionals with a million-dollar bankroll to play heads-up duels with $10K/$20K blinds. Thus "The Corporation" was born, where Chip Reese, Jennifer Harman, Howard Lederer, John Hennigan and Ted Forrest, among other professionals, were present. They met for the first time in March 2001 and the banker lost $3 million in his debut.
Andy returned for a rematch in December and was able to win $7.5 million from the professionals. Doyle told him, "Congratulations, we're broke. Go back to Texas." But Beal didn't listen to him, and the next day he lost everything against Ted Forrest and Howard Lederer. In April 2003 Beal returned to Las Vegas and insisted that the blinds be raised to $30K/$60K. The banker started off winning $3 million, but then ended up losing $8 million against Forrest and Harman. In September he came back and they played even higher — $50K/$100K blinds with $10 million stacks. Several pros had positive sessions, and the one who ended up winning the $10 million was Todd Brunson.
The last matchup was in May 2004 with blinds of $100K/$200K and cashes of $10 million. Gus Hansen and Phil Ivey joined the Corporation. The professionals prevailed again and Andy Beal told them: "It was a real pleasure, but I'm not going back." If you want to know all the details of this historic confrontation, we recommend reading the excellent book "The Professor, the Banker and the Suicide King" (2008) by Michael Craig, where he described what the duels were like after interviewing all the protagonists.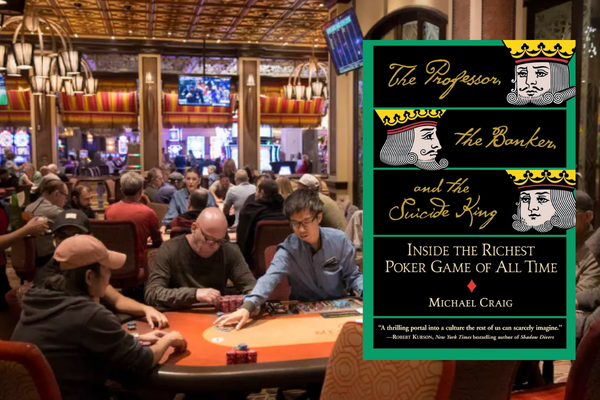 Millions won and lost
Due to the high stakes being played for at the Bobby's Room tables, pot sizes can reach six figures quickly and millions of dollars can be won or lost in a single session. One of the players who had such ups and downs was the "Great Dane" Gus Hansen. During the 2018 WSOP he spent a total of 652 hours playing at the Bellagio over 70 days. In 2019 he shared a photo of his chip rack on his Instagram saying that he had sat down at the table with six figures left the table with seven figures. Also that year, Patrik Antonius said he lost $500K in a $6K/$12K game of Omaha 8 or Better at Bobby's Room.
Eli Elezra recounted in his biography the day he lost more than $1 million at the Bellagio: "The stakes were $3K/$6K and in addition to the regulars (Chip, Doyle, Sammy Farha and Lyle Berman) also present was John Brown Jr., the owner of Kentucky Fried Chicken. It started badly for me and after a few hours I was in a big hole. Instead of stopping and walking away from the hole I had dug myself into, I kept playing and didn't even get up to eat. The desire to win back the money lost was too strong for me to pay attention to how tired I was. By the end of the session, after 30 straight hours of poker without a break I had lost $1.3 million. Was the biggest loss of my life."
Mike Sexton on the Debut of the World Poker Tour at Bellagio
The first tournament to be played in the history of the World Poker Tour was back in 2002 at the Bellagio. This is how Mike Sexton remembers it in his excellent biography Life's A Gamble:
"The first WPT event was held at Bellagio in July 2002, and I was petrified. I'd never been in a high school play, and here I was going on national television. Vince grew up in television and movies, so I was glad he was there with me. But, Vince didn't really understand what the WPT was all about. He thought this was a one-day gig, so he drove in that morning from Palm Springs. He was so tired, he was out of it by midnight and the final table lasted until nearly 4 am! With the way Lyle felt about 'a poker player in the booth' and with Vince dozing off, it's amazing either one of us survived after that show."
"Lucky for all of us, that first show was one of the greatest final tables ever on the WPT. Some of the biggest names in poker at that time, including Scotty Nguyen, John Juanda, Freddie Deeb, and John Hennigan, were at that final table. Basically, the only poker unknown at the table was Gus Hansen. He was a world-class backgammon player, but had no poker resume to speak of. But Gus had the looks (he was voted one of People magazine's 50 sexiest men in 2004), style, and poker creativity that was wowing. Gus won that tournament and soon became the biggest star on the WPT, winning two more times."
The Five Diamond World Poker Classic
From the first edition in 2002 until today, a total of 20 editions of the prestigious WPT Five Diamond World Poker Classic have been held. The biggest prize in the tournament's history went to Eugene Katchalov in 2007 when he won $2.4 million. Eugene kindly shared his memories and reflections about that special poker moment with Cardplayer Lifestyle:
"Winning the WPT Five Diamond remains as one of the most memorable events in my life. It gave me the freedom to pursue a career in poker, travel the world and buy a nice apartment for my grandparents. Bellagio has always been my favorite casino in the world. There's just something about it that always puts me in a good mood walking around there. Even many of the newer casinos on the Strip simply don't have that same effect on me. I have played Bobby's Room games in the past but not recently, as I've moved away from being a pro poker player to being focused on business. I look forward to returning to play there some day as a purely recreational player :)".
The largest edition of the Five Diamond World Poker Classic took place in 2019, which had 1,035 entries and distributed the largest prize poo in the event's history: $10 million. Alex Foxen won that tournament and these were his words after the victory: "Winning the WPT trophy in this event particularly is definitely the biggest thing to me. It's the most significant tournament win to me so far. It's awesome. WPT is probably the most prestigious tour besides the WSOP, and it just feels amazing to win this one because it's just one of the biggest, toughest ones."
Renowned players on the circuit managed to be champions of this event, such as Daniel Negreanu, Joe Hachem, David "Chino" Rheem, Antonio Esfandiari and Dan Smith. All-time legend Doyle Brunson placed third in the 2005 edition, winning $563K.
The prestigious tournament has had a number of very well known winners through the years:
| | | | | | |
| --- | --- | --- | --- | --- | --- |
| Year | Buy-In | Entries | Prize Pool | Champion | Prize |
| 2002 | $10,200 | 146 | $1,416,200 | Gus Hansen | $556,460 |
| 2003 | $10,200 | 314 | $3,070,050 | Paul Phillips | $1,101,908 |
| 2004 | $15,300 | 376 | $5,470,800 | Daniel Negreanu | $1,770,218 |
| 2005 | $15,300 | 555 | $8,075,250 | Rehne Pedersen | $2,078,185 |
| 2006 | $15,400 | 583 | $8,482,650 | Joe Hachem | $2,207,575 |
| 2007 | $15,400 | 664 | $9,661,200 | Eugene Katchalov | $2,482,605 |
| 2008 | $15,400 | 497 | $7,231,350 | David Rheem | $1,538,730 |
| 2009 | $15,400 | 329 | $4,761,450 | Daniel Alaei | $1,428,430 |
| 2010 | $10,300 | 438 | $4,248,600 | Antonio Esfandiari | $870,124 |
| 2011 | $10,300 | 413 | $4,006,100 | James Dempsey | $821,612 |
| 2012 | $10,300 | 503 | $4,879,100 | Ravi Raghavan | $1,268,571 |
| 2013 | $10,300 | 449 | $4,355,570 | Dan Smith | $1,161,135 |
| 2014 | $10,400 | 586 | $5,684,200 | Mohsin Charania | $1,177,890 |
| 2015 | $10,400 | 639 | $6,198,300 | Kevin Eyster | $1,587,382 |
| 2016 | $10,400 | 791 | $7,672,700 | James Romero | $1,938,118 |
| 2017 | $10,400 | 812 | $7,876,400 | Ryan Tosoc | $1,958,065 |
| 2018 | $10,400 | 1,001 | $9,709,700 | Dylan Linde | $1,631,468 |
| 2019 | $10,400 | 1,035 | $10,039,500 | Alex Foxen | $1,694,995 |
| 2020 | – | – | – | – | – |
| 2021 | $10,400 | 716 | $6,945,200 | Taylor Black | $1,241,430 |
| 2022 | $10,400 | 569 | $5,519,300 | Chad Eveslage | $1,042,300 |
Happy 25th anniversary to the Bellagio Poker room, sacred ground at one-of-a-kind Las Vegas casino resort that will forever have a fundamental place in poker history.