I don't ordinarily write too much about online poker room bonuses, but I know that many people who visit this site with any sort of frequency love playing poker online and appreciate good bonus offers. With that in mind, I decided to do a bit of searching to find some online poker room bonus offers that would be worth chasing after.
Of course, when you're looking for a poker room to play at you'll find yourself enticed by bonuses practically everywhere that you look, ranging from deposit bonuses to free tournaments to promises of free cash.
If you know anything about casino bonuses then you're probably aware that all the latest casino bonuses come with terms and conditions attached. The same holds true with online poker bonuses, so be aware that you'll need to play enough cash game hands and tournaments in order to be able to claim that juicy bonus money. Qualifying for the money notwithstanding, there are certain poker bonuses worth chasing after and that will provide you with a lot of value.
1. 888Poker's $88 No Deposit Bonus
888Poker offers up a no deposit bonus amounting to $88 in total. You ought to note the catch though: you won't get the entire amount all at once. Instead you'll get $2 into your cash balance after verifying your email address, and $6 worth of tournament tickets that can be used to cover the entry fee of any of the poker room's tournaments.
The remaining $80 will be released into your cash balance in stages – and in order to claim it you need to accumulate a certain amount of 'Bonus Points' that can be acquired by playing. In short, the more you play, the more of the bonus you'll be able to claim.
2. BetOnline Poker's 200% First Deposit Bonus
Essentially one of the larger deposit bonuses out there, BetOnline Poker will triple the value of your first deposit – up to $2,000. However, just like most other deposit bonuses, you won't get that cash immediately and instead it will be released into your balance in stages as you play.
The reason why the deposit bonus in BetOnline Poker is so enticing however is that it is structured so that you can claim the bonus more easily when you start out. The system is based around the 'POP Points' that you accumulate as you play, and has various yardsticks at which parts of the bonus will be released. Note that as you play more and accumulate more POP Points, it becomes progressively more difficult to reach those yardsticks.
3. Titan Poker's 200% First Deposit Bonus
Another large first deposit bonus, Titan Poker will also triple the value of your deposit up to $2,000 and release the bonus into your balance in stages. However, it does so in a uniform manner, with $5 being released for every 300 Poker Points you accumulate by playing raked hands.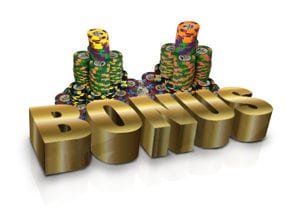 Note that the bonus needs to be claimed within two months of the deposit, so you'll essentially have about 60 days with which to accumulate enough points that you claim it all. That can be challenging, but it is not impossible. Thus, before you decide if this online poker room bonus is one you'll want to chase after, you need to know that you're going to have to grind a bit to be able to claim it all.
4. Winner Poker's 250% First Deposit Bonus
Currently the largest first deposit bonus offered by any poker room, Winner Poker's 250% up to $2,000 bonus is nothing to sneeze at. In other words, if you deposit $200, you'll essentially end up with $700 in total – after you've claimed the bonus, that is.
If you've gotten this far along in the list, as you may expect by now, the bonus will be released in stages tied to the Poker Points that can be accumulated by playing raked hands. For every 400 Poker Points you accumulate, $5 of the bonus will be released into your balance. You have 90 days to claim the entire sum, so be advised that you'll need to play a lot (or multi-table consistently).
5. BetFair's 200% First Deposit Bonus
One other poker room that offers a 200% to triple-your-first-deposit bonus is BetFair. Right upon your first deposit (of at least €10) you'll trigger a €20 bonus, and you'll continue to get 200% of your deposit value, up to €1,500.
Note that to claim the rest of the bonus you will need to accumulate 'Status Points' by playing in raked hands. BetFair will release your bonus in €10 increments for every 1,250 Status Points that you accrue. If you intend to chase after this one, be prepared to play on the site for a sustained amount of time – you only have 60 days in which to claim this bonus.
Conclusion
The common denominator among pretty much all poker players is that you want to get the most bang for your bankroll. One of the better ways to do that is by capitalizing on a great online poker bonus offer. While some of you may gravitate towards the 'no deposit' bonus offered by 888Poker, those who like to play for higher stakes will undoubtedly find that tripling the value of your deposits is too good an opportunity to pass up.
In any case, now that you know what the best poker bonuses out there are – it should be easy for you to choose which one you'd like to cash in on.