Poker Room Reviews > Titan Poker Room Review
Pros
Licensed in Malta
Supports play on up to 16 tables simultaneously on dedicated poker client
Daily tournament schedule
Numerous bonuses and promotions
Rewarding loyalty and VIP programs
Cons
Limited multi-tabling support on browser/Instant Play
Does not accept players from the US
Table of Contents
Titan Poker History
Despite online poker seeing a downturn over the last few years, Titan Poker has continued to be one of the larger poker rooms still operating today. Owned and managed by Universe Entertainment Services Malta Limited, the poker room is now pushing a decade and a half of operations. The poker room's URL has been around since 2004 though it only started its operations the following year in 2005. Unsurprisingly, this was also during the online poker boom that was brought about with Chris Moneymaker's 2003 WSOP win.
While Titan Poker might have undergone some graphical upgrades to its website over the past few years, its core service has more or less remained the same. The poker room started out on the iPoker Network and continues to make use of Playtech's platform up until today. Not only is it one of the oldest to use the platform, the poker room is also one of the biggest on the iPoker Network.
READ MORE: That time I participated in an online/live poker tournament hybrid with Titan Poker
Titan Poker Live Tournaments
Unlike most iPoker Network poker rooms, Titan Poker has sponsored and/or affiliated itself with numerous live poker tournament series over its storied history. The most recent tournament that the poker room was associated with was 2018's Irish Open. Back in December of 2017, the poker room offered Irish Open Twister packages was worth €2,500 apiece. This included a buy-in for the Irish Open main event worth €1150, accommodation at the City West Hotel in Dublin for five nights, and spending money of €800.
In years past Titan Poker also sent delegations to the World Series of Poker. The poker room was relatively active in its sponsorship of players for the event from 2007 up until 2013. Other than this, the Titan Poker brand itself had its own live tournament series called the Euro City Poker Tour. While this tournament series offered a lot of prizes and exciting locations for players to visit, it unfortunately didn't last long. The series was inaugurated in Madrid in May of 2008 and held its last tour in Barcelona in March of 2010.
Titan Poker Online Tournaments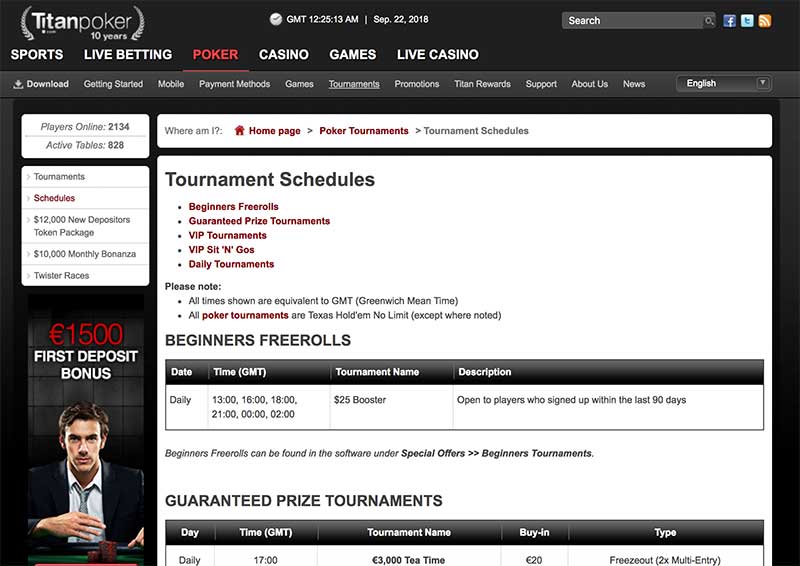 While live tournament series aren't really Titan Poker's main focus, players can still enjoy a competitive poker experience thanks to Titan Poker's active online tournament schedule. As with all iPoker Network skins, this poker room has a number of online tournaments that players can choose to join on a daily basis. For beginners (specifically limited to players within the first 90 days of having signed ups), there are the aptly named Beginner Freerolls that are available daily at 2:00AM, 1:00PM, 4:00PM, 6:00PM, 9:00PM, and 12:00AM.
Once they feel more comfortable with their skills, players can check out the poker room's Guaranteed Prize Tournaments. Like the Beginner Freerolls, these tournaments are available daily. The first of these is the Tea Time tournament with a guaranteed prize of €3,000 and a buy-in of €20 that starts at 5:00PM. This is then followed by the Phoenix and Special One tournaments (at 7:00PM and 7:15PM respectively) which both have €5,000 in guaranteed prizes. Buy-ins are set at €20 (with rebuy) for Phoenix and €10 (Freezeout with 4x Multi-Entry) for the Special One tournaments. At 8:00PM, players can try their skills out at the €10,000 Championship which has a buy-in of €50 (Freezeout with 4x Multi-Entry). For the 8:30PM schedule, the poker room has a €5,000 Predator tournament which has a €20 buy-in (though no re-buys and Multi-Entries). To then end their day, players can make the most of the Money Time tournament that offers €3,000 in guaranteed prizes for a €50 buy-in (Freezeout with 2x Multi-Entry).
Other than this, players can also try their hands out at the Daily Gemstone Freeroll that's usually available starting 7:00PM. Unlike the Beginners Freerolls and the Guaranteed Prize Tournaments, this Freeroll is only available to VIP players who are at the Amethyst, Emerald, Ruby, Sapphire, and Diamond Levels. The guaranteed prize for this freeroll is $100 and entry is free provided the player fits the VIP level requirement. Additionally, the poker room has VIP Sit N' Go's available to players who manage to get to the VIP Emerald level and higher.
Arguably one of the most generous tournaments that Titan Poker offers, however, is its $10,000 Monthly Bonanza. As its name implies, the tournament offers $10,000 worth of guaranteed prizes for players who manage to accomplish certain requirements. As of this writing, these include making a first deposit (as a first-time Titan Poker player), generating 750 Titan Points (through the VIP program), wagering at least $1,000 worth of casino bets, and getting a Top 5 finish on one of four satellite tournaments.
Titan Poker Sponsored Poker Pros
A dearth of live tournaments to sponsor and/or affiliate itself with has resulted in Titan Poker's decision to no longer sponsor any poker professionals. With that said, the poker room has in the past awarded its players with entries to the World Series of Poker, the Asian Poker Tour, ECPoker Tour, and the Irish Open.
In the past, Titan Poker proudly sponsored two big name poker pros, Sam Trickett and Marvin Rettenmaier. A change in marketing and branding strategy saw Titan Poker cut ties with the two pros back in 2012. Since that time, Trickett and Rettenmaier progressed favorably in the poker world, racking up millions in career tournament earnings, as well as untold fortunes at the cash games tables.
Titan Poker Welcome Bonus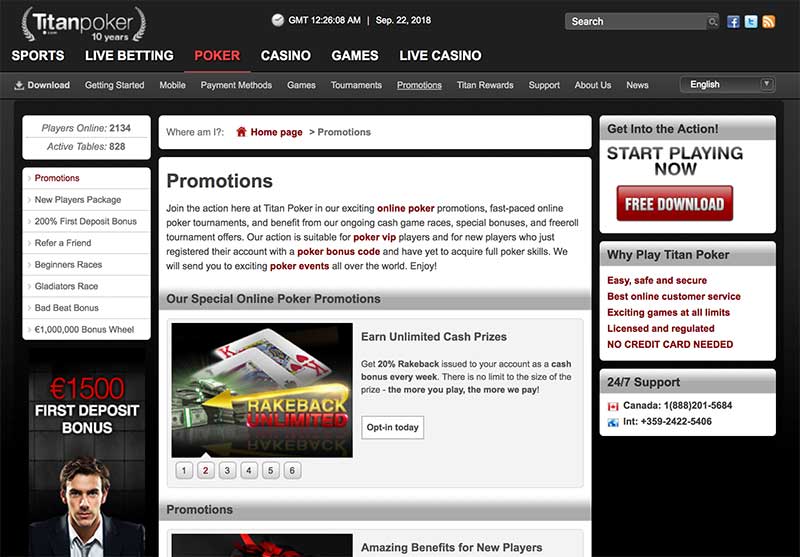 Players will get to enjoy one of online poker's most generous welcome bonus packages once they've registered with Titan Poker. On their first deposit, players will get a 200% match bonus that can go up to a whopping €1,500. In addition to the match bonus, the poker room will give players unlimited rakeback, a token package for freerolls that have combined prizes of at least €12,000, and entry to the poker room's beginner freerolls (this does not require any deposits).
Titan Poker on your Devices
There are a number of ways for players to access Titan Poker. If they're using desktops/laptops that run on Windows, Mac, and or Linux then players can easily use their OS's default browser to access the poker room's URL. For players who want a far better experience, the poker room has a dedicated poker client that can be downloaded and installed on desktops/laptops running on Windows.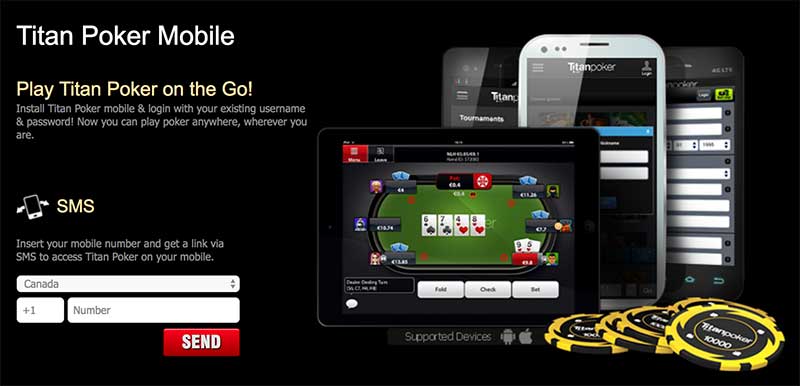 Players who want to access the poker room on the go can access the site on their mobile devices running on iOS and Android. For the best gaming experience though, players will need to make sure that they access the poker room using a browser that features support for HTML5 content (Chrome, Safari, and Opera).
Titan Poker Licensing
Titan Poker is primarily targeted at players in Europe, specifically Norway, Sweden, Poland, Canada, Russia, the Czech Republic, among others. So that the poker room can operate in these markets, Universe Entertainment Services Ltd. has a license issued and regulated by the Malta Gaming Authority.
Titan Poker Ownership
As its name implies, Universe Entertainment Services Malta Limited is a company registered in Malta. This is the company listed on the site but it is a well known fact that Titan Poker is part of the Playtech group, which was founded by Teddy Sagi.
While the company is relatively small (compared to its competitors), it does have an impressive selection of brands that it operates. Aside from Titan Poker, the company also manages Europa Casino, Titan Casino, Casino Tropez, and Titan Bet. Of these brands, Casino Tropez and Titan Casino were the first to debut online in 2001. By 2004, the company had another online casino when it debuted Europa Casino while also starting work on its first poker room. The following year (2005) saw the company delve into online poker for the first time with Titan Poker's debut. Two years later, the company would go on to start working on Titan Bet, its first online sportsbook. While work on this started in 2007 though, it took up until 2010 for Titan Bet to finally start its operations.
Titan Poker Frequently Asked Questions
Question: Does Titan Poker accept US players?
Answer: Unfortunately, Titan Poker does not allow registrations from players residing in the United States.
Question: Does the software allow for playing at multiple tables at once?
Answer: Titan Poker's dedicated poker client for Windows allows players to compete at up to 16 tables simultaneously. More importantly, the poker client has a Mini Table viewing option that players can use to automatically tile all the tables that they've joined on their screen. This allows players to see all the tables that they've bought in to at the same time and eliminates the need to constantly look over the tabs for the individual tables. It should be noted, however, that this feature is only available on the dedicated poker client. If they're on their browsers (mobile or desktop/laptop) then players are going to be limited to sitting at one table at a time.
Question: Is there a VIP & Loyalty rewards program for frequent players?
Answer: Unlike most of its competitors, Titan Poker provides a number of loyalty and rewards schemes for all of its players regardless of whether they play frequently or just occasionally. For the more casual players, the poker room has the Rakeback Unlimited promotion that they can use to boost their bankroll on a weekly basis. Players would only need to opt in to this promotion using the code RBWEEKLY and then buy in to their favorite tables and tournaments to generate Titan Points. At the end of the week, players can then exchange their Titan Points for real cash at a rate of 100 for $1.
Aside from exchanging Titan Points for cash, players can also continue accumulating them to increase their level in the poker room's VIP Club. Players start out at Topaz VIP level and progress through the Amethyst, Emerald, Ruby, Sapphire, and Diamond levels by accumulating a specific amount of Titan Points per level. The player's VIP Level determines their Club Points Booster multiplier which then determines the amount of Club Points that they can earn for every Titan Point. Not to be confused with Titan Points, Club Points don't affect players' VIP levels and are instead used to exchange for Cash and/or tokens on the poker room's VIP Shop.
As if the Rakeback Unlimited promotion and its VIP Clubweren't enough, Titan Poker also has another rewarding promotion called Titan Treasures for its players. By completing a set of achievements set by the poker room, players will get to earn anywhere from 50 to 10,000 Gold Coins (depending on the achievement). Additionally, players can also exchange their Club Points for Gold Coins on the VIP Shop. Once they've accumulated at least 10,000 Gold Coins, players can then opt to purchase a Ticket that would allow them to win prizes that include (but aren't limited to) cash bonuses, Club Points, Titan Poker merchandise, and Tournament Tokens. Depending on how many Gold Coins they used to purchase the ticket, the value of these prizes can range from up to $20 (for the 10,000 Gold Coins) to as much as $1,000 (for the 100,000 Gold Coins).
Question: What are the wagering requirements of the signup bonus?
Answer: Similar to most other poker rooms, Titan Poker's First Deposit Bonus isn't automatically released to players. Instead, the bonus is released in increments and players will need to accumulate a specific amount of Titan Points before an increment is released. Depending on the currency, players will need 300 (for US$), 400 (for €), or 480 (for £) points before the poker room releases an increment worth $/€/£5. The poker room will then give players 60 days to play accumulate the Titan Points needed to clear the bonus.
Other components of the signup offer like the token package and beginner freerolls have no wagering requirements. Any winnings from the use of these tokens and freerolls will automatically be credited to players' accounts (if applicable).
Question: Can I wager my welcome bonus on casino games or on the sportsbook?
Answer: The welcome bonus offered by Titan Poker is only applicable to the poker room. In the same manner, players who open accounts at Titan Casino and Titan Bet will only be limited to using their bonuses on the online casino and sportsbook, respectively.