With the opening of the 2017 World Series of Poker just a scant few days away, the poker world's excitement level is through the roof. We've waited all year for this moment and our bankrolls (or staking packages) are prepped and ready for a successful summer. While we're all itching to start playing some poker, there's also a pretty much universal truth amongst poker players: we love making a good bet.
Here then are five bets you should make during the 2017 WSOP.
1. Bet on Major Sporting Events
Typically the summer season is a relatively dry one as far as major sporting events go, but there are some notable exceptions, including the NBA Finals, golf's U.S. Open and tennis' French Open and Wimbledon. With the World Series of Poker lasting a lengthy month-and-a-half, that gives you plenty of time to pick your favorites and place some bets.
If you're in Las Vegas, you can just saunter into any sportsbook to plunk down a wager, but if you're elsewhere and prefer to bet on sports online, be sure that you do so only when using trusted sites.
2. Bet on a Casino Game You've Never Tried Before
Most solid poker players know that it's wise to avoid playing games where the house has an edge on you. In other words: stay away from the pit! With that said, there's a great deal of excitement to be had when learning/playing a new casino game for the first time… plus you might even make a little money if your bet pays off. What you're losing in terms of a mathematical advantage comes right back to you via the thrill factor.
I enjoy a good gamble every so often, in particular sitting at the video poker machines. That said, I'm pretty sure I've tried every game casinos have to offer except for two: baccarat and craps. For some reason, they've always scared me.
Not this summer! I'm looking forward to giving those games a shot for the first time. $20 says that I'll probably lose the $20 I'll be wagering on each (but at least I can knock 'em off the bucket list). Any takers? 🙂
3. Bet that More than 7,000 People Will Play in the Main Event
Only twice in history have more than 7,000 players entered the WSOP Main Event, back in the peak boom year of 2006 and once again in 2010. In nine out of the last 10 years, the number has hovered between 6,300–6,900. I'll bet (and you should, too!) that this is the year we get over the 7,000-player hump for just the third time.
From where I'm sitting, poker is most certainly on the upswing and – mark my words – we're going to see that reflected in this year's Main Event turnout.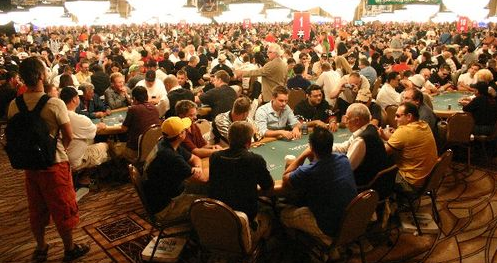 4. Bet that Daniel Negreanu or Erik Seidel Will Win a Bracelet
Good old numbers 1 and 2 on poker's all-time money list also rank quite high on the all-time WSOP bracelet winners list. That said, Negreanu has been stuck at six since 2013 while Seidel hasn't won one since 2007.
Neither of these Poker Hall of Famers have let the game pass them by, however, with each adding millions to their bankrolls over the past few years. It almost seems like an anomaly that neither of them has managed to snag a bracelet for this long.
I'm happy to place my money where my mouth is on this one and take some action, as I'll bet that at least one of these two poker titans is sure to strike gold by the time the WSOP ends in mid-July.
5. Bet that You're Going to Have an Amazing Time
If you're lucky enough to be heading to the World Series of Poker this summer, it's all but guaranteed that you're going to have the time of your life. I was fortunate enough to have the opportunity to attend my first WSOP last year and I'll be making my "triumphant return" this year. To say that I'm excited would be a huge understatement.
While I'm heading into the WSOP with a plan, I don't know how everything will turn out; it might go badly. By the same token, legions of players will be heading in with plans to end up winners by summer's end, but it might not happen. Even so, what's guaranteed (yes, even if you lose or things don't go exactly as planned) is that you'll have a great time if you'll be at the WSOP.
The World Series of Poker is when the game we all love takes center stage. People from all over the world make the effort to show up, as that's where all the action is. I've seen plenty of people over the years who've lamented that they'll be missing out, unable to attend in person, but I have yet to meet a single person who had attended and wished they'd skipped it altogether. WSOP experiences are irreplaceable and last a lifetime; you can bet on that!