Online poker has gotten tougher over the years. It's much harder these days for someone to just join the action and expect to be profitable on the virtual felt. The quality of play, even at very low stakes, has improved dramatically.
As a novice player with some understanding of the game, you do have many options available to you if you're looking to improve. Among poker training sites, the Upswing Poker Lab definitely ranks quite high and it is certainly one of the best and most comprehensive courses geared specifically at those new to Texas Hold'em.
Doug Polk and the rest of the Upswing crew made sure to cover all angles, from online cash games to MTTs to live poker. Combining written lessons, educational videos, and 400+ very useful preflop charts, the Lab is divided into five main sections comprised of 70+ learning modules and offers everything you could possibly need to kick-start your poker career.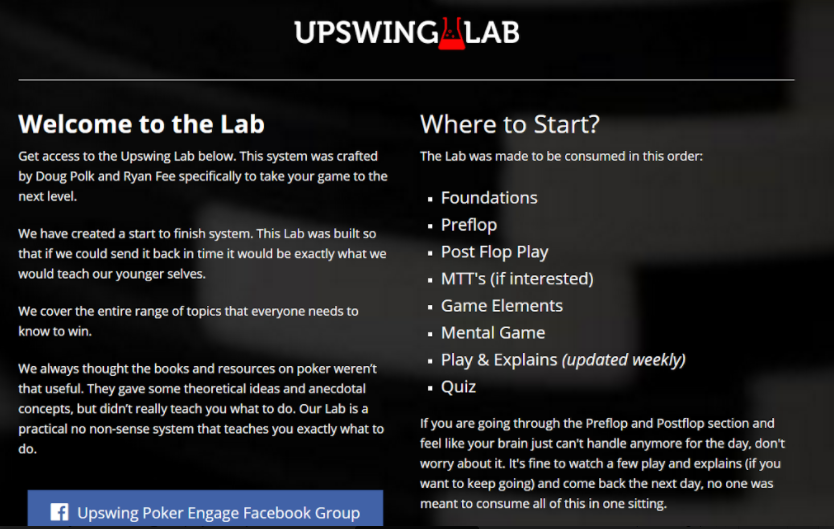 Upswing Poker Lab: Core Strategy, Explained
The first section of the Upswing Lab is called "Lab Core Strategy" and offers the kind of content you'd expect to find. It starts from the very foundations and builds, taking you through increasingly complex lessons one step at the time.
In the very first lessons, players are introduced to common terminology, which is extremely important to be able to keep up. Table positions and expressions such as 3-bet, c-bet, brick, etc., are used extensively throughout the course, so if you're really just starting, the Lab's got you covered.
The next several videos explain some of the most important strategic poker concepts, such as hand ranges, matrices, and hand categories, laying the foundation for all future lessons.
For example, the idea of RFI (Raise First In) is something that can be analyzed in-depth, broken down into ranges. Similarly, analyzing post-flop action with regard to whether it was a three-bet pot or a single-raised pot. Then analyzing that action where you were the pre-flop raiser, or the pre-flop caller. Then if that's not enough, you move to the turn as the pre-flop raiser in a single-raised or three-bet pot. In one of the first Lab lessons, they show a decision tree for action on all three streets, and the subsequent lessons go some of the way to analyzing the potential play given the branch of the tree you choose to go down.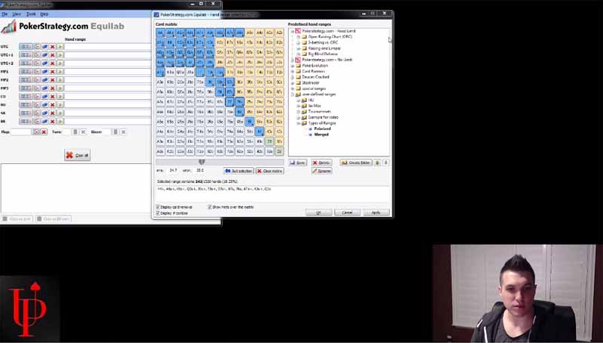 Once these essential ideas are fully covered, the Upswing Lab moves on to concrete situations, teaching you about things such as:
Raise First In (RFI)
RFI vs. 3-bet
Using charts & when to deviate from them
Bet sizing
Importance of position
How to play in single-raised and 3-bet pots (as a caller and as a raiser)
Playing flops and turns
Most of these lessons feature a video lecture and a short article accompanying them, so you can easily adopt and integrate the knowledge into your own repertoire. Of course, the Upswing Lab is very extensive, so don't expect to go through the entire thing in just a couple of days. It'll take time, but as you keep at the study and proceed through the training material, it will make you a much better player.
The final few lessons in this section address some general poker concepts that will help you in the long run. You'll learn about the importance of things like:
Proper game selection
Bankroll management
Dealing with tilt
How to build a bankroll starting from micro stakes, and much more.
Even if this was the only section of the Upswing Lab, it feels like you'd already be getting a lot of value for your money. That said, the course definitely has much more to offer.
Upswing Poker Lab: Building Upon Your Foundations
The second large section of the Upswing Lab is called "Beyond Core Strategy," and it looks to expand your newly-acquired knowledge. This is where things get pretty serious and where the Lab becomes quite valuable even for the players who have been playing for a while.
While the first section was mostly presented by Polk, the second one sees a number of other professional poker playing instructors tackle topics they are experts on. Some of the coaches featured in the videos inside this section include Ryan Fee, David Yan, Jason McConnon, and Matthew Janda.
READ MORE: 15 Upswing Poker Coaches and the Skills They'll Help You Master
As for the topics covered, you'll find many fairly advanced concepts addressed and explained in detail, giving you a chance to really take your poker game to the next level. These include:
Understanding and utilizing blockers
Playing in multiway pots
Understanding GTO
Advanced c-betting concepts
How to play deep stack poker
Heads up basics
Utilizing overbets, etc.
This section can feel like a lot to take in – and it is! There is so much information here that you might feel overwhelmed at times (I know I certainly did). That said, the good thing is you're in no rush. The knowledge is there for the taking, and you can organize your learning schedule in any way you prefer.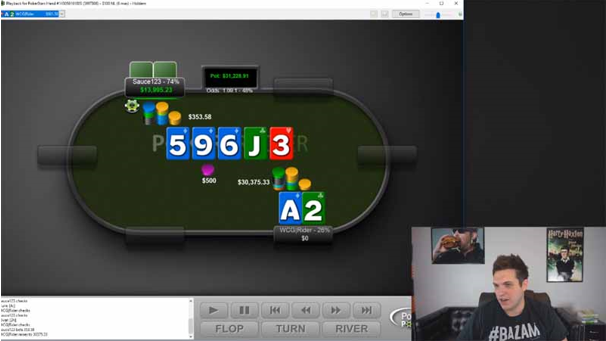 Lessons are broken up into logical units so that's probably the best way to go about it. You don't necessarily need to go through them in the order they're presented in the section as every unit pretty much stands on its own, and you should have no problems keeping up if you watched the entire first section.
Upswing Lab Deep Dive: Tournaments and Cash Games
Choosing the right game format is very important for your poker success. While some strategic concepts are universal, every format has its own, unique deviations. The third and fourth sections of the Upswing Lab thus cover MTT and live cash play.
The MTT part of the Upswing Lab will teach you all about specifics of playing multi-table tournaments. You'll learn about ranges in MTTs, ICM, how to navigate a short stack, important strategy adjustments with regards to the ICM impact, and more. Combined with the knowledge from previous sections, this should really give you a roadmap to significantly improving your tournament results.
The live play section is an important component of the overall course, too. While most newcomers start at online tables, there are always those interested in live games, and it is a different ballgame altogether.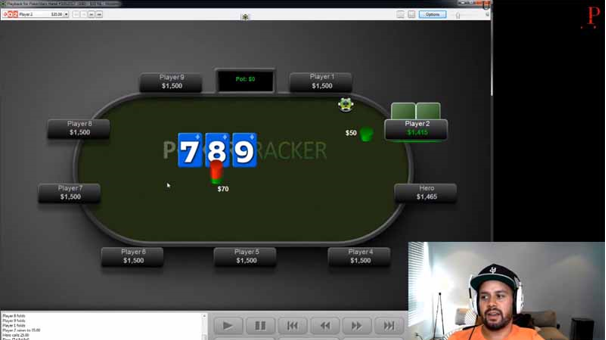 Through the combination of hand reviews, strategy talk, and some general chat about live games and expectations in these games, the Upswing Lab highlights some important aspects of live poker and how it differs from online games.
Upswing Lab Provides Ready-Made Charts for Your Convenience
As mentioned, membership in the Upswing Lab will also grant you access to several ready-made charts that you can use to study and even have handy while playing. There are well over 400 very handy preflop charts available that will help make your decisions easier at the felt, teaching you what hands to play and not to play depending on your position at the table, effective stacks, etc.
Online and live cash ranges
MTT ranges
Advanced tournament ranges

Upswing Lab Pricing and Recommendation
The contents of the Upswing Poker Lab are regularly updated, with over 5 new hours of training materials added each month, so you can expect to find new videos and lessons added to the mix all the time. The amount of information available is both impressive and, admittedly, a bit intimidating.
The membership price tag of $99/month may seem a little steep, but if you look at it as an investment into your poker career rather than a "cost," it's really not that much money in the grand scheme of things. You get access to some of the best players' thoughts, ideas, and strategies, which should help make you a lot of money at the tables no matter what format you decide to roll with.
Moreover, you can SAVE BIG if you commit to the training site in advance for six or 12 months. A half-year Upswing Lab membership will cost $399, while you get the most value out of a yearly membership for $699.
Of course, to make most out of it, you'll have to set aside a fair bit of time for studying. As you progress, things get more difficult to keep up with, so you won't always be progressing at the same pace either; it's challenging! But there is no doubt that the Upswing Lab can make you a very good poker player in a very reasonable period of time so long as you put in the hours of study.
Bottom Line: If you think your basics are in need of a brush-up, or perhaps you're curious about new, creative ways to improve your poker game, by all means check out this training course. Even if you're a grizzled and season veteran, in order to prevent yourself from feeling like you're treading water in a sea of poker training content, we suggest that you give the Lab a look to see what it can offer you in terms of some more specific/specialized materials.
Upswing Poker has LOTS more poker training material available beyond just the Lab, including: