The game of poker has been around for a while and it's seen its fair share of funny, extraordinary, and even tragic moments. Some poker legends represent moments that were important milestones in poker history, sometimes even playing a role in how the game was shaped over time. Others are merely entertaining anecdotes that fans of the game enjoy tremendously, simply because they seem so hard to believe or make them feel blessed that they live in a different time where sitting down to play doesn't mean risking your life. Here, then, are three poker legends that you'll enjoy reading about.
Origins of the "Dead Man's Hand"
Almost all poker players know about the dead man's hand, i.e., Aces and Eights, but not everyone knows the story behind the myth. Most everyone has heard bits and pieces, but the story has been told and retold so many times that there are dozens of similar but different variations.
According to the best facts available to us these days, the term was coined in the late 1800s and is closely related to "Wild Bill" Hickock, a famous marksman who acted as a sheriff of his town. In addition to his skills with guns, "Wild Bill" was also known for his skills at the poker table.
According to some accounts, on August 2, 1876, Hickock sat down to play what would be his last poker session. Always careful, he would usually avoid sitting with his back to the door, but it so happened that the only available seat on that fateful day was facing the wall.
In the midst of the hand, a man walked into the saloon, approached him from behind, and shot him point-blank in the head. The story, which first came to life in 1886, about a decade after the incident, claims "Wild Bill" was holding two black Aces and two black Eights in his hand at the time of the shooting – the dead man's hand.
It is impossible to fully verify the truth of this story. Hickock was, indeed, shot on that day, but whether he was involved in a game and was actually playing a hand when the shooting happened remains a mystery. All we have today is the legend about the famous marksman who met his death not out in the wild but sitting at the poker table.
In 1979, Hickock was a member of the first class of players enshrined in the Poker Hall of Fame.
READ MORE: 7 Ways in Which the Poker Hall of Fame Should be Changed
The Legend of Isildur1
Some poker legends, like the one above, are old, with their age adding to their mystique and appeal. Others are of a more recent vintage but are equally as entertaining and fascinating. The tale of Isildur1, a Swedish unknown (at that time) who became a legend at the highest stakes played online, is well known to many fans of the game but it is worth recounting.
It was in the late 2009 that the man who was later revealed as Viktor Blom took his shot at the highest of stakes, taking on some of the biggest names around: Tom Dwan, Patrik Antonius, Phil Ivey, and whoever else was willing to play. Isildur1 was up for a challenge and wasn't going to back down no matter what.
In the short period between September and October 2009, Blom went on a huge winning streak, accumulating around $6,000,000 in winnings. His extremely aggressive poker strategy, combined with some timely rungood and the fact no one knew who this player was or what he was trying to achieve, helped him create a buzz in the online poker world that had never been seen before. Everyone was tuning in to poker forums to see how Isildur1 was doing at the tables, wondering how the tale would end.
The epic upswing came to an abrupt halt when some top pros, including most notably Brian Hastings, put their heads and knowledge together to take Isildur1's game apart. Although some in the poker community considered this to be a somewhat underhanded strategy when it was revealed, it worked. Isildur1 was finally stopped and his upswing turned into a $2.4 million downswing not long after.
Beaten but not broken, he continued battling at the highest of stakes. It was in early 2011 that his identity was finally revealed as that of Viktor Blom when the Swede was signed by PokerStars. His sponsorship with the online poker giant wasn't a particularly long one but his legend remains to this very day.
How High Stakes Poker Came to Be
There is probably no poker fan out there who hasn't seen at least one episode of the legendary High Stakes Poker TV show. Gathering some of the best and biggest players of the time, it was, according to most, the best poker show ever to have aired. It was the mix of high stakes cash game action, great personalities, table talk, and high quality commentary that made the show the success it was.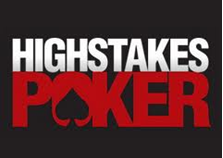 But, how did it come to be?
According to Mori Eskandani, the show's main producer, it all started with Poker Hall of Famer Johnny Chan. Chan walked up to Eskandani while he was having a dinner with network producers who wanted to create a pilot for a poker show. This was back in 2005, when the poker boom was in full swing.
Johnny told Mori and the network producers about a $700,000 pot he had lost that evening. At that moment, the network was struggling to come up with a concept for a poker show and Johnny's story hit the right spot.
The network programming VP called Eskandani later that night, intrigued about his relationship with Chan and the $700,000 pot, which he believed had occurred in a tournament. When Mori explained to him it was a cash game pot, where players played for actual dollars, the VP was instantly hooked and asked if they could bring that action to TV.
Mori said yes – and the rest is history!