No – this isn't another April Fools' Day poker blog. Seriously. $1 million to enter a No-Limit Texas Hold'em poker tournament.
Year after year, the people at the World Series of Poker manage to create headlines with new innovations. Among the main innovations at this year's WSOP were made-for-TV 3 poker grudge matches pitting Johnny Chan against Phil Hellmuth, Chan vs. Erik Seidel, and Sammy Farha against Chris Moneymaker.
And just when the poker world thought it saw the biggest-ever buy-in tournament ($250,000 apiece at the Aussie Millions this year), here comes the World Series, listing a buy-in for next year that would make even some of the most talented and high-profile poker pros squirm in their seats. Organized with the assistance of Phil Ruffin and Guy Laliberte, the owners of the Treasure Island Casino and Cirque du Soleil, respectively, the tournament will award a special platinum WSOP bracelet to the winner.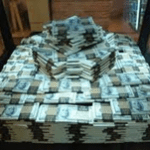 Think about it for a second – $1 million WON is considered an amazing year for even the best poker pros. $1 million is considered an excellent nest egg on which normal folks like you and me can retire. The picture above shows what $1 million looks like. Even the biggest cash games in the world at Bobby's Room at the Bellagio or the Ivey Room at Aria regularly feature buy-ins of "just" $100,000-$200,000. In short – it's a lot of moolah! The winner of this tournament would clearly enjoy one of the biggest paydays in the history of the game of poker!
Astoundingly, however, no less than 15 runners have already confirmed their participation in next year's event, including Tom Dwan, Tony G, Patrik Antonius, Gus Hansen, Daniel Negreanu, and Johnny Chan. One can assume that, unless he boycotts, Phil Ivey will likely join the fray, and that Erik Seidel would be a leading contender to win this highest of high rollers event, should he decide to play.
Billionaires like Ruffin, Laliberte, Andy Beal, and others for whom $1 million is a mere drop in the bucket, will likely round out the exclusive field, expected to approach 24–48 players. The 3-day tournament would pay 20% of the field out of a prize pool that could easily approach $50 million! As per a deal brokered by Laliberte and Caesars Entertainment (which owns the World Series of Poker), around 10% of the prize pool would be donated to charity in lieu of entry fees.