In 2010, Erik Seidel won over $530,000 playing poker. To most normal humans, this would be life-changing money, or at the very least it would represent their best-ever year in poker earnings, probably never to be repeated. Erik Seidel, on the other hand, is no normal human – with over $4.3 million won so far this year, his total half-million-plus earnings from last year represent just about 9 days of 2011 "work".
To better put that number in perspective, Erik Seidel, who now sits atop the all-time career tournament money list (ahead of Daniel Negreanu and Phil Ivey), has won more in about 3 months of this year than all but 77 other poker players in their entire careers (and many of those guys just have 1 big score at a WSOP event). The Cardplayer Lifestyle poker blog already wrote about Seidel's incredible 2011 poker accomplishments just over a month ago, but after adding 2 more titles over the past 6 weeks, the L.A. Poker Classic High Roller event and the NBC National Heads-Up Poker Championship, Seidel is clearly worthy of yet another headline.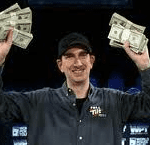 His more "minor" score occurred when Seidel defeated 17 other nosebleed stakes regulars at the $25,000-buy in event in Los Angeles. With only 3 players cashing, Seidel took home the lion's share of the $444,000+ prize pool (about $145,000). Seidel kept up his trend of defeating the best of the best crop of poker pros at the NBC National Heads-Up Poker Championship, where he steamrolled his way to a $750,000 win. Left in his wake were, literally, a murderers row of poker players, including: Allen Cunningham, Jennifer Harman, Phil Gordon, Vanessa Selbst, Andrew Robl, and Chris Moneymaker. Unlike his handful of other 6-figure cashes this year, the Heads-Up title could be said to be Seidel's sweetest victory thus far, as he was freerolling – meaning $750K of pure profit!
Having accomplished so much in such a short span of time, perhaps only Seidel himself is capable of accurately quantifying his successes: "Each success has been a step… Each tournament has felt like a gift… Each result's been incredible. It's been a really amazing thing to go through… I really don't know, it seems amazing… Obviously it's a crazy aberration… This is a once in a life deal…truly unbelievable."