Crazy question, right?
Las Vegas. The Entertainment Capital of the World. One of the world's premiere poker hubs, and home of the World Series of Poker. People fly from all over the world to Sin City in order to enjoy themselves and gamble it up. On the other side of the spectrum, poker-wise, millions of people all over the world enjoy anteing up in home games. So why, then, would someone travel across the world, over 7,500 miles, to end up playing in a Las Vegas home game?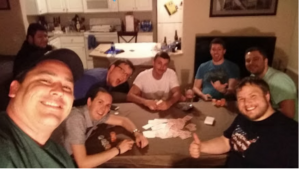 Sure, it makes sense for big name celebrities and professional players who happen to be in Vegas to partake in private high-stakes games that might take place in a local residence; but a low-stakes home game player? Why go out of your way to play in a Vegas home game when that's something you could quite literally do anywhere else in the world?
A bit of explanation is in order. Earlier this year, I flew to Vegas in order to attend my first WSOP. I had never planned on playing in any bracelet events, but I had planned on playing in a tournament or two and in lots of cash games. Indeed, I did do precisely that. Pretty much the last thing I expected to happen was to be invited to a Las Vegas home game. After all, the only people I know who live in Vegas are professional poker players who play for way higher stakes than I could afford.
On the second day of my trip, my phone buzzed with a notification from my friend Amnon, back home in Israel. He had tagged me in a comment on Chad Holloway's Facebook status.

I had interviewed Chad before and had met him earlier this year in the Bahamas at the PokerStars Caribbean Adventure; he's a great guy. Chad informed me that some other poker writers I know, Will Shillibier, Brent Harrington, and Kevin Taylor, would be playing. A low-stakes affair with some good guys who I wanted to get to know better; it sounded like a potentially great home game. I was in!
I had a blast! Here's a short clip I filmed to help me remember the evening:
A World of a Difference
Except for when I travel abroad, pretty much the only poker I play is in two home games; my local game and my Dad's game. Part of why I wanted to attend the Vegas home game was so that I could experience something different. I wanted to know how other guys do it. At home, I'm almost always the guy who does the organizing and running of games. In Vegas, I played with a bunch of guys who seemed just as excited to be playing poker and as into the game as I was. I could just sit there, enjoy the experience, and take it all in.
As a fan of mixed games, I was excited to be playing at a dealer's choice table. I introduced a game (a six-card combination of Hold'em and Omaha) and they immediately took a liking to it and William immediately thought up a different variation of the game (combining Omaha and Badugi instead). They introduced other games as well, the most memorable of which wasn't even a poker game, strictly speaking. I forget what it was called but basically each player took turns betting on whether the next card in the deck would fall within the range of the two previous cards (see picture for illustration).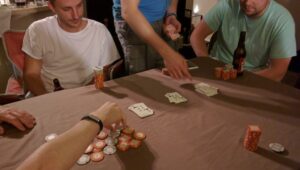 Why were the games so memorable? Plainly put, it was the atmosphere. It felt like a craps table. Everyone was loud, boisterous even, and loving the gameplay. Despite the low stakes, the excitement was palpable.
It was also, frankly speaking, quite a different crowd than the one I'm used to playing with. At home, I basically play with a homogeneous crowd of married observant Jewish guys. In Vegas, I was the lone married observant Jewish guy, playing with a bunch of single guys of numerous different races, religions, and backgrounds. It was different, exciting, and educational. It all just sort of hit me when they offered me pizza. My gut impulse during a home game is to always say yes – hey, what's free is free! – but as someone who keeps a kosher diet, it goes without saying that pepperoni was out of the question.
Worth Every Penny
When all was tallied up, I lost $60 in the home game session, but it was worth every penny. By that I mean that I would absolutely have paid $60 to have had the wonderful experience I had, to meet the people I met, and to be a part of that atmosphere for a few hours. Plus, as an added bonus, I even got to see and hold a genuine WSOP bracelet (thanks, Chad!).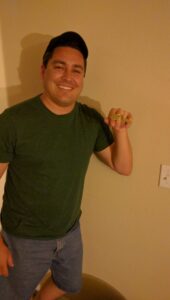 What makes poker fun for me, beyond all the aspects of the game itself, is interacting with all sorts of different people who you get to meet and spend quality time with around the tables. The experience; that "Cardplayer Lifestyle", is what lures me time and again to ante up or post my blinds. The game itself will always remain a recreational pursuit and the money will come and go, but the memories will last a lifetime.
If you ask me, it's memories like those that are worth chasing. Sometimes you won't even get to have them if you fly across the world in pursuit. It's that extra effort, buckling up and driving to a random house in an unfamiliar neighborhood that gives you those sweet, unforgettable moments.