This past summer I had the opportunity to finally return to Atlantic City to play some poker. It had been over seven years since my last poker trip to the Jersey Shore, so it was one I had been anticipating for quite a while.
My previous sojourn to the Atlantic City poker rooms, in May 2014, took place while I was on a family vacation to the States, which we had taken to attend my youngest brother's wedding.
On my way to Atlantic City! SO good to finally be back!

— Robbie Strazynski (@cardplayerlife) May 12, 2014
I have many fond memories of Atlantic City, having been there multiple times in my 20s and early 30s. Back before I was self-employed, it was essentially impossible to take any time off work for poker trips. Living in Israel, where we have no casinos or brick and mortar poker rooms, meant I'd have to board a plane and head FAR away. With work and family responsibilities, visiting poker rooms was mostly something relegated to what I only dreamed of doing back then.
Every once in a while, however, say once a year or so, I'd travel to the Tri-State area to visit family. While I was there, I always tried my best to carve out at least a little time for poker. Once, I even remember taking the subway/bus combo from Brooklyn (a 4+ hour trip in each direction) just to be able to have about six hours to play overnight (I slept during the travel portion). Yes, I know I'm a degen, but when it's your ONLY chance to play live poker, you grab it and treasure any memories you make.
This time around, I found myself in the vicinity as I had flown in for my nephew's bar mitzvah. Ah the cycle of life… and poker life. 🙂
A Shadow of Its Former Self
I was too young to partake of the festivities during poker's heydey in Atlantic City, in the mid-90s and early 2000s, but on the half dozen occasions or so I got to visit between 2004-2014 poker was definitely still going strong, albeit beginning to decline. While the Borgata always got the lion's share of the attention, there was plenty of poker to be found at virtually every major hotel/resort in the city. From the legendary Taj Mahal to the Showboat to Bally's, Caesars AC, and more, this place was THE hub of East Coast Poker and for good reason. In 2013, once online poker became legalized in New Jersey, it also became possible to get your poker fix anywhere within the Garden State's borders, as well as play other gambling games in a casino online.
In any event, long gone are the days of Atlantic City being "the only game in town" for East Coast poker players. As casinos and poker rooms have proliferated in neighboring states, like Pennsylvania, Connecticut, and Maryland, AC's slice of the US live poker pie has shrunk considerably. Bluntly speaking, the passage of time has unfortunately not been kind to Atlantic City either. Many resorts have closed entirely, with the famed Boardwalk and other areas very literally losing much of their legendary luster.
The pandemic unfortunately hasn't helped much either, so much so that when I arrived to play some poker back in August, only three "surviving" poker rooms remained for me to visit: The Borgata, The Tropicana, and Harrah's AC. Even so, I was excited.
Silver Linings at the Felt
All of that preamble notwithstanding, going in with a positive attitude ensured I'd likely have a good time while playing poker, and I did. My first session took place at Harrah's.
The face of a guy who had the BEST time pulling his first poker all-nighter in 2+ years (and broke even, lol) 😂

Thanks, @harrahsresort! You're EXACTLY what I needed.

More to come 😉 pic.twitter.com/UC4uonjyZs

— Robbie Strazynski (@cardplayerlife) August 16, 2021
After about six hours of play in that first session, I felt like I was just getting warmed up … but at 5:45am floor staff suddenly announced that the room would be closing "in about 15 minutes". I couldn't remember this ever having been the case in the Atlantic City poker rooms, which I always recall being open 24/7, but I suppose things are just different in 2021. Such a shame, too, as they had a good three full tables going.
No matter. There was more poker to be played the next day, and I chose to spend it at "The Trop."
Last time I visited @TropicanaAC, 14 years ago(!), it was the old "classic" wood-paneled room… Good times…

I like what @CaesarsEnt has done with the place!

Let's play some cards 😁 pic.twitter.com/rMCIl5rltk

— Robbie Strazynski (@cardplayerlife) August 16, 2021
This was definitely not the Tropicana I remembered, but the modern upgrade suited the establishment nicely, especially as management of the property had been taken over by Caesars Entertainment. Down after about five hours of play, I got "saved by the deck" in the form of the room's high hand promotion. Presto: up for the session! 🙂
Longest 40 minutes of the day?

When you're waiting for your high hand to hold 😂#vacayrungood

Thanks, @TropicanaAC! pic.twitter.com/91yqTw0fHJ

— Robbie Strazynski (@cardplayerlife) August 17, 2021
I stayed at Harrah's during the trip, so later that evening I was able to get in another short, profitable session within walking distance of my hotel room, which is always a treat. I again "closed the room down", which left another bittersweet taste in my mouth; who needs sleep on a poker trip?
My last poker session of the brief Atlantic City jaunt is one that'll always be special to me, as I got to play with my Dad at the Borgata.
What a special opportunity to play poker at @BorgataPoker with my Dad. ❤️

Gonna hold on to this memory for a long time. pic.twitter.com/2iLDB1dP0i

— Robbie Strazynski (@cardplayerlife) August 18, 2021
Believe it or not, it was actually my first ever session there, and it truly did live up to its reputation as the only "Vegas-caliber" poker room in the city. Dad and I played for low stakes at the $1/3 Hold'em tables, but a variety of stakes could be found and there were even a couple PLO games going along with a $30/60 mixed game. Plenty of "characters" abounded, too; the kind you tend to find in the Vegas rooms. Let's just say they helped make our night that much more memorable.
A dozen tables of poker action definitely lit up the night. Even so, the cavernous room had ample space for more poker to be played, with dozens upon dozens of additional tables practically begging to be filled. This room WAS open 24/7, but after a few hours of play it was time for us to rack up (our winnings!) and head back home.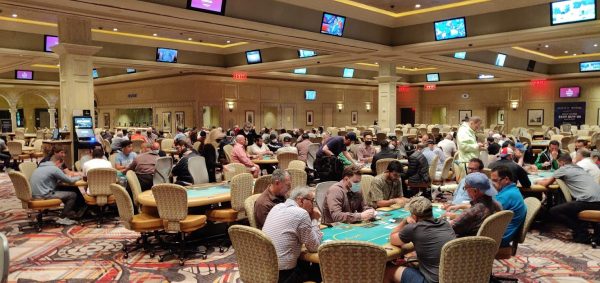 A Great Time Was Had
Anyone who reads this article will see that I've reviewed the 2021 Atlantic City poker scene in very broad strokes. Moreover, it's obviously impossible to have given a 100% spot on accurate review of what poker has been like in the city throughout 2021 from just a 2.5-day visit.
If you're a professional poker player, quite frankly there are probably numerous better places to ply your trade, save perhaps for certain times of the week at the Borgata. If you're a low-stakes recreational poker player like me, however, the AC poker scene still offers the opportunity to have some good old fashioned poker fun and make good memories.
18.5 hours of poker

4 sessions in 3 poker rooms

$445 profit

Lots of fun family time with Dad, @muffnman and co.

8 hours of sleep since Sunday morning (only got here Sunday night though, lol)

1 really happy and grateful guy 😃❤️

Thanks for the memories, Atlantic City! pic.twitter.com/G5OG8lV8KZ

— Robbie Strazynski (@cardplayerlife) August 18, 2021