A couple months back, longtime poker writer and editor Sean Chaffin contacted me to ask if I was interested in contributing to a new magazine insert to be released during the World Series of Poker. He explained that, for the first time ever, Casino Player magazine would be printing a special poker section insert for the summer, as the WSOP would be in full swing. He said he'd be heading up the project and that bracelet-winning poker writer (and occasional Cardplayer Lifestyle contributor) Chad Holloway would also be doing some writing for the project. I was thrilled to accept the offer and am even happier to be posting this announcement, that the new STACKING CHIPS insert will be available at the Rio throughout the WSOP – for free!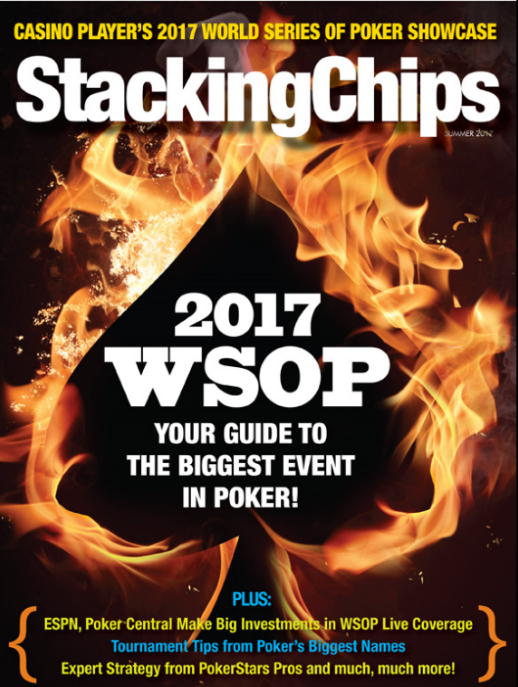 Notably, this is the first such issue, so there's certainly a possibility that STACKING CHIPS will continue being an occasional insert in Casino Player magazine in the future; I, for one, sure hope so. Of course Casino Player will continue featuring it's regular fare of casino-related content like articles about how to play roulette, blackjack tips, new casino games to be found in land-based establishments, etc.
As per the press release, STACKING CHIPS "will be part of Casino Player's June issue but have a completely different reverse cover and fresh, new content geared toward poker fans and players. That includes complete coverage of: the WSOP and recent changes and additions; the complete Vegas poker scene this summer; player profiles and picks, strategy and tips, fun news and notes about Sin City; and much more."
If you want to know which articles each of us penned, you'll just have to pick up a copy at the Rio. For those of you unaware, I'll be at the Rio again this summer, so of course I'm looking forward to seeing my name in print, but truthfully I'm just as excited to see what Sean and Chad have written, as I'm sure it'll be great!
If you won't be attending the WSOP in person, STACKING CHIPS is also available to magazine subscribers as well as via download on the Casino Player website.
According to Sean: "some articles you can expect in the magazine insert are: "Play Like the Pros," featuring WSOP Main Event champions Phil Hellmuth and Greg Raymer as well as strategy experts Jonathan Little and Chris Moorman to a complete timeline of the WSOP's history to Poker Tips from the PokerStars Pros including Daniel Negreanu, Jason Mercier, and Chris Moneymaker. There is even a piece on WSOP Big One for One Drop winner Antonio Esfandiari's favorite Vegas sushi restaurant."
The press release also contains the following note from Casino Player publisher J. Phillip Vogel:
As an avid poker player, I'm thrilled that Casino Player, the No. 1 gambling magazine in North America, has the opportunity to showcase its first annual special poker edition at the No. 1 poker event in the world. Our team of poker experts, players and writers, led by Sean Chaffin, promises insightful commentary and analysis as only poker experts can bring. This special World Series of Poker issue is written by poker players for poker players. It's exciting to be a part of the most celebrated poker tournament series in the world.