There are plenty of poker books out there these days, but have you ever wondered how many of them have been authored by the world's top online poker tournament player? Until now the answer was "zero", but Chris Moorman has just penned his first tome: the eponymous Moorman's Book of Poker. The hype for the book has been building ever since it was first announced just under a year ago by well-known poker publisher D&B Poker. Chris was kind enough to sit for an interview with us about all manner of topics including his live and online poker history, how writing the book came about, his relationship with the Godfather of Poker, Doyle Brunson, and much more.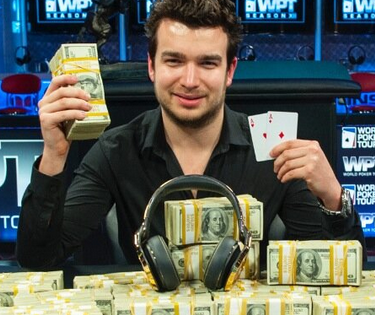 We hope you enjoy this exclusive look into the career of one of the brightest minds in online poker. Without further ado:
As the most successful online poker tournament player in history ($11 million won and counting), you're well-known to hard core poker fans but not necessarily so well to recreational players (especially outside of the UK). Is more widespread recognition something you crave within the poker world and is this one of the reasons you've wrote your book?
Writing a book gives me the opportunity to grow my brand to a more widely spread audience of people. However, more of the reason behind doing it was to challenge myself to do something I would normally never do. Writing a book is obviously so different than the day to day grind of poker, and it was a great challenge to take on.
What possessed you to write a book in the first place? Who is the target audience for you?
I've been asked many times in the past to make training videos and do coaching sessions but they never felt right for me at the time. When I first started playing poker, a number of different books helped me progress as a player and become more interested in the game. Therefore, when I was approached about writing my own poker book, I felt like it was the perfect opportunity for me to give back to the community and share my opinions on the game in a vast array of situations. I've tried to make this poker book accessible to players of a wide range of ability. The main target group for me though is semi-serious players who are looking to make the step up to the next level.
Your co-author is Byron Jacobs, the esteemed poker publisher. Together, through close to 400 pages, you analyze 80 online Hold'em tournament hands he played. Why Byron? Are he and his poker play representative in some way of most players?
Byron has a lot of experience in the industry and has great interest in the game of poker himself. He has a solid understanding of the game but still has room for improvement in a number of areas. For these reasons it was a perfect fit. Using hand histories that he has played and me critiquing them made for a lot of talking points for each hand, but not too many such that the analysis from both sides would become counterproductive to the end product.

Doyle Brunson has agreed to write the Foreword for your book. How did this come about? What's your relationship with him?
Doyle had always been great to me when I was part of the Brunson 10. When I decided to write this book he was my number 1 choice to write the Foreword and so I contacted him to see if he would be interested. Luckily for me he agreed to do it. He is a legend in the game and to have him write the Foreword for the book was a big coup for me.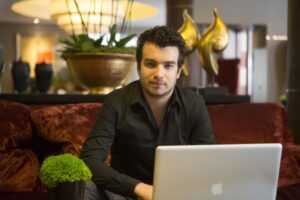 Doyle encountered a lot of flak from fellow poker pros for publishing his Super System back in the day. Nowadays, of course, it's quite common for players to publish strategy books. Nonetheless, with poker even tougher to beat, why write a strategy book that "gives away secrets" you've worked your whole career to learn and master?
There is a lot more material readily available to poker players now than there was back when Super System was released. This book is not designed to teach people how to play but rather to get them thinking more about the game and how to make themselves tougher to play against. All of the information is out there for players to get good at the game but it is important that players understand the game and why they are doing things fully in order to become a top player in my opinion.
When someone says the name "Chris Moorman", my immediate association is to think "Pocket Fives Triple Crown". With 23 of them and counting, is this something you continually shoot for and pride yourself in or is it all about the money for you?
For me, poker has always been about having fun whilst shooting for targets and racking up achievements. Winning money is obviously important, but isn't the be-all and end-all for me. With achievements and accolades normally comes money anyway, so as long as I continue to pick them up I'm sure the money side of things will take care of itself. 
Is a new sponsorship deal something you're actively seeking?
I'm not actively seeking a deal, but obviously I would listen to any offer that was made to me.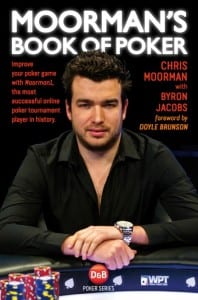 Do you see yourself doing more writing in the future; perhaps a Moorman's 2nd Book of Poker?
A second book is something that I'll be unlikely to do in the near future due to the sheer volume of time and effort it takes to write a book. I'm eagerly anticipating the reaction to the book once it is released. If it's as positively received as I hope, I could definitely see myself doing a follow up book later on in my career.
You've had unparalleled online poker tournament success, yet it took quite a while until your first breakthrough on the live tournament circuit, with your recent win at the WPT LA Poker Classic. Would you attribute this to variance or it simply taking time to properly make the necessary adjustments from online to live poker?
It took me a number of years to get that big live 'marquee' win although I had a lot of success live before that. In 2011 I narrowly missed out on both the Cardplayer POY and WSOP POY after a 2nd place finish in the WSOPE main event and a 2nd place finish in the $10k 6 max WSOP event amongst other results. This was my big breakthrough year in live tournaments and most of my results also came in very tough field tournaments. I don't play that much live poker in any given year, so there is also going to be a lot of variance involved. For example, this year I only have three live cashes so far but one of them was the win at the LAPC for over $1 million.
You've now pocketed over $4 million in live poker tournaments, yet a WSOP bracelet has thus far proven elusive. Do you consider this to be a "monkey you've got to get off your back" or it's more of a "if it happens, it happens" thing for you?
Obviously like any poker player I would love to gain this achievement. That said, I didn't, for example, go out of my way to make it to WSOP APAC this year with the small fields and increased chances (of snagging a bracelet). I'm confident that I will get another shot at a WSOP bracelet soon and hopefully this time I will be able to go one step further and win one.
You've been in poker for many years now. Do you see yourself playing indefinitely? What other directions would you consider pursuing if poker somehow became either too tough to beat consistently or disenchanting to you?
As long as I continue to enjoy playing the game I don't see any reason to stop. I love playing poker and the freedom that it allows me. In the future this may change and my passions may lie elsewhere, but for now my future is very much in poker. Friends of mine have branched out of poker into many different directions, particularly the restaurant and bar industry, which I think is great, but isn't something that I'm looking to do in the near future.
Thanks so much Chris for taking the time to sit for this interview. I look forward to checking out the book and wish you the best of luck both with sales as well as at the tables.
Find out more about Moorman's Book of Poker, including how to buy the book, over at D&B Poker.
Learn more about Chris at his website: www.chrismoorman.com and follow him on Twitter @Moorman1.