Though the official grand opening is slated for Memorial Day weekend (May 25th), Atlantic City's newest casino will open its doors on Monday to kick off an 8-week "preview period". No, that's not some April Fool's Day prank. Indeed, built at a cost of $2.4 billion, Revel will become the 12th casino in Atlantic City; the first to open since the Borgata in 2003. Unique to Revel will be a completely 100% smoke-free atmosphere not only in its 1,900 hotel rooms, but also throughout its entire gaming space, making it the first casino property in Atlantic City's history to have such a policy.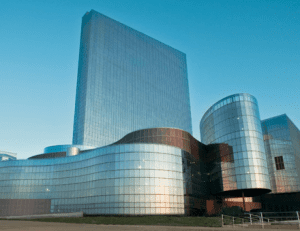 While the gaming floor's 2,400 slot machines and table games will open for business immediately along with 7 restaurants and some hotel rooms, the remainder of Revel's facilities, including nightclubs, 7 more restaurants, hotel rooms, pools, and retail shops, will open on a progressive week-by-week basis up until the scheduled May 25th grand opening. Revel is also scheduled to debut its 5,500-seat concert hall over Memorial Day weekend with a top-tier entertainer.
Revel Will Have a 37-Table Poker Room
Cardplayer Lifestyle has also learned that Revel will have a poker room as part of its gaming offerings. Some interesting information we were able to glean comes from scouring some of the resort's Help Wanted ads. Particularly amusing were some of the requirements listed for the positions of Poker Room Dealer and Poker Host. Among the more unique qualifications listed were:
Strong posture, facial expressions, and eye contact
Ability to work an entire shift wearing Revel required uniform and shoes
Endure various physical movements throughout the shift; including bending, lifting, and standing for extended periods of time
So, do you have what it takes to be a part of Revel's poker room staff? 🙂
Anyhow, as for the poker room itself, it will house 37 tables, have free Wi-Fi available, and feature a unique design allowing for natural light to illuminate the room during the day, while theatrical lighting will light up the night at the tables. A bad beat jackpot will likely tempt many a player here, where they promise to spread all poker disciplines, from Texas Hold'em to more exotic varieties like Stud poker.
To contact the poker room directly, call (609) 572-6040.
The room has not yet published a poker tournament schedule, but, as more details emerge once the room opens for business, Cardplayer Lifestyle will be sure to keep our readers informed about Atlantic City's newest poker room.
Update – July 23rd 2012: According to Revel's website, the poker room now offers daily tournaments, guaranteed tournaments, Bad Beat Jackpots, and daily promotions. Among the tournaments spread are a $200 buy-in Deepstack tournament each Saturday and a $70 buy-in no ante Bounty tournament each Sunday.
Are you planning to play at the Revel poker room? Send us your impressions in the comments section below or send us some pictures via Facebook!