One of the beautiful things about poker is that it can be played by anyone for stakes ranging from "play money" to "stacks of high society" and beyond. When you picture high stakes poker games, however, you probably envision a different type of poker table than one you picture in penny ante games. Indeed, many of us grew up learning poker "around the kitchen table" but have graduated on to playing for serious money at slick, top-of-the-line poker tables.
Home games, by the same token, come in all different stripes. Depending on how seriously you and your buddies take the game, and just how over the top you want to go, you ought to take the surface you're playing on with the same gravitas. Here, then, are 5 different types of poker tables befitting the full spectrum of home poker games, whether being played for pocket change or for epic prize pools.
The most versatile of all options, a poker roll out mat on an existing table is a great option for the casual poker night. Extremely portable, poker mats make a big difference in enhancing the feel during play, but can be quickly put away once the night is over. Roll out mats are usually made from neoprene or natural rubber, with the latter usually having better grip when laid over a smooth surface. A quality mat usually comes with a cover for quick storage.
Especially if you usually only play for very low stakes, you won't even be deterred by the approximate $50 price tag. Just have every player from your home game chip in a few bucks and share the table top, which would allow everyone in your group to host with ease!
Portable Table Top
The next step up from a roll out mat for hosts who still prefer (or need) portability is a table top. A table top (topper) sits on an existing dining table and allows the players a perfect poker room-inspired experience. Thus, even if you don't have room at your place for another table, you can still host a poker night with the feel of a proper poker table including foam padding, casino grade felt, and a nicely wrapped armrest.
If for some reason your buddies are unavailable and you can't get a game together, you can still scratch that gambling itch and check out the LadyLucks site; it's a new mobile casino site to many players, which offers many different casino game experiences.
Table tops usually come in either bi-fold or tri-fold options, but whatever you decide to purchase, be sure you buy from the right company so the topper will hold up over time. We suggest taking a look at BBO's Poker Pro Poker Top:
Maybe after a couple years, your group decides that it's time to invest in a proper table. If so, a folding poker table is a great option to get a true casino experience at home.
Basic and premium folding leg poker tables differ in a few key ways, such as:
whether it has a frame for additional stability, thickness, and quality of the metal folding legs
whether key components, such as armrest and playing surface, can be replaced or customized
Investing in a quality folding leg poker table instantly gives your game the poker room feel, but you still have the ability to tuck it away when not in use.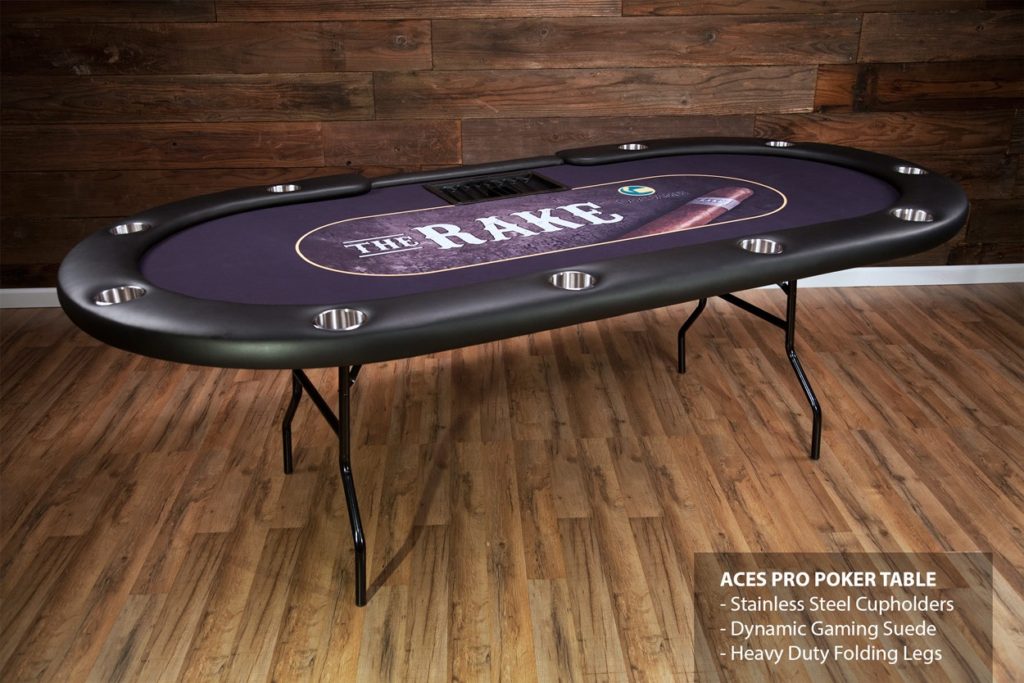 If you have the space (and the budget) to consider a permanent custom poker table, this is where things get fun and you and your buddies can get creative with your build. Builds start with choosing your desired shape based on the space available, premium furniture poker tables traditionally come in round or oval styles.
Then you can choose a style of solid wood pedestal leg that matches your taste, whether it be modern, traditional, or other. A reputable poker table brand will usually allow you the option to customize the armrest with some really cool materials and designs for your playing surface. If you really want to go over the top, you can design your own custom playing surface to really make it your own! High end pedestal tables often have an optional dining top cover for the table when not in use, turning your custom table into a beautiful dining or conference table.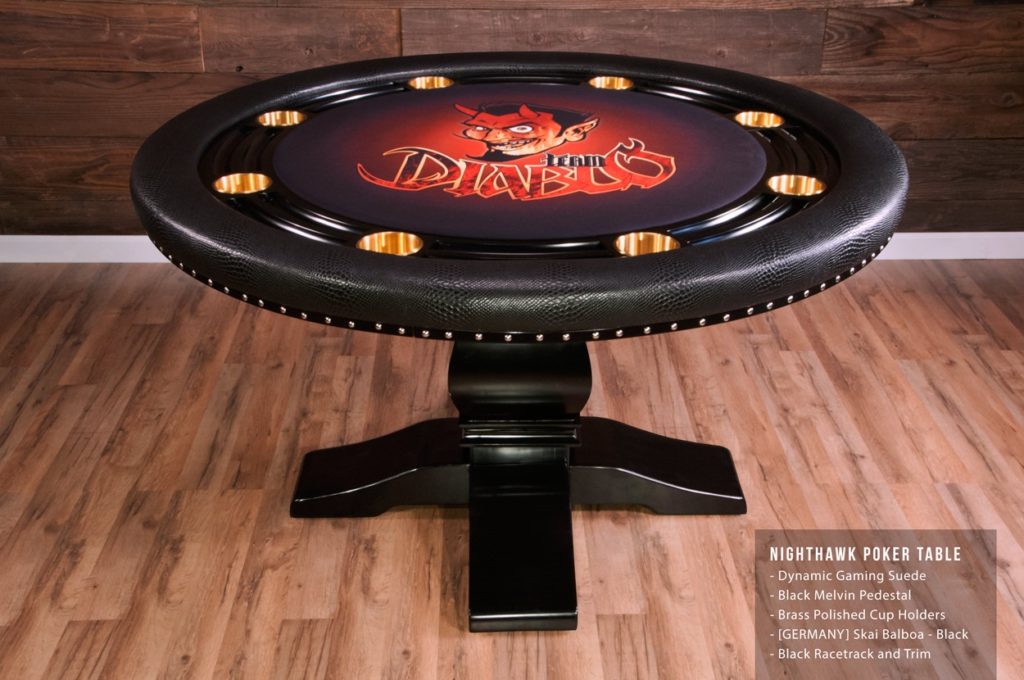 You have the space, the budget, and don't mind hosting ALL poker nights your group has… Congratulations! That means you're (probably a big winner, and also) in the market for an over-the-top custom poker table!
At this level, when you're playing for juicy stakes, LED lights, exotic materials and graphics designers are all part of the equation to produce your dream poker table. Over-the-top custom tables are worth the time put into the design, as they usually come out more like a piece of art than a poker table.
As much as I could continue waxing poetic about high-end, top-of-the-line, custom-made poker tables, words alone simply won't suffice. Check out the video below and see if you can keep from drooling 🙂
Conclusion
No matter where you are in your poker night journey, one thing sure to enhance it is having the appropriate-level playing surface to share all of the fun and excitement with your friends and family.