That most poker fans enjoy live tournament coverage goes without saying. As the game's popularity has continued to grow over the years, so has the depth and scope of live event coverage provided by poker media outlets. That said, even multiple teams of talented live reporters, bloggers, photographers, and videographers have their limits and cannot "fully" cover events with hundreds or thousands of participants playing. It's tough to wrap one's head around, but the fact is that in the early stages of tournaments, tons of interesting hands, stories, and action is "being missed" simply because so much is going on simultaneously at so many tables. Enter the CyberRail™ app, which aims to change all of that in a very big way.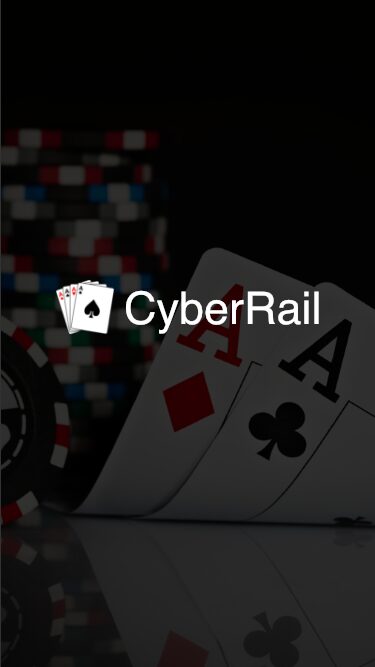 In development for four years, the app is being designed with "the ultimate poker fan" in mind. When following the action, fans are hungry for the best stories and there's an insatiable appetite for more and more intriguing poker content. CyberRail™ will give the players the opportunity to generate that content, going beyond just inputting stack sizes with additional features like pictures, hand histories, videos, and more.
Giving Life to the Virtual Rail
Recently, I wrote up a blog post entitled The Virtual Rail, which featured my buddy Amnon Eisner. In it, I told the story of how Amnon kept us (all his poker buddies back home in Israel) glued to our phones with a steady stream of updates about his performance in the Philadelphia Poker Classic. It was a story that countless other tournament poker players can relate to. After all, while playing, you're constantly sending updates and notifications to your family and friends, right?
As great as that "Virtual Rail" story was though, there were hundreds of other stories unfolding right in that same tournament. Wouldn't it be nice if "there was an app for that" so that EVERY tournament participant could tell the full story of what's going on at their table and relate the goings on happening at the felt?
Backed By Tech Geniuses and Brilliant, Innovative Poker Minds
We can all thank the publicly-traded (on the Canadian Securities Exchange, FYI) ePlay Digital for not only coming up with the idea, but putting the moving parts in place to help it come to fruition. They're the parent company of both PokerVision (remember them?) and Mobovivo, a company specializing in cloud-based second screen solutions.
Their plans call for the app to include the ability for players to have the choice of social circles/groups to send updates to. For example, your home game buddies will probably want to know all the juicy details of the most interesting hands you play, while your family and "non-poker friends" might just want to know your results at the end of each day. By the same token, for example, you'd be able to send out more private, detailed updates to individuals or teams of people who've backed or staked you.
On the fan side of things, you'll be able to pre-select every player you wish to follow over the course of the tournament. Say, for example, you want to know how Jason Mercier, Fedor Holz, Sam Trickett, Dominik Nitsche, and Maria Ho are doing starting from Day 1C of the WSOP Main Event. Now, all you've got to do would be to select them and watch their updates roll in.
As this article's title makes crystal clear, CyberRail™ is shooting for the stars and could theoretically revolutionize poker tournament coverage as we know it. According to Adam Schwartz, PokerVision's Director of Poker Programming, "one of the pillars of CyberRail™ is shifting the reporting from the Live Events to a role of verification and support rather than trying to following every hand at every table."
In other words, there will no longer need to be a de facto focus exclusively on "big names" and big stacks during the early stages of a large tournament. Rather than hunting for needles in a haystack of potential stories, poker media will be able to scour the updates of those players who've made them public, glean instant insight from amongst ALL the stories out there, and make more informed decisions about which stories to amplify onto larger platforms.
Needless to say, this has the potential to vastly alter and improve the content that poker fans can consume in terms of big event broadcasts. ESPN commentators Norman Chad and Lon McEachern would no longer have to roam the floor in search of "the best characters". They could keep their eyes glued to CyberRail™ and start crafting "all the right narratives".
READ/LISTEN: Interview with Norman Chad
When Will CyberRail™ Actually Debut?
According to Mobovivo CEO Trevor Doerkson, the company hopes to have the initial version of the app ready in time for PokerVision's first live event. It's being developed for both the iOS and Android platforms and will initially support English before eventually being rolled out in additional languages.
In the meantime, Schwartz notes that the company is incorporating feedback from both professional and recreational players – big names and complete amateurs – adding that "At the end of the day, we want to facilitate the ability for the poker community to help grow the game."